Falafel pancakes? Baba Ganoush Sandwich? Tapenade and avocado sandwich? These are just some of the unique vegan mediterranean recipes that I've been whipping up lately and I know you'll love them!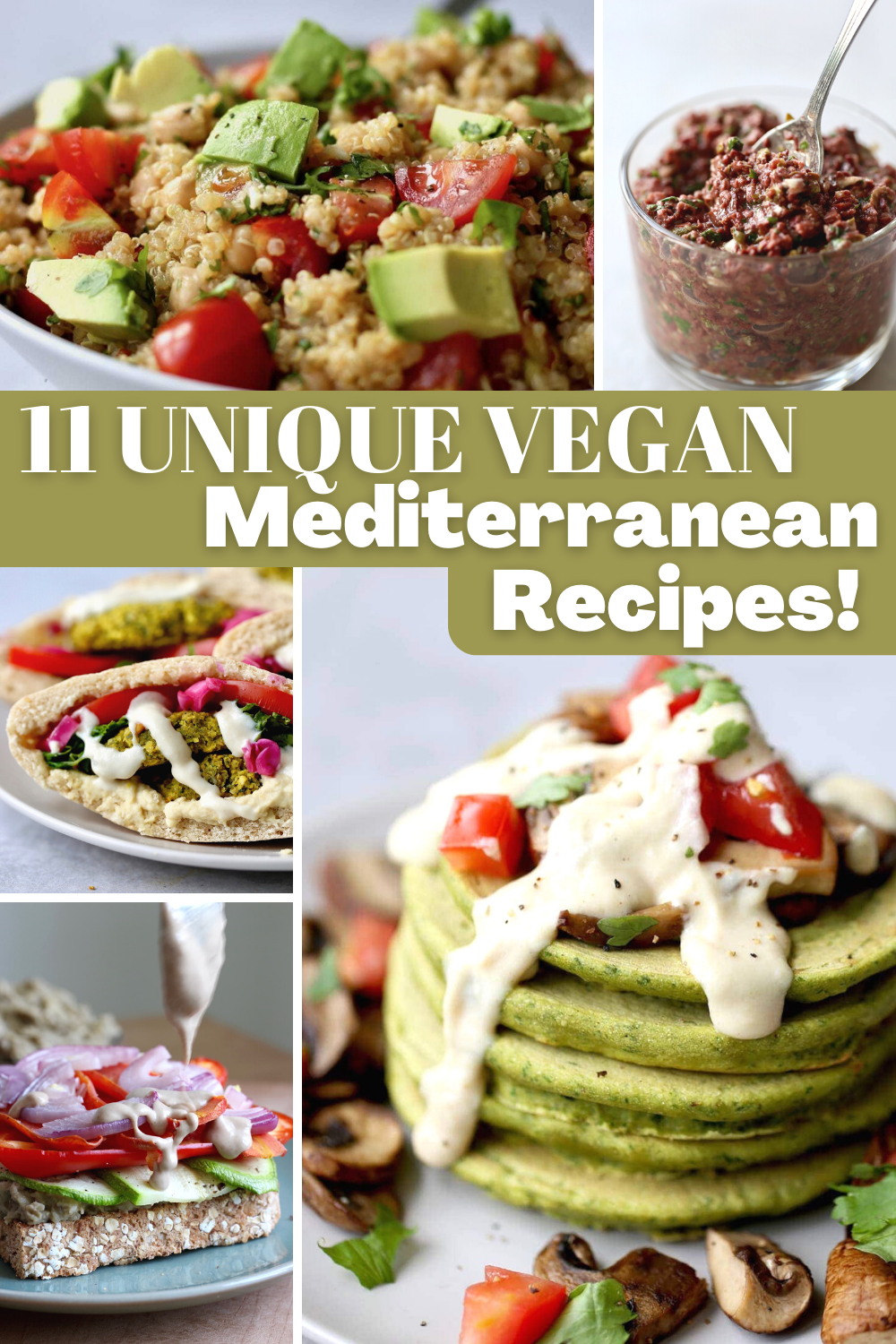 Full of fresh, whole food ingredients, the Mediterranean Diet is probably the closest mainstream diet to the vegan diet. This is probably why the US News and World Report ranks the Mediterranean Diet as the #1 Diet for 2022.
Don't worry, I still believe a well-planned, well-balanced vegan diet is the best diet out there! That's why I want to share with you some of my favorite vegan Mediterranean recipes because I believe it's the best of both worlds!
What is Considered Mediterranean Cuisine?
Mediterranean cuisine is made up of foods commonly found native to countries surrounding the Mediterranean Sea, such as Greece, Italy, Turkey, Israel, Egypt, Tunisia and Morocco.
Many of the key ingredients of Mediterranean dishes are plant-based. The Mayo Clinic says, "Plant-based foods, such as whole grains, vegetables, legumes, fruits, nuts, seeds, herbs and spices, are the foundation of the diet. Olive oil is the main source of added fat."
I personally love all of their fresh salads filled with vegetables and anything with falafel or hummus in it!
Popular Vegan Mediterranean Ingredients
When I think of vegan Mediterranean dishes, I think of satisfying falafel sandwiches, delicious dips such as hummus or baba ganoush, and flavorful salads such as Arabic Salad or Greek Salad (without the cheese, of course!)
Vegan Mediterranean Ingredients
Most Mediterranean ingredients are vegan. Vegan Mediterranean ingredients include:
Fruits and Veggies - cucumbers, tomatoes, roasted red peppers, olives, onions, artichokes, raisins, zucchini and eggplant

Nuts and Seeds - pistachios, almonds, walnuts, pine nuts, sesame and quinoa

Legumes - chickpeas, lentils, cannellini beans, fava beans

Pasta - orzo, couscous

Oils and Vinegars - olive oil, balsamic vinegar

Herbs, Spices and Greens - mint, Italian parsley, cilantro / coriander, fresh basil, chives, arugula, shallots and garlic
Non-Vegan Mediterranean Ingredients
Even with its emphasis of plant-based ingredients, there still are a few ingredients that you'll need to watch out for if you're trying to make a vegan Mediterranean recipe.
Meats such as lamb, beef, and chicken are often found in gyros and other Mediterranean meat dishes or sandwiches. If the dish contains meat, it is not vegan.
Seafood is also commonly found in Mediterranean dishes, since Mediterranean food comes from the region of the Mediterranean Sea. If the dish contains seafood, it is not vegan.
Yogurt can be used as a sauce or dip for Mediterranean dishes. If a dish uses cows milk yogurt, it is still vegetarian, but not vegan.
Feta cheese is a staple ingredient of Greek salads and parmesan cheese is often found in other Mediterranean salads. You can make vegetarian Mediterranean salads with these cheeses, but they will not be vegan.
To find vegan substitutes for these ingredients, see below.
How To Make Mediterranean Recipes Vegan
Again, if you're cooking for yourself at home, it's easy to make vegan version of popular non-vegan Mediterranean ingredients.
For a vegan substitute for meats commonly found in shawarma, gyros, or some other meat dishes, use my Easy Baked Falafel or this simple Basic Seitan Recipe!
For a vegan substitute for other meats, try grilled portobello mushrooms.
As for vegan substitute for yogurt, try my homemade non-dairy yogurt (in a crockpot)!
I don't have a recipes for vegan feta cheese, so I would just Google that or purchase a store-bought brand. I do have a vegan parmesan cheese recipe though that only requires four ingredients!
11 Unique Vegan Mediterranean Recipes List
Find your next family favorite meal by browsing these delicious Mediterranean recipes below!
Vegan Mediterranean Recipes FAQ
Is Mediterranean food healthy?
Yes! Mediterranean dishes commonly feature fruits, vegetables, whole grains, and legumes which are healthy staples of a whole foods, plant based diet.
Will these recipes work on a vegetarian Mediterranean diet?
Yes! All of these Mediterranean recipes are suitable for those on a vegetarian diet.
What is tahini?
Tahini is a paste or butter made from ground sesame seeds.
What can you do with tahini?
Tahini is very versatile. It can easily be mixed with lemon to make a delicious lemon tahini dressing.