This traditional Moroccan Eggplant Salad is inspired by a cooking class in Marrakesh, Morocco! It's so simple to make and delicious!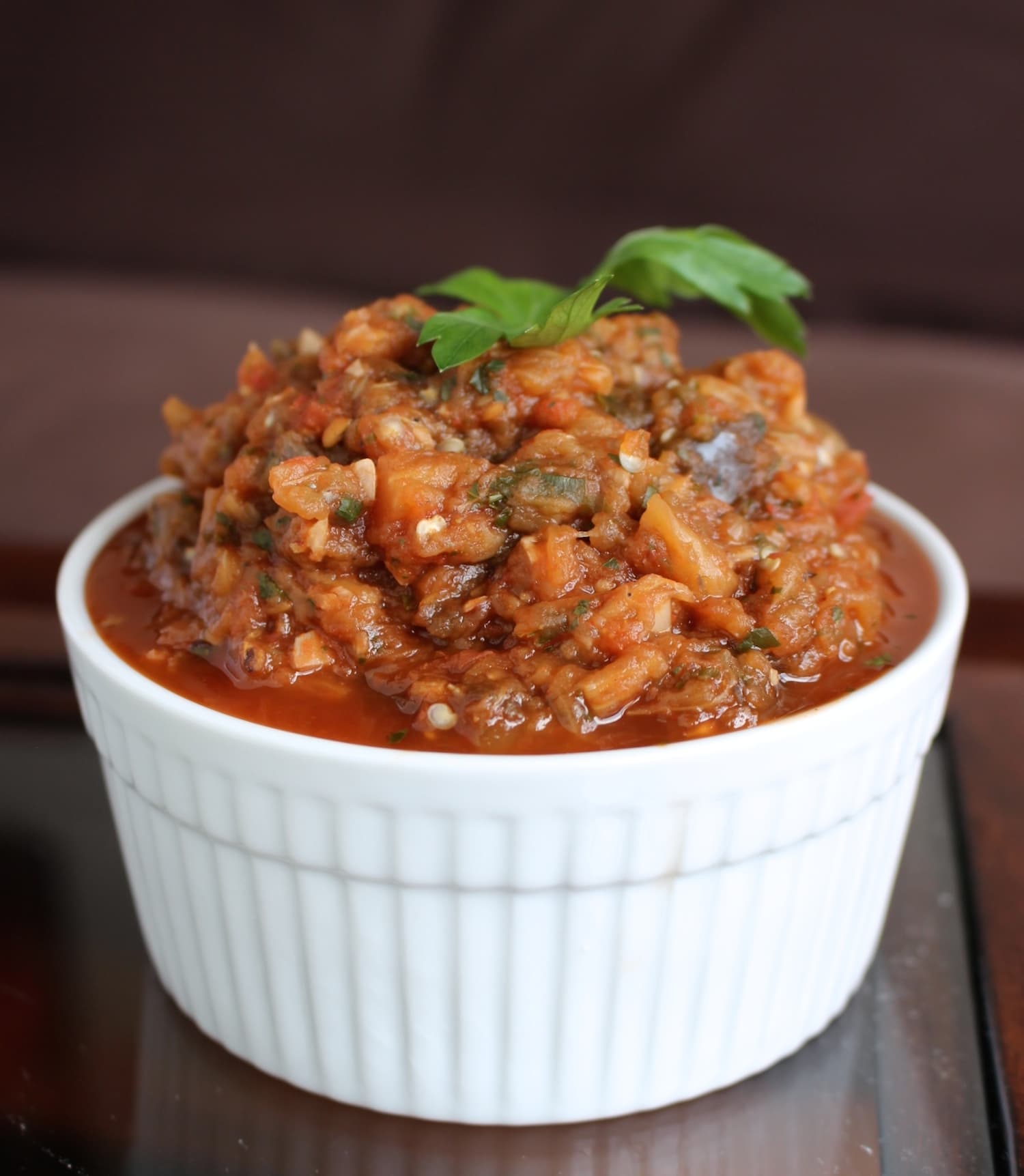 Cooking Class in Marrakesh, Morocco
The cooking class in Marrakesh, Morroco was one of the highlights of the three week trip for me and I had so much fun getting hands on experience cooking traditional Moroccan bread, salads, and a vegetable tajine.
Recipe Intro
The recipe I'm sharing with you today is a Traditional Moroccan Eggplant Salad and it's one of the recipes we learned how to prepare during the cooking class. It also ended up being my favorite part of the meal we enjoyed at the end of the class.
This salad on top of fresh, Moroccan bread...amazing.
While I'm hopeful that I'll try making all of the recipes we learned how to prepare during the class at some point this summer, I knew this Traditional Moroccan Eggplant Salad would be the first recipe I would recreate. It's simple to make and uses spices that I already had in my house. Eggplant is also a vegetable that I rarely cook with, so I thought making this recipe at home would get me more excited to incorporate eggplant into our meals more often.
How This Recipe Is Traditionally Made
Traditionally, this Traditional Moroccan Eggplant Salad recipe calls for a lot of olive oil. The oil definitely adds some flavor to the dish, but it also adds a lot of...well, oil...which I usually don't care to eat. At home, I decided to make this recipe sans olive oil and it turned out great in my opinion, so feel free to do make it whatever way you prefer!
Considerations
The eggplant and tomato in this recipe are prepared differently that I would have expected. The eggplant is roughly chopped and then boil in water with a little salt until super soft. As for the tomatoes, the customary way to prepare them is to cut the top off and grate them so that all of the flesh, juice and seeds are removed, while the skin remains and is discarded. I had never heard of grating tomatoes, so that was a interesting technique to learn!
If you like Moroccan food, or just like to cook different kinds of cuisines, I hope you give this Traditional Moroccan Eggplant Salad a try!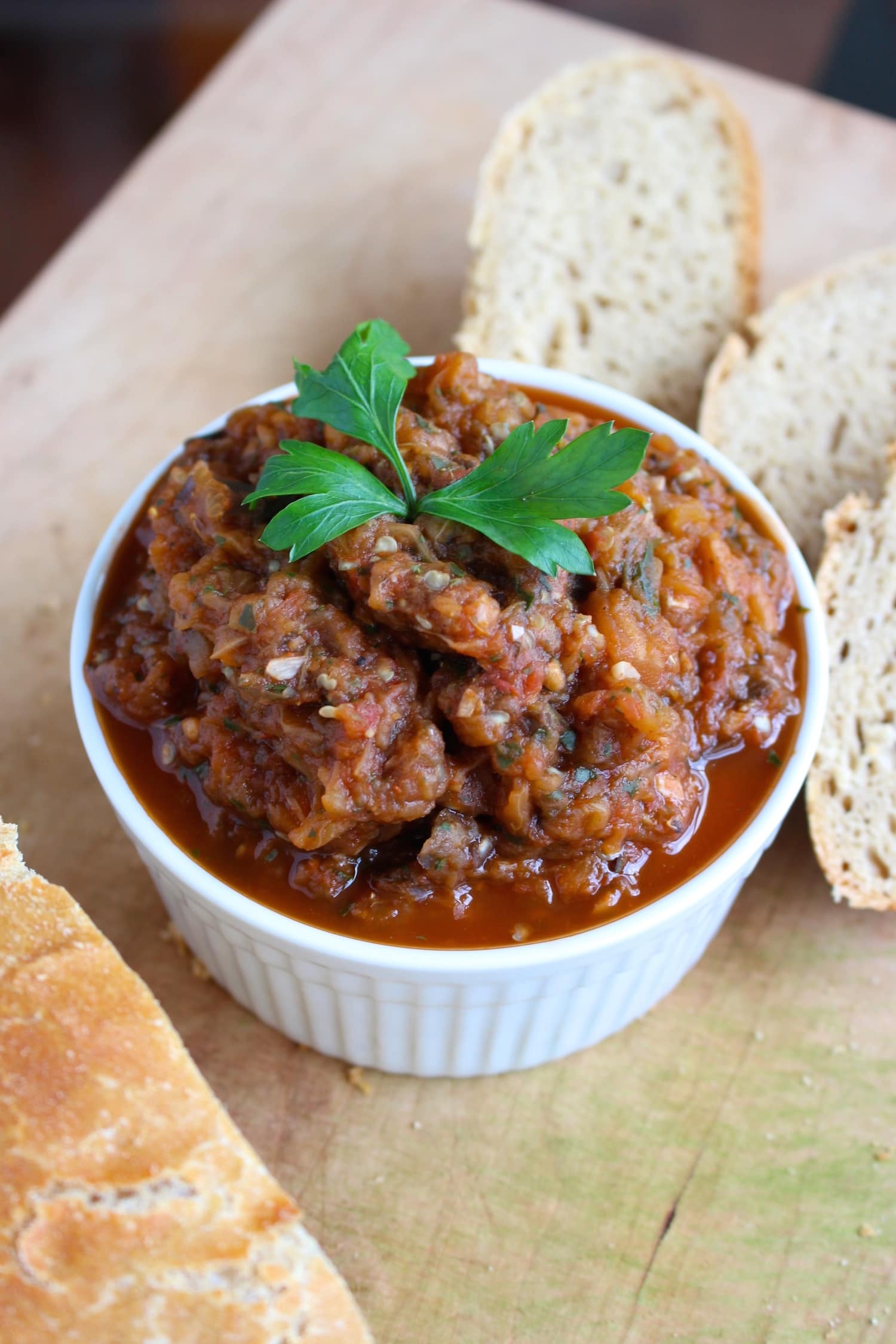 Yield:

5 servings
Traditional Moroccan Eggplant Salad
I learned how to make this Traditional Moroccan Eggplant Salad at a cooking class in Marrakesh, Morocco. It's so simple to make and delicious!
Ingredients
1 large eggplant (~5 cups chopped)
3 medium tomatoes
⅓ cup finely chopped cilantro and parsley
Instructions
Bring a large pot of salted water to a boil. Wash the eggplant, cut off the ends and cut it into large chunks. Boil the eggplant until thoroughly cooked through, about 15 minutes
While the eggplant is boiling, cut off the ends of the tomatoes and grate them until all the seeds and flesh are removed and the skin remains. Discard the skin.
In a large sauce pan over medium heat, combine grated tomato, optional olive oil, garlic and spices. Then add in the tomato paste and allow everything to cook for a few minutes until the liquid has reduced.
Once reduced, add in the eggplant and cilantro/parsley mixture. Mix well and mash with a potato masher until mixture is well blended.
Garnish with parsley.
Serve warm or cold
Notes
*Traditionally this salad is cooked with lots of olive oil. While I omit the oil when I prepare it, I wanted to include this ingredient to share the traditional recipe.
Nutrition Information:
Yield:
5
Serving Size:
1
Amount Per Serving:
Calories:

70
Total Fat:

1g
Saturated Fat:

0g
Trans Fat:

0g
Unsaturated Fat:

0g
Cholesterol:

0mg
Sodium:

38mg
Carbohydrates:

17g
Net Carbohydrates:

0g
Fiber:

5g
Sugar:

7g
Sugar Alcohols:

0g
Protein:

2g
Nutrition information is a rough estimate provided by Nutrionix and should be used for informational purposes only.