Learn my "mix and match method" for creating infinite vegan bento box lunch ideas that are budget-friendly, balanced, and perfect for school or work!
Jump To
Are you looking for vegan bento box lunch ideas?
If so, you've come to the right place!
In this article, I will share with you my "mix and match method" for creating a wide variety of vegan-friendly lunch box lunches that are perfect for school or work.
I will also provide tips on how to pack vegan bento box lunches that are budget-friendly, balanced, delicious, and healthy.
So whether you are vegan, vegetarian or simply are looking for vegan-friendly bento lunch ideas, read on for some great tips!
🍱 What is a bento box?
A bento box is a traditional Japanese lunchbox that is divided into compartments. The word "bento" actually means "convenient" or "portable" in Japanese, which makes bento boxes the perfect lunch option for busy people on the go!
When did the Japanese start using bento boxes?
Bento boxes have been around for centuries, but they became particularly popular in Japan during the Edo period (1603-1868). At this time, a large number of people were working in urban areas, and bento boxes allowed them to take their lunch with them to work.
Today, bento boxes are still very popular in Japan, and they are increasingly becoming popular in other parts of the world as well.
In recent years, there has been a growing trend for "bento box lunches" in the United States and other countries.
❤️ Why I love vegan bento boxes for lunches!
There are many reasons why I love bento boxes for lunches!
Reason #1: They are extremely convenient and portable.
This means that you, your spouse or your kids can take your vegan bento box lunch with you wherever you go, whether that's to school, work, or a picnic!
Reason #2 You can control exactly what goes into your body.
When you make your own vegan bento box lunch, you can be sure that you are getting all of the nutrients that you need allowing for healthy meal planning.
Reason #3: They are a great way to add variety to your lunchtime routine.
Whether you are a kid or adult, it's easy to get bored with your food choices. These kid and adult bento bento box lunch ideas can help you mix things up and try new combinations of foods every day of the week.
Reason #4: Environmentally Friendly
Instead of packing your lunch in single-use plastic bags or a paper lunch bag, bento boxes can be reused dozens of times. They are usually dishwasher safe for easy clean-up when you get home. Or the bento boxes could double as food storage containers for storing leftovers.
Read on to see how I use my "mix & match method" to generate tons of vegan bento box lunch ideas!
💰 Benefits of Meal Prepping as a Vegan
Meal prepping is a great way to save time and money and it's also an excellent way to maintain a healthy diet. When you meal prep, you can make sure that your lunches are balanced and nutritious and you can avoid unhealthy (and expensive) fast food options. Healthy meal planning leads to healthy eating for the week!
Meal prepping is also a great way to reduce food waste, as you can cook once and eat all week.
If you are vegan, meal prep can be a lifesaver! Making individual vegan meals can be time-consuming and quickly get boring. That's why I love my "mix and match method" for meal prepping a week's worth of diy bento box lunches! With only a few hours of prep time, you can make an entire week of lunches for your family!
Being vegan also means it can be difficult to find vegan-friendly options when you're out and about. By meal prepping vegan bento box lunches ahead of time, you can make sure that you always have a delicious and healthy vegan lunch option on hand!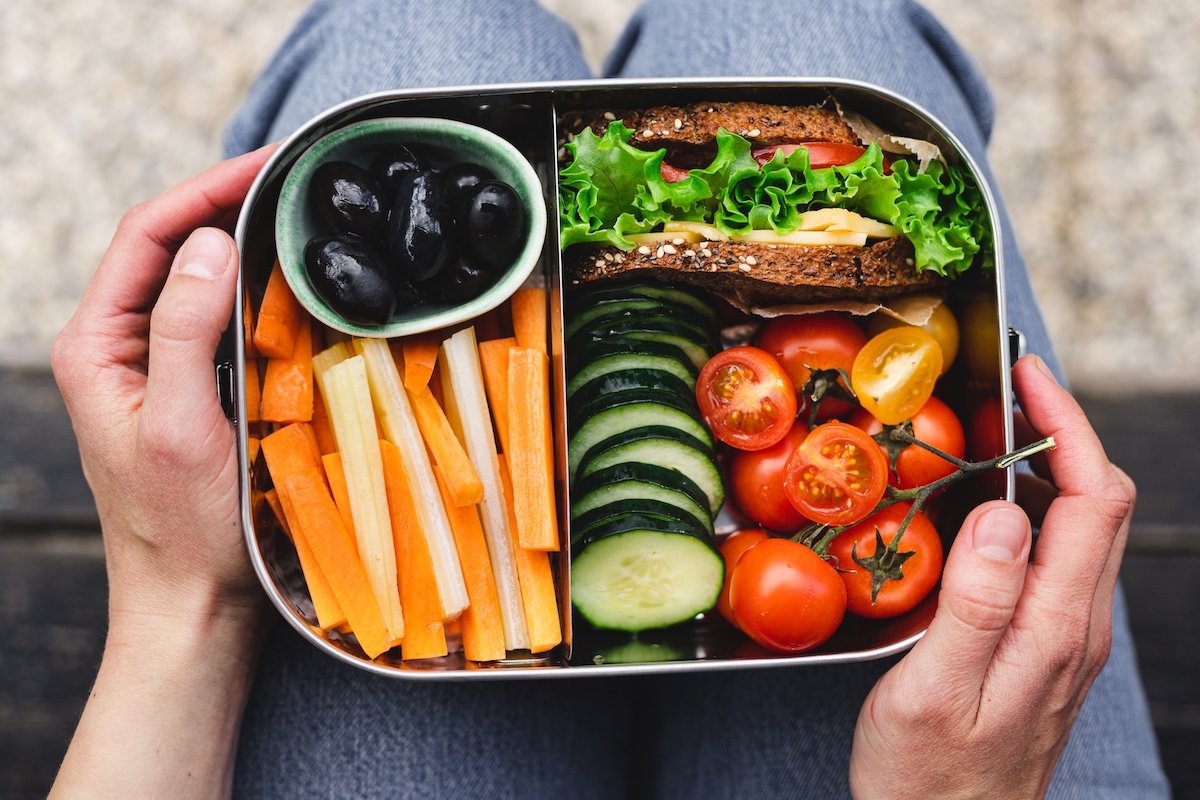 🍱 Components of a bento box
There are five main components to creating a well-rounded vegan bento box lunch:
Protein source
Starch and / or grain
Fruits and vegetables (micronutrients!)
Sauces and dips (hello flavor!)
Dessert (I always want something sweet to finish off my meal!)
Packing each of these components into a bento box ensures that you will hit each of your main food groups!
Also, think of the first 4 components as layers. When you layer a grain, protein, veggies, and a sauce, you'll be sure to have a flavorful, vibrant meal, whether that comes in the form of a sandwich, wrap, bowl or salad!
Vegan protein sources
Protein sources could include the following:
Tofu
Tempeh
Beans (I love chickpeas and black beans!)
Lentils
Quinoa
Faux meats
Nuts
Seeds
Nut butters
Seed butters
Pro Tip: To make your tofu and tempeh really flavorful, try soaking them in a marinade before you cook them. This will add tons of flavor to your tofu or tempeh and make it the star of the meal. I love this Easy Marinated Tofu Recipe!
Also, after you marinate your tofu or tempeh you can make them crispy. Crispy tofu is preferred because it will not get mushy when packed in a bento box. You can pan-fry your tofu ahead of time, but I prefer to bake it with a coating of cornstarch or arrowroot powder.
High Protein Bento Box: You can easily make several high protein bento boxes by substituting a second (or third!) protein source for one of the other bento box components.
Starches and Grains
Starches could include
white or brown rice
noodles
pasta (and even pasta salad)
potatoes (including sweet potato)
wraps / tortillas,
oats
pre-made quinoa salad
With large bento boxes, you can even include a sandwich on some whole grain bread to get some whole grains in.
Whenever possible, I opt for whole grain grains. Try to buy brown rice instead of white and whole wheat pasta instead of regular pasta. This is usually a great idea because it will add more fiber to your meals and keep you fuller for longer!
Pro Tip: If you are packing pasta or noodles, be sure to cook them ahead of time, rinse them with cold water, and let them cool completely. This will prevent your pasta from getting overcooked or mushy. You may even need to toss them in a sauce or a little bit of oil to keep them from sticking together.
Fruits and vegetables
Below is a list of the best fruits and vegetables to include in vegan bento boxes:
Fruits
apples (if cutting, sprinkle them with cinnamon to keep them from going brown!)
oranges
grapes
fresh berries (think raspberries, blueberries, and strawberries!)
cherry tomatoes
Veggies
carrots
cucumber slices
celery sticks
bell peppers
snap peas
cabbage
raw and/or roasted broccoli
All of these veggies are great for dipping in hummus (especially for kids) or last well for a few hours when stored properly.
I love roasted broccoli and will happily pack it in a bento box. Just keep in mind that it can be a little stinky after the first day.
Sauces and dips
Some great vegan sauces and dips to include in vegan bento boxes are any kind of homemade hummus, vegan ranch dressing for dipping veggies in, and salad dressings.
Pro Tip: Pack your sauce or dip in a small container on the side to avoid leaks and to keep your meals from getting soggy. Then just add them to your meal right before eating!
Vegan desserts
I like to include a small dessert in my vegan bento boxes.
Some of my favorites are:
For a healthier sweet treat, energy balls / energy bites are always a great idea!
💡 5 Tips for packing a vegan bento box
Pack vegan desserts separately to avoid them getting squished.
Pack dressings separately to keep items from getting soggy
Pack crunchy items separately to keep them crisp
Open up avocado right before you eat lunch to keep it from going brown. Otherwise, you can sprinkle some lemon or lime juice over the top before you pack it to also help it from going brown.
If you are packing a hot protein source, like tofu or tempeh, be sure to include an ice pack to keep it fresh or store it in a heat-proof container
🔀 My "Mix & Match Method" for vegan bento boxes
The idea behind my "mix and match method" for creating bento boxes is that it allows you to meal prep your key components ahead of time (which saves a ton of time!) and it allows you to have tons of variety in your lunches throughout the week.
End result: infinite vegan bento box lunch ideas!
For instance, I might choose quinoa for my grain, rainbow slaw for my veggies, chickpeas and cripsy tofu for my protein sources, homemade hummus and BBQ sauce for my sauce/dips, and a batch of energy bites for my dessert.
Having these components cooked and/or prepared in advance allows me to come up with a lot of different combinations throughout the week.
Here's an example...
Day 1: Make a wrap one day with the quinoa, rainbow slaw, and chickpeas.
Day 2: Make a buddha bowl the next day with the quinoa, chickpeas, and bbq sauce.
Day 3: Make a loaded sandwich with the hummus, slaw, and tofu.
If I'm really pressed for time, I could create a snack lunch with a bunch of different items such as crackers and vegan cheese, veggies and hummus, and then an energy bite for some something sweet.
So don't think of these vegan recipes as individual recipes, but as components of a few meals during the week.
In the recipe card is an example of a meal prep I did for a week of mix and match vegan bento box lunch ideas. I've listed out all of the ingredients you'll need to recreate my Vegan Bento Box Lunch Meal Prep as well as instructions for you to follow.
❓FAQ
How do I store a week's worth of bento box lunches in my fridge?
I personally don't like to portion out all of my lunches into individual containers right after I meal prep.
Instead, let's redefine lunch storage!
I like to store my lunch components separately in the fridge and then before I head out for the day, I quickly mix and match a few ingredients to create a healthy, fresh bento lunch.
Are bento box lunches healthy?
It all depends on whether you put healthy ingredients in the bento box! A well-planned bento box can ensure you have a healthy lunch and that your body is getting all of the nutrients it needs.
By including a variety of fruits, vegetables, proteins, and healthy fats, you can be sure that you are providing your body with healthy meals everything it needs to function at its best. Having all of these main components present in your meal can also make sure you stay full until your next meal.
Can bento boxes help me lose weight?
Bento boxes can also be a great way to lose weight through portion control.
By packing your own vegan bento box lunch, you can control exactly how much food you are eating. This can be especially helpful if you are trying to cut down on calories or eat smaller meals more frequently.
What are bento boxes made of?
Traditionally, bento boxes are made of wood or lacquer. However, nowadays you can find them made from a variety of materials, including plastic, metal, and even glass.
I prefer bento boxes made of glass or stainless steel, as they are more durable and easier to clean.
However, as much as I don't like plastic's impact on the environment, plastic bento boxes are often more affordable and lighter weight, so they are a great option if you are on a budget or traveling.
How many compartments should I have in a bento box?
I recommend bento boxes with at least a few separate compartments because it helps me think through the main food components I need to create a healthy and balanced meal.
Do I need any special equipment to make vegan bento boxes?
Nope! All you need is a regular old kitchen, some vegan food (don't forget those pantry staples!), and a bento box. If you want to get fancy, there are a few vegan bento boxes on the market that come with vegan-friendly chopsticks and other cute accessories, but they are not necessary.
Are bento lunches just for kids?
Even though bento boxes can look like school lunch trays, there are tons of healthy bento lunch ideas for adults to bring into the office for a quick and balanced meal!
What would be in a high protein vegan bento box?
To make a high protein bento box, use two or more of the following vegan protein sources: tofu, tempeh, beans, lentils, quinoa, faux meats, nuts, seeds, nut butters or seed butters.
📖 Recipe
Vegan Bento Box Lunch Meal Prep
Meal prep a variety of simple ingredients that mix-and-match beautifully to create a variety of healthy, budget-friendly packed vegan bento box lunches for adults and kids!
Ingredients
Grains/Starches:
Whole Wheat Bread

Whole Wheat Wraps

Whole Grain Pasta
Vegetables
Sweet potatoes

Broccoli

Carrots

Cucumbers

Bell peppers

Kale

Romaine

Tomatoes
Chickpea Burgers
Instructions
Brown Rice
Place 2 cups of brown rice, 5 cups of water and salt to taste into a rice cooker and press the cook button. Allow the rice to steam while you prepare the other ingredients.
Chipotle Mayo
Start by soaking 1 cup of raw cashews in boiling water. Once soaking for 15-30 minutes, drain the cashews and add them to a blenderalong with the remaining ingredients. Blend until smooth. Taste and add more chipotle peppers for spice, salt for saltiness, mustard for tang, or water for a thinner consistency.
Vegetables
Preheat your oven to

400

°F

and line two baking sheets with silicone baking mats. Cut the sweet potatoes into your desired shape. I like to leave some whole, cut some into chunks, and some into rounds. This adds variety to your meals throughout the week. Drizzle the cut potatoes with olive oil and sprinkle on salt and pepper to taste. Roast the whole potatoes for about 45 minutes-1 hour and the cut potatoes for about 25-40 minutes.

Cut the broccoli into florets and the carrots into rounds. Place them on a lined baking sheet and drizzle them with olive oil and sprinkle them with salt and pepper. Roast them for about 20-30 minutes along with the sweet potatoes, stirring after 20 minutes.
Chickpea Burgers
Drain and rinse the chickpeas. Place them in a food processor along with the remaining ingredients, except for the flour. Pulse until combined, but not smooth. You want to leave a little texture. Pour the mixture into a large mixing bowl and stir in 2 tablespoons of flour. If the batter is still too mushy, add in more flour 1 tablespoon at a time. Form the dough into 6 hearty patties and cook them in a skillet with a drizzle of olive oil for about 10 minutes, flipping them halfway.
Black Beans
Drain and rinse the black beans. Place them in a container and sprinkle over salt and seasonings to taste. Stir and store.
Beetroot Hummus
In a small food processor, process the lemon juice and tahini until a thick, creamy paste forms. Then add in the remaining ingredients and process until smooth, adding more water or oil if necessary. Taste and add more salt if needed or more cooked beetroot for a more intense beet flavor.
Notes
Make use of whole food, store-bought items such as fresh tomatoes for burgers, romaine lettuce to put on a burger or in a wrap, nuts, and seeds to sprinkle over salads, etc.
Nutrition information is for chickpea burgers only.
Bento lunch ideas for adults and kids for the week!
- Taco salad with kale, brown rice, roasted sweet potatoes, black beans and chipotle mayo
- Buddha bowl with kale, brown rice, roasted veggies, chickpea burger and hummus
- Burger with whole grain bread, chickpea burger, chipotle mayo, lettuce, and tomato.
- Salad with crumbled up chickpea burger, roasted sweet potatoes, chopped up raw veggies and hummus thinned out for a dressing.
- Pasta with thinned out hummus for a sauce, roasted veggies and a broken up chickpea burger on top.
- Loaded sweet potato stuffed with black beans, roasted veggies and chipotle mayo.
Nutrition
Calories:
76
kcal
Carbohydrates:
6
g
Protein:
1
g
Fat:
6
g
Saturated Fat:
1
g
Polyunsaturated Fat:
1
g
Monounsaturated Fat:
4
g
Sodium:
518
mg
Potassium:
105
mg
Fiber:
1
g
Sugar:
1
g
Vitamin A:
108
IU
Vitamin C:
3
mg
Calcium:
17
mg
Iron:
1
mg