Incredibly easy to prepare and cook, this easy marinated tofu makes the perfect protein source for buddha bowls, sandwiches, spring rolls and more!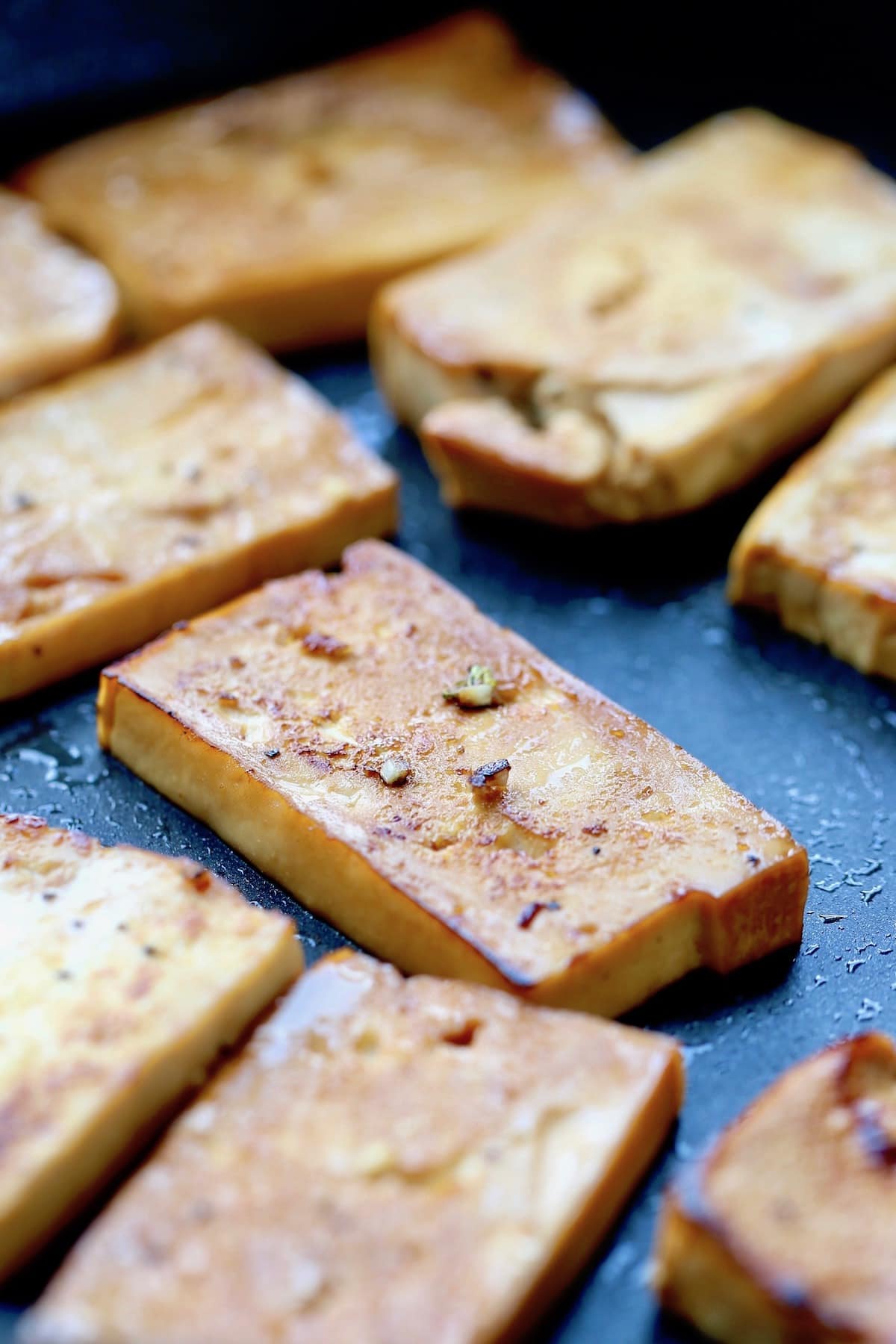 If you have yet to venture into the world of tofu, this recipe is for you! Tofu is one of my favorite plant-based protein sources as it is super versatile and is practically flavorless so it can take on whatever flavor you want. We especially love tofu in buddha bowls, vegan banh mi sandwiches and in homemade spring rolls!
Jump To
Why You'll Love This Recipe!
This easy marinated tofu recipe is the perfect recipe for "tofu newbies" who are new to cooking with tofu as it's super easy to prepare.
Marinating your tofu is a game-changer and once you start, you'll never want to stop! Using a marinade adds so much flavor to a fairly bland foods, taking plain tofu from something super boring to something incredibly delicious!
You'll only need 7 ingredients for the marinade, many of which you probably already have on hand, making this recipe perfect for a quick weeknight dinner.
This marinated tofu is so versatile! Make a double batch at the beginning of the week and add it to rice, pasta, salads, sandwiches and wraps all week long!
Ingredients
See recipe card below for a full list of ingredients and measurements.
Substitutions & Variations
I love to use this marinade on veggies and even tempeh! So feel free to switch up how you use this marinade.
Like I mentioned above, use your favorite kind of sweetener. I usually use coconut sugar or maple syrup, but brown sugar and honey (if you're not vegan) would both work well.
If you don't have lemons on hand, you could also just use a vinegar such as apple cider vinegar or even basic white vinegar.
Different Types of Tofu & How to Cook Them
I think one of the most daunting things about cooking with tofu is that there are so many different kinds. Let me walk you through the different kinds.
Silken Tofu - Silken tofu is tofu that has been unpressed and undrained. It has the highest moisture content and is often used as a replacement for certain dairy products. It makes a great egg substitute in baking, can be turned into "yogurt" or dairy-free desserts like tofu pudding, and blends well into smoothies for a flavorless protein boost. It's also the most common form of tofu used in miso soup.
Medium Tofu - Medium tofu is right in between silken and firm tofu in regards to its moisture content. A lot of people love to use it in tofu scramble or "egg" salad as it best mimics the texture of scrambled eggs...not too soft and not too firm.
Firm and Extra Firm Tofu - Firm and extra firm tofu is probably the most commonly bought tofu in western grocery stores. Most of the moisture has been removed from these blocks of tofu, creating a more meaty, chewy texture. Firmer tofus work wonderfully as a lunch meat replacement or as a protein source in stir-fries, tacos, salads, buddha bowls and more. Firm tofu can be sliced into "steaks", chopped into cubes or crumbled into "ground beef" and seasoned/cooked accordingly.
Marinated and Cooked Tofu - Lastly, thanks to more grocery stores accommodating plant-based diets, it is easier than ever to find already marinated and cooked tofu that can simply be cut, reheated and used immediately. One of my favorite pre-cooked marinated tofus is the sriracha flavored baked tofu from Trader Joes. So good!
How to Make Easy Marinated Tofu
Step 1: Cut your pressed (or unpressed) tofu into whatever shape you desire. You can cut it into cubes, "steaks", thinner rectangles and triangles or crumble it up.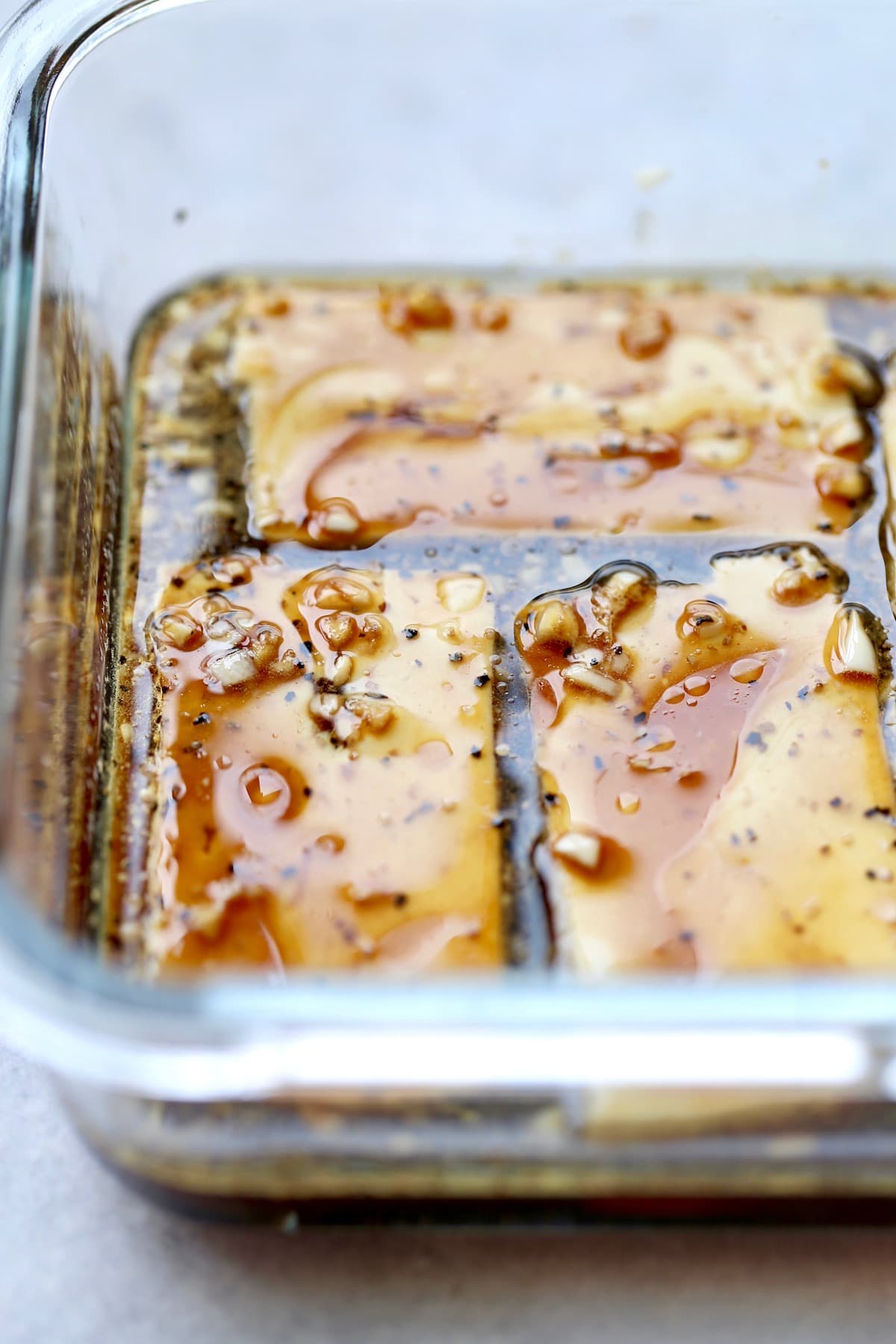 Step 2: Mix the marinade in a shallow container, then lay the sliced tofu into the marinade, making sure each side has been coated in the sauce. Cover the container and allow the tofu to sit in the marinade in the fridge for about 30 minutes.
Step 3: After the tofu has marinated for about 30 minutes, place the pieces of tofu onto a hot skillet in a single later. Once the first side is brown, flip the tofu over and allow the other side to cook until browned.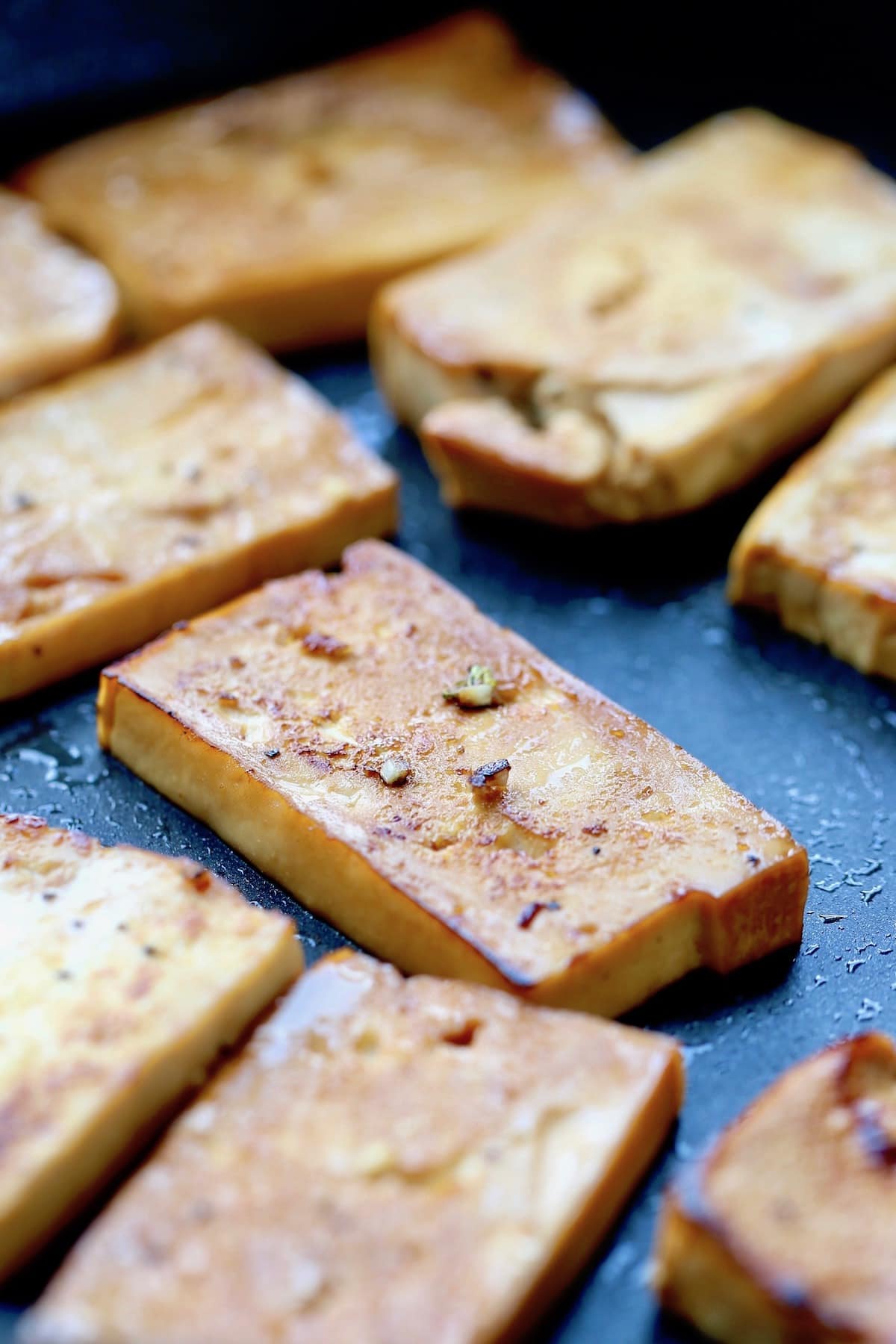 Expert Tips
I like to slice my tofu into thin rectangles or triangles so that there is more surface area for the tofu to absorb the marinade.
Use any extra marinade as a sauce!
Recipe FAQs
What is tofu?
Tofu, which is also referred to as bean curd, is formed by first coagulating soy milk until curds form. Those curds are then pressed into solid blocks of tofu, which come in a variety of different densities, which we'll talk about below. 
What are the health benefits of tofu?
I try to buy tofu that is organic and non-GMO when possible so that I know my tofu is made from the best kind of soy beans. Tofu is an amazing source of plant-based protein as well as iron and calcium. It also contains all 9 essential amino acids!
What are the different kinds of tofu?
I think one of the most daunting things about cooking with tofu is that there are so many different kinds. There's extra soft, silken, medium firm, firm, extra firm, smoked, marinted, etc.
What are the best brands of tofu?
Depending on where you live and what grocery stores you have in your area, the brands of tofu you have access to will vary greatly. In the states and Canada, some of the more popular brands I run across are Nasoya, House Foods, Mori-Nu, Trader Joe's, Sunrise, and 365 from Whole Foods.
As you continue to cook and experiment with tofu, I'm sure you'll find a brand and density that you like best!
How do you press tofu?
If you want to begin this recipe by pressing your tofu, you can either use a tofu press or you can wrap your tofu in some dish towels and place a cutting board with a heavy pan on top to remove some of the excess moisture. This isn't required for this recipe, but it will result in a more flavorful, crispy tofu. 
What should I serve with marinated tofu?
This marinated tofu is so versatile! We love it on buddha bowls with brown rice, roasted veggies and a tahini sauce. It makes for a great protein source (and flavor source!) for sandwiches, spring rolls and wraps, especially when paired with a creamy sauce, spread and crisp, fresh vegetables. We also love this tofu on salad and avocado toast.
How should I store leftover cooked tofu?
You can safely store your marinated tofu in an airtight container in your refrigerator for up to a week.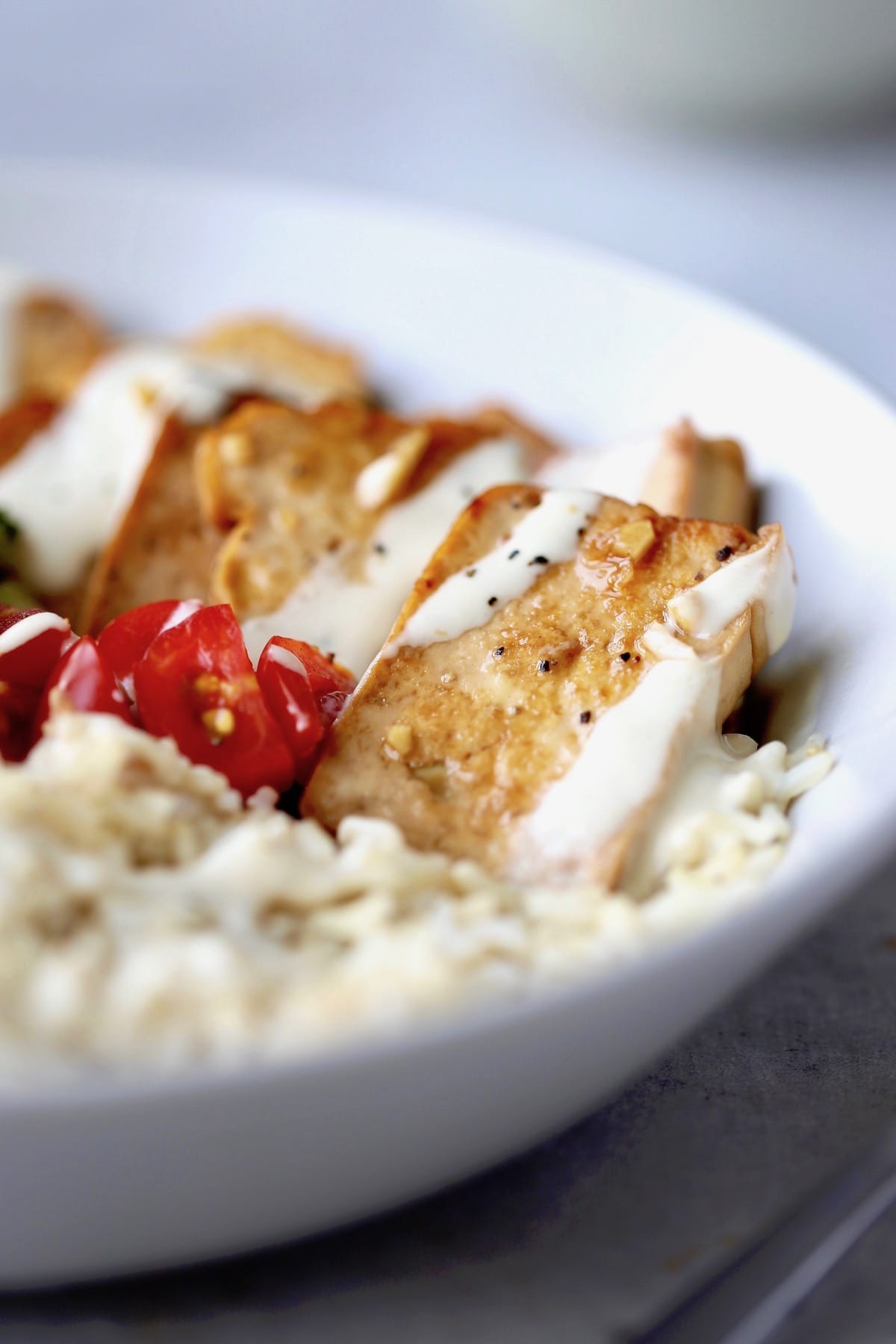 More Delicious Tofu Recipes!
Love this recipe? Please leave a 5-star 🌟🌟🌟🌟🌟 rating in the recipe card below & a comment further down the page!
📖 Recipe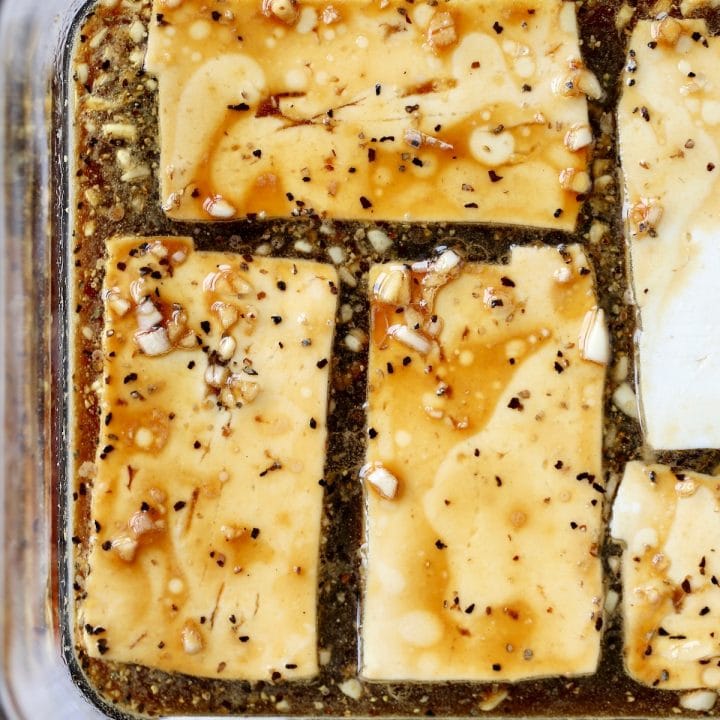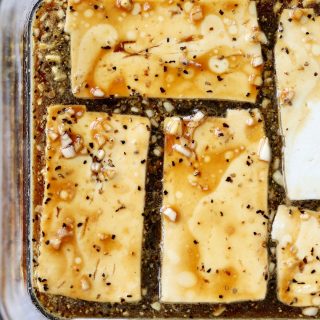 Easy Marinated Tofu
Incredibly easy to prepare and cook, this marinated tofu makes the perfect protein source for buddha bowls, sandwiches, spring rolls and more!
Instructions
If desired, press your tofu in a

tofu press

or by wrapping the block of tofu in a clean dish towl and carefully placing a heavy pot or pan on top to remove extra water. This isn't necessary, but will give you a more flavorful, crispy tofu.

Slice the tofu into ⅓ inch thin rectangles or triangles.

In a shallow, rectangular Tupperware, mix together all of the marinade ingredients until combined.

Place the sliced tofu into the marinade, put the lid on the Tupperware and allow it to sit in the fridge for 15-30 minutes, flipping the tofu over half way through if possible.

Heat a frying pan over medium heat. Remove the tofu from the marinade and place it directly onto the pan. The olive oil in the marinade should keep the tofu from sticking to the pan. Fry the tofu for 3-5 minutes or until browned before flipping and repeating the process on the other side. You can spoon the extra marinade over the top of the tofu as it cooks or save it to use as a sauce.

Enjoy the marinated, cooked tofu in buddha bowls, sandwiches, spring rolls, salad, and more!
Notes
*You can also use maple syrup if desired. We like 2 tablespoons of sweetener, but you can use less if you like.
**You can use Tarmari instead of soy sauce if gluten free.
Nutrition
Calories:
179
kcal
Carbohydrates:
8
g
Protein:
13
g
Fat:
11
g
Saturated Fat:
1
g
Polyunsaturated Fat:
4
g
Monounsaturated Fat:
5
g
Sodium:
1064
mg
Potassium:
35
mg
Fiber:
1
g
Sugar:
5
g
Vitamin A:
0.2
IU
Vitamin C:
1
mg
Calcium:
172
mg
Iron:
2
mg