Made with lots of whole grains and subtly sweetened with maple syrup, this Homemade Bran Flakes Cereal Recipe is a delicious way to start you morning!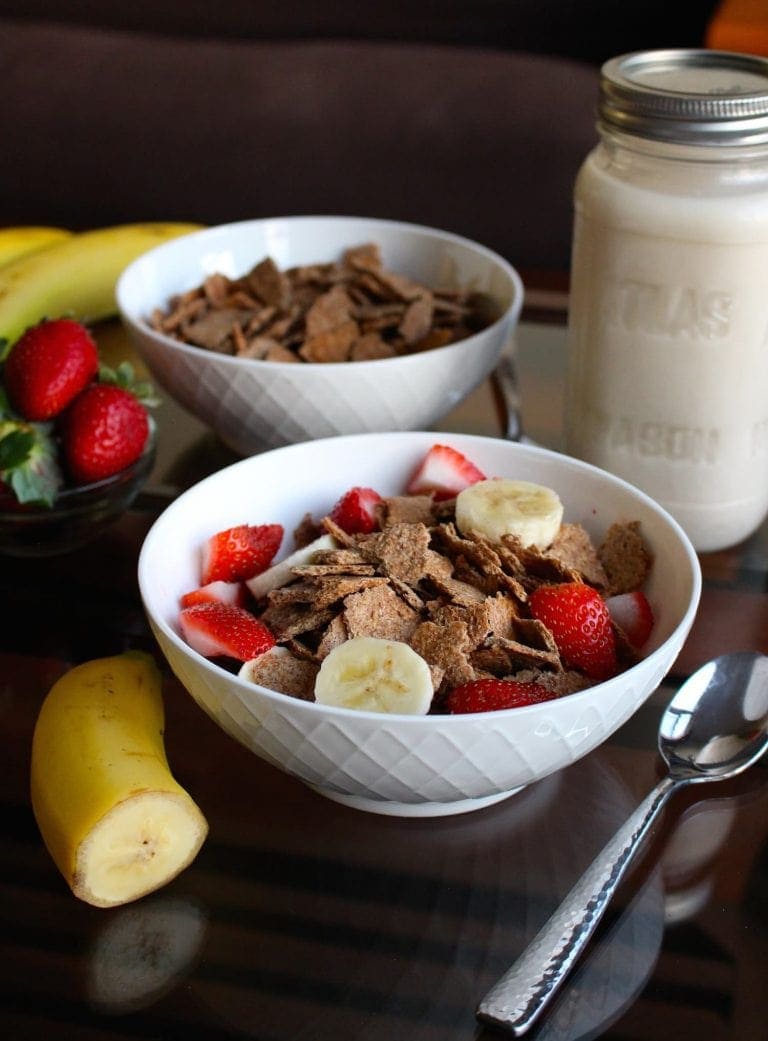 Hi. My name is Faith and I used to be obsessed with cereal. Seriously, I could have eaten cereal for breakfast, lunch and dinner as a child. Even my grandparents called me the cereal child and would stock up on cereal whenever we came to visit. They even had those bowls with the straws attached so that I could slurp up my marshmallow or chocolate cereal milk after I finished eating. Even to this day I LOVE cereal.
However, I now enjoy cereal as a snack and, whenever possible, love to make a bowl of wholesome fruit cereal, dark chocolate granola with almond milk or this homemade bran flakes cereal.
Jump To
Why You'll Love This Recipe!
I care about the ingredients I put in my body and this homemade bran flakes cereal only contains 8 ingredients, all of which you are familiar with and can pronounce.
This recipe is perfectly sweet, using only maple syrup as a sweetener. Pair it with fresh fruit and some date-sweetened homemade almond milk and your sweet tooth will definitely be satisfied!
If you love crunchy foods, you'll love this bran cereal. Even though the recipe doesn't contain any oil, each flake is perfectly crunchy!
You can easily double this recipe so that you always have homemade cereal on hand.
This cereal is super versatile. I love it on its own, on smoothie bowls, in trail-mix and of course as the base of a classic cereal bowl.
Why I Don't Eat Store-Bought Cereal Very Often
Ingredients: The main reason is that I've come to care about what ingredients I put in my body. In the past year I learned a great deal about how to read ingredient labels and was shocked to find that I had been putting a lot of junk in my body over the course of my life. It's hard to find packaged goods at the store that don't contain High Fructose Corn Syrup, food colorings or artificial flavors.
Satiety Factor: Another reason I don't eat cereal very often is because it doesn't fill me up very well. A smaller bowl of oatmeal with some chia seeds, fruit and nut butter keeps me going for hours because it contains a combinations of carbohydrates, fiber and healthy fats. This fiber-rich homemade bran flakes cereal keeps me full for ages as well!
Processed Sugar: The last reason I don't eat cereal much anymore is because most types are full of processed sugar, making you (or at least me!) want bowl after bowl after bowl. I love having a sweet breakfast first thing when I wake up, but I know the sugar from fresh fruit or a little maple syrup will satisfy my sweet tooth without making me want to eat sugar the rest of the day.
Ingredients
Wheat Bran - Wheat bran is crucial in this recipe is it gives this homemade cereal that nostalgic bran flavor. Wheat bran is the hard outer layer of a wheat kernel that is usually stripped away during the milling process. It has a sweet, nutty flavor and is high in fiber.
Whole Wheat Flour - I love the flavor of whole wheat flour paired with wheat bran. It gives this bran cereal such a rich, nutty taste.
Ground Flaxseed - You definitely want to use ground flaxseed as they help to hold the dough together. If you only have whole flaxseeds, you can always grind them into flour using a spice grinder or high speed blender.
Maple syrup - Any kind of liquid sweetener should work, but maple syrup is my favorite!
Non-Dairy Milk - I love to use my homemade oat milk in this recipe to keep the cost super low!
See recipe card below for a full list of ingredients and measurements.
Substitutions & Variations
Wheat Bran - I haven't tried this yet, but usually oat bran can be substituted 1-to-1 for wheat bran in a recipe. If you have oat bran already on hand, then you should definitely make these Applesauce Oat Bran Muffins next!
Whole Wheat Flour - You can use white flour instead of whole wheat, but start with less water.
Maple Syrup - Any liquid sweetener should work in this recipe, such as agave or honey, if your not vegan. Personally, I love the taste of maple syrup.
Non-Dairy Milk - You can use any non-dairy milk in this recipe. Cashew, almond and soy would be my top choices!
Flavors - You can add in some cinnamon or vanilla extra to the dough for extra flavor.
Mix-ins - If you enjoy raisin bran cereal, once your homemade bran flakes have finished baking and cooling, stir some raisins into the cereal before storing everything in an airtight container.
How to Make Homemade Bran Flakes Cereal
Step 1: Mix together the dry ingredients in a large mixing bowl.
Step 2: Add in the wet ingredients and stir until a sticky, wet dough forms.
Step 3: Using a silicone baking mat and some wax paper, roll the dough out into a thin sheet.
Step 4: Bake the sheets of bran dough for about 10-15 minutes or until they start to get crispy around the edges.
Step 5: Remove the sheets from the oven, allow the "cracker" to cool. Reduce the oven temperature.
Step 6: Break the "cracker" up into small pieces or flakes and return the flakes to the oven to bake another 15-20 minutes, stirring them often.
Step 7: Let the bran flakes cool completely after baking them so that they get nice and crunchy!
Best Ways to Enjoy Cereal
Expert Tips
Wax paper really helps to get the dough super thin and not stick to everything when you are rolling it out. If you don't have wax paper, I've also used a silicone baking mat, but the dough still does stick a bit. If needed you can just add some extra flour to the dough or your rolling pin.
Everyone will roll their dough out to different thicknesses. If your flakes still seem chewy/doughy after the baking time written in the recipe, you can always bake the flakes longer. They will get crispier as they cool as well, so keep that in mind.
Recipe FAQs
What is the best way to store cereal?
I've found the best way to store cereal is to place it in an airtight container at room temperature. Alternatively, you can keep the cereal in the bag it came in, making sure to roll the top of the bag over a few times before sealing it with a clip. If the bag or container isn't sealed properly, then the cereal will go stale. Nobody likes stale cereal!
How long does cereal last?
Store-bought, unopened cereal can last for years. Scary, right?
Even opened store-bought cereal can last for months if stored properly.
When it comes to this homemade bran flakes cereal, it should last for up to a month if stored in an airtight container at room temperature. If it smells weird or goes soft, then it's probably not good anymore, so just keep an eye on that!
What is wheat bran?
Wheat bran is a hard, outer layer that encases the wheat kernel. It is packed with vitamins, minerals, and fiber, making it an incredibly nutritious addition to your diet. Although bran can be helpful for digestion and weight loss, it is often removed from wheat during the milling process. As a result, whole wheat flour contains less bran than other types of flour.
What are the health benefits of wheat bran?
Wheat bran is a nutritious dietary fiber that offers a variety of health benefits. Wheat bran is an excellent source of insoluble fiber, which helps to keep the digestive system regular and prevent constipation. It has been shown to lower cholesterol levels and reduce the risk of heart disease.
Studies have also found that wheat bran can help to regulate blood sugar levels, making it an ideal food for diabetics and those with pre-diabetes.
Wheat bran is a good source of vitamins and minerals, including iron, magnesium, and zinc. Source.
More Unique Cereal Recipes!
📖 Recipe
Homemade Bran Flakes Cereal
Made with lots of whole grains and subtly sweetened with maple syrup, this Homemade Bran Flakes Cereal Recipe is a delicious way to start your morning!
Equipment
Amazon Basics Silicone, Non-Stick, Food Safe Baking Mat
Ingredients
WET INGREDIENTS
½

cup

water

¼

cup

non-dairy milk
Instructions
In a

large bowl

whisk together the dry ingredients. Pour the wet ingredients into the dry ingredients and stir until everything is combined and a dough forms.

Separate the dough in half and place one half on one prepared baking sheet and the other half of the dough on the second baking sheet. Rip off a large sheet of

wax paper

and lay it over top of the dough on one of your baking sheet. Using a rolling pin, roll the dough out as thin as you can by rolling on top of the wax paper. The dough is really sticky, so the wax paper keeps the dough from sticking to your rolling pin. You want your dough to be so thin that it almost becomes see through it. Once your dough is completely rolled out, slowly pull off the wax paper. I've found that the dough is still really sticky at this point so in order for me to get the wax paper off, I pull it back at a 180 degree angle.

Repeat this process with the second half of the dough until you have two very thin layers of dough on your baking sheets.

Place the baking sheets in the oven for 10-15 minutes until the dough is starting to brown in places. Watch carefully after 10 minutes, because you don't want it to burn completely and it depends on how thinly you rolled out your dough. Some brown spots are fine.

Remove the sheets from the oven once they are done and let them cool completely.

Reduce the heat in your oven to

275

°F

.

After the bran sheets have cooled they will feel slightly rubbery in places and hard and crispy in others. Rip up each bran sheet into bran flakes and place all of the bran flakes back onto one of the baking sheets.

Place the bran flakes back into the

275

°F

oven and let the flakes bake for 15-20 minutes more, stirring the flakes every 5 minutes. If any of the flakes are really brown and crispy you can remove them early.
Notes
- If you don't have wax paper, you can also use another silicone baking mat or a rolling pin coated with flour to try and roll out this dough. It will just be harder to get it super thin.
Nutrition
Serving:
1
g
Calories:
136
kcal
Carbohydrates:
29
g
Protein:
5
g
Fat:
2
g
Polyunsaturated Fat:
2
g
Cholesterol:
1
mg
Sodium:
137
mg
Fiber:
7
g
Sugar:
7
g