Made with lots of whole grains and subtly sweetened with maple syrup, this Homemade Bran Flakes Cereal Recipe is a delicious way to start you morning!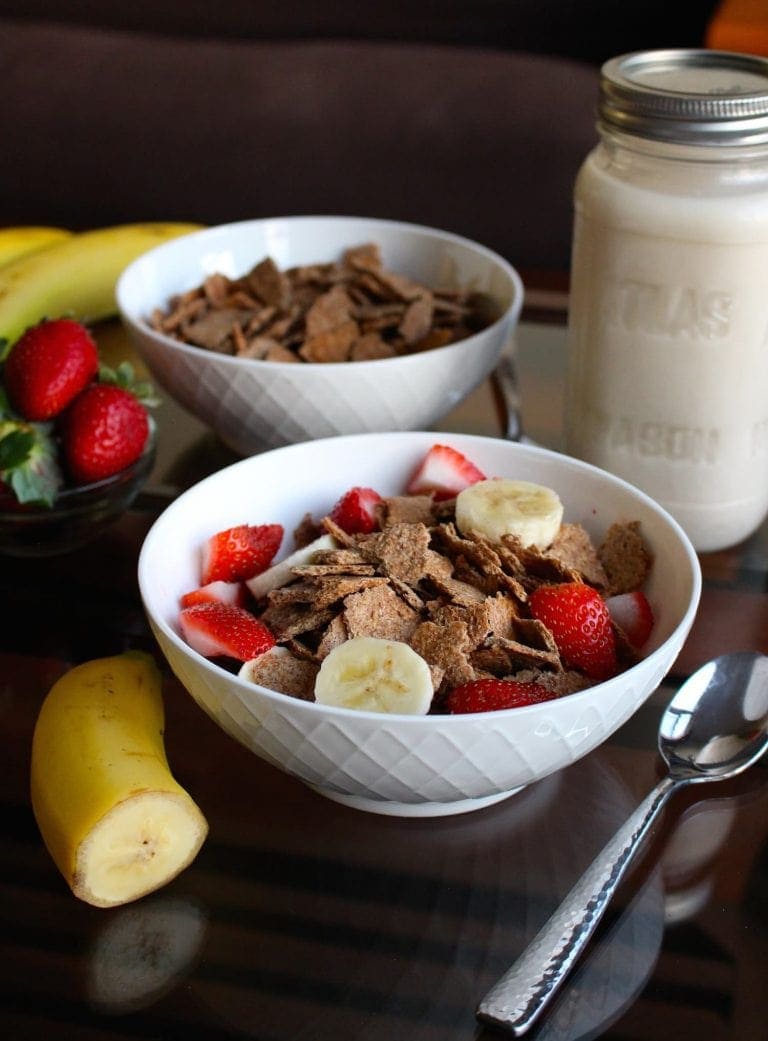 Hi. My name is Faith and I used to be a cereal addict.
Seriously, I could have eaten cereal for breakfast, lunch and dinner as a child.
Even my grandparents called me the cereal child and would stock up on cereal whenever we came to visit.
They even had those bowls with the straws attached so that I could slurp up my marshmallow or chocolate cereal milk after I finished eating.
Thankfully I had parents that didn't let me indulge in my love of cereal three times a day, but had me enjoy different breakfast options occasionally.
Even to this day I LOVE cereal.
However, I now enjoy it as a snack and, whenever possible, love to make homemade cereal.
Today, I'm sharing a recipe for Homemade Bran Flakes Cereal that I know you'll love!
Let me show you how to make it!
Why I Don't Eat Store-Bought Cereal Very Often
While I still love cereal, I honestly rarely eat it.
This is for a few reasons.
INGREDIENTS: The main reason is that I've come to care about what ingredients I put in my body.
In the past year I learned a great deal about how to read ingredient labels and was shocked to find that I had been putting a lot of junk in my body over the course of my life.
It's hard to find packaged goods at the store that don't contain High Fructose Corn Syrup, food colorings or artificial flavors.
SATIETY FACTOR: Another reason I don't eat cereal very often is because it doesn't fill me up very well. A smaller bowl of oatmeal with some chia seeds, fruit and nut butter keeps me going for hours because it contains a combinations of carbohydrates, fiber and healthy fats.
PROCESSED SUGAR: The last reason I don't eat cereal much anymore is because most types are full of processed sugar, making you (or at least me!) want bowl after bowl after bowl.
I love having a sweet breakfast first thing when I wake up, but I know the sugar from fresh fruit or a little maple syrup will satisfy my sweet tooth without making me want to eat sugar the rest of the day.
Ingredients You'll Need for Homemade Bran Flakes
You might not believe me, but you can make your own cereal at home!
If you've never done it before, this homemade bran flake recipe is a great place to start.
To make homemade bran flakes, you'll need the following ingredients:
Wheat bran
Whole wheat flour
Baking powder
Salt
Water
Maple syrup
Non-dairy milk
See, only 8 ingredients!
None of which are hard to pronounce or even hard to find.
How to Make Homemade Cereal
When you think about it, cereal such as bran flakes is basically a small, sweet cracker.
To make homemade bran flakes, first start by making the dough. Mix together the dry ingredients and wet ingredients separately, then combine them to form a dough.
Next, using a silicone baking mat and some wax paper, roll the dough out into a thin sheet.
Bake the sheets of bran dough for about 10-15 minutes or until starting to get crispy.
Remove the sheets from the oven, allow the "cracker" to cool for a while before breaking it up into flakes.
Then, to make sure all of the pieces are nice and crispy, you're going to reduce the oven temperature and return the flakes to the oven to bake another 15-20 minutes, stirring them often.
Let the bran flakes cool completely after baking them so that they get nice and crunchy!
How to Store Cereal
I've found the best way to store cereal is to store it in an airtight container at room temperature.
If the bag or container isn't sealed properly, then the cereal will go stale.
No body likes stale cereal!
How Long Does Cereal Last?
Store-bought, unopened cereal can last for years.
Scary, right?
Even opened store-bought cereal can last for months if stored properly.
When it comes to this homemade cereal, it should last for up to a month if stored in an airtight container at room temperature.
If it smells weird or goes soft, then it's probably not good anymore, so just keep an eye on that!
Why Bran is So Good for You
To be honest, I've always loved bran flakes.
Anything "bran" for that matter is right up my alley.
Wheat bran is super good for you, in my opinion
Wheat bran is one of the three layers on a kernel of wheat
It's a great source of zinc, copper and selenium.
It's also well known for its insoluble fiber content, which can promote digestive health.
My Favorite Way to Enjoy Cereal
It may be hard to believe, but there are lots of different ways to enjoy cereal!
I'll list out some of my favorite ways below:
The possibilities are endless!
If you're a cereal lover too, but want to eat less processed foods, I hope that this Homemade Bran Flakes Cereal works for you!
It's become a staple in my house and it's perfect for those days when I just want to dig into something crunchy first thing in the morning.
If you make this recipe be sure to leave a comment, rate the recipe and share it with others!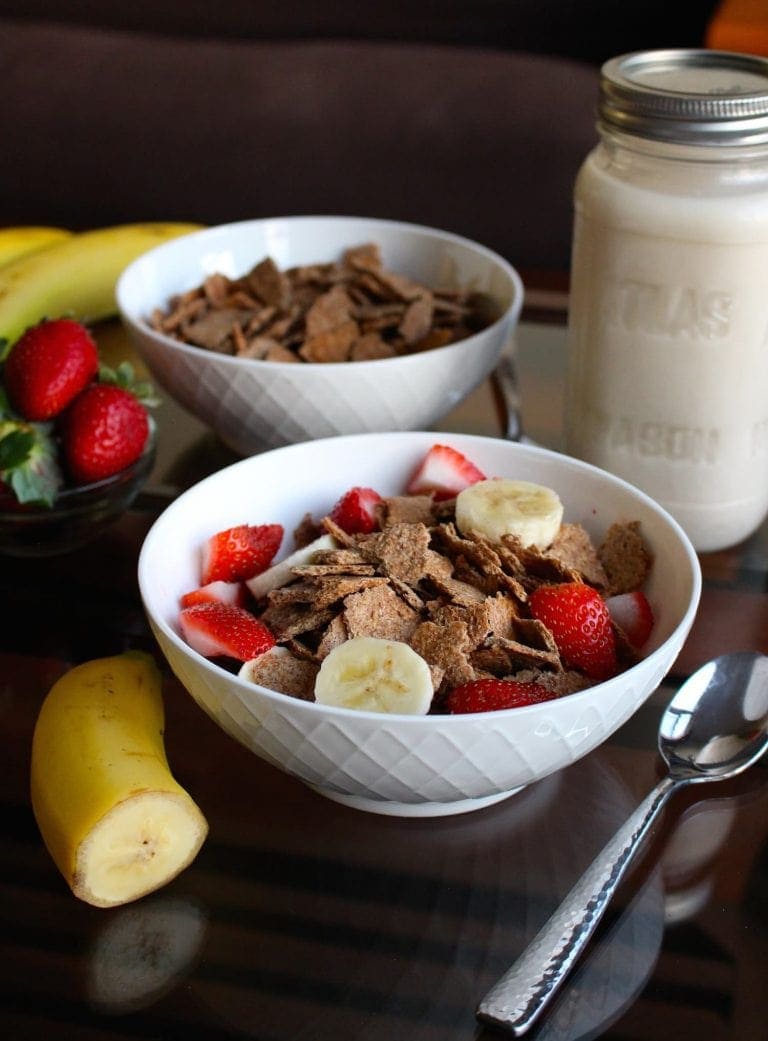 Yield:

6 servings
Homemade Bran Flakes Cereal
Made with lots of whole grains and subtly sweetened with maple syrup, this Homemade Bran Flakes Cereal Recipe is a delicious way to start you morning!
Ingredients
DRY INGREDIENTS
1 cup wheat bran
1 cup whole wheat flour
2 tablespoons ground flaxseed
½ teaspoon baking powder
¼ teaspoon salt
WET INGREDIENTS
½ cup water
3 tablespoons maple syrup
¼ cup non-dairy milk
Instructions
Preheat your oven to 350 degrees and line two baking sheets with parchment paper or silicone baking mats.
In a large bowl whisk together the dry ingredients. In a separate small bowl, whisk together the wet ingredients. Pour the wet ingredients into the dry ingredients and stir until everything is combined and a dough forms.
Separate the dough in half and place one half on one prepared baking sheet and the other half of the dough on the second baking sheet. Rip off a large sheet of wax paper and lay it over top of the dough on one of your baking sheet. Using a rolling pin, roll the dough out as thin as you can by rolling on top of the wax paper. The dough is really sticky, so the wax paper keeps the dough from sticking to your rolling pin. You want your dough to be so thin that it almost becomes see through it. Once your dough is completely rolled out, slowly pull off the wax paper. I've found that the dough is still really sticky at this point so in order for me to get the wax paper off, I pull it back at a 180 degree angle.
Repeat this process with the second half of the dough until you have two very thin layers of dough on your baking sheets.
Place the baking sheets in the oven for 10-15 minutes until the dough is starting to brown in places. Watch carefully after 10 minutes, because you don't want it to burn completely and it depends on how thinly you rolled out your dough. Some brown spots are fine.
Remove the sheets from the oven once they are done and let them cool completely.
Reduce the heat in your oven to 275 degrees.
After the bran sheets have cooled they will feel slightly rubbery in places and hard and crispy in others. Rip up each bran sheet into bran flakes and place all of the bran flakes back onto one of the baking sheets.
Place the bran flakes back into the 275 degree oven and let the flakes bake for 15-20 minutes more, stirring the flakes every 5 minutes. If any of the flakes are really brown and crispy you can remove them early.
Let the flakes cool completely after baking and store them in an air tight container.
Serve with Homemade Almond or Oat Milk and fresh fruit!
Nutrition Information
Yield
6
Serving Size
1
Amount Per Serving
Calories

136
Total Fat

2g
Saturated Fat

0g
Trans Fat

0g
Unsaturated Fat

2g
Cholesterol

1mg
Sodium

137mg
Carbohydrates

29g
Net Carbohydrates

0g
Fiber

7g
Sugar

7g
Sugar Alcohols

0g
Protein

5g
Nutrition information is a rough estimate provided by Nutrionix and should be used for informational purposes only.