Sweetened with maple syrup and full of crunchy clusters, this Easy Tahini Granola is the perfect way to start your day!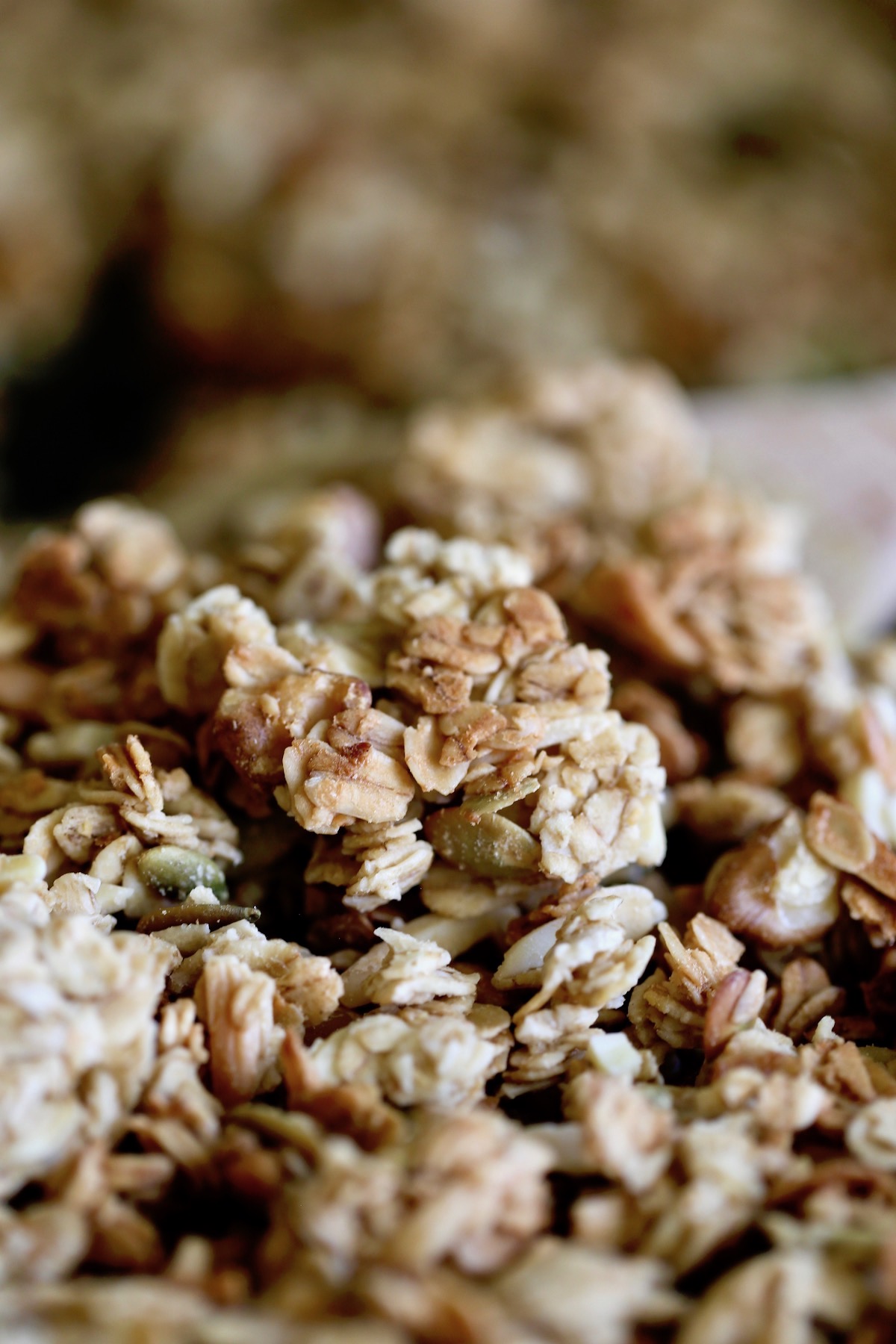 Tahini is one of my favorite foods.
Not only do I love to use tahini in savory recipes like my favorite Lemon Tahini Dressing or this Tahini Chickpea "Tuna" Salad, but I also love to incorporate tahini into sweet recipes.
Some of my favorite sweet recipes using tahini include:
Tahini also makes the best granola like in today's recipe for Easy Tahini Granola!
Using tahini in replace of some of the oil in granola adds a nutty richness and cuts back on the processed fat in most granola recipes.
Plus, tahini helps to create large, crunchy clusters which are a must in my book when it comes to granola.
Okay, let me show you how to make this Easy Tahini Granola!
Ingredients You'll Need to Make Tahini Granola
I love to make my own granola, so I almost always have the ingredients for homemade granola on hand. You'll just need a few pantry staples to make this granola, so hopefully you can bake up a batch right away!
I'll list out everything you need to make this Tahini Granola below:
Cinnamon
Salt
Rolled Oats
Nuts and/or seeds
Optional add-ins such as dried fruit, coconut chips or chocolate chips
See! No weird ingredients needed to make this homemade granola!
What is Tahini?
I'm guessing that if you're interested in this recipe then you already know what tahini is, but in case you don't, let me tell you about one of the greatest foods in the world!
Tahini is basically the sesame seed version of peanut butter. Sesame seeds get ground down into a paste that is nutty and rich. Sometimes the sesame seeds are toasted and hulled before they are ground down, yet other times they are left raw.
Both versions are delicious!
I love tahini because it can be used in both sweet and savory recipes! It's also naturally vegan, gluten-free and nut-free, making it a great staple ingredient for people with allergies.
How to Make Homemade Granola
If you've never made homemade granola before, you're about to discover just how easy it is to make.
For basic granola, all you have to do is coat a mixture of oats, nuts and seeds in a little bit of oil, liquid sweetener and spices. For today's Tahini Granola recipe, I'm using tahini to replace some of the oil.
Once your oats and seeds are coated, you spread the mixture out on a baking sheet and and bake everything until golden brown, often stirring or flipping the granola half-way through the baking process.
A key step in creating large clusters is to allow the granola to cool completely after it's baked so that the granola can stick together and form large, crunchy clusters.
Once the granola has cooled, break it up into pieces, stir in your add-ins if desired and enjoy!
Voila! Homemade granola!
How to Store Homemade Granola
To store homemade granola so that it stays fresh, simple allow it to cool completely before storing it in an airtight jar or container in a dark, cool place.
I've never had homemade granola go bad, but we also eat through batches of granola super quickly in our house!
Other Amazing Granola Recipes
If you're like me and like to change up the flavor of your granola on a regular basic, check out my other granola recipes!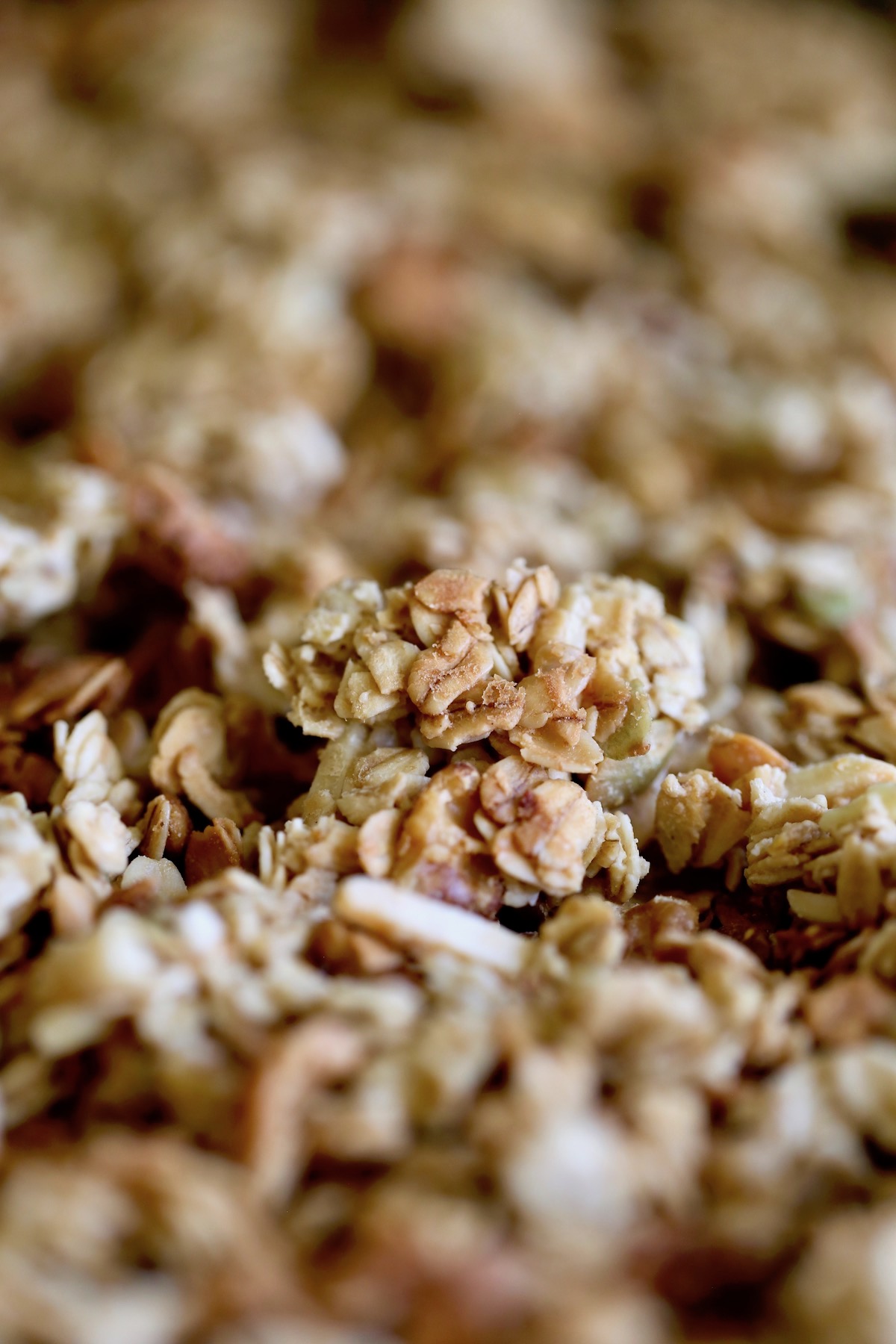 Yield:

14 servings
Easy Tahini Granola
Total Time:
1 hour
30 minutes
Sweetened with maple syrup and full of crunchy clusters, this Easy Tahini Granola is the perfect way to start your day!
Ingredients
¼ cup tahini
¼ cup coconut oil
½ cup maple syrup
1 teaspoon cinnamon
½ teaspoon salt
4 cups rolled oats
1 ½ cups seeds/chopped nuts
Optional: ½ cup add-ins (dried fruit, chocolate chips, etc.)
Instructions
1. Preheat your oven to 350 degrees and spray a baking sheet with cooking spray. Set it aside.

2. In a large mixing bowl, whisk together the tahini, coconut oil, maple syrup, cinnamon and salt until smooth.

3. Add in the oats, nuts and seeds and stir well until all of the oat mixture has been well coated in the tahini sauce.

4. Dump the oat mixture onto your prepared baking sheet and use a spatula to spread it out into an even layer. Use the spatula to press down on the oat mixture so that the oats start to stick together.

5. Bake the granola towards the top of the oven for 10 minutes. Then lower the baking sheet to the bottom of the oven and allow it to bake for another 8-12 minutes or until golden brown on top.

6. Remove the tray from the oven and allow the granola to cool completely before breaking it into clusters and storing it in an airtight container.
Nutrition Information
Yield
14
Serving Size
½ cup
Amount Per Serving
Calories

266
Total Fat

15g
Saturated Fat

5g
Trans Fat

0g
Unsaturated Fat

9g
Cholesterol

0mg
Sodium

119mg
Carbohydrates

28g
Fiber

4g
Sugar

8g
Protein

7g
Nutrition information is a rough estimate provided by Nutrionix and should be used for informational purposes only.