Made with fresh basil and beautiful pumpkin seeds, this lightened-up Vegan Pumpkin Seed Pesto can take any meal from boring to delicious!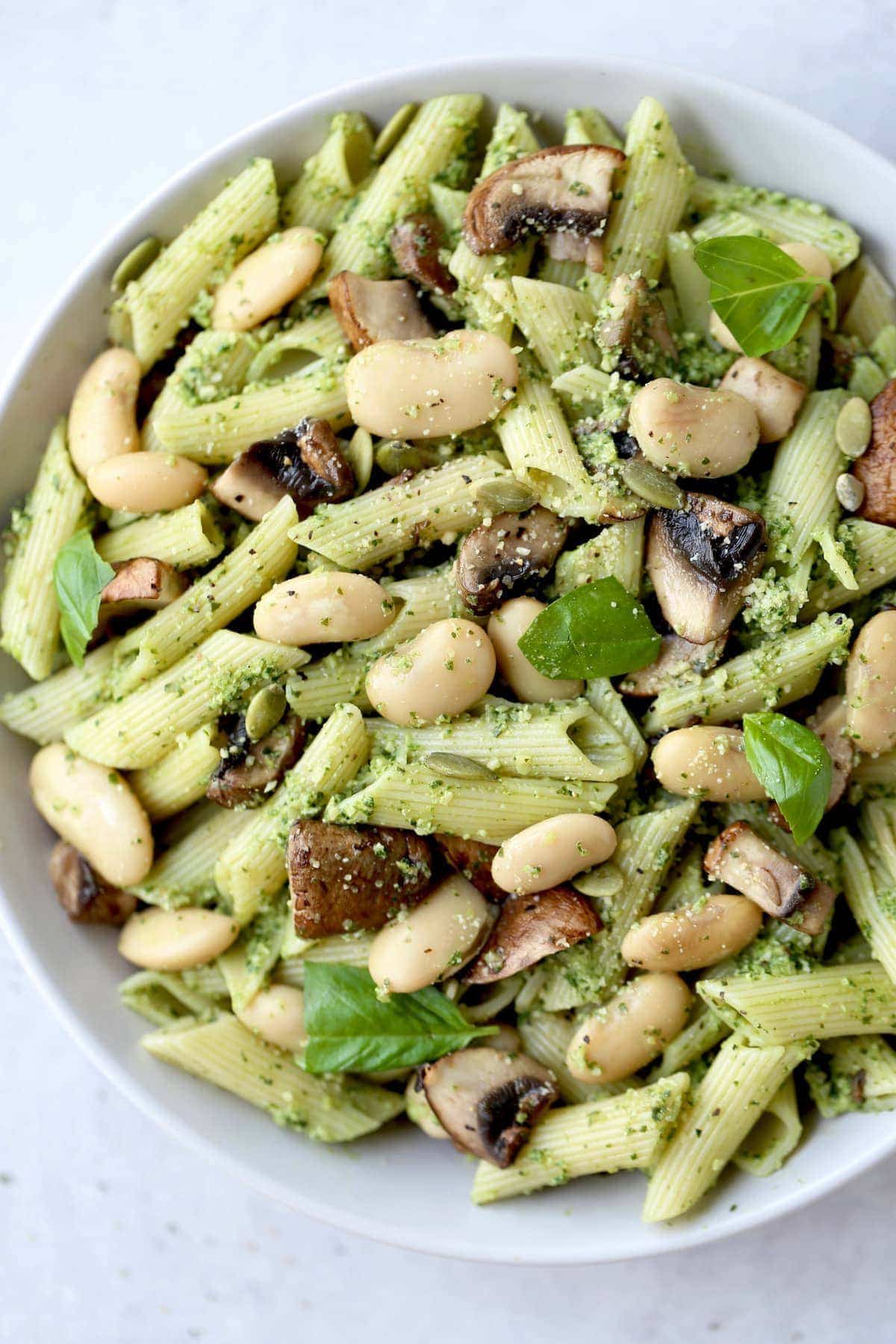 If you know our family well, you'll know we're all about condiments. That's because, unless I'm testing a recipe for the blog, our lunches and dinners are usually pretty simple. Condiments save our meals often! A bowl of rice, beans and veggies goes from boring to delicious when you top it with an amazing, flavorful sauce. In addition to hummus we almost always have a couple other homemade condiments and dressings on hand at all times. Peanut satay sauce is definitely a family favorite and this pumpkin seed pesto is a new favorite for us as well. It will definitely be making an appearance multiple times a month. I especially love it because 1.) it's cheap to make as it uses pumpkin seeds instead of pine nuts and 2.) I made it a little lighter by using fresh zucchini!
Jump to:
What is Pesto?
Pesto, originally pesto alla genovese, is a sauce which originated in Genoa, Italy. The word pesto comes from the Genoese verb which means to pound and that is how pesto originally was prepared. Since pesto really refers to anything that is made by pounding, there are multiple variations of pesto. Yet pesto alla genovese is still the most popular type of pesto and it's probably what you're able to find most easily at the grocery store.
What is pesto sauce made out of?
Traditional pesto is made using a combination of basil leaves, crushed garlic, pine nuts, salt, hard cheese--such as Parmesan cheese or Pecorino Sardo--and olive oil. However, pesto is super versatile and can be made a lot of different ways. For a cheaper pesto, people often use walnuts instead of pine nuts. In today's recipe I'm sharing a pumpkin seed pesto which is even cheaper and especially beautiful in color! You can also easily make dairy free pesto by omitting the cheese and using a vegan substitute like vegan parmesan or nutritional yeast. Additionally there is even red pesto on the market which is red due to the addition of roasted red peppers and sun-dried tomatoes.
How do you make Pesto?
As I mentioned previously, pesto was originally made using a mortar and pestle. Nowadays, the ingredients for pesto can be simply blended together using a blender or food processor. If you have a small food processor that works best, but use whatever you have!
Healthy Recipes with Pesto
There are lots of ways to incorporate pesto into your meals. Although it's delicious and always a hit in our house, pesto doesn't just have to be enjoyed over pasta. You can use pesto as a spread on sandwiches, a dip for crackers or a base for pizza instead of marinara. It could be used as a salad dressing, a dip for vegetables or added to bruschetta. You could even create a new dip by mixing pesto into plain yogurt or even guacamole! Get creative and discover lots of new healthy recipes using pesto!
---
Please let me know if you give this simple, delicious recipe a try! Leave a comment down below letting me know your thoughts and be sure to rate and share the recipe as well!
Photos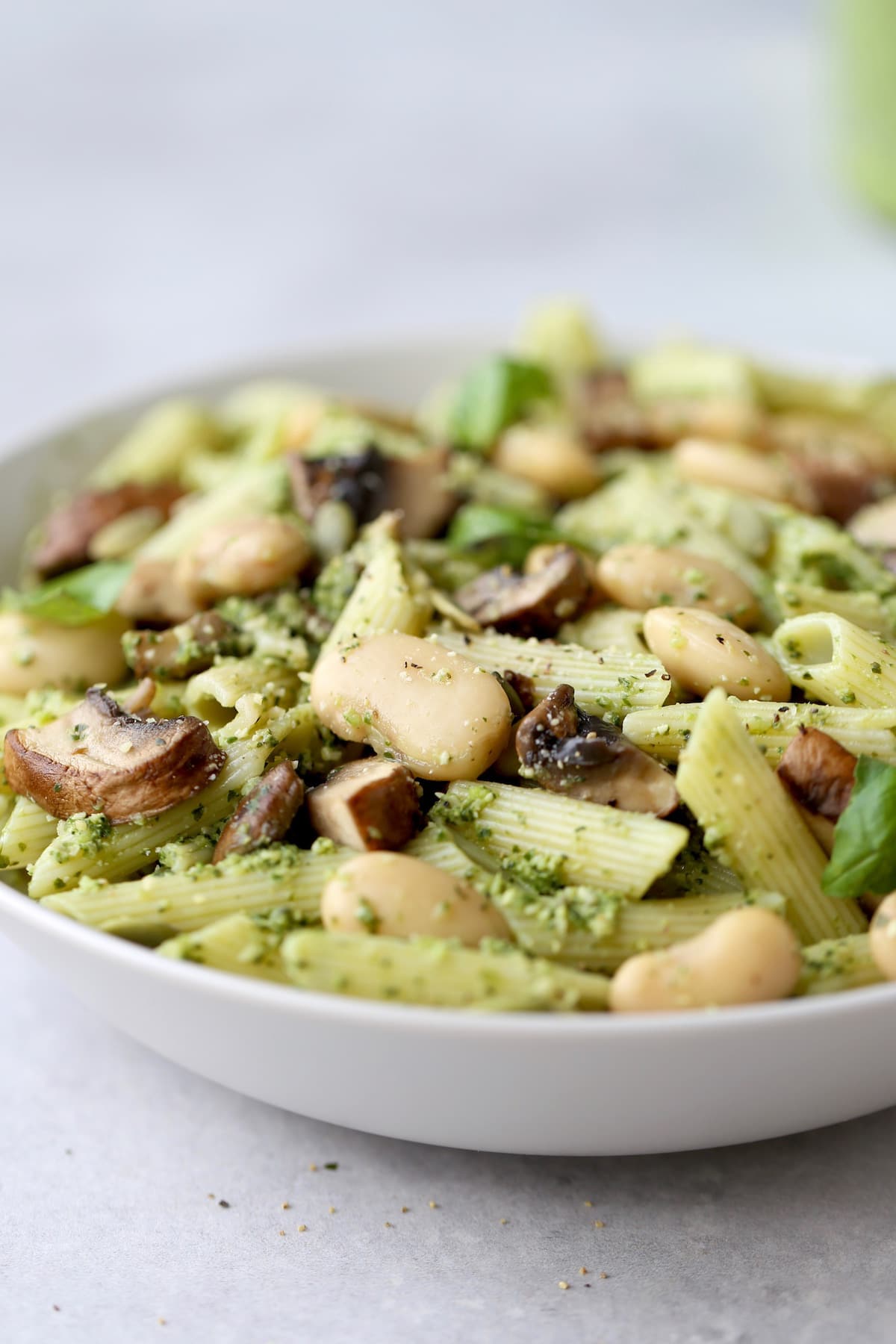 Vegan Pumpkin Seed Pesto
Made with fresh basil and beautiful pumpkin seeds, this lightened-up Vegan Pumpkin Seed Pesto can take any meal from boring to delicious!
Ingredients
⅓ cup pumpkin seeds
2 cups fresh basil (medium-packed)
1 large clove garlic, minced
1 cup chopped zucchini
2 tablespoons olive oil
2 tablespoons lemon juice
½ teaspoon sea salt
Notes
*If you don't have vegan parmesan on hand, feel free to just use nutritional yeast. You may need to add more salt to the final product though!
Nutrition Information
Yield

4
Serving Size

1
Amount Per Serving
Calories

108
Total Fat

9g
Saturated Fat

2g
Trans Fat

0g
Unsaturated Fat

7g
Cholesterol

2mg
Sodium

320mg
Carbohydrates

6g
Net Carbohydrates

0g
Fiber

2g
Sugar

1g
Sugar Alcohols

0g
Protein

3g