Made with whole wheat flour and rich olive oil, this subtly sweet Olive Oil Tea Cake is perfect when paired with tea or coffee!
Jump to:
Does anyone else love perusing magazines? A few months ago I bought a subscription to a couple of food magazines to help me rest and they did just that. I find flipping (or swiping in my case!) through cook books and magazines so restful and inspiring. In fact this olive oil tea cake was inspired by a recipe I saw in one of the magazines and I'm so excited to share the recipe with you all today.
This tea cake is subtly sweet, perfectly moist and pairs wonderfully with coffee or tea as a special afternoon treat. I can envision lots of tea parties with Harper using this cake! Two of my favorite things about this cake is that it uses olive oil and aquafaba, two ingredients that I don't often bake with but love! Let's talk about both of them, shall we?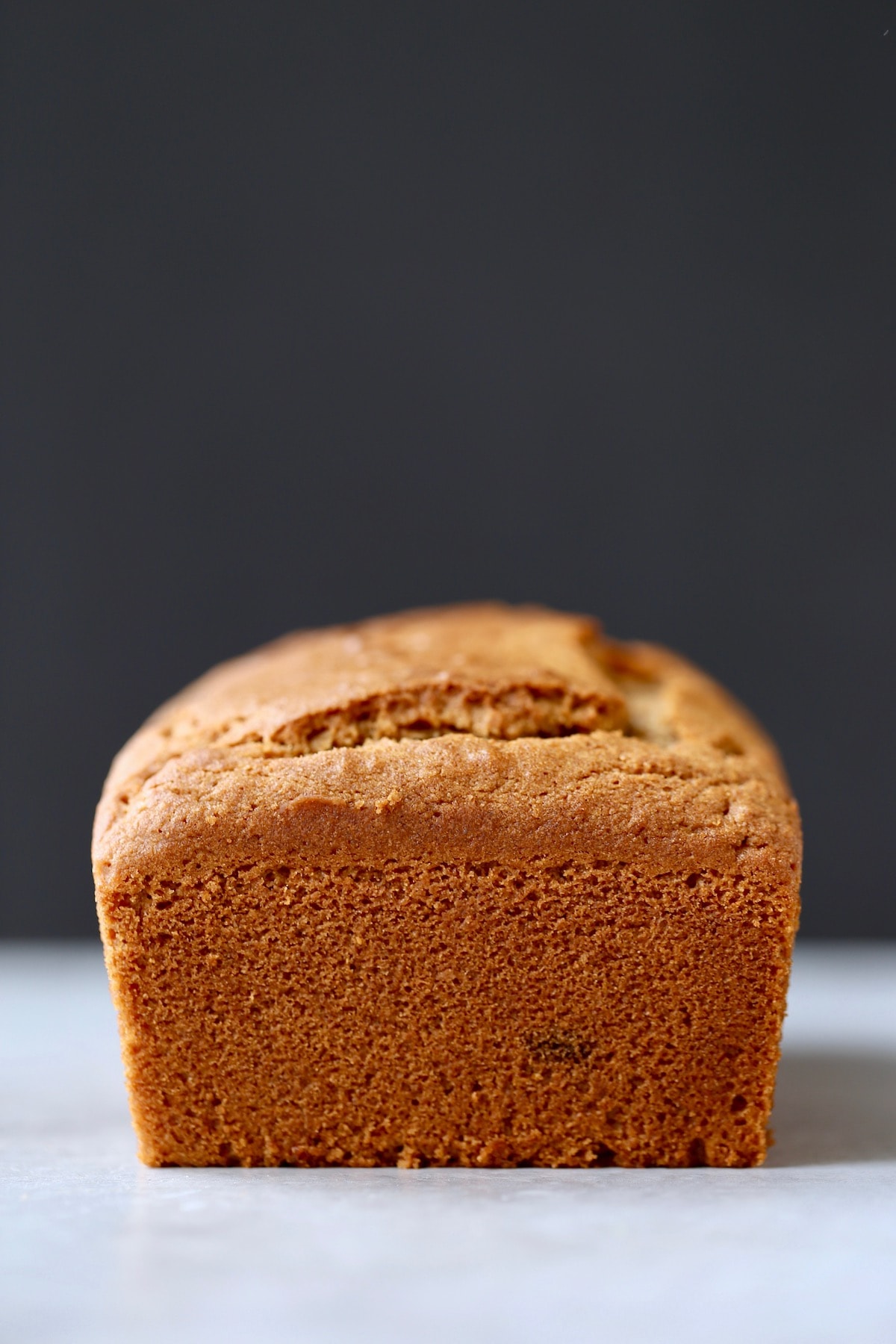 What is the difference between Extra Virgin Olive Oil and Regular Olive Oil?
The amount of olive oils available at the grocery store can get overwhelming, so let's break down the differences between extra virgin olive oil (EVOO) and regular olive oil. EVOO is the oil that is extracted from olives which have been ground into a paste. No heat is used when making EVOO, so it is often labeled as "cold-pressed" and has a more potent flavor. Regular olive oil, on the other hand, is created by blending together both cold-pressed oil and processed oil. It has a more neutral flavor and is perfect in this recipe!
Can you make cake with olive oil?
Yes. You can definitely use olive oil when baking cakes. It will substitute wonderfully 1-to-1 for whatever oil is called for in the recipe. Just remember that EVOO has a stronger flavor and may affect the taste of the cake. Therefore, you may want to stick with regular olive oil.
Is butter or oil better for baking cakes?
In my opinion, oil is superior to butter when baking cakes. 1 cup of oil is lighter than 1 cup of butter so it will produce a lighter cake, while using butter will produce a denser cake. However, butter does add some extra flavor and could be a good option in certain instances.
What is Aquafaba?
I'm pretty sure this tea cake is the first of many recipes on my blog to use aquafaba. If you aren't familiar with aquafaba, you're in for a real treat–especially if you are allergic to eggs or follow a plant-based diet. Aquafaba is the viscous liquid from a can of chickpeas which can act as an egg substitute. More specifically, aquafaba has a lot of the same properties as eggs whites, so you can actually use it to create vegan versions of popular desserts such as meringues and marshmallows. While it doesn't have all the properties of a whole egg including the egg yolk, you can still often substitute three tablespoons of aquafaba for 1 egg in some recipes, like I did in this tea cake.
Aquafaba recipes:
Like I said, I hope to share many more recipes using aquafaba in the future, but for now you can check out some of the popular recipes below which use aquafaba. I hope these recipes inspire you in the kitchen!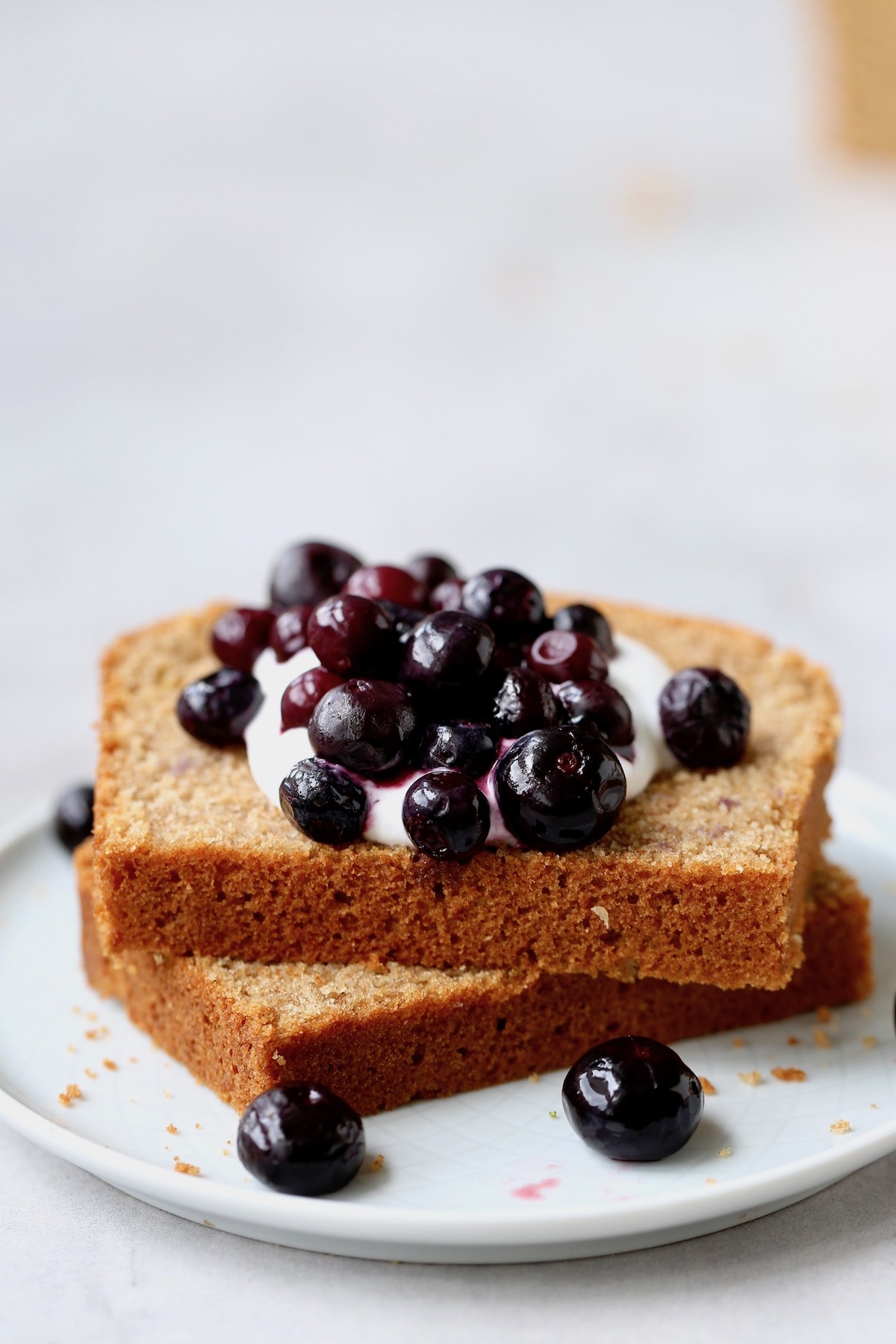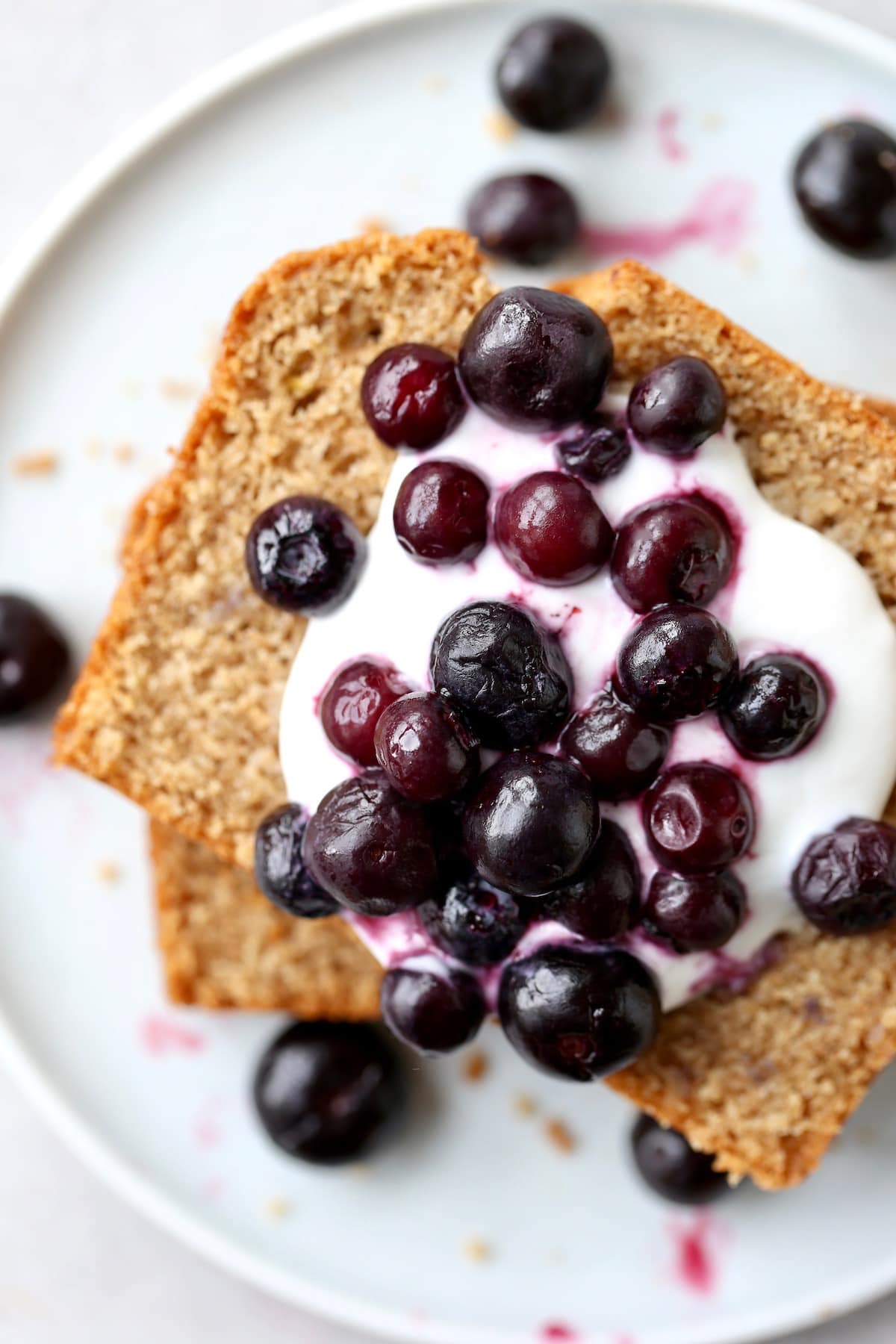 Please let me know if you try out this recipe and what you think! I love it paired with coconut yogurt and fresh fruit or chia jam. If you want a visual step-by-step guide on how to make this cake, be sure to check out the video below. If you make this tea cake be sure to rate the recipe, share it with others and tag @theconscientiouseater on Instagram if you post a photo!
Whole Wheat Olive Oil Tea Cake (Vegan!)
Total Time:
1 hour
5 minutes
Made with whole wheat flour and rich olive oil, this subtly sweet Olive Oil Tea Cake is perfect when paired with tea or coffee!
Ingredients
3/4 cup soy milk
2 teaspoons lemon juice
2 cups whole wheat flour
1 teaspoon baking powder
1/2 teaspoon baking soda
1/4 teaspoon salt
3/4 cup sugar
1/2 cup + 1 tablespoon aquafaba*
3/4 cup olive oil
1 teaspoon lemon zest
1 teaspoon vanilla extract
Instructions
PREP: Preheat your oven to 350 degrees and grease a standard loaf pan. Set it aside.
Combine the soy milk and lemon juice to form buttermilk. Set it aside for 5 minutes.
Prepare your aquafaba by opening a can of chickpeas and pouring the liquid into a jar.
TEA CAKE: In a large mixing bowl, whisk together the dry ingredients, from the whole wheat flour to the salt.
In a separate mixing bowl, whisk together the wet ingredients including the sugar, aquafaba, olive oil, lemon zest, vanilla extract and buttermilk.
Add the wet ingredients to the dry ingredients and stir until just combined.
Pour the batter into your prepared loaf pan and bake for about 50 minutes or until golden on top and a toothpick inserted into the center comes out clean.
Allow the tea cake to cool for 5-10 minutes in the pan before removing it to finish cooling on a wire rack.
SERVE: Slice the tea cake and serve it with fresh fruit, yogurt or however you like!
STORAGE: Store in an airtight container in the fridge for a few days.
Notes
*Aquafaba is the viscous liquid from a can of chickpeas. You can probably substitute the liquid from a can of white beans if you don't have a can of chickpeas on hand.
Recommended Products
Nutrition Information
Yield

12
Serving Size

1 slice
Amount Per Serving
Calories

243
Total Fat

14g
Saturated Fat

2g
Trans Fat

0g
Unsaturated Fat

12g
Cholesterol

0mg
Sodium

146mg
Carbohydrates

28g
Fiber

2g
Sugar

13g
Protein

3g
Nutrition information is a rough estimate provided by Nutrionix and should be used for informational purposes only.