This deliciously rich 4 Ingredient Chocolate Chia Seed Pudding is full of fiber, protein and healthy fats to keep you full for hours. It's a great breakfast to meal prep at the start of the week and tastes amazing topped with bananas and peanut butter!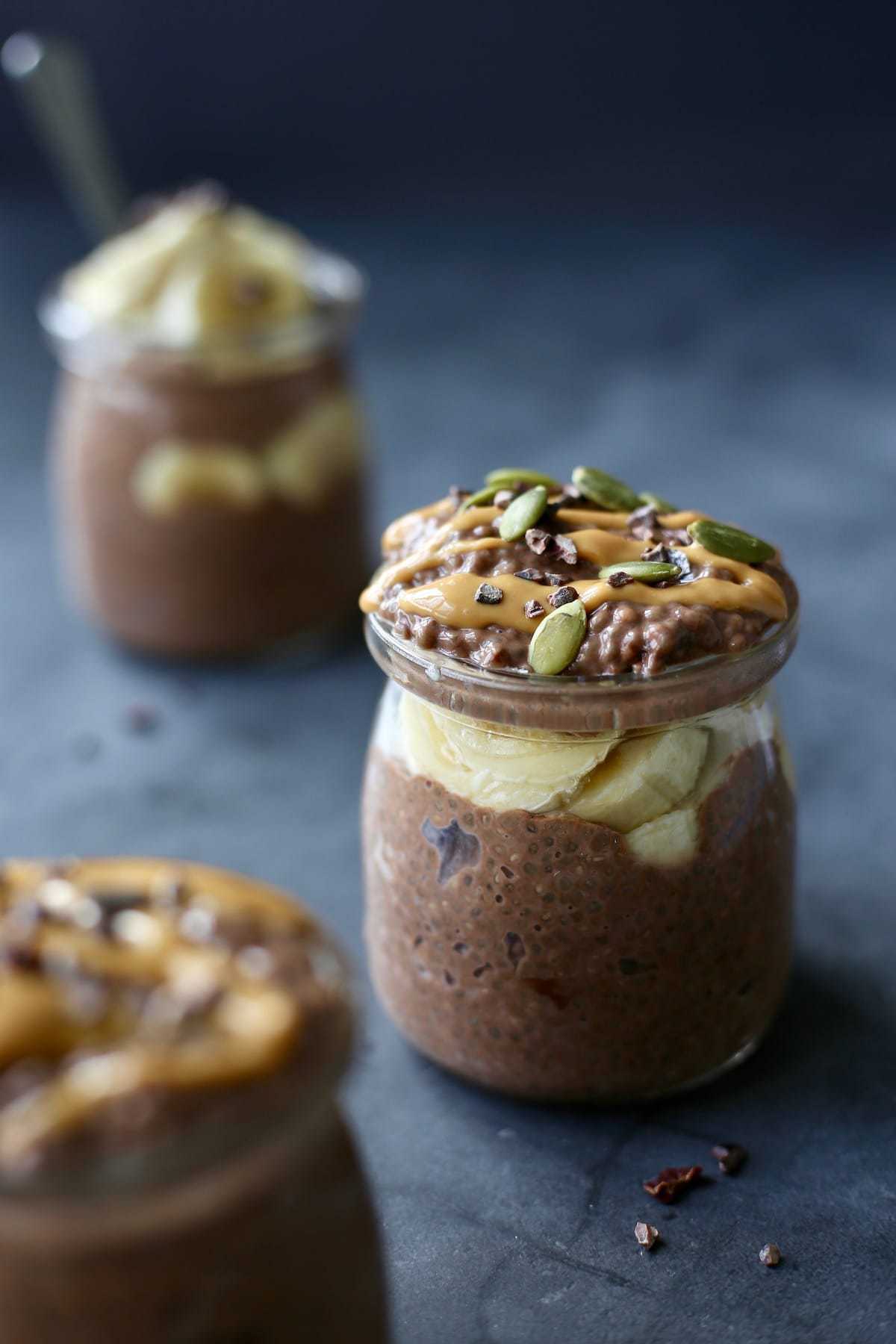 Jump To
Have you tried chia seed pudding yet?
If not, you're in for a treat! It is insanely easy to make and has the coolest texture.
Think tapioca pudding…but with more nutrients!
It can be enjoyed anytime of the day for a quick breakfast, a hearty snack, or even dessert!
My Introduction to Chia Seed Pudding
I remember so clearly when I first discovered chia seeds. A friend of mine was using them to improve her digestion (oh, hello fiber!) and told me she would just soak some in water and enjoy a spoonful of "pudding" every day.
So easy!
Chia Pudding Variations
Chia pudding is so versatile!
You can really get creative with the flavors. Here are just a few variations that you can try:
Cinnamon Vanilla (add ½ teaspoon of vanilla extract and up to ½ teaspoon of ground cinnamon)
Carrot Cake Chia Seed Pudding and of course
this 4 Ingredient Chocolate Chia Seed Pudding!
As many of you can probably guess, chocolate is my all-time favorite flavor.
What's not to love about starting your morning with a healthy, chocolatey breakfast?
What Exactly are Chia Seeds?
Chia seeds come from a plant in the mint family called Salvia Hispanica. They were a staple in the ancient Aztec diet and have now gained attention world-wide thanks to their amazing nutritional benefits.
Most consider chia seeds now to be a superfood!
They are super absorbent, allowing them to plump up and become gelatinous when soaked in liquid.
If you haven't used chia seeds as one of your vegan ingredients in your pantry yet, you're in for a treat!
Health Benefits of Chia Seeds
Chia seeds have tons of health benefits, making chia seed pudding great for any diet - vegetarian, vegan, gluten-free, paleo or keto!
Omega-3 Fatty Acids
Chia seeds are high in Omega-3 fatty acids, which are harder to get on a vegan diet.
Soluble Fiber
Chia seeds are high in soluble fiber, which can help regulate blood sugar and slow down digestion, keeping you fuller for longer.
Protein
There are 4.7g of protein in 1 oz (28.4g) of chia seeds making it a decent source of protein.
Other Nutrients
A serving of chia seeds, which is just 1 ounce or 2 tablespoons, contains a good source of plant-based protein, calcium, iron, magnesium and antioxidants!
Ingredients
Basic Chia Pudding Recipe
The basic pudding recipe (without the chocolate) really only requires two ingredients:
Chia seeds (I recommend the Healthworks brand chia seeds)
Liquid of choice such as non-dairy milk
My friend would simply soak her seeds in water and call it a day.
However, if you want more flavor in your pudding, I suggest using non-dairy milk such as some homemade almond milk, coconut milk, or even good homemade cashew milk, plus some spices / powders or juice.
Ingredients for this Chocolate Chia Pudding Recipe
This recipe requires 4 ingredients:
Non-Dairy Milk
Can I substitute honey for maple syrup for the sweetener?
Yes! Simply substitute to 2 tablespoons of honey for the 2 tablespoons of maple syrup.
What non-dairy milks should I try?
Depending on your taste, almost any non-dairy milk can work!
Can I add fresh fruit?
Yes! Strawberries or cherries would be especially delicious on top!
How about coconut whipped cream?
Oh, I like you! I'm glad you asked. Yes, try adding my coconut milk whipped cream along with some berries!
What spices can I use?
Some people like to add spices, such as ground cinnamon, cardamom, nutmeg, or cloves. Instead of cinnamon, some people even like to use ginger!
Pro Tip: You may need to add a bit more liquid if you're going to add spices.
How to Make Chia Seed Pudding
While chia pudding takes about 5 minutes of hands-on time, it does need to soak in the fridge for a few hours in order to thicken.
Pro Tip: For one serving of basic chia seed pudding you'll need about 3 tablespoons of chia seeds and ¾ cup of liquid.
The process is simple:
Whisk these two ingredients together in a mason jar or bowl until there are no clumps of seeds stuck together. You'll notice for the vegan recipe I share below, I also add cocoa powder and maple syrup;
Allow the mixture to sit for about 5 minutes before stirring again;
Cover the container and place it in the fridge to thicken for about 2 hours or overnight.
Pro Tip: If the consistency of your pudding is either too liquid or too clumpy, you may need to give it another stir after taking it out of the fridge, then put it back in the fridge for another 30-45 minutes.
Everyone will have different preferences on how thick or thin they like their vegan pudding. I would recommend starting with less liquid and adding more as desired.
If you include any spices or powders (cocoa powder, peanut flour, protein powder, etc.), then you'll probably need a little more liquid than if you were just making a 2 ingredient recipe.
Storage
Great news is you can both freeze and refrigerate this vegan pudding, making it a great food to meal prep at the start of the week or month.
In the Fridge
This pudding can be stored in a sealed jar or container in the fridge for up to 5 days. If you plan to meal prep and store it in the fridge for a few days, then I would recommend making just the base of your vegan pudding and then adding toppings right before you plan to enjoy eating it.
In the Freezer
Chia pudding can also be frozen! Just be sure to use a freezer-safe container or jar. It will last for a few weeks in the freezer. To enjoy your frozen pudding, simply remove it from the freezer the night before and allow it to thaw in the fridge overnight.
When it comes to freezing, you can freeze the toppings as well. However, crunchy toppings such as granola, nuts, and seeds should be added right before enjoying to maintain their crunch factor.
Can I meal prep chia pudding?
Yes! This kind of pudding is really easy to double, triple, quadruple etc. You can make enough servings to last 3-4 days in the fridge, or make even more servings to store in the freezer.
Is chia seed pudding vegan?
Chia pudding does not used animal products as long as you use maple syrup for your sweetener instead of honey.
Is chia seed pudding gluten-free?
Chia seeds are naturally gluten-free.
Is chia seed pudding paleo?
Yes, chia seed pudding is suitable for a paleo diet.
Is chia seed pudding keto-friendly?
Chia seeds are keto, but chia seed pudding is not. Chia seeds have lots of fiber and are low in carbs, so they are great for a keto diet. But people on a keto diet will need to substitute a sugar-free sweetener for the maple syrup in this recipe.
Is chia seed pudding good for weight loss?
Chia seed pudding is high in fiber, which typically aids weight loss, but there are many more factors to consider.
Can I make chia seed pudding in a blender?
Yes! Instead of mixing or whisking the ingredients together, you can simply blend them in a blender.
More Chia Pudding Inspiration!
I love getting creative with my vegan pudding ingredients!
If you're uncertain how to do this, think of it like oatmeal. There are so many different ways you can jazz up basic pudding to turn it into something exciting and decadent.
Below are even more vegan chia pudding recipe ideas to get your creative juices flowing!
Banana and peanut butter
Pecans and maple syrup
Fresh mango and shredded coconut
Blueberries and lemon zest
Peanut butter and jelly
Strawberries and chocolate hazelnut spread
Berry compote and coconut whipped cream
Just like different toppings like vanilla or chocolate will help jazz things up, try mixing up the flavor of the chia seed pudding itself. You can use different liquids, spices and powders to come up with a variety of recipes to keep your mornings fun and exciting!
More Chia Pudding Recipes
Here are two recipe variations that I've developed that you might enjoy:
📖 Recipe
Chocolate Chia Seed Pudding Recipe
This rich and creamy 4 Ingredient Chocolate Chia Seed Pudding is full of fiber, protein and healthy fats to keep you full all morning long.
Instructions
Add in the

maple syrup

and ¾ cup of non-dairy milk and mix well, adding in more maple syrup if you want a sweeter chocolate pudding.

Allow the mixture to sit for 5 minutes and then mix well again.

Cover the mixture and place the chia seed pudding in the refrigerator for a couple of hours or overnight.
Notes
Serve this as-is or add any toppings you desire, such as fresh or dried fruit, 
cacao nibs
, granola, nut butter, etc. If the final result is too runny for your taste, add in a little bit more non-dairy milk to thin it out!
Nutrition
Calories:
410
kcal
Carbohydrates:
42
g
Protein:
19
g
Fat:
20
g
Saturated Fat:
2
g
Polyunsaturated Fat:
13
g
Monounsaturated Fat:
3
g
Trans Fat:
0.1
g
Sodium:
215
mg
Potassium:
836
mg
Fiber:
16
g
Sugar:
19
g
Vitamin A:
1643
IU
Vitamin C:
30
mg
Calcium:
827
mg
Iron:
6
mg