Incredibly easy to make and even easier to eat, this teriyaki tempeh recipe will quickly become a staple weeknight dinner that the whole family will enjoy!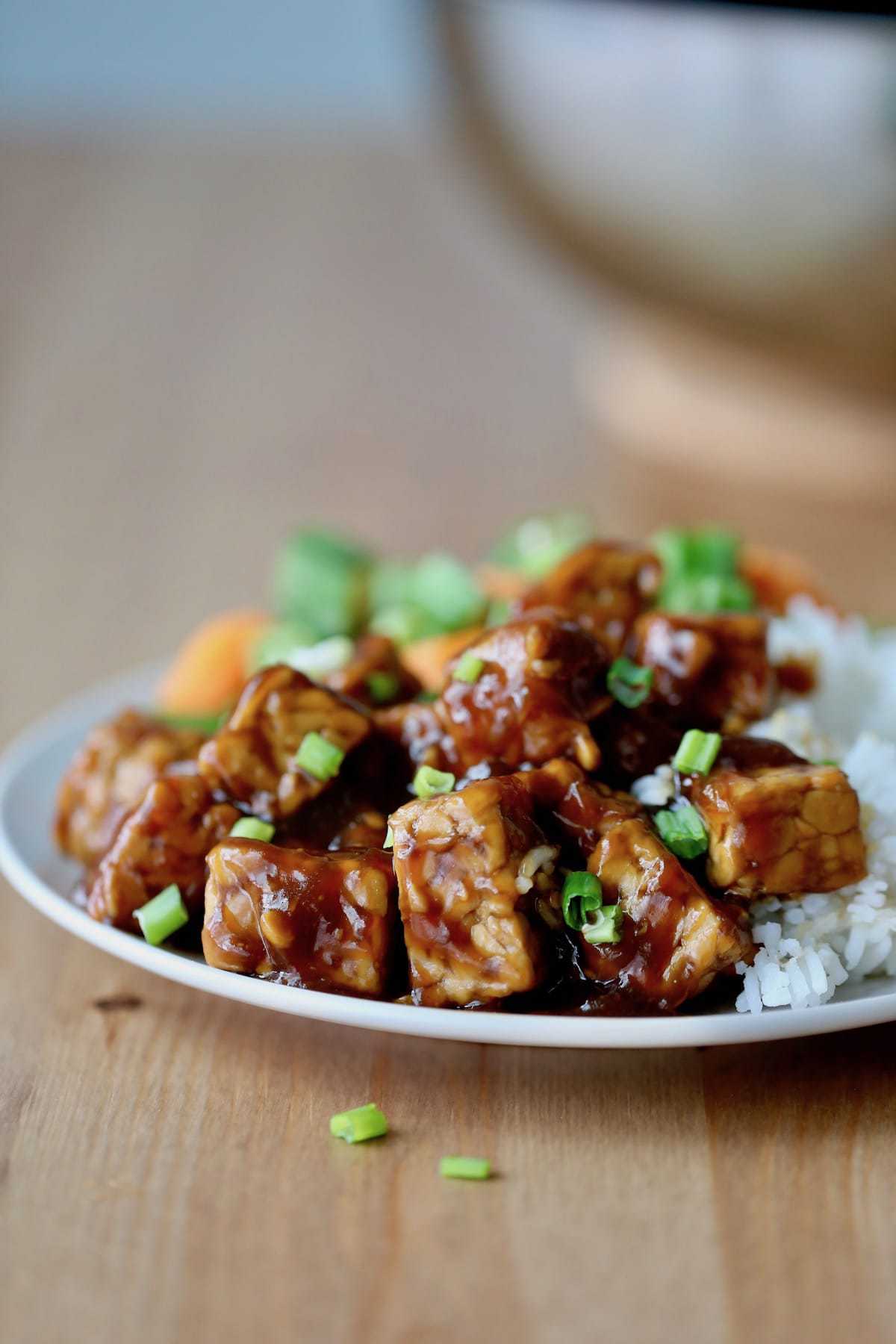 This recipe is for all you busy people out there who don't have time to cook or who don't like cooking. Your kiddos will especially love this teriyaki tempeh as each piece of tempeh gets coated in a sticky, sweet teriyaki sauce. If you're not into sweet sauces, I'm sure you can decease the sugar in the sauce to suit your preferences.
Jump to:
What is Teriyaki Sauce?
Teriyaki is actually the combination of two Japanese words: "teri" means luster and "yaki" means grilled. Teriyaki dishes start by marinating ingredients in a sweet sauce and after marinating these ingredients are then roasted, grilled or broiled. Teriyaki sauce is like a sweet and sour sauce that is sticky and gooey once heated. If you aren't a fan of sweet marinades, this isn't the sauce for you. But if you are (and I'm sure at least your kids are!), you'll love this simple, Japanese sauce. 
What are the ingredients in Teriyaki Sauce?
Traditional teriyaki sauce consists of four main ingredients including sugar, mirin, soy sauce and ginger. As like many sauces, there are now tons of variations of teriyaki sauce, but they will all generally be both sweet and salty thanks to the soy sauce and sugar, with tangy notes thanks to the rice wine (a.k.a. mirin). In the case of this teriyaki sauce, I used white vinegar instead of mirin as I find more people have that on hand in their pantries. The other ingredients are basically the same. I used a combination of coconut sugar and maple syrup in my sauce for a more natural sweetener and as always, added some minced garlic as well. 
You can really use this teriyaki sauce as a marinade for all kinds of protein sources and vegetables. So if tempeh isn't your thing, swap the tempeh for tofu! You could even use this sauce to coat a variety of vegetables for a sweet and sour stir-fry. I'd love to know how you end up using it!
If you enjoy simple, protein-rich recipes like this, be sure to check out the similar recipes below!
Teriyaki Tempeh Photos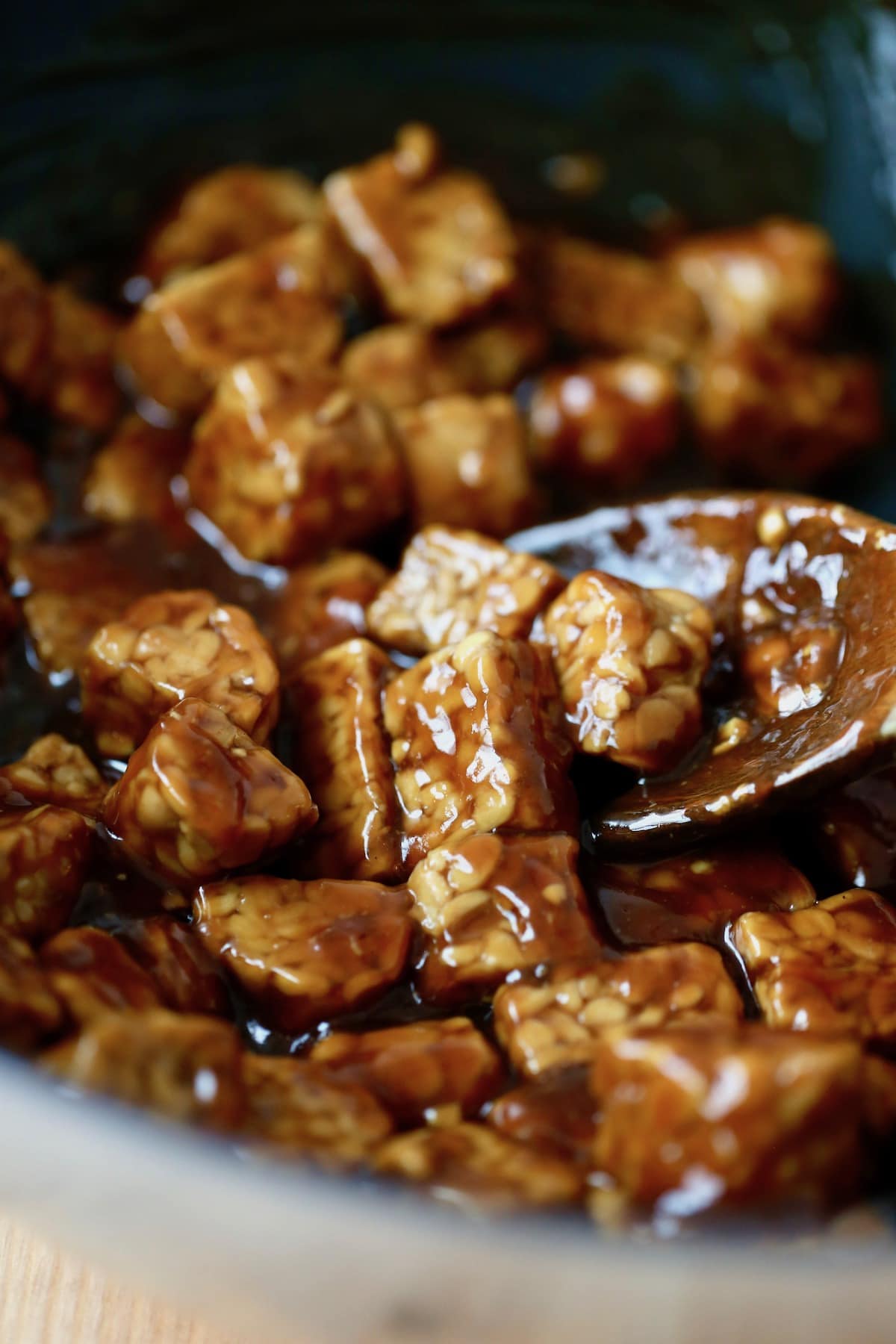 If you try this recipe and enjoy it, please be sure to leave a 5 star rating, comment below and share it with others!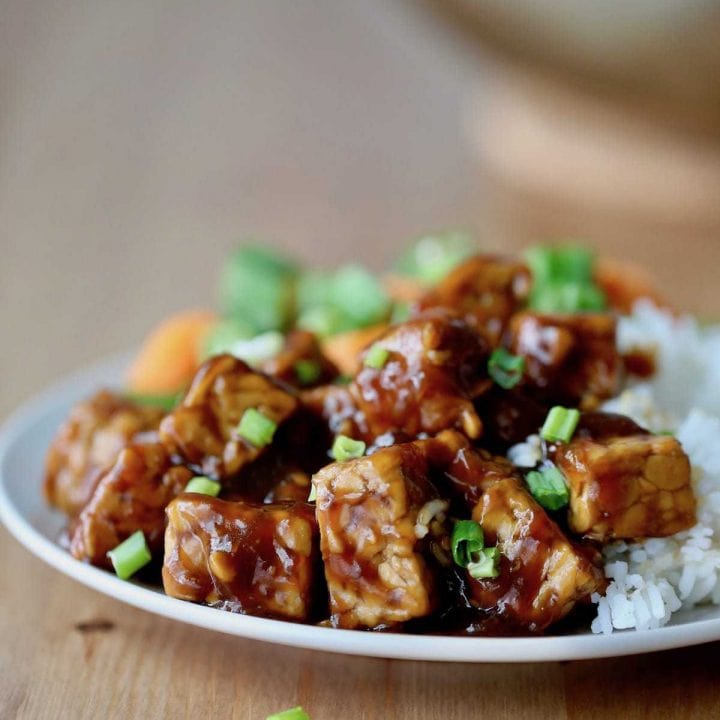 Insanely Easy Teriyaki Tempeh
Sweet and sticky and full of plant-based protein, this insanely Easy Teriyaki Tempeh will quickly become a family favorite!
Ingredients
TERIYAKI SAUCE:
1 cup water
2 tablespoons white vinegar
⅓ cup soy sauce*
⅓ cup coconut sugar
1 tablespoon maple syrup
1 teaspoon fresh grated ginger
3 cloves garlic, minced
2 tablespoons corn starch
¼ cup cold water
Instructions
PREP: Cut the tempeh into cubes and place them in a glass container.
SAUCE: Combine all of the teriyaki sauce ingredients, except for the corn flour and cold water, into a saucepan and heat over medium heat until the sauce is heated through and the sugar has dissolved. Carefully pour the sauce over the tempeh and, if you have time, allow the tempeh to marinate covered in the fridge for 1-2 hours.
COOK: When you are ready to cook the tempeh, pour all the tempeh and teriyaki sauce into a wok or sauce pan and heat over medium heat.
In a small bowl, whisk together the corn starch and cold water until smooth. Pour the cornstarch mixture over the tempeh and stir to combine. Continue stirring occasionally until the sauce thickens, is glossy and sticks to the tempeh.
SERVE: Serve over rice with vegetables.
Notes
*Use tamari instead of soy sauce if you are gluten free.
Nutrition Information
Yield

4
Serving Size

1 serving
Amount Per Serving
Calories

133
Total Fat

2g
Saturated Fat

1g
Trans Fat

0g
Unsaturated Fat

1g
Cholesterol

0mg
Sodium

1162mg
Carbohydrates

26g
Net Carbohydrates

0g
Fiber

0g
Sugar

19g
Sugar Alcohols

0g
Protein

5g
Nutrition information is a rough estimate provided by Nutrionix and should be used for informational purposes only.