If you are vegan and want to travel to China, make sure to read this post to find out some fun, vegan Chinese snacks to try during your travels!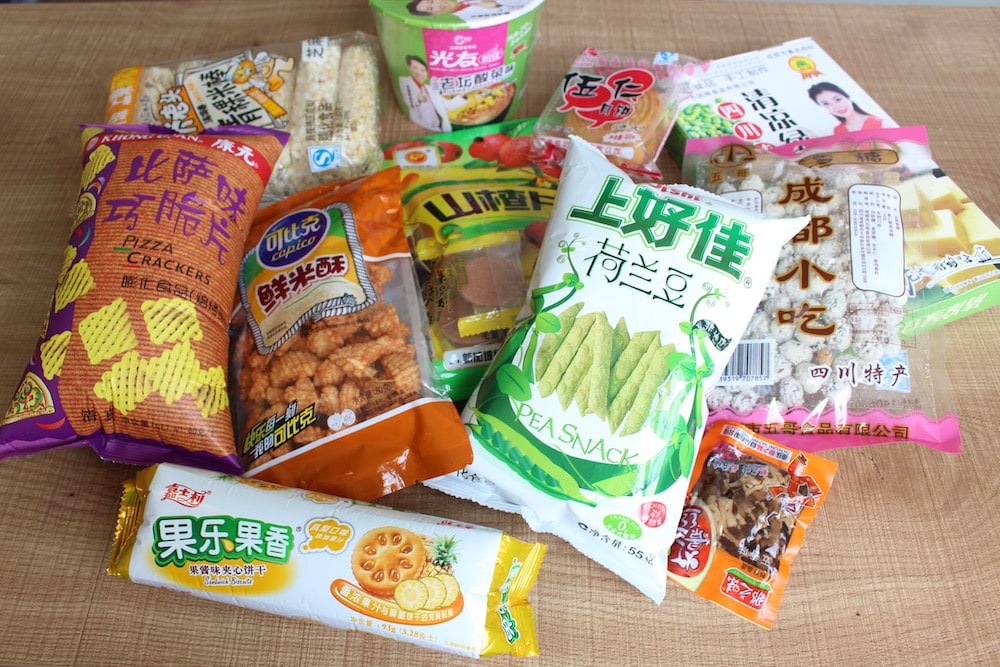 Jump To
Snacks from around the world
One of my favorite things to do when I travel to a new country is to try the local food. It's such a great way to get a glimpse into the culture, the agriculture and the taste buds of the people living in that area. The food people eat on a daily basis can tell you a lot about them.
Do they eat only what is available and abundant? Do they eat lots of processed foods? Do they baked their bread or steamed it? Is fruit abundant or hard to come by? What about vegetables? Is the food bland or full of spices? Can they handle heat or do they like their food more mild and sweet?
These are the questions I love to discover when I'm in a new country.
Africa
Whenever I traveled to Africa I could always count on eating lots of rice, chicken (before I was vegan), and pounded yam (a dense "bread" that was used to scoop up different foods).
India
In India, I could always expect a flavor explosion in my mouth with every bite I took!
Italy
In Italy, the food is rich and carb heavy and coated in olive oil...ah, so good! In Ireland, fruits and veggies seem to be sparse, but you can always count on a meat stew or baked potato to be on the menu.
I could go on and on about all the different variations of food I've eaten throughout my travels!
Vegan Asian snacks (China)
But, what about Asia?! And specifically, China?!?
I know I mentioned India above, but I'm considering the Asian subcontinent separately.
China is a HUGE country. We all know that. So depending on what city or province you travel to, the food is going to change. In the south, rice is the staple. In the north, noodles are the staple. The Sichuan Provence is known for their spicy food, etc., etc.
Since we've moved to China I've slowly been trying to discover new produce at the markets and learn how to cook it.
Check out my Authentic Chinese: 8 Treasure Soup (Ba Bao Zhou 八宝粥 recipe!
Yet I really haven't tried many of the processed snack foods that are available in our city. To change that, I had my language teacher take me to the store and help me buy lots of unique, vegan Chinese snacks for me to try.
Yeah, we definitely found some weird snacks!
Trying different vegan Asian snacks was such a fun "experiment" for me. I bought crunchy snacks, sweet snacks, rice snacks, fruit snacks, instant noodles and more. I also filmed the initial taste test which you can watch below if you want! Otherwise keep reading if you're interested in learning what Chinese people eat as snacks!
11 authentic Chinese snacks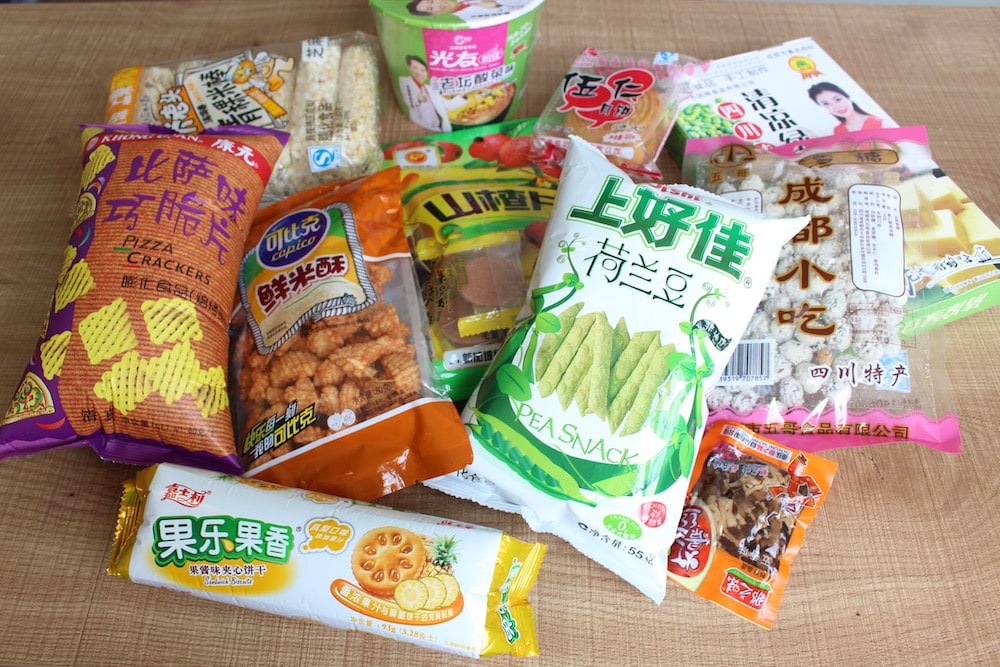 The numbered pictures of authentic Chinese snacks below correspond with the list of Chinese snacks below it.
As you can guess, the names of these snacks aren't quite accurate as they have been translated, but hopefully they give you a little bit of an idea of what these Chinese snacks taste like. I'll talk briefly about each one and also tell you which ones were my favorite and which ones didn't quite make the cut.
1. Rice Bats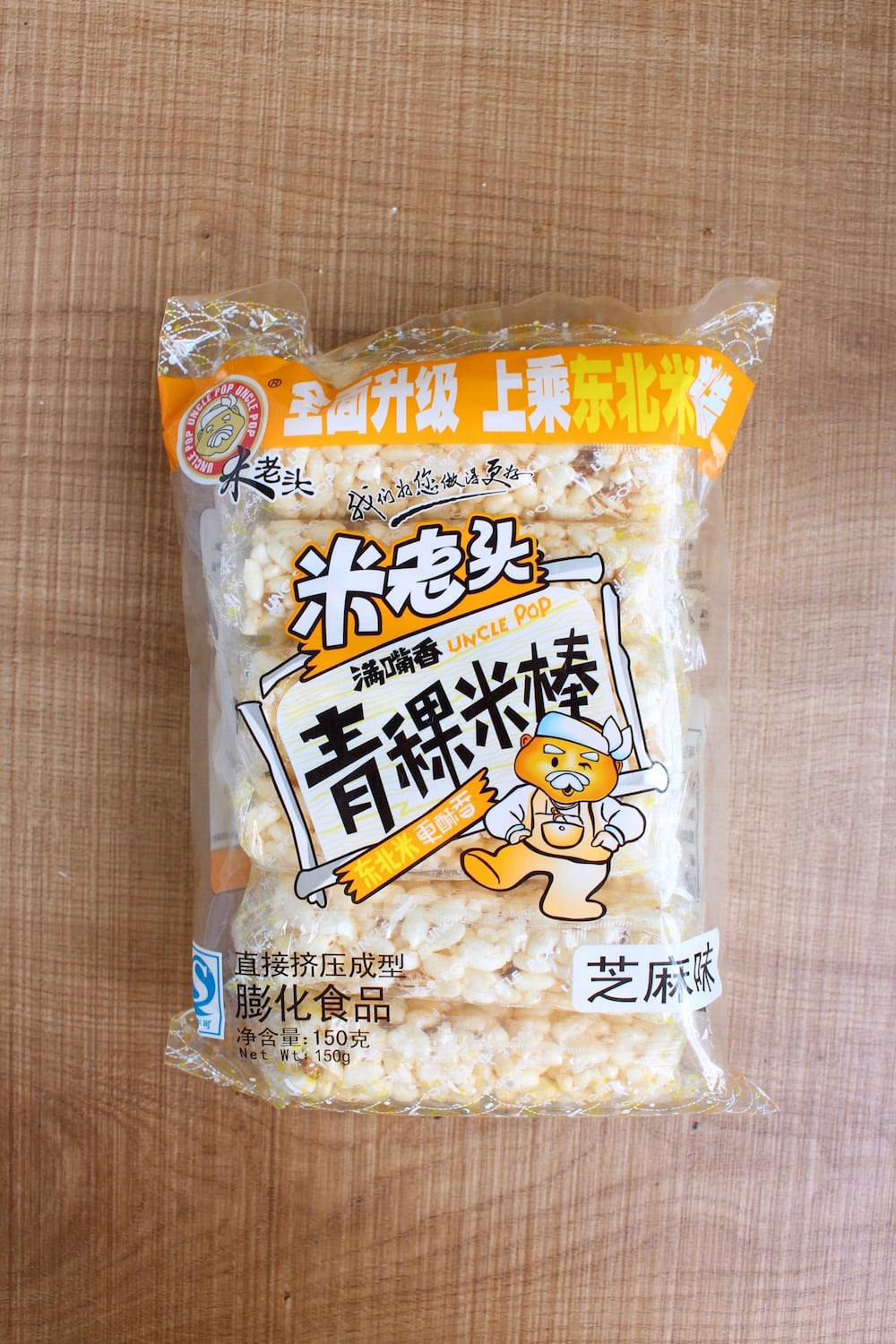 These Rice Bats are really similar to the rice cakes that you'd find in America, except they are in the shape of a tube and are much sweeter than simple rice cakes. You could actually see the thin sugar coating on the outside of the puffed rice. The flavor was supposed to be sesame, but it was really subtle. I really enjoyed these and in the end these made 2nd place in my top 3 favorites! They are light, crunchy and sweet and would be perfect for a road trip.
2. 5 Seed Moon Cake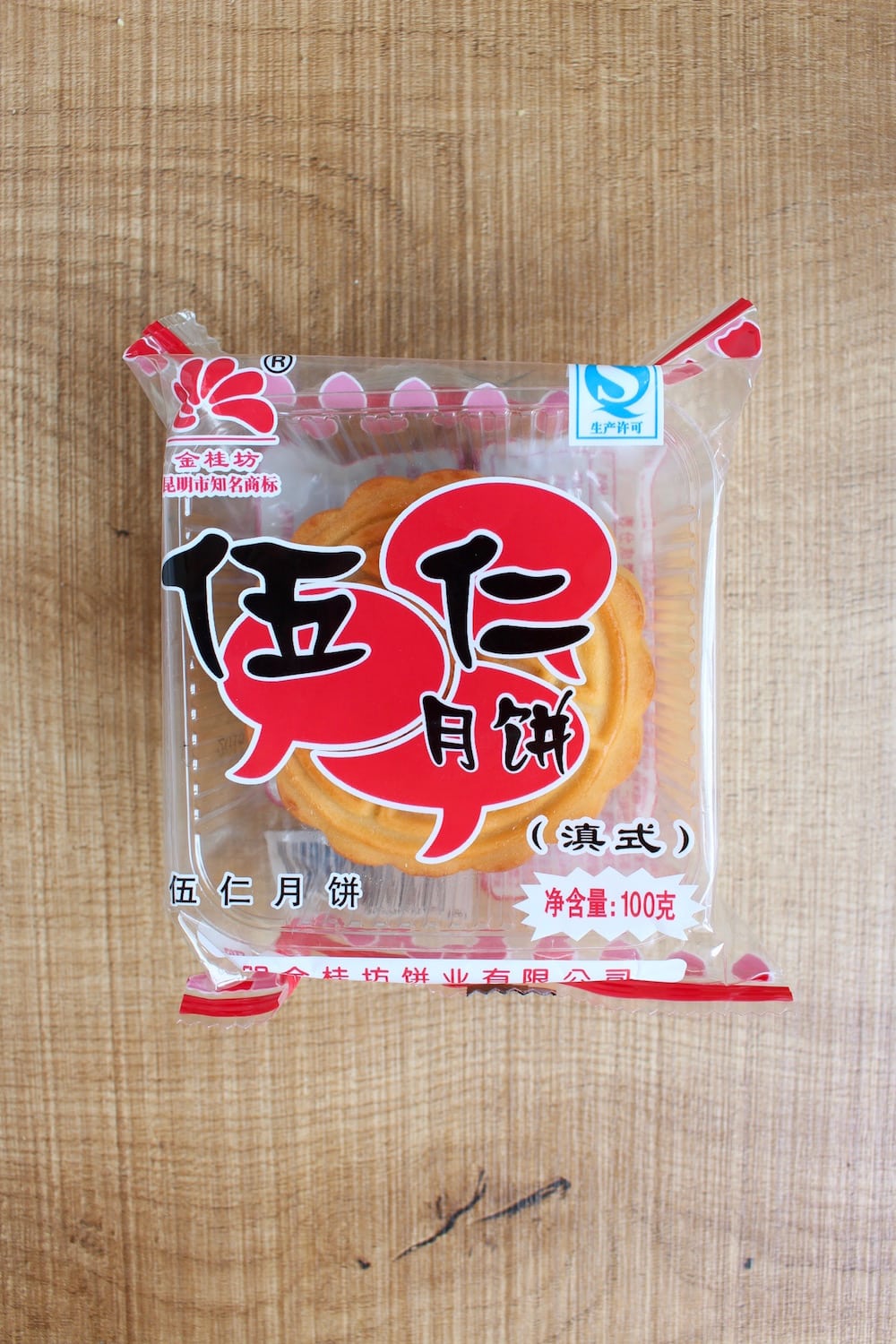 Moon Cakes are really popular in China and are often given as gifts during holidays. They can be sweet, savory, or even floral flavored. It actually took us a while to find a Moon Cake that didn't have any animal products in them, as most of them use pig fat. But, we were successful and found a cake filled with 5 different nuts and seeds, such as walnuts, peanuts, sesame seeds and pumpkin seeds. This cake was delicious. It was subtly sweet, super nutty tasting, and really dense, which I actually love. This cake made 3rd place in my top 3 favorites, so that's saying something!
3. Pea Snaps
I've seen "chips" like these in America, but I've never had them myself. I was expecting them to be super pea flavored, but they tasted more cheesy. I actually don't think I tasted anything pea-like. The texture reminded me of cheese puffs; light and airy and kind of stuck to my teeth when I bit them.
4. Pineapple Sandwich Biscuits
These biscuit cookies were stuffed with a gooey, sticky pineapple filling. The biscuit cookie part reminded me of ritz crackers, but a little more sweet. They weren't anything super special, but I could see myself enjoying them with some tea.
5. Fresh Rice Snacks
These red, savory "fresh" rice snacks definitely weren't fresh. They were crunchy and again had a puffed-rice texture. They didn't really have a specific flavor, but they had a subtle kick at the end, which I liked.
6. Snow Candy
OMG. I'm telling you right away that these little balls of sugar won 1st place. Hands down. My teacher told me they were sweet and she wasn't lying. These little bites have a peanut center and a super sweet sugar coating. They're crunchy and I loved the sweet and nutty combination. They reminded me of candied pecans, but with peanuts instead. If you're ever in China, definitely give these little nuggets a try!
7. Packaged Tofu and Mushrooms
These were the snacks I was most nervous to try. I love tofu and I love mushrooms, but I've never eaten them out of a small plastic package with weird liquid in it. Apparently, kids love these snacks and they just slurp the tofu and mushrooms out of the packaging. These snacks weren't as bad as I thought, but I still couldn't get over the packaging.
8. Pickled Cabbage Instant Noodles
This was another food item that I was SUPER nervous about. It again took us a while to find instant noodles that were vegan, but we did it. I love pickled cabbage, but the instant noodles sold here just scare me...so I knew I had to include some in this taste test.
Guess what?!
I actually loved these noodles! The noodles were made from sweet potato starch and the flavor was so perfectly spicy. But, the small little packages that I added to the noodles were super scary. One was filled with the pickled cabbed, one was filled with weird spices (probably MSG) and the third one was filled with a vibrant, red oily substance. It all looked so gross, so I hate admitting that it was delicious, but it was. Somehow I was able to stop myself after just two bites, but if didn't care about being healthy the next day, I probably would have eaten the whole thing.
9. Hawthorn Fruit Snacks
I had never heard of Hawthorn, but my teacher told me they were a sour fruit, and she was right! I actually like these little round, fruity snacks. They were a dryer consistency and would kind of melt in your mouth. The sourness wasn't too overpowering either, which was nice. These were good!
10. Pizza Crackers
I was so surprised that these Pizza Crackers were vegan. I was also expecting them to have a super potent pizza flavor, but they didn't. They smelled subtly of marinara, but they just had more of a mild flavor, almost cheesy. I also expected them to be crispier, but they were more of a puffed rice texture. Brett, my husband, ended up liking them though and finished them off in no time!
11. Green Bean Cake
I was so excited to try this Green Bean Cake because the packaging made it look like the texture of shortbread and I thought the green bean flavor would be subtle. However, the texture was more crumbly, yet moist, and the flavor was more citrusy. The thing that I hated most though was how sweet these little cakes were. I have quite a sweet tooth and it's hard for me to think something is TOO sweet, but these definitely were. In the video you can instantly see it on my face that these were my least favorite snack. Maybe stay away from these if you're ever in China!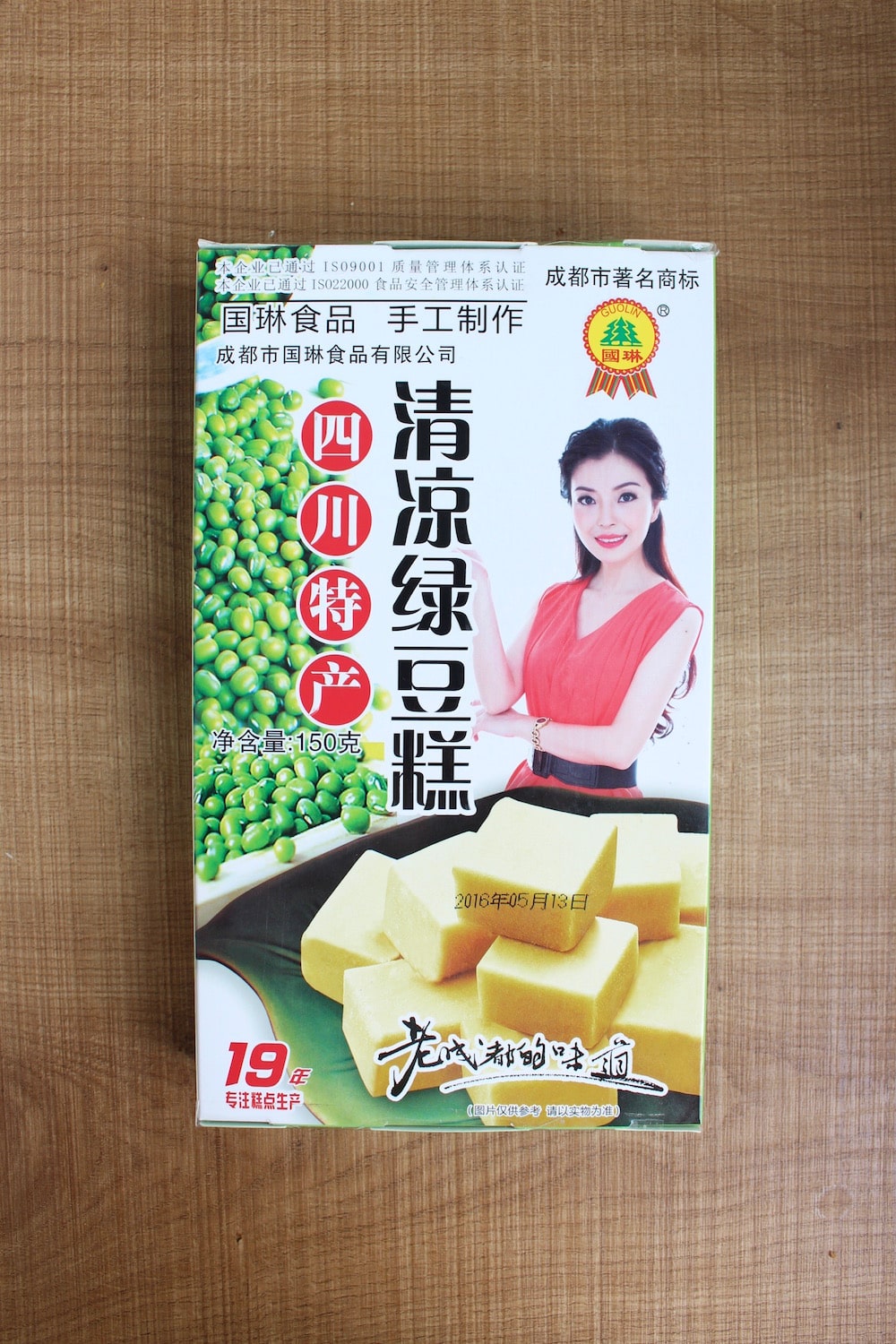 I hope that it gave you a little more insight into the Chinese culture and what people here view as snack food. It's definitely a lot different than American granola bars or chips and salsa, that's for sure!
Let me know if you've ever tried any Chinese snacks or if you have a snack product that you love from another country!
More Chinese recipes + posts!
Chinese Food I've Eaten Lately
WIAW: Learning How to Cook Chinese Food