Made with quick cooking ramen noodles and veggies, these delicious Miso Noodles make for the perfect, balanced weeknight dinner!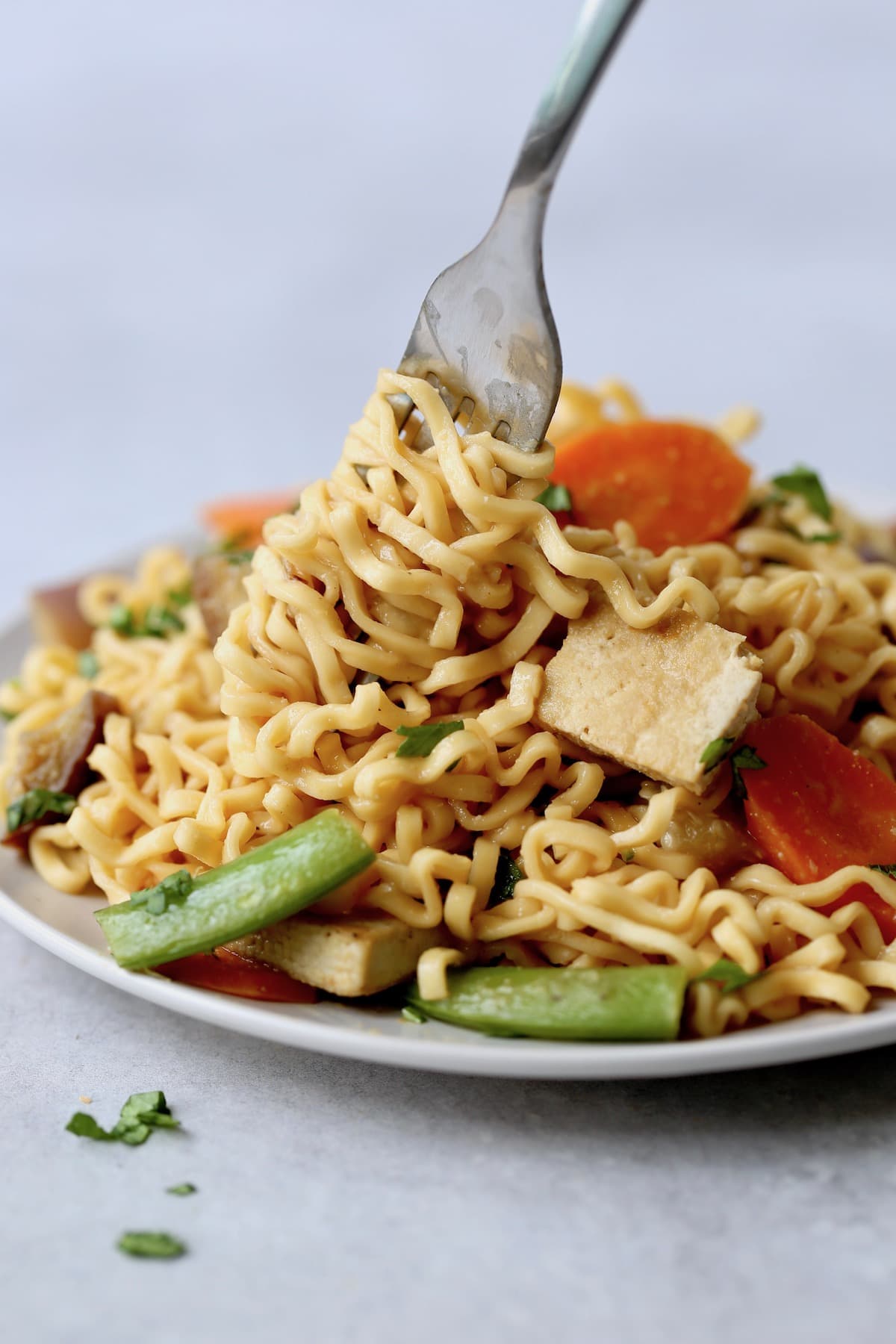 I feel like I'm posting more savory recipes lately. Not too long ago this space was overrun by sweeter snack, breakfast and dessert recipes. That was because, in the past, our lunches and dinners were super simple (aka boring) and weren't really recipes at all. I would simply put some canned beans and steamed veggies on top of rice and then top everything off with a homemade or store-bought condiment. It wasn't horrible. It just wasn't exciting. Now I'm finding my grove with sauces and marinades and our lunches and dinners have improved dramatically. Woot Woot! Today I'm sharing with you one of our currently favorite lunch or dinner recipes: quick and easy vegan miso noodles!
Thanks to quick cooking noodles, thinly sliced or chopped vegetables and a pre-cooked (or leftover) protein source, this recipe comes together in a flash. The star of the show is definitely the miso dressing and it couldn't be easier to prepare! To make it, all you need to do is whisk some pantry staples together in a bowl until smooth. Done and done. No cooking or chopping involved!
Miso Sauce
Like I said, this sauce requires just a handful of pantry staples to make. If miso--the star of this sauce--isn't a pantry staple for you yet, then it needs to be! And if you don't have any of the other ingredients, you should pick those up too as they come in super handy when making any kind of asian inspired sauces or meals.
White miso
Rice vinegar
Soy sauce
Maple syrup (or any kind of liquid sweetener)
Sesame oil
Ground (or fresh) ginger
What is Miso?
Miso is a Japanese seasoning paste made from a base of fermented soybeans and salt as well as other additional ingredients including barley, rice and even seaweed. There are a few different kinds of miso pastes, the most common of which include white miso, red miso and mixed miso. The taste and color of miso depends on a few different factors including salt content, how long the soybeans are fermented and temperature.
What does Miso taste like?
While it doesn't sound all that appetizing, miso's rich umami flavor creates the most amazing sauces and dressings. This simple miso noodle recipe calls for white miso, which has a more mild, sweet flavor and I highly recommend you have it in your fridge at all times. Thanks to a shorter fermentation time, white miso's umami flavor is on the lighter side. You should be able to find miso in the refrigerated section of your local grocery store or at any asian supermarket!
Miso Soup Recipe
One of the most well-known recipes using miso is miso soup, which is a popular Japanese soup. Miso soup is made with a base of dashi (a stock made from different dried fish, seaweed and mushrooms) and miso paste. The miso paste is mixed into the dashi and then a small amount of solid ingredients are often added. The additional solid ingredients can vary depending on the season and person, but the bulk of the soup is often the stock and miso. Minimalist Baker shares a super simple vegan 15 minute miso soup with tofu and greens and it'd be a great starter recipe if you're still new to miso.
---
Okay, let's get into these vegan miso noodles. I love this recipe because, while there are a few different components, nothing takes long to prepare. I've been making this recipe for a quick lunch or weeknight dinner and Harper LOVES these miso noodles, so this is definitely a kid-friendly recipe.
Please let me know if you try out these simple miso noodles and tell me what you think in the comments below! Be sure to watch the video below if you want to see in video form how to make this simple recipe. If you end up making and enjoying this recipe, be sure to leave a star rating, share the recipe with others and post a photo on Instagram tagging @theconscientiouseater!
Quick and Easy Vegan Miso Noodles
Made with quick cooking ramen noodles and veggies, these delicious Miso Noodles make for the perfect, balanced weeknight dinner!
Ingredients
MISO SAUCE:
¼ cup white miso
¼ cup rice vinegar
2 tablespoons soy sauce*
1 tablespoon maple syrup
1 teaspoon sesame oil
¼ teaspoon ground ginger
NOODLES:
Thinly sliced vegetables
Ramen noodles
Cooked protein source
Instructions
In a little water or oil in a large wok, sauté whatever quick-cooking vegetables you have on hand until soft. Season with salt.
In a large pot of boiling water, boil 4 servings of ramen noodles according to the package directions.
While the vegetables are cooking and the noodles are boiling, combine all of the miso sauce ingredients in a bowl and whisk until smooth. Set aside.
Strain the ramen noodles and rinse them in cold water.
Add them to the pan with the vegetables, add in your protein source and add the miso sauce a little at a time to taste. Toss everything together to ensure everything is coated in the miso sauce. Serve with sliced green onion and toasted sesame seeds.
Notes
*Use tamari if gluten free!