Made with quick cooking ramen noodles and veggies, these delicious Miso Noodles make for the perfect, balanced weeknight dinner!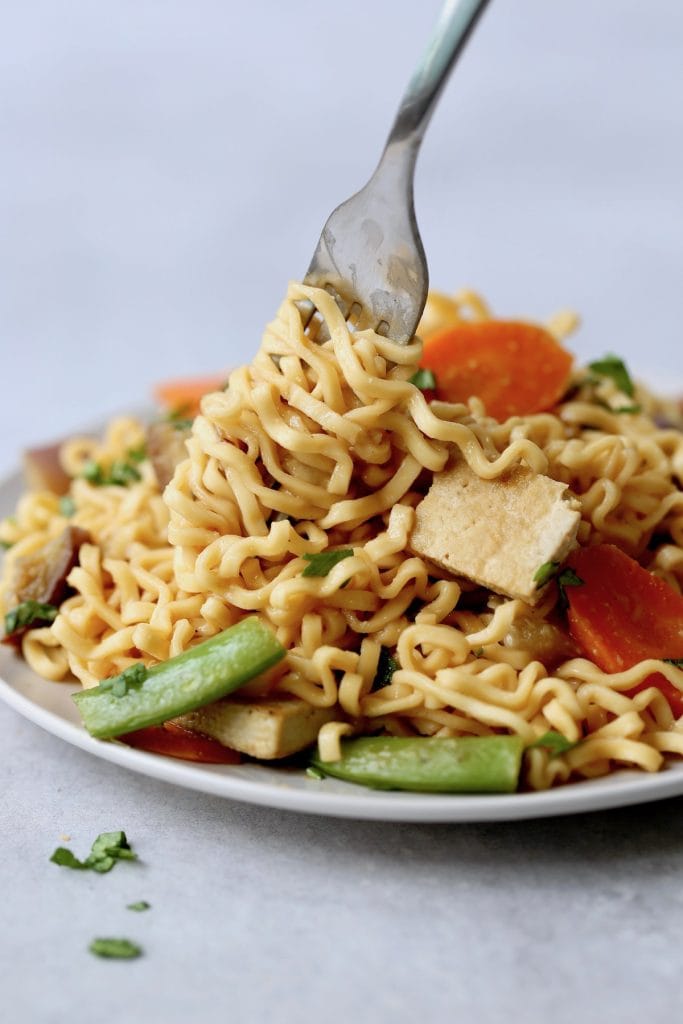 Considering we've lived in Asia for over 5 years, we LOVE our noodles.
No matter what country or culture you're from, I'm pretty sure noodles are a universally loved dish.
I have a few quick and easy noodle recipes on my blog, including Quick Asian Ramen Noodles and Vegan Soba Noodles with Almond Butter.
But my all-time favorite vegan noodle recipe are these quick and easy Vegan Miso Noodles!
Thanks to quick cooking noodles, thinly sliced or chopped vegetables and a pre-cooked (or leftover) protein source, this recipe comes together in a flash.
I know you all will love these noodles!
Ingredients You'll Need for Vegan Miso Noodles
This recipe comes together in a flash thanks to quick cooking noodles and leftovers!
To make this vegan miso noodle recipe, you'll need the following ingredients:
Ramen noodles
Thinly sliced vegetables
Cooked protein source
Miso sauce (see below!)
I love making this recipe when I have leftover veggies and tofu on hand.
All I have to do is make the sauce, cook some noodles and stir everything together!
Miso Sauce
The miso sauce is the star of this noodle recipe.
Thankfully, it requires just a handful of pantry staples to make.
If miso--the star of this sauce--isn't a pantry staple for you yet, then it needs to be!
And if you don't have any of the other ingredients, you should pick those up too as they come in super handy when making any kind of asian inspired sauces or meals.
To make this miso sauce, you'll need the following ingredients:
White miso
Rice vinegar
Reduced sodium soy sauce
Maple syrup (or any kind of liquid sweetener)
Sesame oil
Ground (or fresh) ginger
Thanks to the miso and soy sauce, this sauce is super salty.
I recommend using reduced sodium soy sauce and adding a little sauce at a time when adding the sauce to the noodles.
You can always add more, but you can't take away!
What is Miso?
Miso is a Japanese seasoning paste made from a base of fermented soybeans and salt as well as other additional ingredients including barley, rice and even seaweed.
There are a few different kinds of miso pastes, the most common of which include white miso, red miso and mixed miso.
The taste and color of miso depends on a few different factors including salt content, how long the soybeans are fermented and temperature.
In this recipe you'll want to use the more mild yellow or white miso!
What Does Miso Taste Like?
While it doesn't sound all that appetizing, miso's rich umami flavor creates the most amazing sauces and dressings.
This simple miso noodle recipe calls for white miso, which has a more mild, sweet flavor and I highly recommend you have it in your fridge at all times.
Thanks to a shorter fermentation time, white miso's umami flavor is on the lighter side.
Best Brands of Miso
You should be able to find miso in the Asian or refrigerated section of your local grocery store.
You can also find it at any Asian supermarket!
My personal favorite brand of miso is Hikari Organic White Miso, but feel free to try different brands to find out which one you like best!
How to Make Miso Noodles
I love to make these miso noodles when I already have leftover roasted or sautéed veggies and a cooked protein source on hand.
If you have those two items already on hand, then the rest of this recipe is a breeze!
Simply cook some ramen noodles, make the miso sauce and stir everything together!
Since the miso sauce is fairly salty, I recommend adding a little sauce at a time until you get the flavor you like.
Yield:

4 servings
Quick and Easy Vegan Miso Noodles
Made with quick cooking ramen noodles and veggies, these delicious Miso Noodles make for the perfect, balanced weeknight dinner!
Ingredients
MISO SAUCE
¼ cup white miso
¼ cup rice vinegar
2 tablespoons soy sauce*
1 tablespoon maple syrup
1 teaspoon sesame oil
¼ teaspoon ground ginger
NOODLES
Thinly sliced vegetables
Ramen noodles
Cooked protein source
Instructions
In a little water or oil in a large wok, sauté whatever quick-cooking vegetables you have on hand until soft. Season with salt.
In a large pot of boiling water, boil 4 servings of ramen noodles according to the package directions.
While the vegetables are cooking and the noodles are boiling, combine all of the miso sauce ingredients in a bowl and whisk until smooth. Set aside.
Strain the ramen noodles and rinse them in cold water.
Add them to the pan with the vegetables, add in your protein source and add the miso sauce a little at a time to taste. The miso sauce is fairly salty, so start with less as you can always add more!
Toss everything together to ensure everything is coated in the miso sauce. Serve with sliced green onion and toasted sesame seeds.
Notes
*Use tamari if gluten free!
Nutrition Information
Yield
4
Serving Size
1 serving
Amount Per Serving
Calories

203
Total Fat

6g
Saturated Fat

2g
Trans Fat

0g
Unsaturated Fat

3g
Cholesterol

1mg
Sodium

1508mg
Carbohydrates

25g
Fiber

3g
Sugar

5g
Protein

12g
Nutrition information is a rough estimate provided by Nutrionix and should be used for informational purposes only. As an Amazon Associate I earn from qualifying purchases.