This Berry Baked Oatmeal is my go-to dish when I am making breakfast for a bunch of people. It's also the perfect dish to meal prep at the start of your week when you want something warm and cozy in the mornings, but don't have a lot of time to prepare breakfast!
I love oatmeal...with a passion. If I wasn't married I would probably eat it for dinner a couple times a week.
In fact, when I was single that's exactly what I did.
Now that I'm married I still have oatmeal most mornings for breakfast (hello chocolate baked oatmeal!) I love putting chia seeds and flaxseed in my oats for extra protein and fiber and topping my bowl off with fresh fruit, nut butter and granola. Delicious!
My kids and husband especially love baked oatmeal for breakfast. I love making baked oatmeal for them too, because I can meal prep a large batch of it and then not think about breakfast for the next few days. Sometimes I even make it the night before like this carrot cake baked oatmeal.
Plus, baked oatmeal just feels special. I always feel like I'm at a cafe whenever I sit down to a heart plate of baked oatmeal loaded with all the toppings.
I know you guys are going to LOVE this delicious, colorful Vegan Berry Baked Oatmeal!
Jump To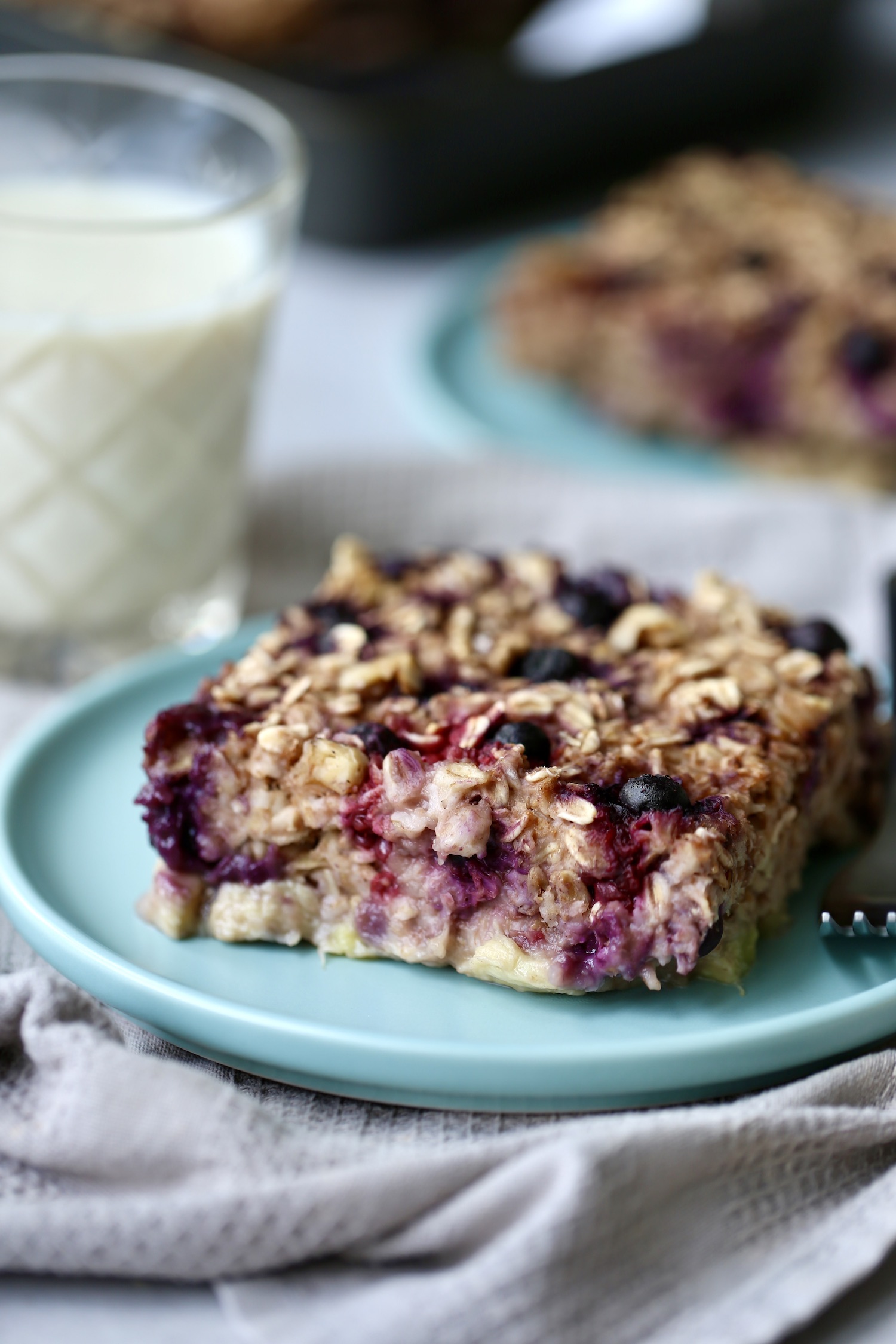 How I developed this berry baked oatmeal recipe
I got this recipe from a friend a long time ago and knew that I needed to "veganized" it and share it on my blog. I made a few swaps to the original recipe, swapping the white sugar for pure maple syrup, using flax eggs and almond milk instead of eggs and cow's milk, and lastly I omitted the butter.
Even with all of those changes you don't miss a thing! This baked berry oatmeal is a great recipe to make at the beginning of the week too, because it's easy to reheat and makes great leftovers.
I hope you like it!
Why I love baked oatmeal!
Baked oatmeal is often my go-to dish when I have to make breakfast for a bunch of people. It doesn't take much time to put together and the fact that it's baked seems fancy.
Baked oatmeal can easily be doubled or tripled, depending on how many people you need to serve. Then, you can set out different toppings for people to add to their top of their baked oatmeal to make it more personal and to suit their taste preferences.
Pro Tip: For you moms with kids, oatmeal is also a great way to sneak in some veggies, such as shredded zucchini or carrot and pumpkin puree.
Ingredients & Substitutions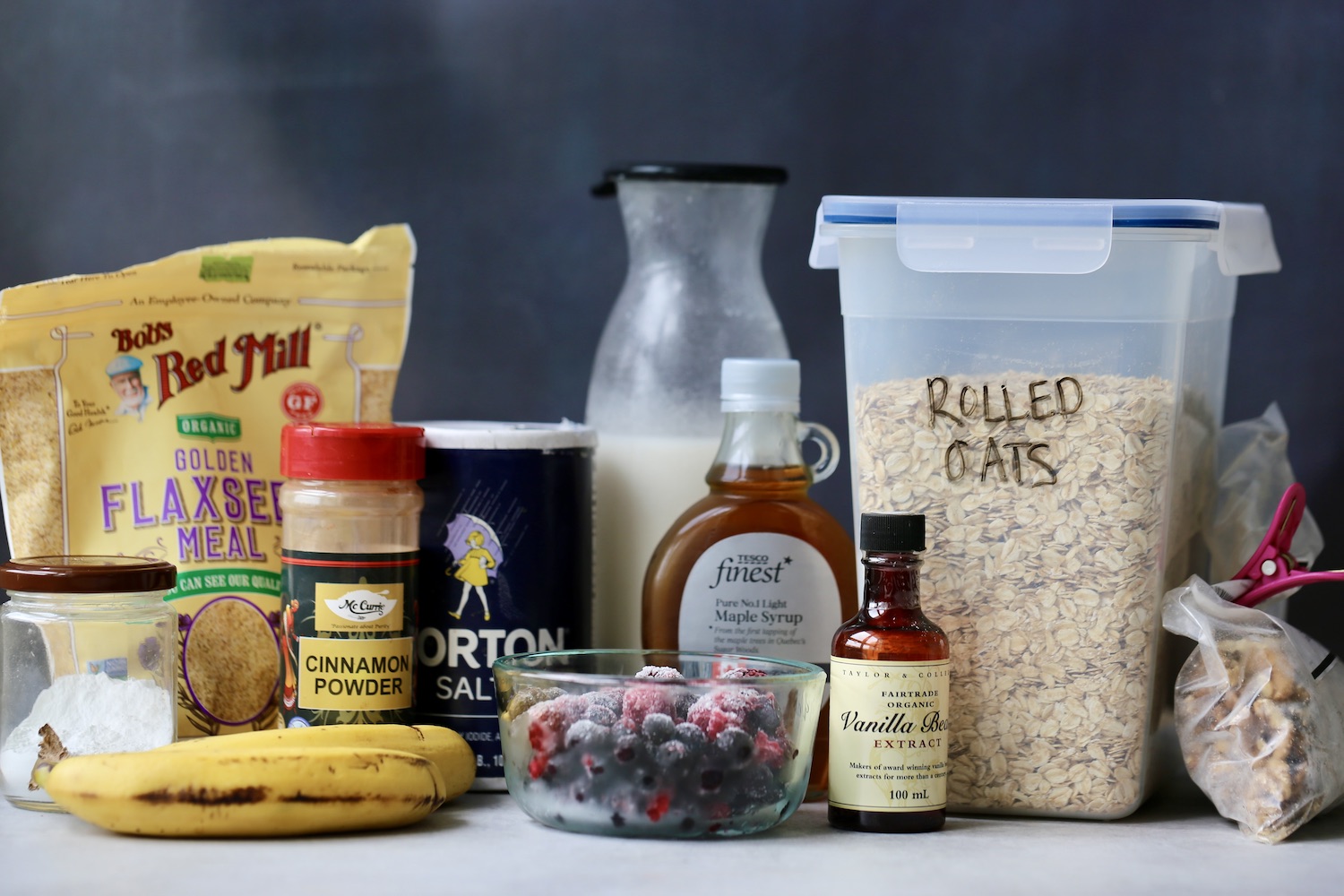 Rolled Oats
Rolled oats always make up the base of baked oatmeal, no matter what flavor I'm making. They are hearty, hold their shape and are full of whole grains and fiber.
Can I use quick oats or steel cut oats?
If I run out of rolled oats, I also use quick oats. However, rolled oats keep their shape and texture better than quick oats.
Don't use steel cut oats when making baked oatmeal! They aren't the same and require a lot more liquid and cooking time.

Flax Eggs
When I make baked oatmeal, I often use a flax egg instead of chicken eggs. Flax eggs help to bind all of the ingredients together and keep you from ending up with a crumbly finished product.
To make a flax egg, simply whisk together 1 tablespoon of ground flax seed and 3 tablespoons of water. Allow the mixture to sit for about 5 minutes until thickened. Then proceed with the recipe!
Non-Dairy Milk
Non-dairy milk is a must whenever you are making baked oatmeal. The oats absorb a lot of liquid while in the oven, so you want to make sure your baked oatmeal batter is a little bit soupy before placing it in the oven to bake.
Non-dairy milk is perfect for baked oatmeal! You can use whatever type, brand, flavor you like. I personally love to use my homemade oat milk as it's super inexpensive and pairs perfectly with the rolled oats.
Just remember that if you're using a flavored milk such as vanilla or chocolate, this will affect the final taste of your baked oatmeal.
Sweetener
Any kind of sweetener will work when it comes to baked oatmeal. Sometimes I use a dry sweetener such as coconut sugar or cane sugar. Most of the time, however, I like to use maple syrup for a more natural, less-processed sweetener.
Just remember that if you use a liquid sweetener, you won't need as much non-dairy milk.
Toppings
As I mentioned above, I love baked oatmeal because it is so easy to create variety and add in various nutrients through the toppings you choose.
Below is a list of potential toppings for baked oatmeal:
Fresh fruit
Dried fruit
Chopped nuts and/or seeds
Nut/seed butters
Granola
Berry compote or jelly
Fruit
While I'm a chocolate girl at heart, I also love making fruity baked oatmeal...especially this vegan berry baked oatmeal!
Thankfully, fresh and frozen fruit works beautifully in baked oatmeal. So if the fruit you want to use is out of season, try using frozen fruit. One thing to remember is that fruit has a high water content in it, so adding it to your baked oatmeal may make the oatmeal take longer to bake. You also may want to slightly decrease the amount of non-dairy milk you add to the batter or increase the baking time to counteract the extra moisture the fruit adds.
Can I use frozen berries?
Yes! As I mentioned above, frozen fruit is a great way to save money or enjoy your favorite fruits out of season. For me, frozen fruit, especially when it comes to berries, is often cheaper than fresh fruit, so definitely check your frozen section for good deals!

Veggies (mix-in)
I love adding shredded or pureed veggies to my baked oatmeal. You can't taste them and they add a nice pop of color and some extra nutrients to your first meal of the day.
Some of my favorite veggies to incorporate into baked oatmeal are listed below:
Shredded zucchini
Shredded carrots
Pumpkin puree
Butternut squash puree
Nut Butters
If you want to add some richness and flavor to your baked oatmeal, add some nut butter into your batter. One of our favorite combinations is banana and peanut butter. If you enjoy this combo as well, be sure to check out my Peanut Butter Banana Baked Oatmeal Recipe.
If you're allergic to nuts, try out sun butter or tahini! I love using tahini in my Brownie Batter Baked Oatmeal. It adds richness as well as iron and calcium and my kids don't even know it's in there!
Nuts
For some added texture and crunch, I love to add nuts to my baked oatmeal. If you have the time, I definitely recommend toasting your nuts before you add them to your baked oatmeal batter. Toasting the nuts enhances their flavor and levels up your baked oatmeal!
Whatever nuts are your favorite would taste amazing incorporated into baked oatmeal, so use whatever you fancy or whatever nuts you have on hand!
Seeds
If you're allergic to nuts or want to stick to a budget, seeds are the way to go. Pumpkin seeds, hemp seeds, sesame seeds, etc. add lots of nutrition and flavor, without increasing the price of the dish too much.
How to Make Baked Oatmeal
No matter what flavor of baked oatmeal you're making, the process is basically the same.
STEP 1: Before you begin, preheat your oven (usually to 375°F / 190°C) and grease a baking dish with cooking spray.
STEP 2: Get out all of your ingredients and prepare any mix-ins by toasting nuts if desired, slicing and arranging bananas and preparing your flax egg.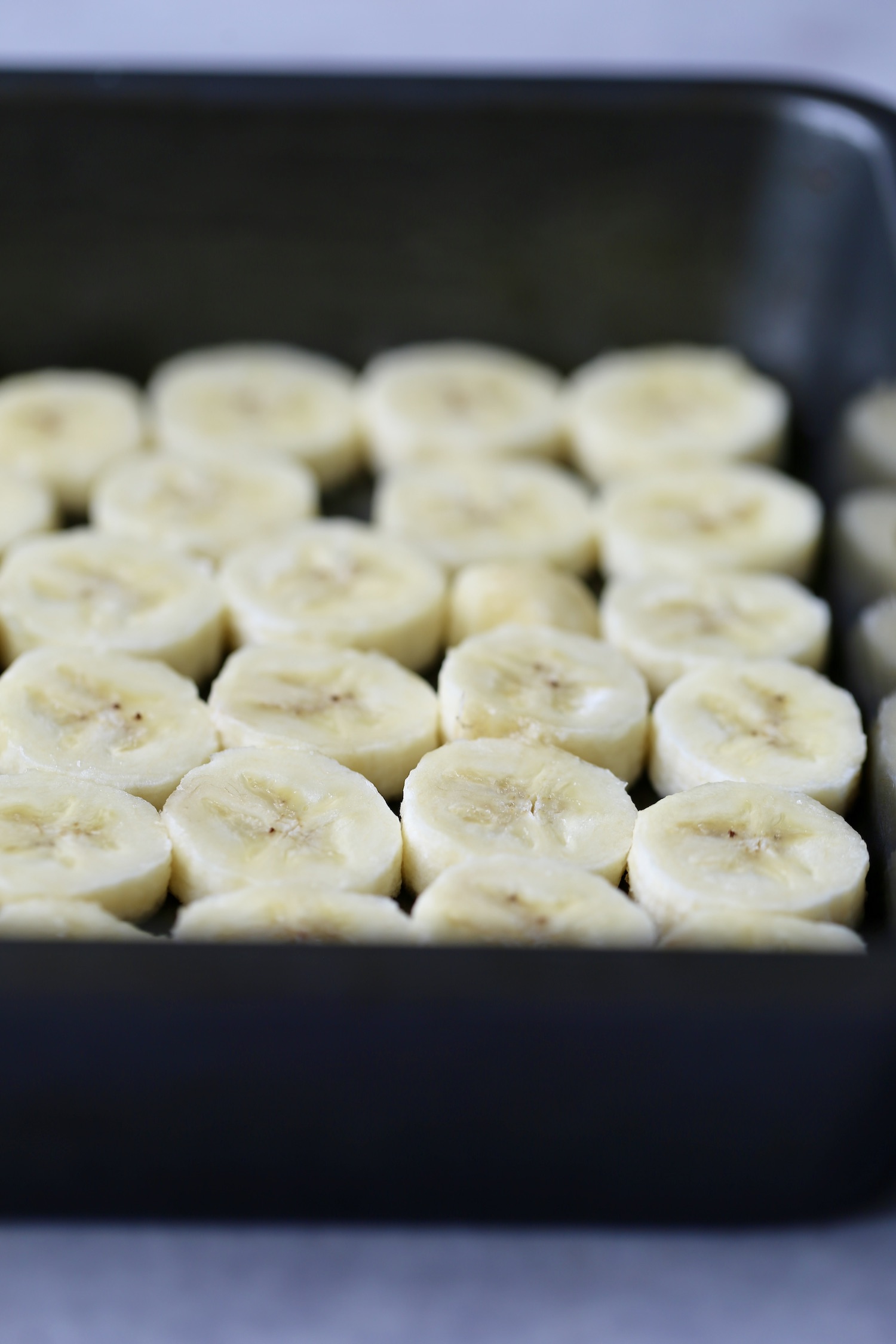 STEP 3: Prepare the batter by whisking together all of the wet ingredients, spices and leavening agents together in a large bowl. Next, stir in your rolled oats and mix-ins.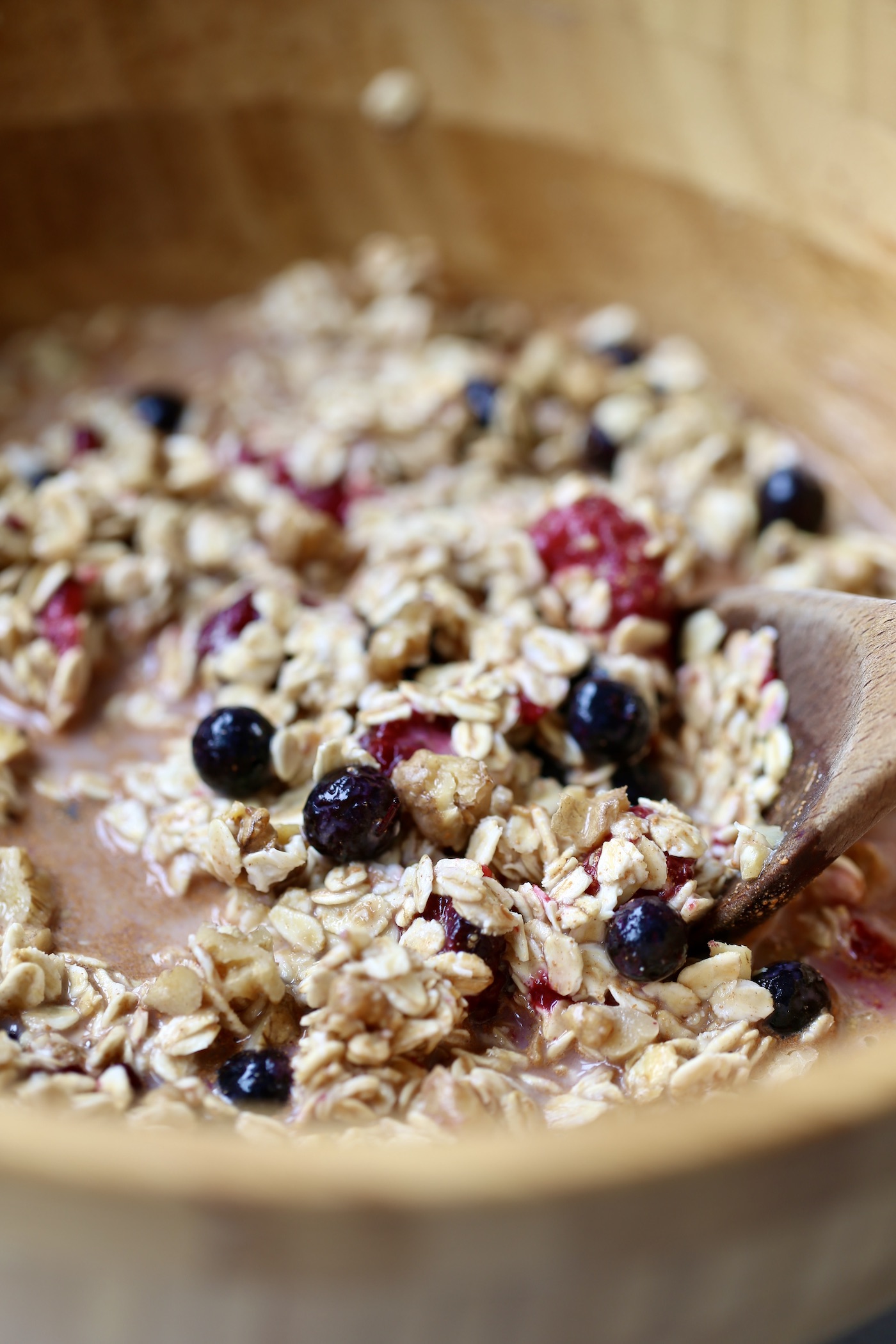 STEP 4: Pour the batter into your prepared baking dish, level out the batter until smooth and bake until set, usually between 20-40 minutes.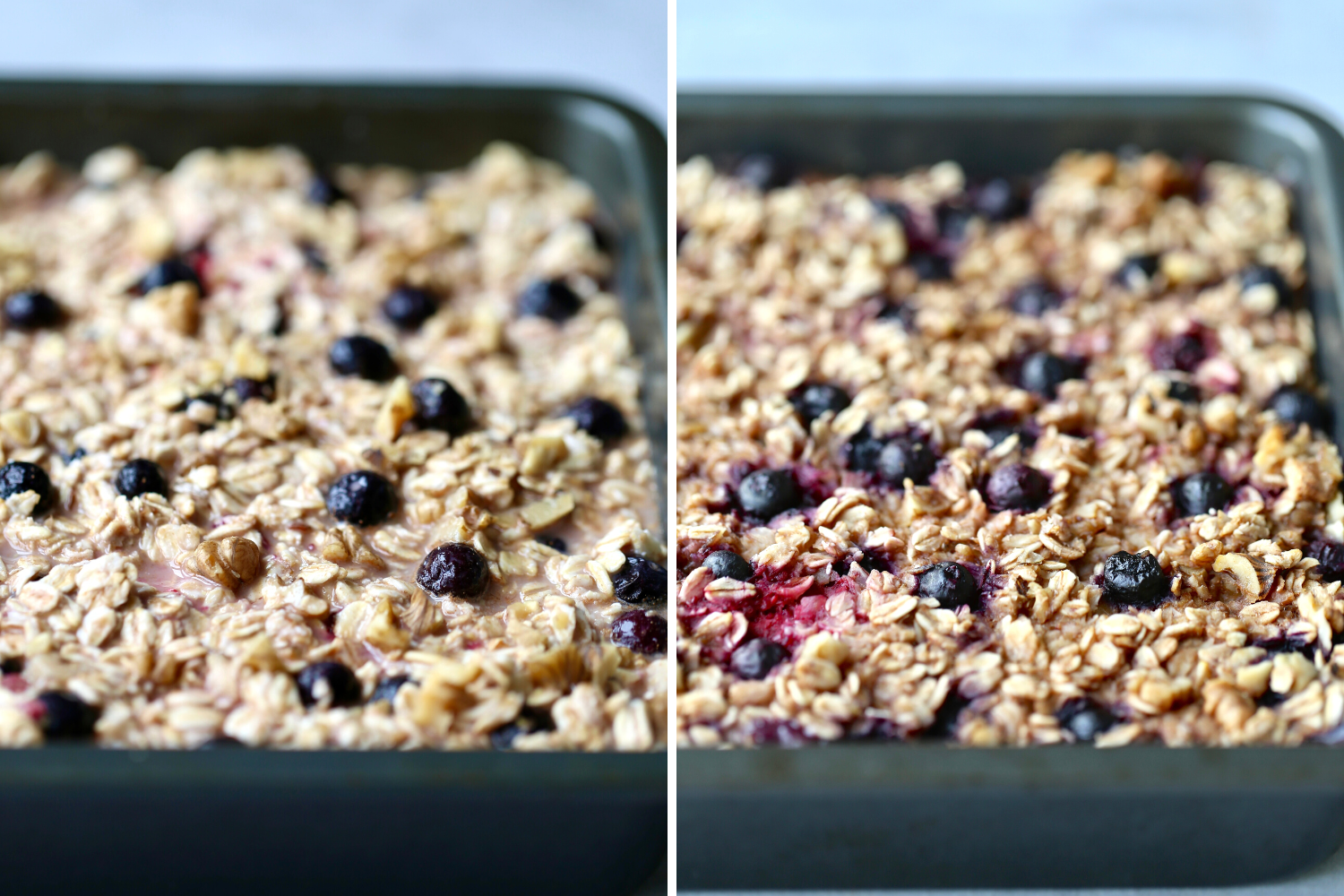 STEP 5: Allow the baked oatmeal to cool slightly before slicing, plating and topping with your favorite toppings!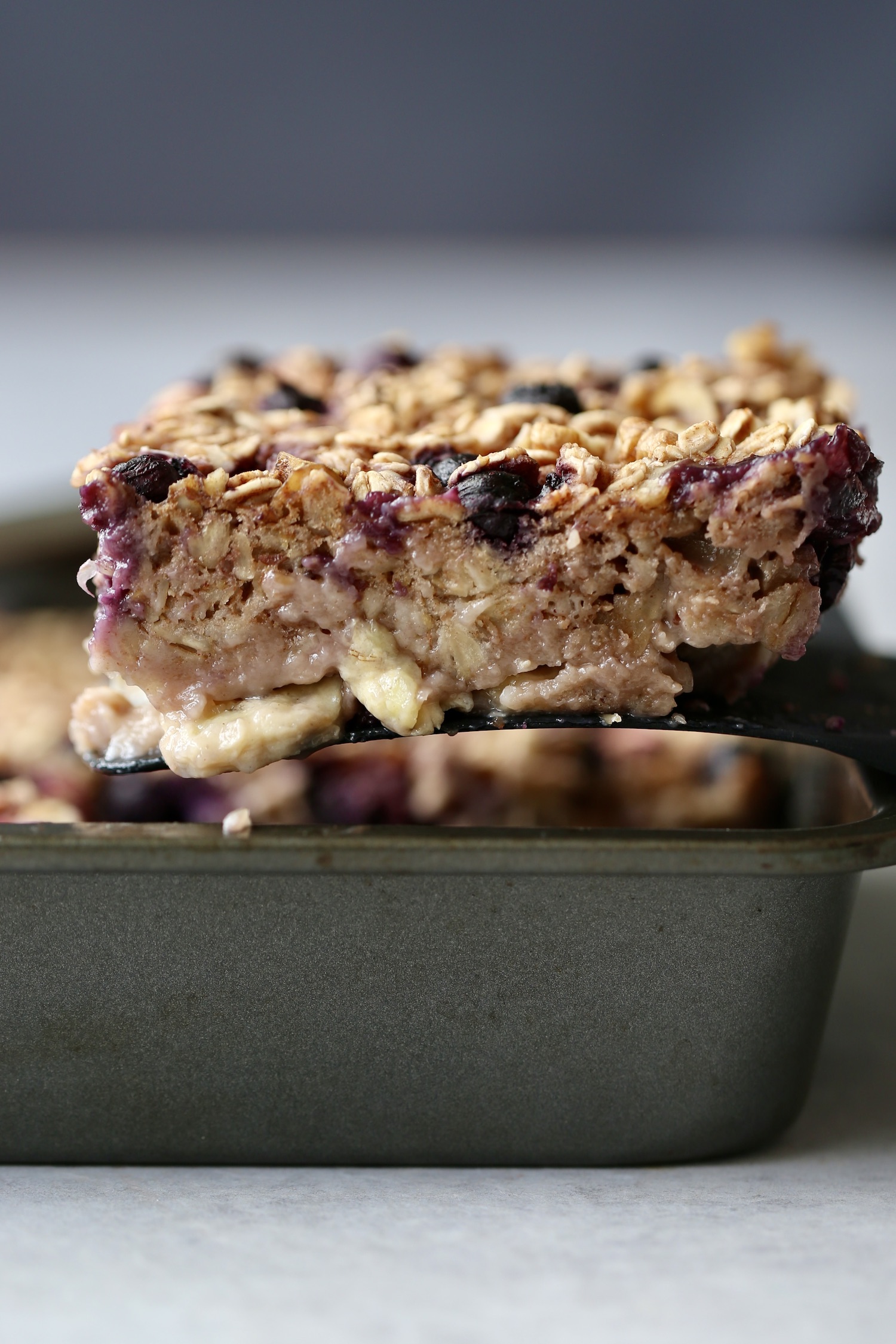 Equipment
You don't need any fancy equipment to make baked oatmeal. In general, you'll need a large mixing bowl, measuring cups and measuring spoons, a whisk and mixing spoon and a baking dish.
Usually, I use an 8x8 inch baking dish or 9x13 inch baking dish when I'm making baked oatmeal, but you can use whatever dish you have on hand. Just remember that the size of your baking dish will affect the baking time.
Storage
Baked oatmeal can be stored in the fridge for up to four days. Simply reheat a serving the microwave or oven when you are ready to eat it.
You can also freeze-baked oatmeal for up to three months. Whenever I choose to freeze baked oatmeal, I like to flash freeze it in serving sizes on a baking dish before transferring the slices to a zip-lock bag.
Reheating
Baked oatmeal can be reheated in the microwave or oven.
Microwave: Heat for one to two minutes until warm.
Pro Tip: Depending on your microwave, you may want to flip the baked oatmeal over halfway through to have the baked oatmeal heat consistently through.
Oven: Heat at 350°F / 175°C until warm, usually about 10 minutes
Dietary Considerations
Gluten-Free
If you are gluten-free, you can substitute the oats for certified gluten-free oats. Or you could use almond flour or chickpea flour in place of the oats.
Keto
If you follow a keto diet, you can try out this Baked Keto Oatmeal Recipe.
Paleo
For paleo-friendly "baked oatmeal", try out this Blueberry "Oatmeal Breakfast Bake!
FAQ
What is baked oatmeal?
Baked oatmeal is a type of breakfast casserole that is typically made with oats, milk, eggs, and sweetener and can be flavored with fruit, nuts, and spices. Baked oatmeal is typically baked in the oven, but some versions are made on the stovetop.
How do you make baked oatmeal vegan?
To make baked oatmeal vegan, you will need to substitute the milk and eggs for plant-based alternatives. For the milk, you can use almond milk, soy milk, coconut milk or oat milk. For the eggs, you can use flaxseed meal, chia seeds, mashed banana or applesauce.
Health benefits of berry baked oatmeal
Baked oatmeal is a nutritious breakfast option that is high in fiber and protein, so it will leave you feeling full and satisfied throughout the morning! Additionally, berry baked oatmeal is a good source of antioxidants from the berries and spices.
More baked oatmeal recipes!
I have so many vegan baked oatmeal recipes on my blog. Be sure to try out one of the following recipes after your eat your way through this berry baked oatmeal!
📖 Recipe
Berry Baked Oatmeal
This berry baked oatmeal is a beautiful and nutritious way to start the day. It's easy to prepare, tastes amazing and will fuel you for whatever the day holds!
Instructions
Slice your ripe bananas and place them in a layer on the bottom of your baking dish. Set it aside.

In a large mixing bowl prepare your flax egg by whisking together 1 tablespoon of

ground flaxseed

and 3 tablespoons of water. Allow it to sit for 5 minutes to thicken.

Lastly, stir in your

rolled oats

,

toasted walnuts

and berries. If desired reserve some of the nuts and berries to sprinkle on the top.

Pour the batter on top of your sliced bananas in the baking dish and spread it out to be level. Sprinkle the top with any reserved berries and walnuts.

Bake for about 25-35 minutes, or until set.

Let cool for a few minutes before serving plain or with more berries and maple syrup.
Notes
*To toast your walnuts, place them on a baking dish in an oven heated to 375°F / 190°C for about 7 minutes.
*To make a flax egg, whisk 1 tablespoon of ground flaxseed with 3 tablespoons of water and let sit for five minutes until the texture turns "yolky"
Nutrition
Calories:
442
kcal
Carbohydrates:
71
g
Protein:
10
g
Fat:
15
g
Saturated Fat:
2
g
Polyunsaturated Fat:
9
g
Monounsaturated Fat:
3
g
Sodium:
539
mg
Potassium:
552
mg
Fiber:
9
g
Sugar:
30
g
Vitamin A:
73
IU
Vitamin C:
11
mg
Calcium:
269
mg
Iron:
3
mg