Switch up your breakfast every morning with these 6 flavors of Vegan Baked Oatmeal for One! From classic banana bread to birthday cake, you'll have a new and delicious flavor of baked oatmeal to enjoy every day.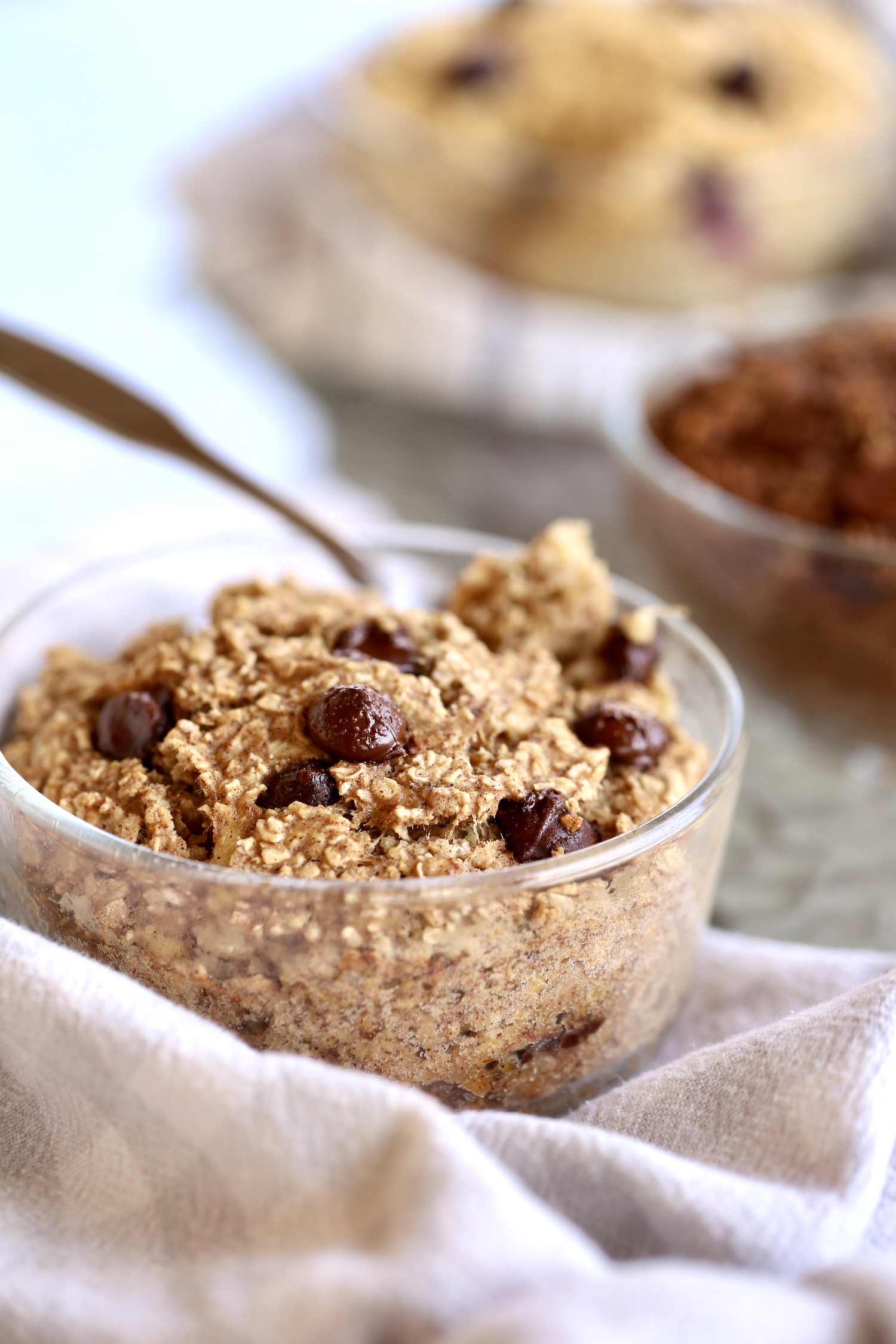 Jump To
Why I love baked oats!
I'm obsessed with baked oatmeal!
And for good reason!
Baked oats are so versatile.
You can add veggies to your oats in this Zucchini Bread Baked Oatmeal.
You can make ahead baked oatmeal.
Baked oats can even taste like cake when you make Chocolate Blended Baked Oats!
Lots of my baked oatmeal recipes serve 3-6 people, but today I'm going to share 6 different flavors of single-serve baked oatmeal.
I know you'll love every one of these flavors, so I hope you try them all!
Are baked oats good for you?
While everyone has different opinions on what is healthy, I personally think oatmeal is a very nutritious food.
Therefore, depending on the other ingredients you add to your baked oatmeal, baked oatmeal can be such a healthy way to start the day.
I love to sweeten my baked oatmeal naturally when possible by using ripe banana, applesauce or maple syrup.
You can also add in lots of nutritious mix-ins such as chopped nuts, seeds, dried fruit, etc.
Get creative with the flavors and you'll never get sick of this healthy breakfast option!
Best baking dishes for single-serve baked oatmeal
When you're making vegan baked oatmeal for one, you'll need to purchase a smaller baking dish.
Thankfully there are a few options that should work!
Obviously, whatever dish you use needs to be oven-safe!
Ingredients
While the flavors and mix-ins you add to baked oats can vary drastically, the base ingredients for baked oatmeal are fairly consistent.
I'll list out everything you'll need for basic baked oatmeal for one below:
For the puree, I usually use mashed, ripe banana or applesauce. You can also use pumpkin puree, but then you may need to add more sweetener.
I almost always add in some kind of spice or flavor, such as cinnamon or cocoa powder.
Then it's all about the mix-ins and toppings!
Add in chocolate chips for some decadence; chopped nuts for crunch; dried fruit for chewiness, etc.
What type of oats are best for baked oatmeal?
With so many different kinds of oats available, it can be hard to know which oats to use when making baked oats.
Personally, I like to use rolled or quick oats when making baked oatmeal.
Rolled oats hold their shape best, but quick oats become more like cake once baked!
You can even use oat flour if you really want a cake like texture!
However, don't use steel cut oats when making baked oatmeal!
How to make single-serve baked oatmeal
To make a single serving of vegan baked oatmeal, all you really need is a small mixing bowl and a spoon.
Ideally, start by whisking or mixing together the wet ingredients, including the puree/yogurt, maple syrup, vanilla, baking powder, salt and non-dairy milk.
Next stir in the oatmeal and mix-ins.
Pour the batter into a greased single-serve ramekin and bake at 350F for about 18-25 minutes or until set.
To be honest, I often forget about my baked oatmeal and bake it for about 30 minutes and it still turns out great! It's just a little more dry.
Carefully remove the baked oatmeal once it's ready and top it with your favorite toppings.
Dig in!
FAQ
What is a single serving of oats?
Generally, oatmeal containers specify a single serving of oatmeal to be either:
I often use ½ cup of oats when making a portion of oatmeal and all of today's single-serve baked oatmeal call for ½ cup.
However, eat as much as you want!
Serving sizes are just suggestions, so if you feel more hungry, eat more oats.
You do you!
Can I double this recipe?
Yes! I often double this baked oatmeal recipe to serve two!
It's an easy way to meal prep or feed more mouths.
If you're making a double batch in one ramekin, you'll just need to increase the baking time to about 40-45 minutes.
Alternatively, you can divide the batter between two ramekins and bake them for the normal 18-25 minutes.
How can I eat oatmeal if I don't like the texture?
I hate admitting this, but baked oatmeal isn't my daughter's favorite food.
It's a texture thing that I don't understand!
However, I have found that she loves baked oatmeal.
So if you don't care for the texture of stove-top oatmeal, try preparing it a different way!
Baked
Soaked overnight
Blended into flour
Made into granola
Toasted
The possibilities are endless when it comes to preparing oatmeal, so get creative!
Different flavors of baked oatmeal
Today I'm sharing 6 different flavors of vegan baked oatmeal for one, but you don't need to stop there!
There are so many different flavor possibilities when it comes to baked oatmeal that you never will run out of options.
I'll list out some flavor ideas to start with below:
Banana Bread
Lemon Blueberry
Double Chocolate
Pumpkin Spice
Funfetti/Birthday Cake
Peanut Butter and Jelly
Snickerdoodle
Coffee Cake
Zucchini Bread
Cranberry Orange
Lemon Poppyseed
Coconut
Gingerbread
Let me know what your favorite flavor of baked oatmeal is!
📖 Recipe
Vegan Baked Oatmeal for One
Need a healthy and delicious breakfast? Work your way through these 6 different flavors of Vegan Baked Oatmeal for One!
Ingredients
Instructions
Preheat your oven to

350

°F

and grease a single serving ramekin or baking dish.

In a small mixing bowl, whisk together all of the wet ingredients, from the fruit/veggie puree to the salt.

Stir in the oats and mix-ins.

Pour the batter into your prepared baking dish and bake the oats for 18-25 minutes or until your desired doneness.

Add on your favorite toppings and enjoy warm!
Notes
I love to double these single serve oats to make two servings. My 2-cup pyrex dish will fit a double serving, but I have to increase the baking time to 40-45 minutes. Alternatively you can divide a double serving between two individual ramekins and bake them for the normal 18-25 minutes.
Nutrition is for Basic version.
Nutrition
Calories:
279
kcal
Carbohydrates:
53
g
Protein:
8
g
Fat:
4
g
Saturated Fat:
1
g
Polyunsaturated Fat:
2
g
Monounsaturated Fat:
1
g
Sodium:
247
mg
Potassium:
385
mg
Fiber:
5
g
Sugar:
23
g
Vitamin A:
922
IU
Vitamin C:
27
mg
Calcium:
250
mg
Iron:
2
mg