Full of whole grains, natural sweetness and shredded carrot, this make ahead Carrot Cake Baked Oatmeal is perfect for busy mornings!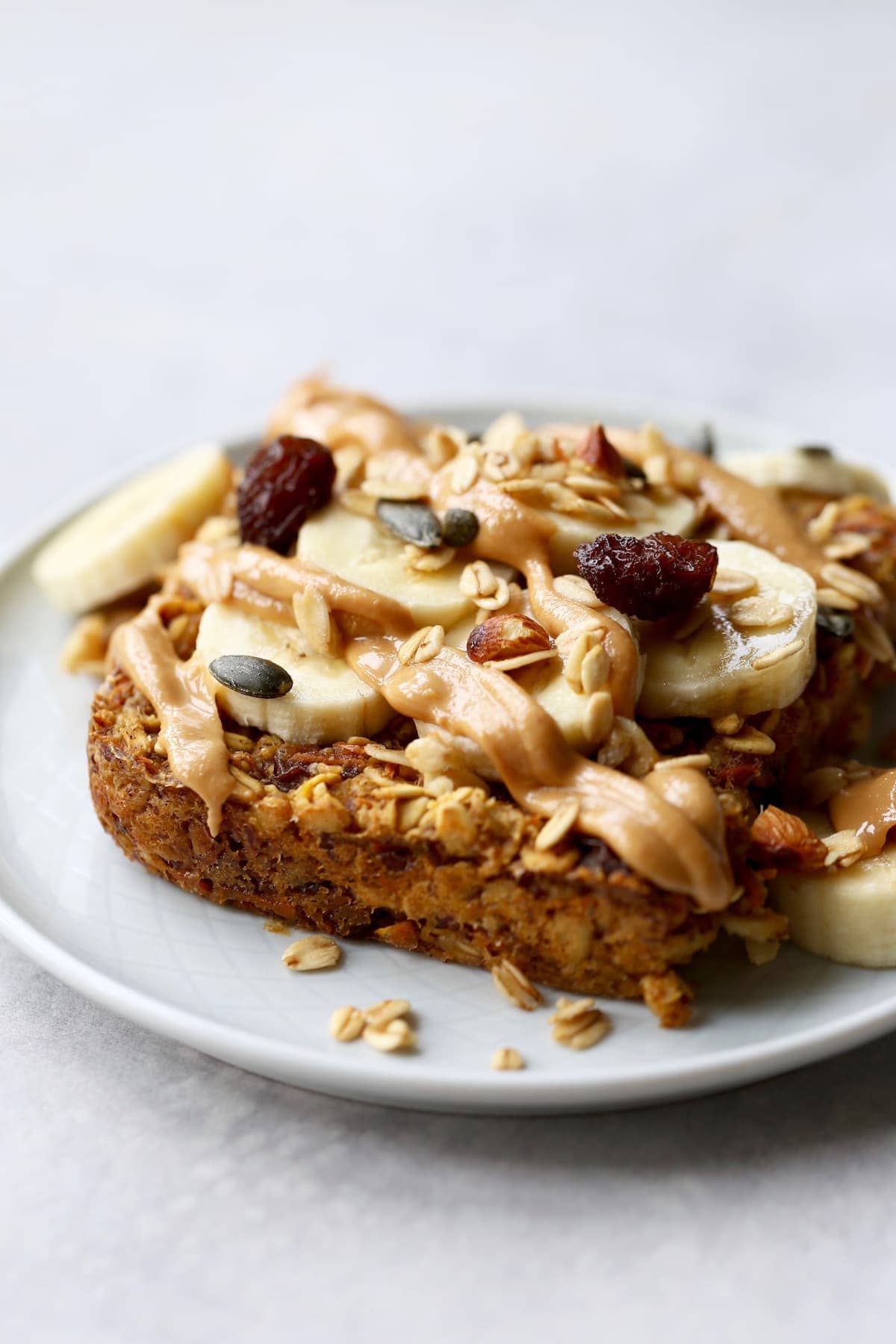 I'm back with yet another breakfast recipe today. If you missed my post last week on 5 make ahead overnight oat recipes, you need to go check that out. There are some amazing, healthy overnight oats recipes in that post which I hope will make your weekday breakfasts a little more exciting.
Jump to:
Why I Love Make Ahead Baked Oatmeal
Today I'm sharing yet another make ahead oatmeal recipe, but this one is a baked oatmeal recipe. I LOVE baked oatmeal, but I'm always too impatient to both prepare it and bake it the morning I want to eat it. That's why I've been working on some make ahead baked oatmeal recipes.
I'm all about doing a couple things before bed to make my mornings more restful (cleaning the kitchen, preparing breakfast, etc.), so this recipe has been so nice to keep in rotation the past few weeks.
I've basically been rotating among overnight oats, this baked oatmeal recipe and some jumbo chocolate breakfast muffins for easy, make ahead breakfast. Brett, Harper and I have been thoroughly enjoying them all! I especially love having more time to read and journal in the mornings, while still getting to enjoy a delicious, healthy breakfast.
The Glorious Nature Of Oatmeal
The possibilities are endless when it comes to oatmeal. You can bake it, let it soak overnight, eat it raw, toast it, blend it into flour. I'm literally obsessed with oats and I love that we're currently an oatmeal-eating-family! Whole oat grains, or groats, can be processed in multiple ways to give you different shapes and textures of oatmeal. You can buy rolled oats that are either thick, thin, quick or instant or you can stick to less-processed oats like steal cut oats. No matter what version you buy, oatmeal can play a roll in a healthy diet as it's a whole grain, full of fiber and high in iron as well as other vitamins and minerals. You really can't go wrong starting your day (or ending it!) with oatmeal!
As many of you know, all of last year (maybe the last two years actually), I was obsessed with my cake-y chocolate zoats which I made in the microwave. I'm still not sure how I feel about microwaves, but I loved using one to make my oatmeal because it resulted in a cake-y, dry, baked texture when I used minimal liquid. However, now that I've discovered make-ahead baked oatmeal, I can forego the microwave while still enjoying my cake-like oats. And of course I add ALL THE TOPPINGS!
Next Level Oatmeal
If you know Brett and me well, then you know we love our condiments and toppings. Whenever we sit down to lunch or dinner, we bring out all the different condiments that may go well with our meal, sometimes using multiple sauces for each meal. So when it comes to oatmeal, you better believer our toppings are almost as thick as the oatmeal-base itself. Below I'll share some of our favorite foods and condiments to add to oatmeal to take it up a notch!
Fresh, dried or frozen fruit
Nut butter (peanut, almond, cashew, chocolate hazelnut butter, etc.)
Nuts and seeds
Granola
Shredded/flaked coconut
Cacao nibs or chocolate chips
Sweetener (maple syrup, agave, coconut sugar, etc.)
Homemade compote or jam
Chia pudding
Yogurt
Spices (cinnamon, allspice, sea salt, etc.)
More Vegan Oatmeal Recipes
Like I mentioned above, oatmeal is so versatile. It doesn't just have to be a breakfast food, but it can also be used in various snack and dessert recipes. Below are some of my favorite recipes which use oatmeal!
Zucchini Carrot Oatmeal Breakfast Muffins
Vegan Brownie Batter Baked Oatmeal
Vegan Chocolate Oat Flour Waffles
Vanilla Protein Overnight Oats with Zucchini
Vegan Golden Milk Overnight Oats
Vegan Strawberry Jam Oatmeal Bars
Chewy Vegan Oatmeal Date Cookies
Make Ahead Carrot Carrot Cake Oatmeal Photos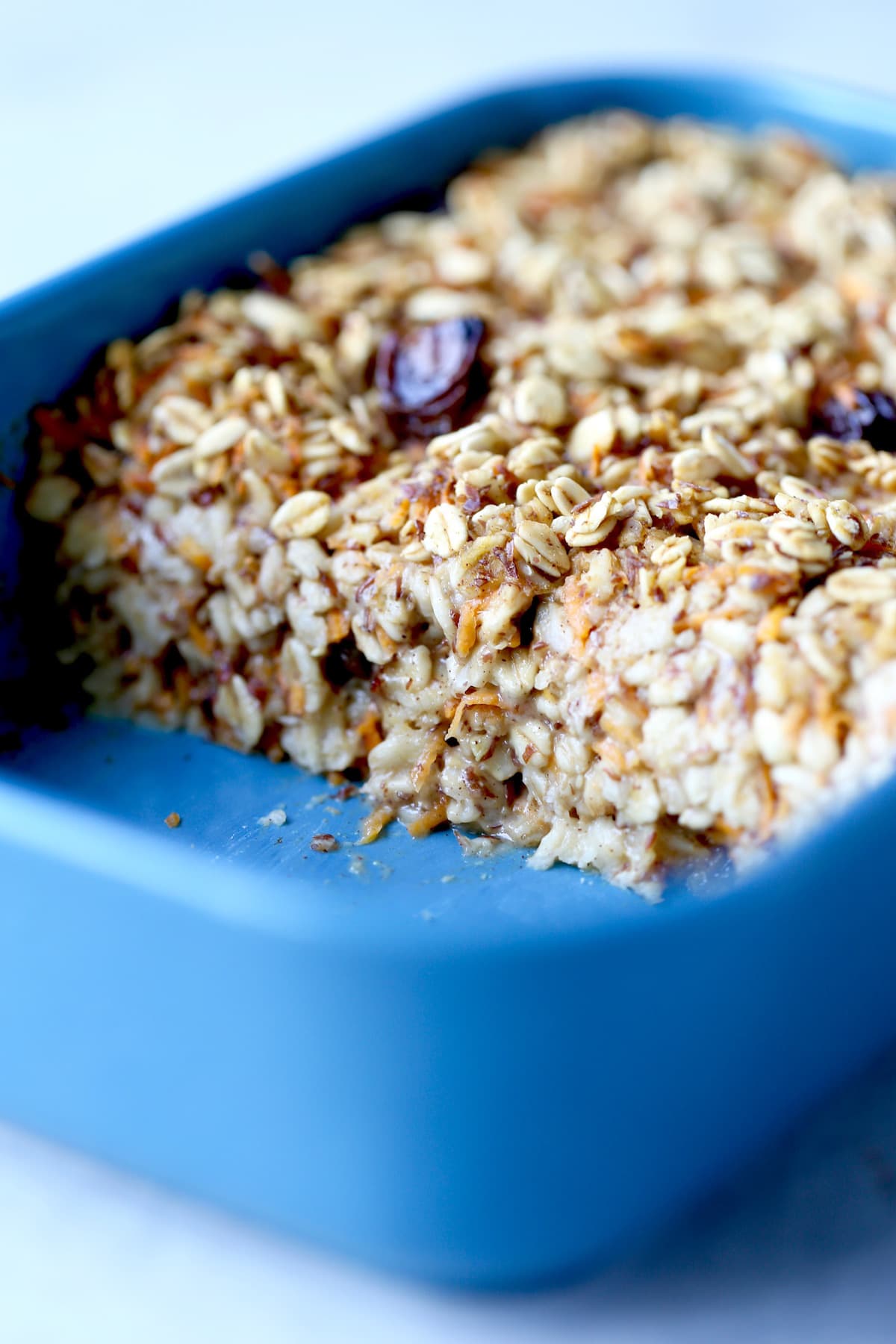 Please let me know if you give this simple, but delicious make ahead baked oatmeal recipe a try! Leave a comment below letting me know your thoughts, rate the recipe and be sure to share it with your other oatmeal-lovin-friends!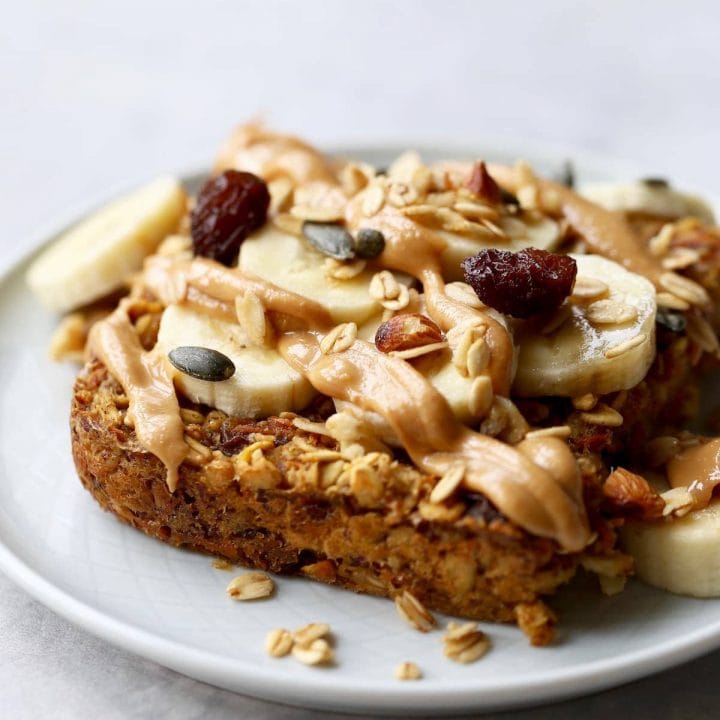 Make Ahead Carrot Cake Baked Oatmeal Recipe
Full of whole grains, natural sweetness and shredded carrot, this make ahead Carrot Cake Baked Oatmeal is perfect for busy mornings!
Ingredients
2 cups rolled oats
1 teaspoon cinnamon
dash ground ginger
¼ teaspoon salt
¼ cup raisins
¼ cup liquid sweetener (maple syrup, agave, honey, etc.)
2 cups non-dairy milk
1 cup shredded carrot
Instructions
Grease an 8x8 or 9x5 inch baking dish* and set aside.
In a mixing bowl, mix together the dry ingredients, from the rolled oats to the raisins.
Add in the sweetener, non-dairy milk and shredded carrot. Stir until well combined.
Pour the batter into your prepared baking dish and smooth out the batter until even and uniform.
Place the baking dish in the fridge overnight** or for a few hours.
In the morning, removed the baking dish from the oven and preheat the oven to 350 degrees.
Bake the oatmeal for about 25-35 minutes, depending on what size pan you use. For an 8x8, 25 minutes will be about right. If you use a loaf pan like I mention in the notes, then it will need 30-35 minutes.
Serve warm with your favorite toppings!
Notes
*I've made this oatmeal in a pan as big as 8x8 or as small as a loaf pan. Both worked great, but the smaller pan will result in a moister, thicker baked oatmeal.
**You can leave the oatmeal uncovered or covered while it sit in the fridge overnight. I never cover mine and it's fine!
Nutrition Information
Yield

4
Serving Size

1 serving
Amount Per Serving
Calories

286
Total Fat

7g
Saturated Fat

2g
Trans Fat

0g
Unsaturated Fat

4g
Cholesterol

10mg
Sodium

213mg
Carbohydrates

47g
Net Carbohydrates

0g
Fiber

7g
Sugar

15g
Sugar Alcohols

0g
Protein

11g
Nutrition information is a rough estimate provided by Nutrionix and should be used for informational purposes only.