Full of whole grains, natural sweetness and shredded carrot, this make ahead Carrot Cake Baked Oatmeal is perfect for busy mornings!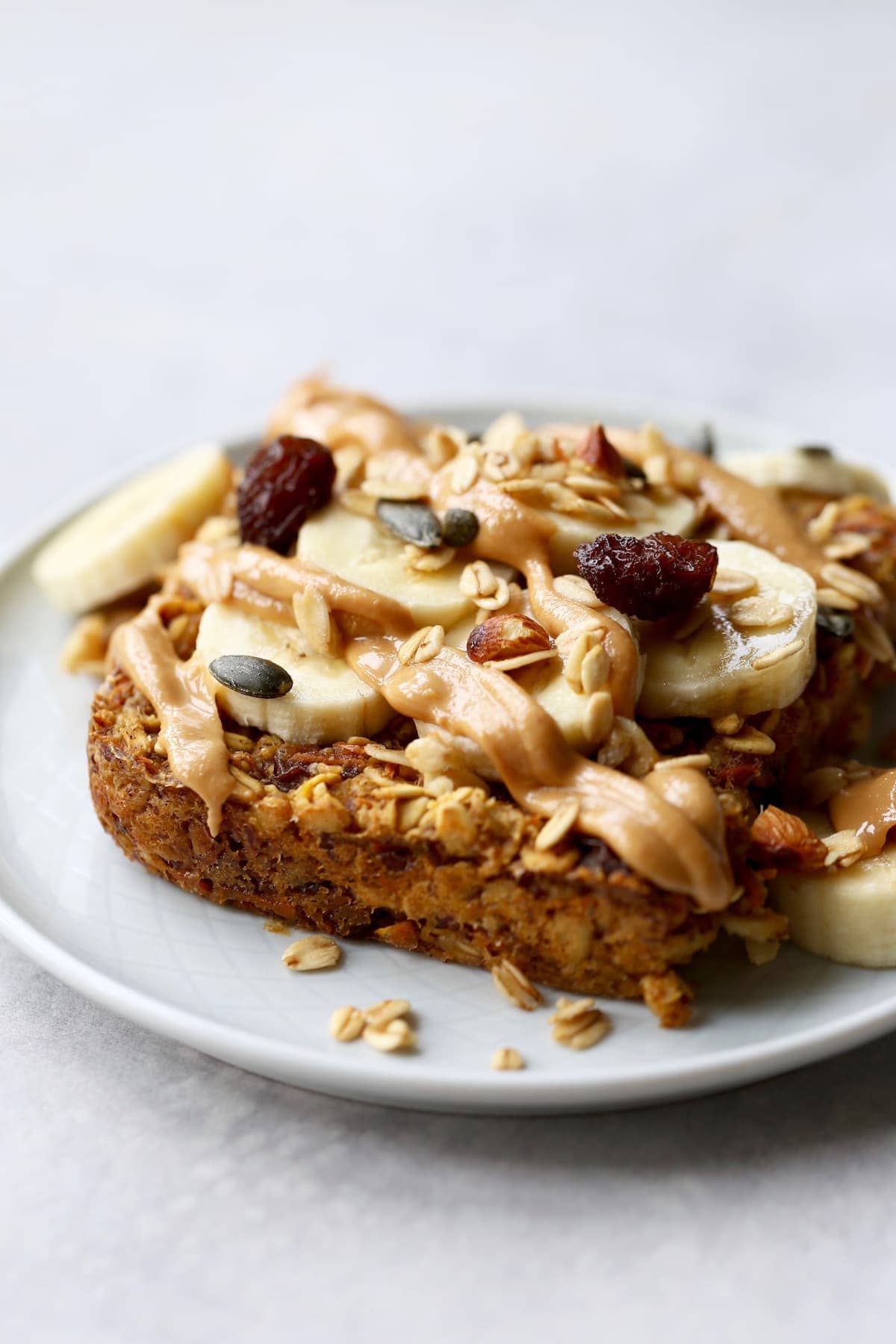 Jump To
You guys already know I'm obsessed with baked oatmeal.
I have a baked oatmeal flavor for everyone on my blog.
My personal favorite is this Brownie Batter Baked Oatmeal.
But you make prefer Maple Pecan Baked Oatmeal, Peanut Butter Banana Baked Oatmeal or even Zucchini Bread Baked Oatmeal!
Basically, the possibilities are endless when it comes to baked oatmeal.
Sometimes, however, baked oatmeal can feel intimidating if you have a busy morning ahead of you.
That's why today I'm sharing a recipe for this carrot cake baked oatmeal that you can make the night before and then let your oven do all the work in the morning while you get ready for the day.
Let me walk you through how to make it!
Ingredients You Need for Carrot Cake Baked Oatmeal
For this carrot cake baked oatmeal, you'll need the following ingredients:
Rolled oats
Cinnamon
Ground ginger
Salt
Raisins
Liquid sweetener (maple syrup, agave, honey (if not vegan), etc.)
Non-dairy milk
Shredded carrot
You really don't need too many ingredients when it comes to the base of baked oatmeal.
If you're not a big fan of raisins, you can always omit those.
The add-ins and spices are where you can have fun and create lots of new and unique flavors. Chopped nuts, such as pecans or walnuts, make a great addition to this recipe!
How to Make Baked Oatmeal
I really don't think you can mess up baked oatmeal.
Sometimes I mix the wet and dry ingredients together separately, then combine them. Other times, I plop all of the ingredients into a large mixing bowl and stir everything until it's well combined. It almost always works out!
This make-ahead baked oatmeal is a little different in that you'll be letting the oats soak in the baking dish overnight.
Before that, however, combine all of the dry ingredients in a large mixing bowl, including the rolled oats, flaxseed, spices and raisins.
Next add in the wet ingredients and the shredded carrot and stir everything to combine.
Pour the mixture into your baking dish and place the dish in the fridge.
I usually don't even cover my dish!
The next morning the oats will have soaked up most of the liquid. Still preheat your oven and then bake the oats for about 25-35 minutes or until set and hot!
Top with your favorite toppings (I've listed out some of ours below!)
How to Make Baked Oatmeal in Advance
Just like this recipe states, you can make baked oatmeal ahead of time.
To do so, make your baked oatmeal as the recipe states, pour the batter into a baking dish, cover the dish and soak your baked oatmeal recipe overnight.
Then the next morning, you can bake the oatmeal without having to prepare it!
However, the oats will soak up most of the liquid overnight so the baking time will be shorter than the recipe states.
How Long Does Baked Oatmeal Last in the Fridge?
I find baked oatmeal to be the perfect food to meal prep for breakfast.
For that reason, I usually make a double batch and store any leftovers in the fridge.
To do so, allow the baked oatmeal to cool before slicing it into serving sizes and transferring the oatmeal to a sealable container.
Your leftover baked oatmeal should last for about a week!
Is Baked Oatmeal High in Protein?
Yes! This baked oatmeal recipe has 11g of protein per serving as calculated by Nutrionix.
Can you Freeze Baked Oatmeal?
Yes! You absolutely can freeze baked oatmeal!
Allow the baked oatmeal to cool completely before cutting it into serving sizes and flash freezing the individual servings on a baking sheet.
Once hard, transfer the individual servings of oatmeal to a freezer-friendly zip-lock bag and freeze them for 2-3 month.
To prevent freezer burn you can individually wrap each serving in plastic wrap, if desired.
To thaw, remove the frozen baked oatmeal from the freezer the night before you want to enjoy it and let it thaw in the fridge overnight.
The next morning, warm it up in the microwave before enjoying with your favorite toppings!
How to Jazz Up Oatmeal
If you know Brett and me well, then you know we love our condiments and toppings.
Whenever we sit down to eat, we bring out all the different condiments that may go well with our meal, sometimes using multiple sauces for each meal.
So when it comes to oatmeal, you better believer our toppings are almost as thick as the oatmeal-base itself.
Below I'll share some of our favorite foods and condiments to add to oatmeal to take it up a notch!
Fresh, dried or frozen fruit
Nut butter (peanut, almond, cashew, chocolate hazelnut butter, etc.)
Nuts and seeds
Granola
Shredded/flaked coconut
Cacao nibs or chocolate chips
Sweetener (maple syrup, agave, coconut sugar, etc.)
Homemade compote or jam
Chia pudding
Yogurt
Spices (cinnamon, allspice, sea salt, etc.)
More Vegan Oatmeal Recipes
As many of you already know, oatmeal is super versatile.
You can prepare it in so many other ways than just baking it.
It also doesn't just have to be a breakfast food, but it can also be used in various snack and dessert recipes.
Below are some of my favorite recipes which use oatmeal!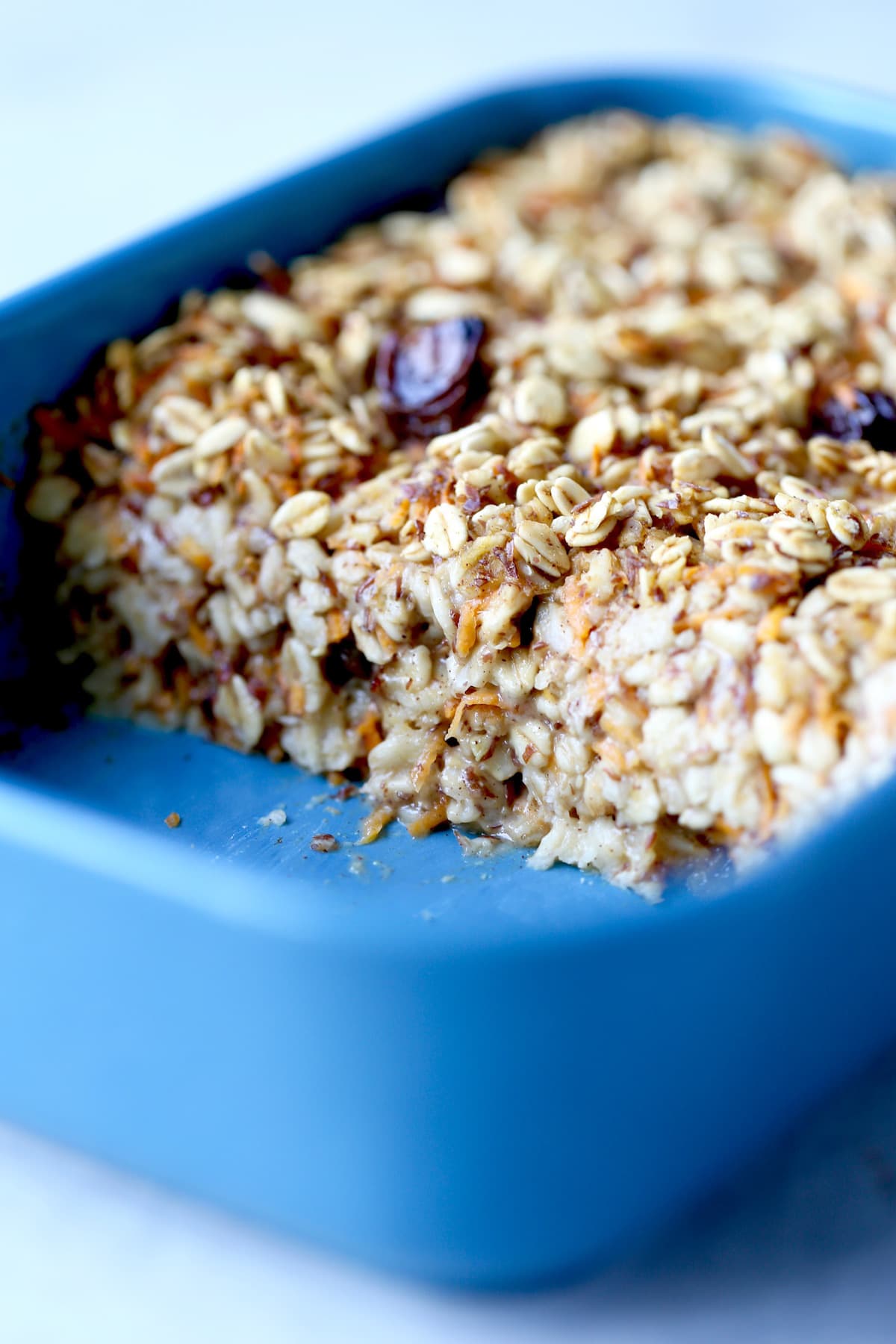 Please let me know if you give this simple, but delicious make ahead baked oatmeal recipe a try!
Leave a comment below letting me know your thoughts, rate the recipe and be sure to share it with your other oatmeal-lovin-friends!
📖 Recipe
Yield:

4 servings
Make Ahead Carrot Cake Baked Oatmeal Recipe
Full of whole grains, natural sweetness and shredded carrot, this make ahead Carrot Cake Baked Oatmeal is perfect for busy mornings!
Ingredients
2 cups rolled oats
1 teaspoon cinnamon
dash ground ginger
¼ teaspoon salt
¼ cup raisins
¼ cup liquid sweetener (maple syrup, agave, honey, etc.)
2 cups non-dairy milk
1 cup shredded carrot
Instructions
Grease an 8x8 or 9x5 inch baking dish* and set aside.
In a mixing bowl, mix together the dry ingredients, from the rolled oats to the raisins.
Add in the sweetener, non-dairy milk and shredded carrot. Stir until well combined.
Pour the batter into your prepared baking dish and smooth out the batter until even and uniform.
Place the baking dish in the fridge overnight** or for a few hours.
In the morning, removed the baking dish from the oven and preheat the oven to 350 degrees.
Bake the oatmeal for about 25-35 minutes, depending on what size pan you use. For an 8x8, 25 minutes will be about right. If you use a loaf pan like I mention in the notes, then it will need 30-35 minutes.
Serve warm with your favorite toppings!
Notes
*I've made this oatmeal in a pan as big as 8x8 or as small as a loaf pan. Both worked great, but the smaller pan will result in a moister, thicker baked oatmeal.
**You can leave the oatmeal uncovered or covered while it sit in the fridge overnight. I never cover mine and it's fine!
Nutrition Information
Yield
4
Serving Size
1 serving
Amount Per Serving
Calories

286
Total Fat

7g
Saturated Fat

2g
Trans Fat

0g
Unsaturated Fat

4g
Cholesterol

10mg
Sodium

213mg
Carbohydrates

47g
Net Carbohydrates

0g
Fiber

7g
Sugar

15g
Sugar Alcohols

0g
Protein

11g
Nutrition information is a rough estimate provided by Nutrionix and should be used for informational purposes only.