Meal prep makes my life so much easier! All of these recipes are simple, plant-based, delicious and perfect for beginners! If you are new to meal prepping, I know it can be intimidating. I want to show you how easy it can be!
Today I'm sharing three simple breakfast recipes that you can prepare at the start of the week to help you start you days off right. I love meal prepping because it allows us to eat nourishing, healthy meals throughout the week without much thought or effort on my part.
I want to start sharing some more meal prep ideas and recipes with you all! This past week I spent a couple hours preparing breakfast for the week and it has made my mornings so much more enjoyable. Instead of having to prepare breakfast each morning, I can spend more time doing other things until Harper wakes up. This week I prepped two sweet breakfast options and one savory option. All of these recipes are plant-based and beginner friendly!
Easy Breakfast Meal Prep Video:
If you want a visual guide for how to prepare these recipes then check out the video below!
Easy Breakfast Meal Prep Recipes:
I'll go into more detail on each plant-based recipe below, but first I'll quickly share the links to the three recipes I made:
Chocolate Overnight Oats: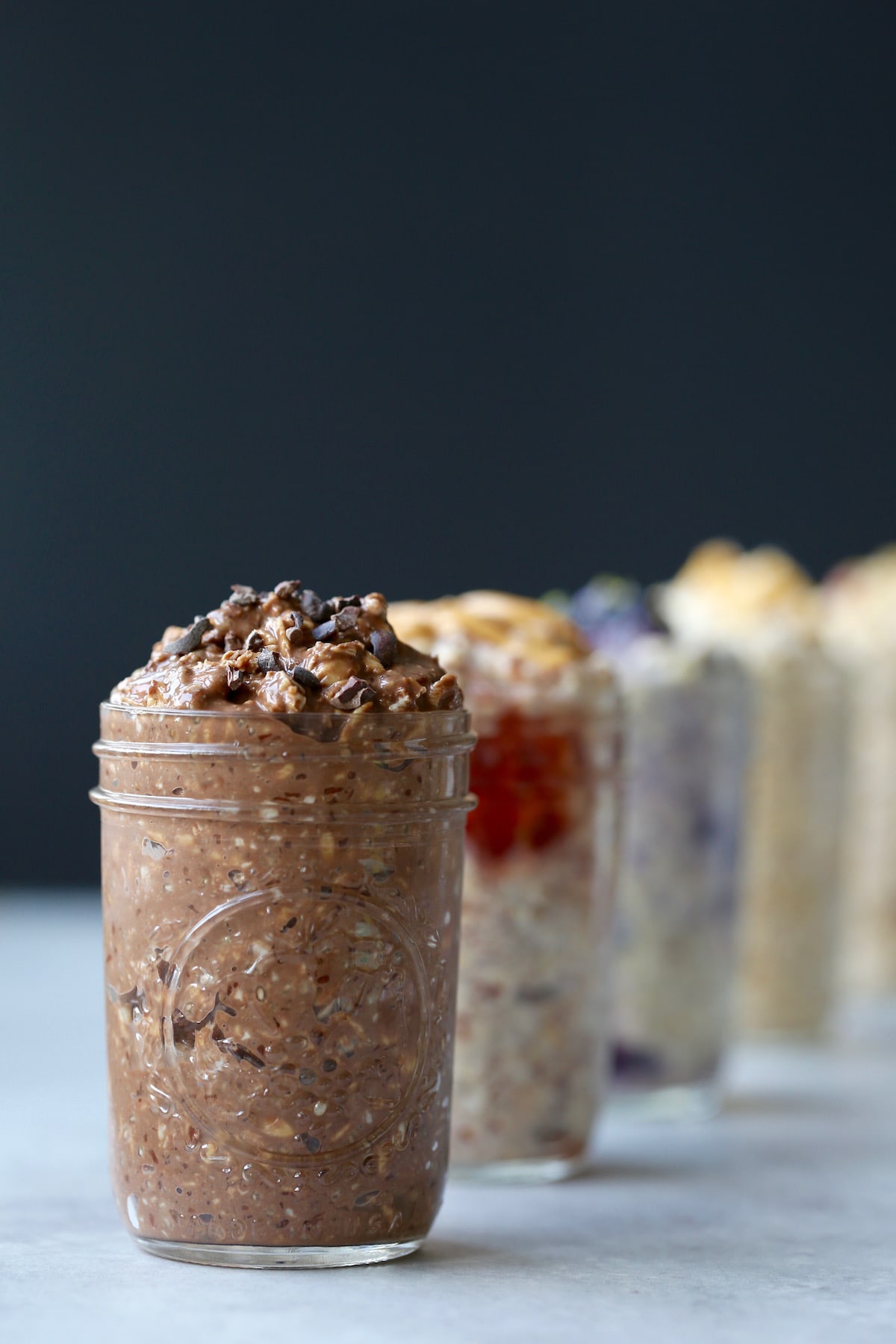 One of the sweet breakfast recipes I prepare was some chocolate overnight oats. I'm sure it's no surprise to many of my long-time readers that this was my favorite breakfast option! I used the base of my 5 make-ahead overnight oat recipes and just stuck with one flavor: chocolate!
For 5 servings I mixed together 2 ½ cups rolled oats, 5 tablespoons chia seeds, 5 tablespoons cocoa powder and some cacao nibs. Then I stirred in 4 cups of coconut milk and a few tablespoons of maple syrup and allowed the mixture to sit until thickened before dividing the batter evenly among 5 jars. I loved topping mine with homemade peanut butter and pumpkin seeds. So delicious!
Family-Size Basic Vegan Granola:
We always have granola on hand and I love to make a big batch at a time so I don't have to think about it for a while. We like to sprinkle it on top of pancakes and oatmeal or mix it with other store-bought cereal for a quick and easy breakfast.
I made an old, but delicious recipe on the blog called Family-Size Basic Vegan Granola. I gave it that name because it truly serves a family (for a while!) and is really easy to make. It's more loose than my favorite cluster granola, but it's still delicious!
Vegan Mediterranean Quiche:
While I almost always eat a sweet breakfast in the morning, I wanted to include a savory option for those of you who prefer savory breakfasts. The recipe I made is from Full of Plants and is for a Vegan Mediterranean Quiche. He divided his quiche among three smaller skillets, but I just made one large quiche using a cake pan. For my 9" cake pan I had to bake the quiche for about 45 minutes. I also think I could have added a little more salt to the base, but that's definitely up to your taste preference!
This is the best vegan quiche recipe I've found so far and I love pairing it with some toast and fruit!
Please let me know if you found this meal prep post helpful and whether you want to see more posts like this!