Make you're own natural, homemade peanut butter with both cinnamon and chocolate flavors when you follow these simple and quick steps!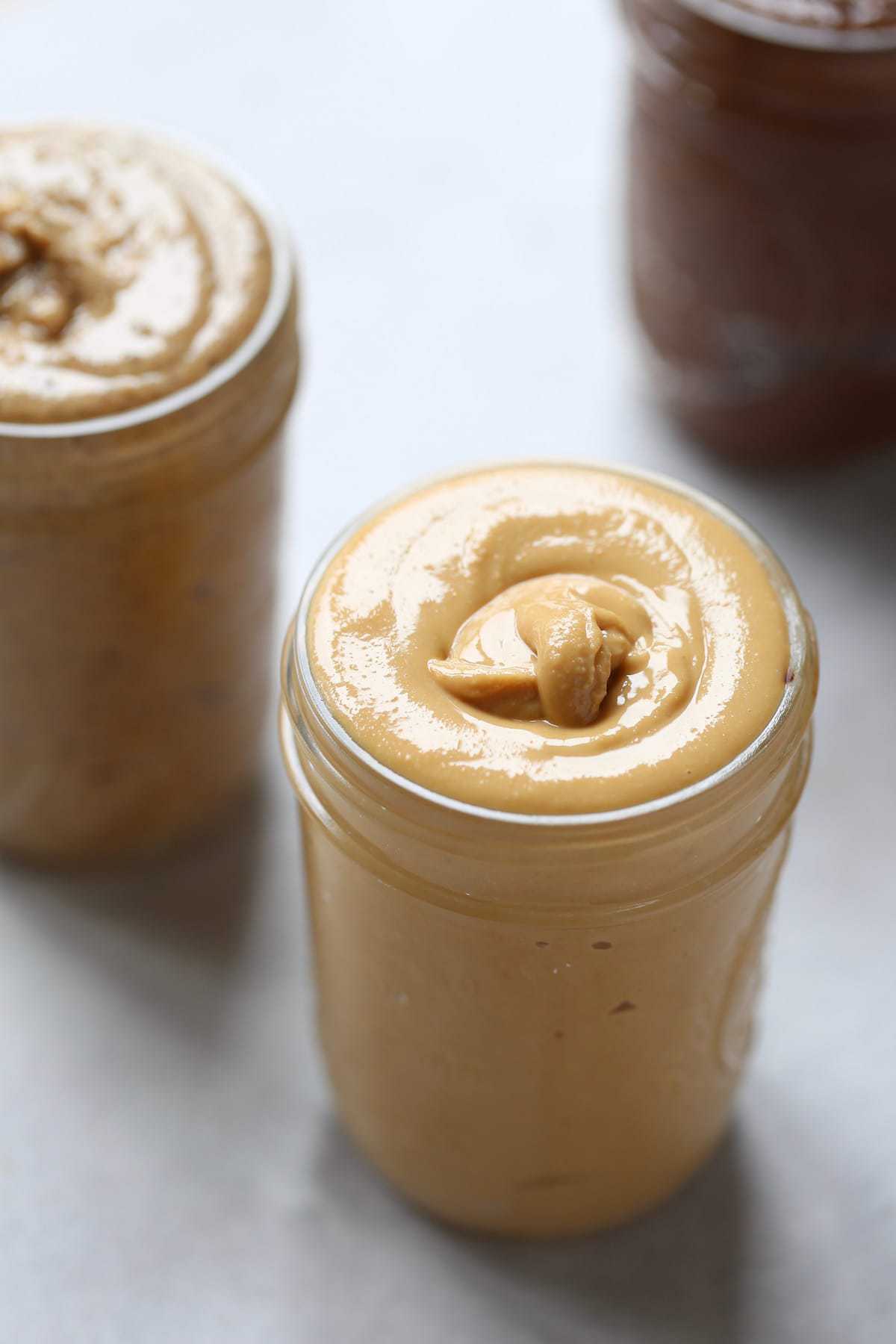 I've been hosting up a storm the past two weeks and couldn't be happier about it. We have some good friends from Australia staying at our house and they have two young boys, so our house is quite full, loud and messy at the moment--just how I like it! Hosting is my love language so I'm so grateful to finally have a home in which I can have people over and cook for them. At first, Harper wasn't quite as thrilled as I was to have other kids around, because it meant sharing her toys and our attention. Thankfully the first day was the hardest and she's chilled out a little bit. We've definitely entered the toddler phase and I'm constantly praying for wisdom on how to parent Harper's young, malleable heart while not being able to communicate much.
Anyways, I digress. In addition to having our friends stay in our home, we've also be hosting a few individuals and families for meals. This means we're going though groceries like crazy. In order to save some money, I recently started making my own peanut butter at home. Because we put peanut butter on everything and I often use peanut butter to bake dessert and make energy bites for snacks, it doesn't last long. While the peanut butter I buy isn't horribly expensive here in KL, I can easily save some money by making my own.
Jump to:
How much does homemade peanut butter cost?
The cost of making peanut butter at home will obviously depend on how much you spend on peanuts. For me here in KL, a jar of store-bought peanut butter costs me about $5, while a jar of homemade peanut butter costs me about $1. I found a good deal on peanuts from a grocery store I frequent and since then I just pick up a few bags of peanuts every time I go. That way I always have them on hand to make more peanut butter whenever our stash gets low.
How do you make homemade peanut butter?
Now to answer the question you're all here for. Thankfully, the answer is fairly simple. To make homemade peanut butter you need to first start by roasting about 2 cups of raw peanuts in an oven. If you've ever tried a raw peanut, you'll know they aren't very flavorful and need to be roasted in order to bring out their strong peanut flavor. To do this, simply spread the peanuts out on a baking sheet and bake them in the oven at 350 degrees for about 10-15 minutes, mixing the peanuts half-way through. You'll know they're done when a few of them start to turn golden and they are fragrant. After you've roasted the peanuts, you just place them in a food processor with some salt and process until a smooth, runny peanut butter forms. I often stop my food processor part-way through the process in order the scrape down the sides of the bowl with a spatula. My food processor has a nut butter function, but either it should only take you about 5 minutes to process the peanuts into butter. If you have a Vitamix, the process is even quicker. You will place the roasted peanuts into your blender with some salt and process the peanuts on high for about one minute while shoving the peanuts into the blade with your tamper.
How do you make peanut butter runny?
For me, I find that if I process the peanuts long enough they will naturally turn into a runny peanut butter. However, if you are having trouble getting your peanuts to turn runny, you can always add in 1-3 teaspoons of neutral oil to achieve a runnier nut butter.
How long does homemade peanut butter last?
In our house, homemade peanut butter doesn't last long! But to answer your question, to be safe I would recommend storing your homemade peanut butter in the fridge to keep the oils from going rancid. We honestly don't always do this due to how quickly we go through a jar of homemade peanut butter, but it's probably better to be on the safe side so store your peanut butter in the fridge. If you store it in the fridge, it should last for several months without going bad.
Other homemade nut butter recipes:
I'll be sharing in the recipe card below how to make different flavor variations of homemade peanut butter, but I also have quite a few homemade nut butter recipes on the blog which I've posted previously. If you are a nut butter addict like myself, be sure to check them out...especially the homemade pecan butter!
How to Make Homemade Pecan Butter
Homemade Vanilla Cashew Butter
Homemade Chocolate Pecan Butter
---
Process photos:
Check out the photos below for more clarity on what it will look like to turn raw peanuts into peanut butter. I really hope you can give this simple peanut butter recipe a try as well as try out the two other amazing peanut butter flavors which include chocolate peanut butter and cinnamon peanut butter! They are all made with natural ingredients and the sweet variations use coconut sugar. Yum!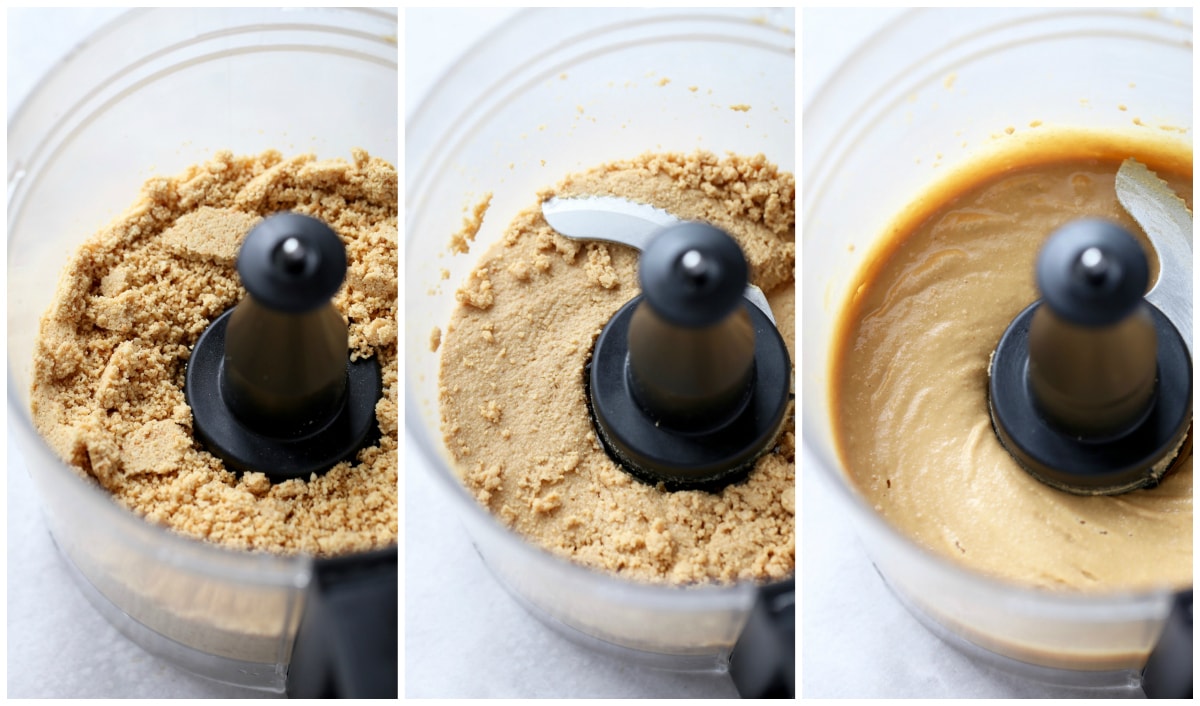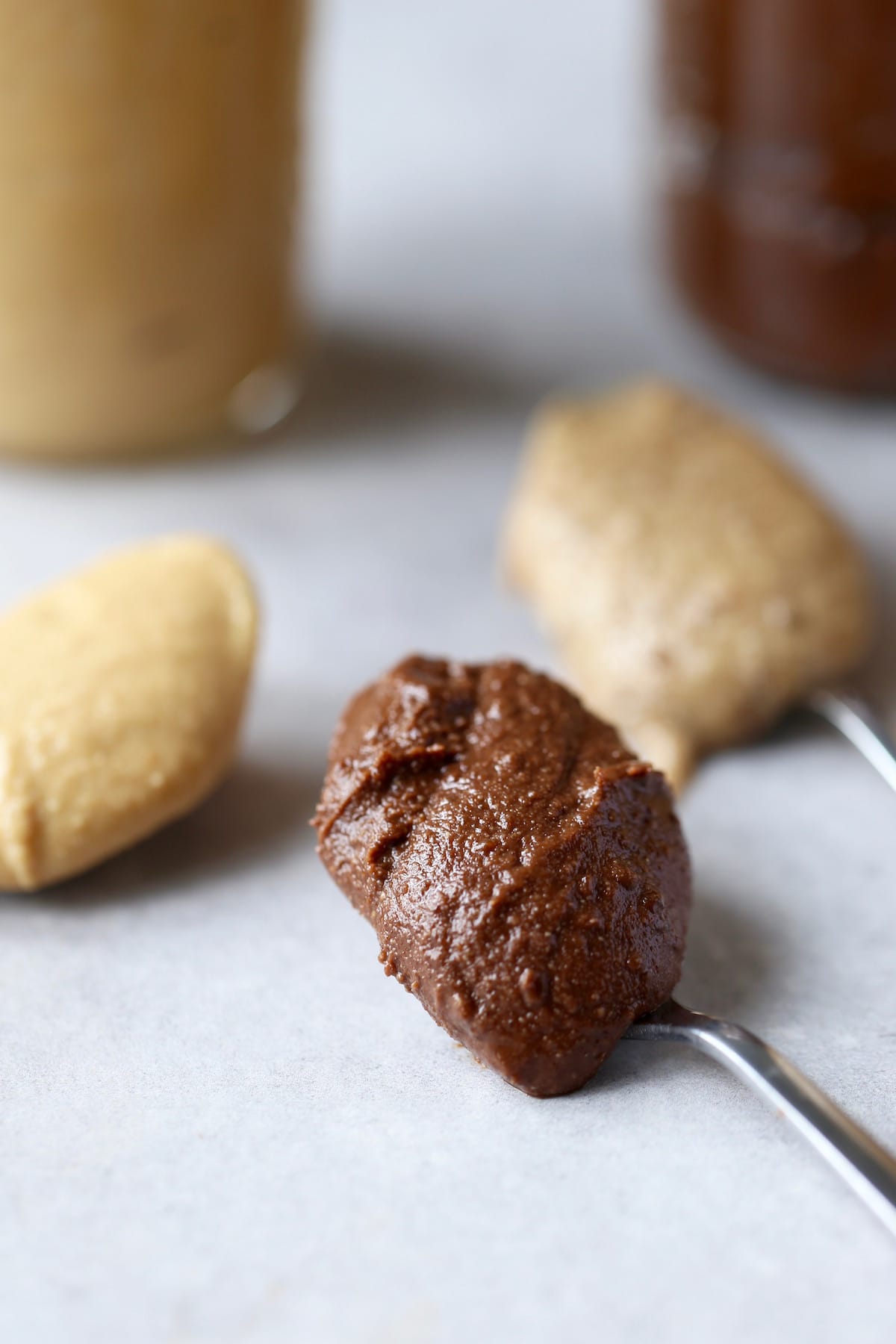 How to make Homemade Peanut Butter: 3 Flavors!
Make you're own natural peanut butter, cinnamon peanut butter and chocolate peanut butter at home with these simple and quick steps!
Ingredients
REGULAR PEANUT BUTTER:
2 cups peanuts
½ teaspoon sea salt
CINNAMON PEANUT BUTTER:
2 cups peanuts
½ teaspoon salt
¼ cup coconut sugar
1 teaspoon cinnamon
Optional: 1-2 teaspoons coconut oil
CHOCOLATE PEANUT BUTTER:
2 cups peanuts
½ teaspoon salt
½ cup coconut sugar
Optional: 1-2 teaspoons coconut oil
Instructions
Preheat your oven to 350 degrees and line a baking tray with a silicone baking mat or parchment paper. Spread your raw peanuts in a single layer on the tray and roast them in the oven on the middle rack for 10-15 minutes. Stir the peanuts half way through the baking time and watch them carefully towards the end as you don't want them to burn. You will know they are done when they are fragrant and some are starting to turn golden.
Once roasted, removed the peanuts from the oven and carefully place them in your food processor along with ½ teaspoon of sea salt.
Process the peanuts until smooth, scraping down the sides of the food processor as needed. After 30 seconds you should have a fine meal. After about 2-3 minutes you should have a sticky dough. After about 5 minutes you should have peanut butter. I like to let my peanuts process for a couple minutes more even after they turn into butter so that the final product is a super runny peanut butter.
To make the cinnamon or chocolate peanut butter, first make peanut butter by processing the peanuts and salt into peanut butter. Then add in the remaining ingredients and process until smooth. If needed you may want to add in 1-2 teaspoons of coconut oil to create a runnier nut butter as the extra ingredients may have thickened up the peanut butter.
Store these homemade nut butters in the fridge for a few months!
Nutrition Information
Yield

16
Serving Size

2 tablespoon
Amount Per Serving
Calories

107
Total Fat

9g
Saturated Fat

1g
Trans Fat

0g
Unsaturated Fat

7g
Cholesterol

0mg
Sodium

141mg
Carbohydrates

4g
Fiber

2g
Sugar

1g
Protein

4g
Nutrition information is a rough estimate for the peanut butter recipe. The nutrition information is provided by Nutrionix and should be used for informational purposes only.