It's almost been two months since Brett and I left China, which means....
it's time to travel!!
Brett just booked our next two trips and I'm pretty excited about them. In two weeks, we're actually heading back to Hong Kong for another quick and restful weekend trip that just so happens to be over my birthday.
Uh, I can't believe I'm almost 27.
Is it too early to have a mid-life crisis?
Anyways, we also booked a trip to Vietnam in October over the week long break we have from class in the fall. We're hoping it will redeem our last trip to Vietnam that ended early due to rain.
I'll keep ya posted.
Today I have a super quick and delicious recipe for you that Brett and I have been enjoying all week.Easy Chickpea Tomato Sauce Curry! I've been wanting to make a tomato sauce based curry recipe for quite some time now and I finally got around to it. Yay! This recipe couldn't be easier to throw together and the infusion of tons of fresh cilantro gives this dish such a fresh flavor. We've been enjoying this Easy Chickpea Tomato Sauce Curry over rice and with sweet potatoes. It's delicious!
If you give this recipe a try, definitely let me know your thoughts in the comments below or take a picture and tag #theconscientiouseater on Instagram so I can see your creation.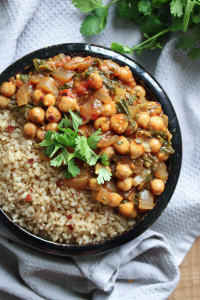 Easy Chickpea Tomato Sauce Curry
Made with spicy chili and ginger and infused with heaps of cilantro, this Easy Chickpea Tomato Sauce Curry is the perfect quick, weeknight meal.
Ingredients
1 onion, chopped
3 cloves garlic, minced
1 tablespoon grated ginger root
1 red chili, minced
1 tablespoon curry powder
8 oz. can tomato sauce
2 cans chickpeas, drained and rinsed
4 heaping cups chopped greens
½ cup finely chopped cilantro
salt and pepper to taste
Instructions
In a large sauce pan, sauté the onion in water over medium heat until soft.
Add in the minced garlic, grated ginger and red chili and sauté about 3 more minutes.
Add in the curry powder and stir until all the onion mixture is coated in the curry powder. Continue cooking for about 2 more minutes to allow the spices to become more fragrant.
Add in the tomato sauce and drained and rinsed chickpeas and cook until everything is heated through, about 10 minutes.
Lastly add in the greens, cilantro and salt and pepper to taste and continue cooking until the greens have wilted.
Serve over rice.