I've always known that peanut butter is made from peanuts and almond butter is made from almonds. Duh. But who knew that with a little patience it could be so easy to make on your own AND that by making your own nut butter at home you can control what goes into your nut butter. Beautiful revelation.
The other day I wanted to make Cranberry Orange Biscotti, but the recipe called for almond butter, which I didn't have. Then I realized that this would be the perfect time to try to make my own almond butter. Thankfully I had some roasted almonds in my cupboard and the time to make it. I don't know if I'll ever buy nut butter from the store again.
Homemade Almond Butter
1 1/2 – 2 cups almonds (roasted or plain)
Sea Salt (optional)
To make your own nut butter you'll need a good food processor…and some patience.
Place all the almonds in your food processor and process on high. (Make sure you process on high, or otherwise this process will take an hour instead of 15 minutes. I learned the hard way and my food processor even died for a couple of minutes because I had been working it so hard!)
After a couple of minutes, your almonds will turn into a course meal and will eventually get finer after a few more minutes.
As you continue processing the almonds, stop your processor every couple of minutes or so to push down the sides and make sure that all of the almonds are getting processed. Soon you'll be able to see a subtle paste begin to form on the bottom of your processor. But keep going!
After about 15 minutes or high processing and the occasional pushing down of the sides, you'll start to get almond butter! At this time you can add your seas salt if you desire, which is so delicious.
Ah, pure almond butter. Made a home. No added ingredients. Mmmmm.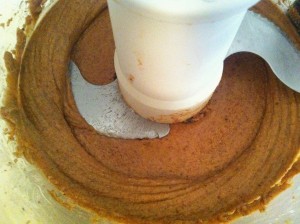 I used a little less than 1 1/2 cups of almonds and it almost filled a small mason jar. I hope you try it out. It's so easy and pure, you won't regret it!