Using simple ingredients, a fool-proof method, and 5 minutes of hands on time, you can make the perfect baked potato right in your own kitchen!
I've been obsessed with baked potatoes this winter. They take about 5 minutes of hands-on time and then the oven does the rest of the work. We'll talk later about how I like to enjoy my perfectly baked potatoes, but for now lets get into the nitty-gritty details on how to make the perfect baked potato.
Jump To
What are the best variety of potatoes for baking?
The potato section of the grocery store can be a little intimidating if you haven't worked with potatoes much. Potatoes come in all different shapes, colors and varieties, some of which are better for baking, while others are better for mashing, roasting or boiling. Let's talk about the most popular varieties of potatoes and the best way to cook them!
Russet and Sweet Potatoes
Russet and sweet potatoes are oblong in shape, absorbent, starchy potatoes that are perfect for baking and frying. I highly recommend using russet potatoes when trying to make the perfect baked potato!
Round red potatoes, new potatoes and fingerling potatoes
These types of potatoes are waxy on the outside, lower in starch and hold their shape well when cooked. They work great in soups and potato salads as they don't become mushy after boiling.
All-purpose potatoes (Yukon gold, purple, etc.)
These potatoes are great because they are versatile. They can withstand both dry and wet forms of cooking, whether that's roasting and grilling or boiling and frying. I guess that's why they're called all-purpose potatoes!
Should baked potatoes be wrapped in foil?
I used to always wrap my potatoes in foil. Honestly, I still sometimes use this method when I need really really starchy potatoes (like some white sweet potatoes) to become soft and gooey on the inside. But when it comes to baking the perfect russet potato, you don't need foil! In fact, you want to avoid foil so that you can get a beautiful, flavorful crispy skin.
How to make a baked potato in the oven
To make a perfectly baked potato in your oven you want to start by preheating your oven to 350°F / 177°C. Wash and scrub a russet potato. Use however many you need! Using a fork or sharp, small knife, poke hole all over the potato. Rub about 1 teaspoon of olive oil all over each potato and then rub a hefty pinch of sea salt all over each potato. Place the potato(es) onto a lined baking sheet and bake for about 1 hour or until soft when pressed with your finger. Slice your perfectly baked potato in half and stuff it whatever you desire!
How long should I bake a potato at 350°F?
The time it takes to bake a potato in the oven depends on the size of the potato, the variety of potato, and the temperature of the oven. For small potatoes, start checking them at 45 minutes. If you have large potatoes, start checking them at 1 hour.
How to make a baked potato in the microwave
While I'm all about baking potatoes instead of microwaving them, sometimes you're running late and need something to eat stat. It is possible to microwave potatoes and it's really easy. Simply scrub the outside of your potato, poke holes all around the potato with a fork and place it on a plate. Microwave the potato on high for 5 minutes. Then flip the potato over and microwave it on high for another five minutes. Check to make sure the potato is soft and enjoy with whatever fillings/toppings you desire!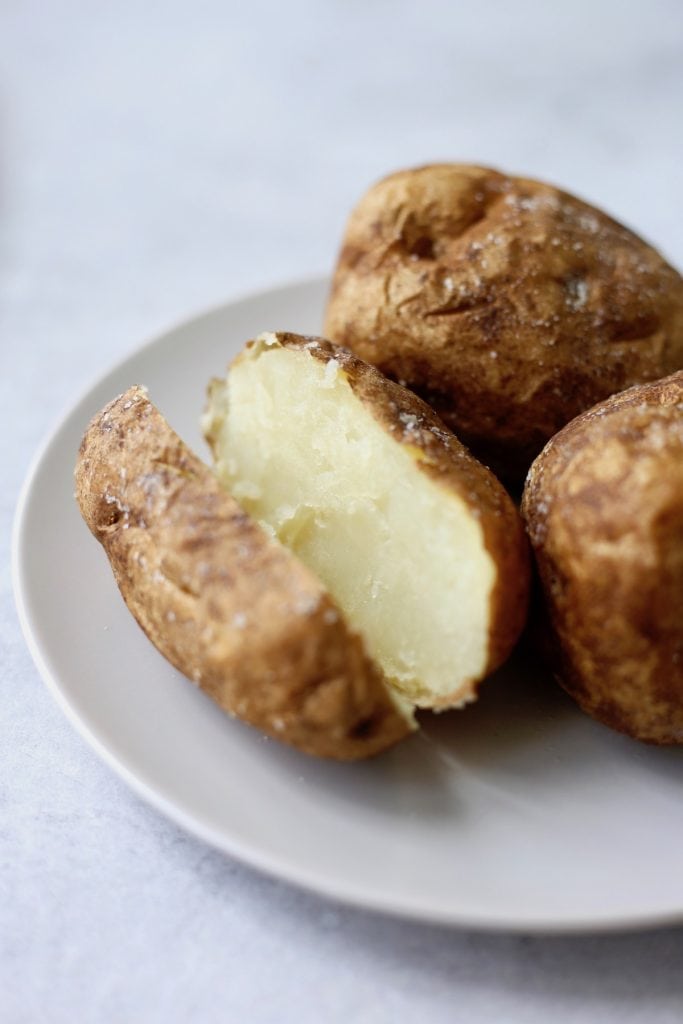 What to pair with a baked potato
Baked potatoes are so versatile so get creative. There is obviously the classic stuffed potato filled with sour cream, cheese and butter. But you could also switch things up with some of the following combinations:
Black beans, salsa and cheddar cheese
Roasted chickpeas and hummus
Pizza sauce, vegan sausages, mushrooms and mozzarella cheese
Bbq jackfruit and coleslaw
Chili, cheese, sour cream and green onions
Chickpea tuna salad, lime and cilantro
Crispy tofu and peanut satay sauce
Caramelized onions and mushrooms
Bruschetta and olives
Please let me know if you give this fool-proof method a try! I'd also love to know your favorite baked potato fillings. Share this recipe with others and be sure to comment and if you love it leave a 5 star rating by clicking on the stars in the recipe card!
📖 Recipe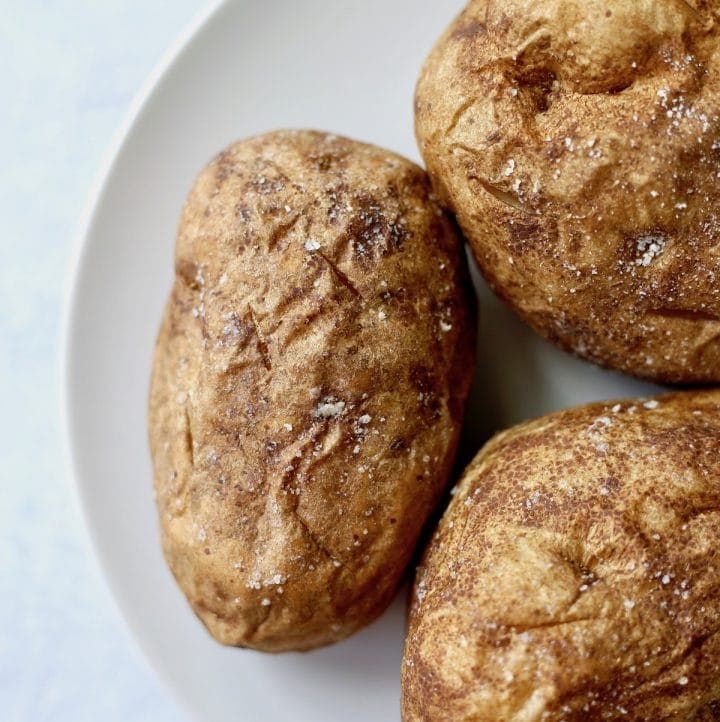 How to Make the Perfect Baked Potato
Using simple ingredients and a fool-proof method, you can make the perfect baked potato right in your own kitchen!
Instructions
Wash and scrub your potato.

Using a small, sharp knife or a fork, poke holes all around your potato.

Drizzle one teaspoon of

olive oil

on top of the potato and use your hands to rub the oil all over the potato.

Take a small amount of

sea salt

in your fingers and rub it all over the potato.

Place the potato onto your lined baking tray and place it in the oven to bake for about 60 minutes. Depending on the size of you potato you may need to increase or decrease the amount of time. To know that your potato is ready, it should give a little when pressed with your finger and a knife should be able to cut it easily.

Serve your baked potato hot, stuffed with cashew sour cream, vegan cheese and green onion.
Notes
Use this method to enjoy a loaded potato any time you want. Add all of your favorite toppings - don't forget some protein!
Nutrition
Calories:
204
kcal
Carbohydrates:
38
g
Protein:
5
g
Fat:
4
g
Saturated Fat:
1
g
Polyunsaturated Fat:
1
g
Monounsaturated Fat:
3
g
Sodium:
11
mg
Potassium:
888
mg
Fiber:
3
g
Sugar:
1
g
Vitamin A:
2
IU
Vitamin C:
12
mg
Calcium:
28
mg
Iron:
2
mg