Made with just 6 ingredients and flavorful Frank's Hot Sauce, this Buffalo Chickpea Salad is a quick and delicious base for a hearty snack or meal!
Jump to:
The story behind this Buffalo Chickpea Salad
Do you guys like Frank's Hot Sauce?
I used to hate it.
The first time I tried it was actually on accident. One day--before I went plant-based--I ordered a buffalo burger, thinking that the burger patty was simply made out of buffalo meat. When I took a bite I was shocked at the flavor and quickly realized that buffalo referred to the sauce that was on the burger!
It wasn't until I met Brett that I tried buffalo sauce again (we often interchange buffalo sauce and Frank's hot sauce, but I'll get to that in a bit). Brett loves buffalo sauce, so when we were dating I would make him this cheesy-ranch-buffalo-chicken bread (again, before I went plant-based). I would usually have a few bites with him before the flavor of the buffalo sauce would get to me and I'd have to stop.
But after a few months of making the buffalo bread for him (I was trying hard guys!), it started to grow on me. Now I love the taste! Yet instead of making buffalo chicken bread, I'm now making this amazing and easy buffalo chickpea salad!
Before we get to this incredibly easy recipe, let's chat more about the difference between Frank's Hot Sauce and Buffalo Sauce. 
What is Frank's Hot Sauce?
Frank's Hot Sauce is, well, a hot sauce. It contains fairly simple ingredients which include the following: distilled vinegar, aged cayenne red peppers, salt, water, canola oil, paprika, xanthan gum, natural butter type flavor and garlic powder.
Is Frank's Hot Sauce the same as Tabasco Sauce?
While Frank's Hot Sauce and Tabasco are similar, they have some differences. Frank's heat comes from cayenne peppers while Tabasco's heat comes from tabasco peppers. Who even knew tabasco peppers were a think?! Additionally, thanks to garlic powder and natural butter flavoring, Frank's is a more flavorful sauce and is therefore what buffalo sauce is made out of. 
Does Frank's Hot Sauce have dairy?
Thankfully for all us plant eaters, Frank's Hot Sauce doesn't contain dairy! It's a great condiment to have on hand to whip up buffalo cauliflower bites and of course, this flavorful buffalo chickpea salad!
What is Buffalo sauce made of and where did it get its name?
Buffalo sauce is made from a base of hot sauce, yet also often contains butter, vinegar, Worcestershire sauce, cayenne pepper, garlic powder, and salt. All of these ingredients are combined in a saucepan and are heated over medium heat until simmering. Once bubbly, the ingredients can be removed from the heat and used as desired!
The name buffalo sauce actually has nothing to with buffalos or American Bisons. The name comes from the fact that buffalo wings (chicken wings coated in buffalo sauce) originated in Buffalo, New York!
---
Okay enough chit chat. I know what you guys are here for: this buffalo chickpea salad!
If you like Frank's Hot Sauce or Buffalo Sauce then you will love this simple salad. It's spicy hot, creamy and hearty. It has all kinds of different textures that combine beautifully into one satisfying salad.
I love this salad with crackers, on a green salad for some protein or as the filling for sandwiches.
I'd love to know if you make this simple recipe and what you think! Let me know how you like to eat it by sharing a photo on Instagram and tagging, @theconscientiouseater.
Also, be sure to leave a comment down below, rate the recipe in the recipe card and share this recipe with others!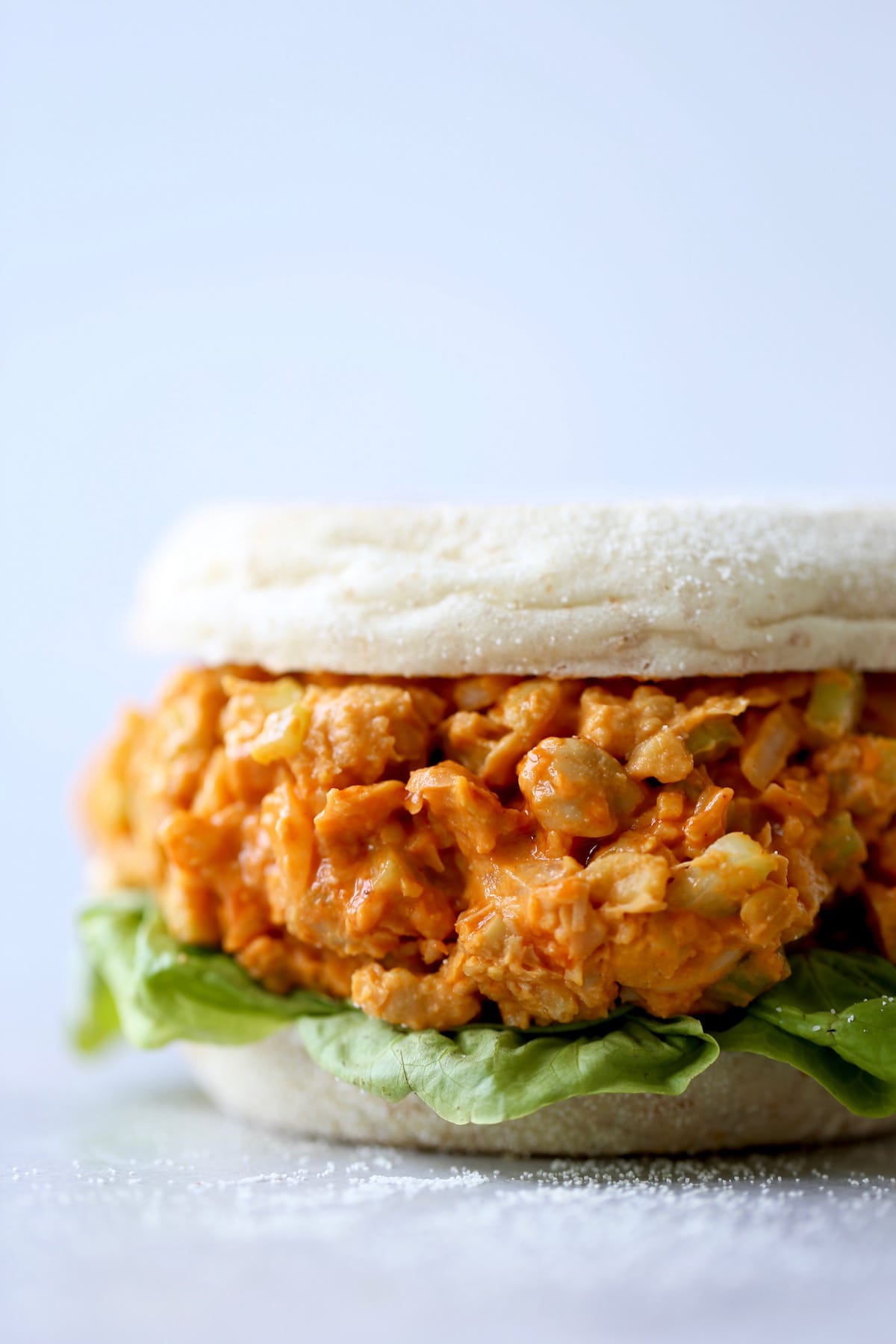 The Best Buffalo Chickpea Salad
Made with minimal ingredients and flavorful Frank's Hot Sauce, this Buffalo Chickpea Salad is a quick and delicious base for a hearty snack or meal!
Ingredients
1 can chickpeas, drained and rinsed
¼ cup Frank's Hot Sauce
1 stalk celery, diced
¼ cup onion, minced
1 clove garlic, minced
Instructions
PREP: Place the drained and rinsed chickpeas, hot sauce and tahini in a food processor and pulse until the chickpeas are broken down and the hot sauce and tahini are evenly distributed.
Pour the mixture into a bowl and stir in the prepared celery, onion and garlic.
SERVE: Serve with crackers, on salad or as a sandwich!
STORE: Store this buffalo chickpea salad in an airtight container in the fridge for about 4-5 days.
Nutrition Information
Yield

4
Serving Size

1
Amount Per Serving
Calories

172
Total Fat

6g
Saturated Fat

1g
Trans Fat

0g
Unsaturated Fat

5g
Cholesterol

0mg
Sodium

689mg
Carbohydrates

23g
Net Carbohydrates

0g
Fiber

6g
Sugar

5g
Sugar Alcohols

0g
Protein

8g
Nutrition information is a rough estimate provided by Nutrionix and should be used for informational purposes only.