This quick and easy Peanut Butter Tempeh and Broccoli Sheet Pan dinner makes for a wonderfully balanced weeknight dinner!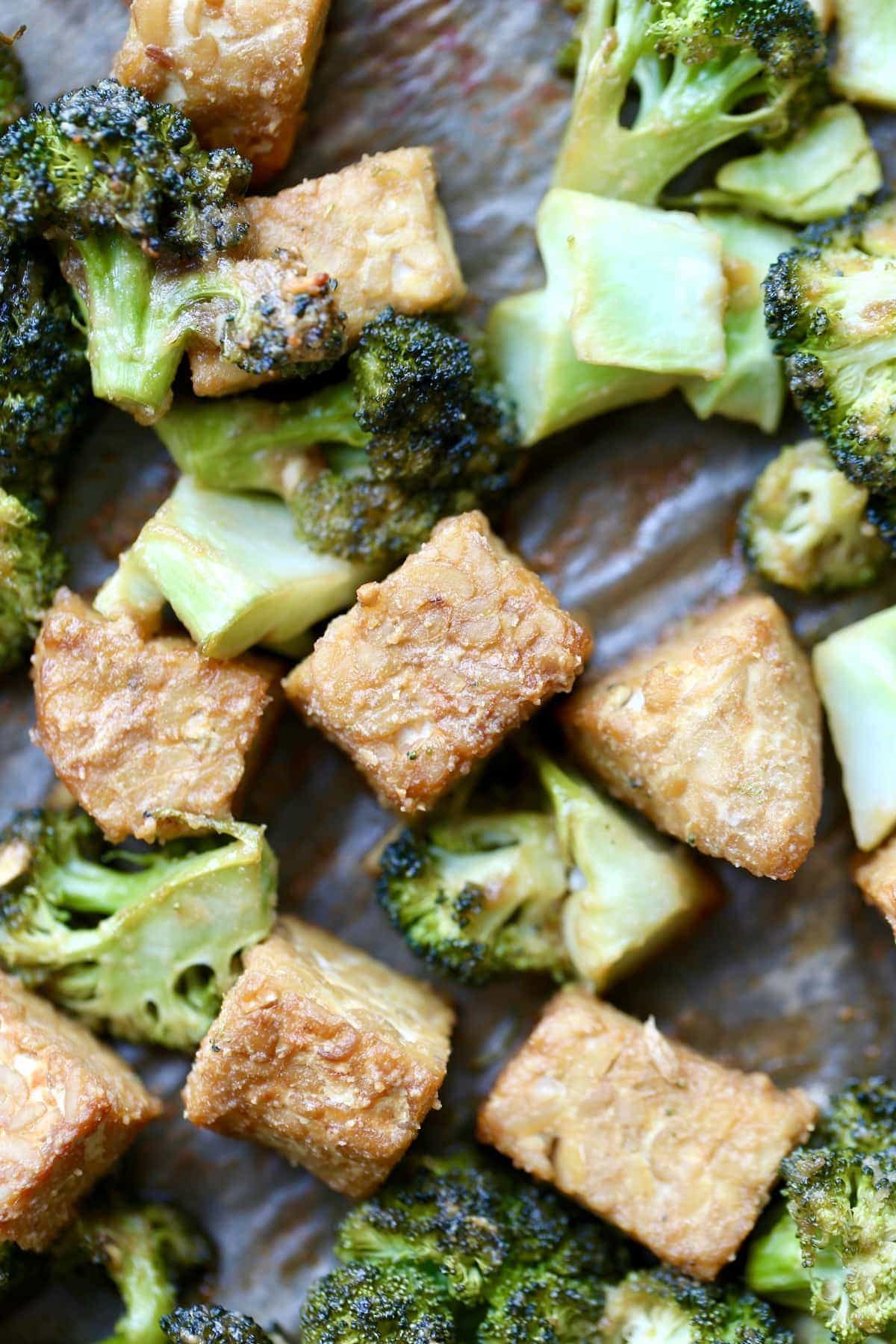 Even though we just moved to Kuala Lumpur recently, we've already connected with so many amazing people and have found that our weeks quickly fill up with social engagements. At first I was a little confused at how quickly we made friends, but then I remembered that here in KL, people speak English…and there are expat mom groups…and vegan societies that host potlucks…etc.
In China, due to the language and cultural barriers, it literally took us years to develop deep friendships. That's definitely not the case here! With more social activities during the day, I often don't have a ton of time to cook dinner in the evenings. That's why I love meal prepping and sheet pan dinners like this peanut butter tempeh and broccoli dinner!
About this tempeh sheet pan dinner
This tempeh sheet pan dinner takes 10-15 minutes to prepare and the oven does the rest of the work. Paired with a hearty, whole grain, this recipes makes for a satisfying, balanced meal.
Protein
The tempeh provides lots of plant-based protein, the peanut butter provides satiating fat and the broccoli gets in some micronutrients. Additionally, you can get creative with this recipe and swap out the broccoli for another hearty vegetable that you have on hand. Or you can use tofu instead of tempeh (although I'm obsessed with tempeh in this recipe).
Sauce
I doubled the amount of sauce for this recipe so that you have extra to drizzle on top, but feel free to halve the sauce if you think the coated veggies and tempeh will have enough flavor for you. 
What is the difference between a sheet pan and a cookie sheet?
Sheet pans and cookie sheets are similar in that they are both large, metal and rectangular baking sheets. They can often be used interchangeably in recipes, unless you are working with a more liquidy substance. That's when a sheet pan would come in handy. Sheet pans have raised edges all the way around the pan, while cookie sheets only have one raised edge. Cookie sheets are made this way so that the cookies can easily slide off the pan once they have cooled. 
What size sheet pan should I use?
Full size standard American sheet pans are 26 x 18 inches in size (or 66 x 46 cm) and can sometimes be too large for anyone who doesn't have a massive, American oven. Thankfully sheet pans come in two-thirds, halves or quarter sizes, so you should be able to fine a sheet pan that works well in your oven. For this recipe, the size of the pan doesn't really matter as long as the broccoli and tempeh are able to spread out into an even, single layer for uniform baking. 
Healthy sheet pan dinners
If you too are like me and could use some more quick and easy dinner recipes, be sure to check out the delicious sheet pan dinners below. I hope they inspire you to incorporate some new recipes into your week, no matter how busy you are!
Herbed Potato, Asparagus and Chickpea Sheet Pan Dinner 
Sheet Pan Crispy Teriyaki Tofu and Broccoli
Sheet Pan Tofu Quinoa Burrito Bowls
Sheet Pan Mexican Veggie Dinner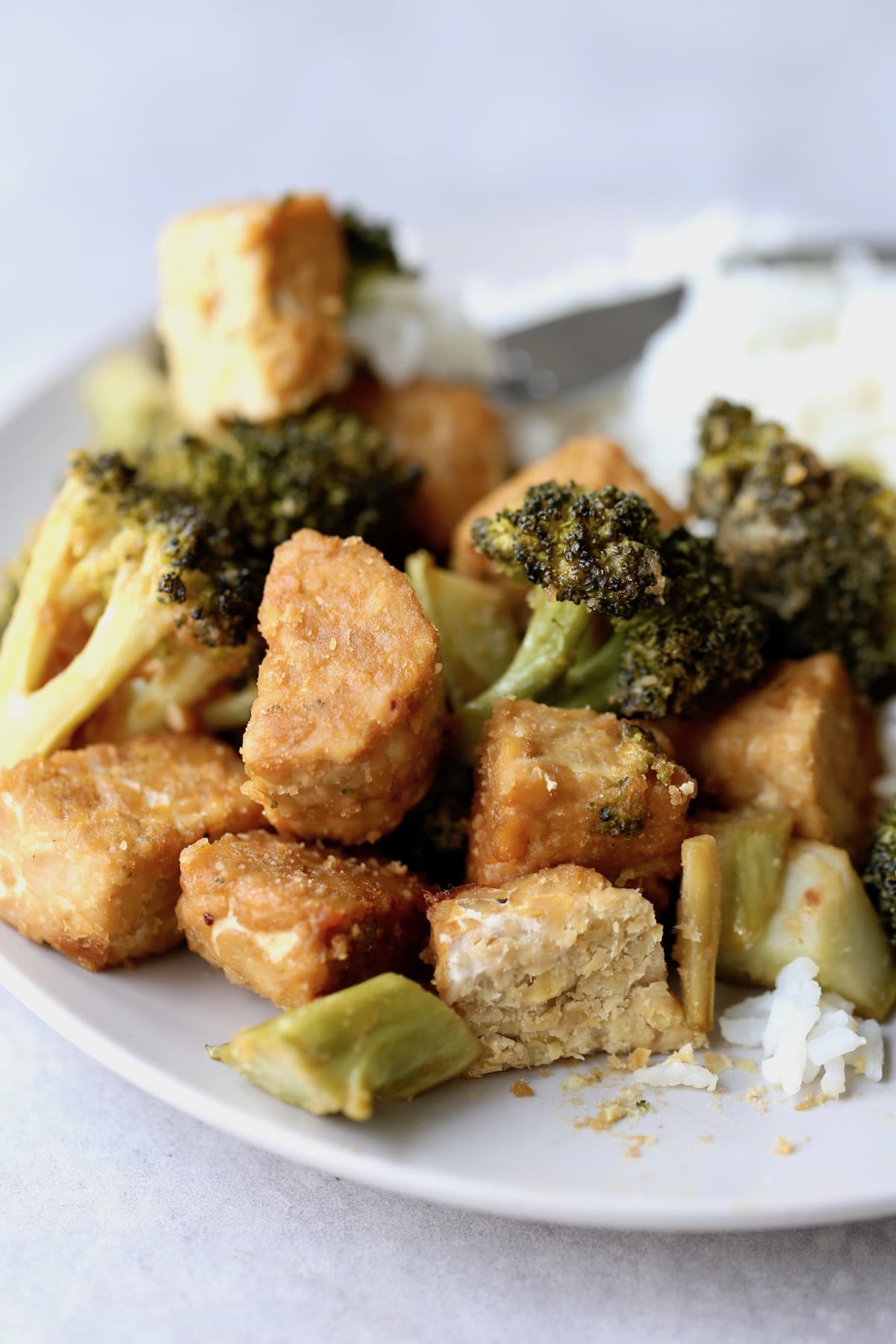 Please let me know if you give this recipe a try and what you think. Check out the recipe video below to see just how easy this meal is to make. If you like the recipe, be sure to rate it and share it with others!
Peanut Butter Tempeh and Broccoli Sheet Pan Dinner
This quick and easy Peanut Butter Tempeh and Broccoli Sheet Pan dinner makes for a wonderfully balanced weeknight dinner!
Ingredients
2 heads of broccoli, cut into florets
2 blocks of tempeh, cut into cubes
PEANUT BUTTER SAUCE:*
2/3 cup peanut butter
1/4 cup coconut sugar
1/4 cup soy sauce (or Tamari if gluten free)
1/4 cup rice vinegar
4 cloves garlic, minced
1 teaspoon sesame oil
Instructions
Preheat your oven to 400 degrees F and line a baking sheet with a silicone baking mat or parchment paper.
Place the broccoli florets and cubed tempeh into a large mixing bowl and set it aside.
In a smaller bowl, stir together all of the sauce ingredients. Pour half of the sauce over the broccoli and tempeh and stir well until all the broccoli and tempeh has been coated in the sauce.
Pour the tempeh and broccoli onto your lined baking sheet and spread everything into an even layer.
Bake the tempeh and broccoli for 10 minutes. Flip everything over then bake everything for another 8-10 minutes or until the tempeh is golden and the broccoli is cooked through.
Serve with steamed rice and the leftover peanut butter sauce.
Notes
*Feel free to make only half of the sauce, but then you won't have any extra sauce to drizzle on top!
Recommended Products
Nutrition Information
Yield

4
Serving Size

1 serving
Amount Per Serving
Calories

419
Total Fat

25g
Saturated Fat

5g
Trans Fat

0g
Unsaturated Fat

16g
Cholesterol

0mg
Sodium

1160mg
Carbohydrates

39g
Fiber

9g
Sugar

17g
Protein

18g
Nutrition information is a rough estimate provided by Nutrionix and should be used for informational purposes only.