Cool down this summer with these 11 unique and flavorful vegan summer smoothie recipes! Not only are these smoothies refreshing, but they're chock full of good-for-you fruits and veggies.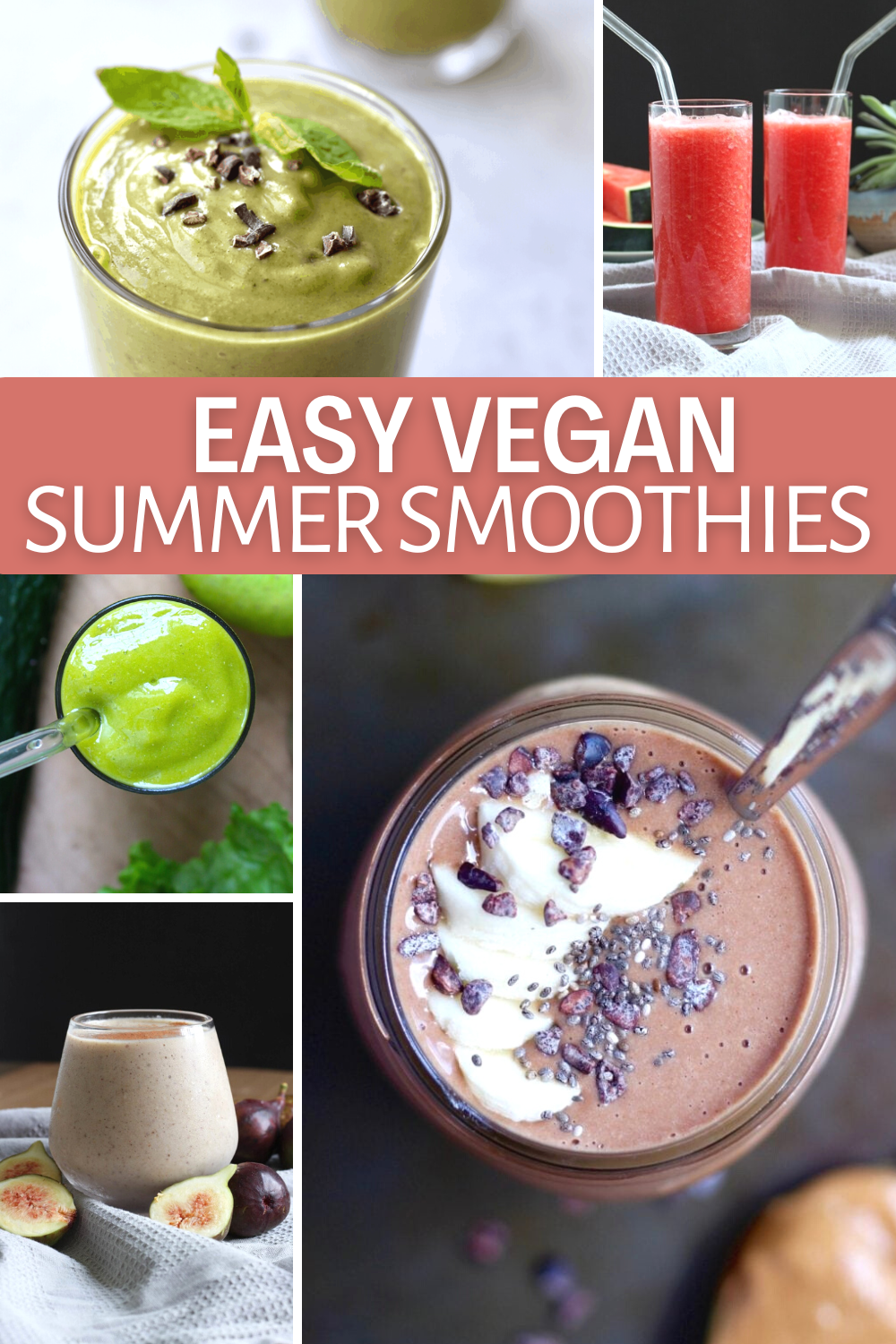 Smoothies are the perfect drink during the hot summer months.
The thing I love most about smoothies is that you can never run out of delicious, refreshing variations, depending on which liquids, fruits and veggies you use.
Today I'm sharing all of my favorite plant-based smoothie recipes with you and I hope you discover a new favorite drink!
Vegan Smoothie Ingredients
Smoothies often have yogurt, cow's milk, or protein powder in them that make them non-vegan.
The following ingredients make up the core components of a vegan smoothie.
Protein / Healthy Fats
The following ingredients make great protein sources for making vegan smoothies!
Sweetener
If you want to add a sweetener, my favorite natural sweetener for vegan smoothies is dates!
I also like to add cacao nibs or cacao powder if I want to have a chocolatey flavor.
Fruit
All of your favorite summer produce can be included in your summer smoothie recipe.
The most common summer fruits to include in your smoothies are:
apples
bananas
berries - strawberries, blueberries, blackberries, raspberries
honeydew
mangos
peaches
watermelon
Definitely check out your local grocery store's freezer section as frozen fruit is often cheaper than fresh fruit.
And because it's picked and frozen at peak ripeness, it's just as nutritious as fresh fruit!
Veggies
I love sneaking veggies into different recipes! Smoothies are an easy way to get veggies into your diet (or your kids!) - yep, even cauliflower.
Smoothies are also great for sneaking dark leafy greens into your diet. Only 9% of Americans get enough dark leafy greens in their diet! Try out my Refreshing Green Smoothie or Chocolate Green Smoothie to work some spinach and/or kale into your smoothie.
Because of their more neutral flavor, cucumbers are also easy to work into a green smoothie, especially when you pair it with frozen mango.
My Favorite Vegan Summer Smoothie Recipe
Switch up your standard banana-strawberry smoothie with these healthy and unique creations!
I love all of the recipes below, but if you forced me to choose just one, I would have to go with my go-to Refreshing Green Smoothie. It always hits the spot on a warm summer's day.
Which, let's be honest, is every day here in tropical Malaysia!
Vegan Summer Recipe Inspiration
For more vegan summer recipes inspiration, check out my 92 Easy and Healthy Vegan Summer Recipes roundup.
Dairy Free Drink Inspiration
You can use the filters on my recipes page to filter for more dairy free drinks (or whatever you want!) This link will take you directly there - all dairy free drink recipes on The Conscientious Eater.