Made with juicy blueberries and coated with a crumbly streusel topping, this Vegan Blueberry Coffee Cake is a delicious, breakfast treat!
The start of last week was rough.
I found out my grandpa died on Sunday morning and the grief hit me harder than I expected. I could have told you I'd be sad, but I didn't know the sadness would feel like a black cloud physically weighing me down and turning my normal social, joyful self into a apathetic recluse.
It was like nothing I'd ever experienced before.
But I am so glad that gave myself tons of grace and didn't stuff my grief in order to continue on with normal life. Sunday I literally did nothing productive and just vegged on the couch with Brett and my friend, watching movies and doing mindless activities. On Monday I skipped my morning Chinese class and yet again didn't leave the house, but did a few productive chores inside. I had planned to go to class Tuesday morning, but kept feeling waves of tears welling up inside of me and decided to yet again skip class in order to weep when needed and not feel like I had to be normal just yet.
I can't tell you how grateful I am that I gave myself time to process and cry. I have a tendency to stuff my feelings and often give myself unnecessary pressure to be productive throughout all hours of the day. I don't know why this time was different, but I think a main reason I felt the freedom to pause my normal life to grieve was because I'm blessed with an amazing husband, wonderful friends and a flexible schedule. I don't think I would have started feeling normal so quickly if I had tried to continue on with my normal life.
Grieving is good.
Crying is good.
Taking time off school/work is good.
Even after a rough few days, something changed Tuesday night and I felt so much better. I remember saying to Brett, "I don't feel sad." It was like the black cloud had lifted and I felt like I could actually start being normal again. I watched a movie Tuesday night and smiled for the first time in what felt like forever. By Wednesday I felt completely normal and had energy to exercise, cook, and even host a brunch with some of my best girlfriends (where I served this AMAZING Vegan Blueberry Coffee Cake, which we'll talk about in a minute).
Part of me was a little scared with how quickly I started feeling normal again. Have I moved on? Do I not miss my grandpa? Is it okay to feel joy after someone you loved so dearly dies? It's weird to feel normal amidst a tragedy, but I honestly think taking time away from life to grieved helped me to feel normal faster. I won't ever forget my grandpa. I definitely will have moments of sadness when I think about him or see his picture. There will always be a hole in our family with his absence. He was one amazing man.
But if any of you are struggling with loss and sadness, know that it's normal. It's okay to not feel okay. It's okay to cry and to not want to do anything. It's okay to feel like a different person. That's normal and things will get better.
---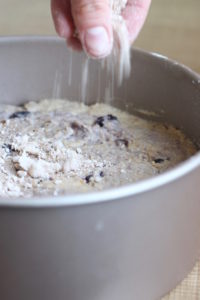 One thing that I realized I like to do when I'm sad is watch cooking shows. Their mindless and hey, I love food! So while I was in the deeper sections of my grief last week I found myself watching lots of episodes of The Pioneer Woman. Does anyone else like that show?! I don't know what it is about her recipes, but they make me so happy. They're decadent and festive and made with family in mind. I kept making notes of recipes that I wanted to veganize and her Blueberry Coffee Cake was on the top of my list.
You guys, this Vegan Bluebery Coffee Cake is perfect. It's most and sweet and has the most perfect, crispy, sweet crumb topping. After her first bite, my friend's eyes lit up and she looked at me and said, "Oh my gosh. This is amazing." Brett too couldn't help but say, "This cake is perfect moist and sweet and delicious."
That's success in my book!
This cake was gobbled up in two days and I'll definitely making it again for future brunch/breakfast parties. It's simple to prepare and not overly sweet, making it the perfect special treat for breakfast or a coffee break. Please let me know if you give this recipe a try! Leave a comment down below letting me know your thoughts or even better, take a picture and tag #theconscientiouseater on Instagram so I can see your creation!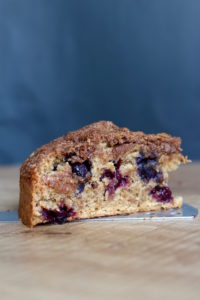 Vegan Blueberry Coffee Cake
Made with fragrant coconut oil, juicy blueberries and covered with a sweet, crumbly streusel topping, this Vegan Blueberry Coffee Cake is the perfect recipe for a special breakfast or afternoon coffee break!
Ingredients
1 flax egg (3 tablespoons water + 1 tablespoon ground flaxseed)
2 cups all-purpose flour
2 1/4 teaspoon baking powder
1/2 teaspoon salt
1/2 teaspoon cinnamon
5 tablespoons softened coconut oil
1/2 cup coconut sugar
1 teaspoon vanilla extract
1 cup non-dairy milk
1 cup fresh or frozen blueberries
STREUSEL TOPPING:
3 tablespoons coconut oil
1/4 cup flour
1/4 cup coconut sugar
1/2 teaspoon cinnamon
1/4 teaspoon salt
Instructions
Preheat your oven to 350 degrees and grease an 8 inch cake pan (preferably springform) with cooking spray.
In a small bowl prepare your flax egg by whisking together 1 tablespoon of ground flaxseed with 3 tablespoons of water. Set aside to thicken.
In a mixing bowl, whisk together the flour, baking powder, salt and cinnamon.
In a separate bowl, cream together the softened coconut oil and coconut sugar until combined. Add in the thickened flax egg and vanilla and cream again until a wet mixture forms.
Alternately add in the flour mixture and the 1 cup of non-dairy milk to the oil/sugar mixture, being careful not to over mix.
Once combined fold in the blueberries.
Pour the batter into your prepared cake pan and set aside.
In a bowl prepare the streusel topping by combining the 3 tablespoons of coconut oil, flour, coconut sugar, salt and cinnamon in a bowl and using a fork to cut the coconut oil into the dry ingredients until a crumby mixture forms.
Evenly sprinkle the streusel mixture over the batter.
Bake the cake for 30 minutes. Remove from the oven, cover with aluminum foil and bake for about 10 more minutes or until toothpick inserted into the center comes out clean.
Allow the cake to cool for a bit before serving.