Try this vegan bulletproof coffee as a way to jazz up your boring morning coffee with healthy fats and a delicious creamy taste!
Have you ever tried traditional bulletproof coffee? What do you think about it? How does it make you feel? If you don't drink bulletproof coffee, are you the kind of person who would rather have a dairy-free iced mocha, a matcha latte or a pumpkin spiced latte? Or maybe you hate caffeine altogether and only pay attention to coffee if it's in a phrase such as "blueberry coffee cake." Whatever coffee drink is your favorite, I'm sure all coffee drinkers will enjoy this creamy, frothy vegan bulletproof coffee!
Jump To
Why You'll Love This Recipe!
If you love creamy, milky coffee, then you'll love this vegan bulletproof coffee! Almond butter and a touch of coconut oil blended with hot coffee creates a thick and creamy cup of joe that you'll want to get out of bed for!
This bulletproof coffee is customizable. You can use any kind of nut butter you have on hand or enjoy most. Try out homemade nutella for a creamy mocha or vanilla cashew butter for a warming vanilla latte.
Sometimes plain, black coffee leaves me feeling jittery. Blending some some fats to my coffee helps counteract the caffeine and gives me more sustained energy. Maybe it will do the same for you!
Ingredients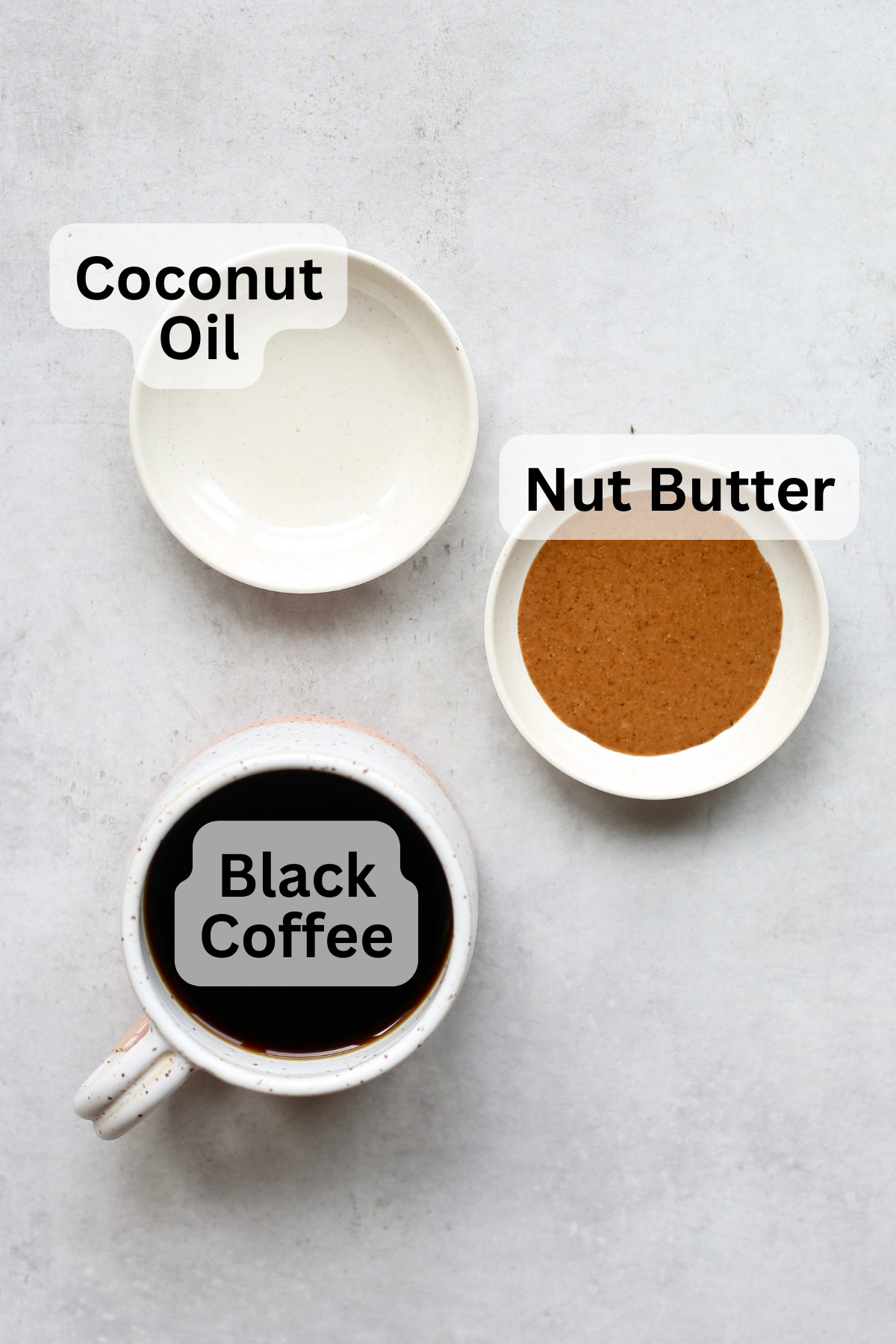 Coffee - For this vegan bulletproof coffee, you'll need hot, black coffee. You can make your coffee using whichever method you prefer. I'd recommend a basic black coffee, instead of a flavored coffee.
Nut Butter - The nut butter in this recipe is what flavors this bulletproof coffee and makes it nice and frothy. You can think of the nut butter as non-dairy milk. If you like almond milk in your coffee, choose almond butter. If you like cashew milk in your coffee, choose cashew butter. If you like mochas, choose homemade nutella or even chocolate peanut butter. Whatever flavor you like paired with coffee, choose that!
Coconut Oil - I like coconut oil best in this vegan keto coffee because it has a naturally sweet flavor. If you don't like coconut, you could use refined coconut oil. I wouldn't choose vegetable oil or olive oil as vegetable oil is more processed and olive oil has a stronger flavor.
See recipe card for complete list of ingredients and quantities.
Variations
The beauty of using a natural nut butter to create vegan bulletproof coffee is that it opens you up to some delicious variations. I actually got this idea after Jem Organics sent me a sample pack of their unique and decadent nut butters to try out. I was pretty excited to try them out and so far have loved every single flavor they sent me. With this in mind, I've been able to try these vegan bulletproof coffee variations:
Substitutions
Oil - If you're trying to stay away from oil, I'm sure this recipe would work without the oil, but just ½ teaspoon of coconut oil makes this Vegan Bulletproof Coffee so rich and frothy.
Nut Butter - Again, you can substitute whichever nut butter you like best of have on hand!
How to Make Vegan Bulletproof Coffee
Step 1: Make a black cup of coffee and choose a nut butter that you think will pair well with coffee.
Step 2: Place the black coffee, nut butter and coconut oil into a blender and blend until smooth and frothy. Pour the coffee into a mug and enjoy!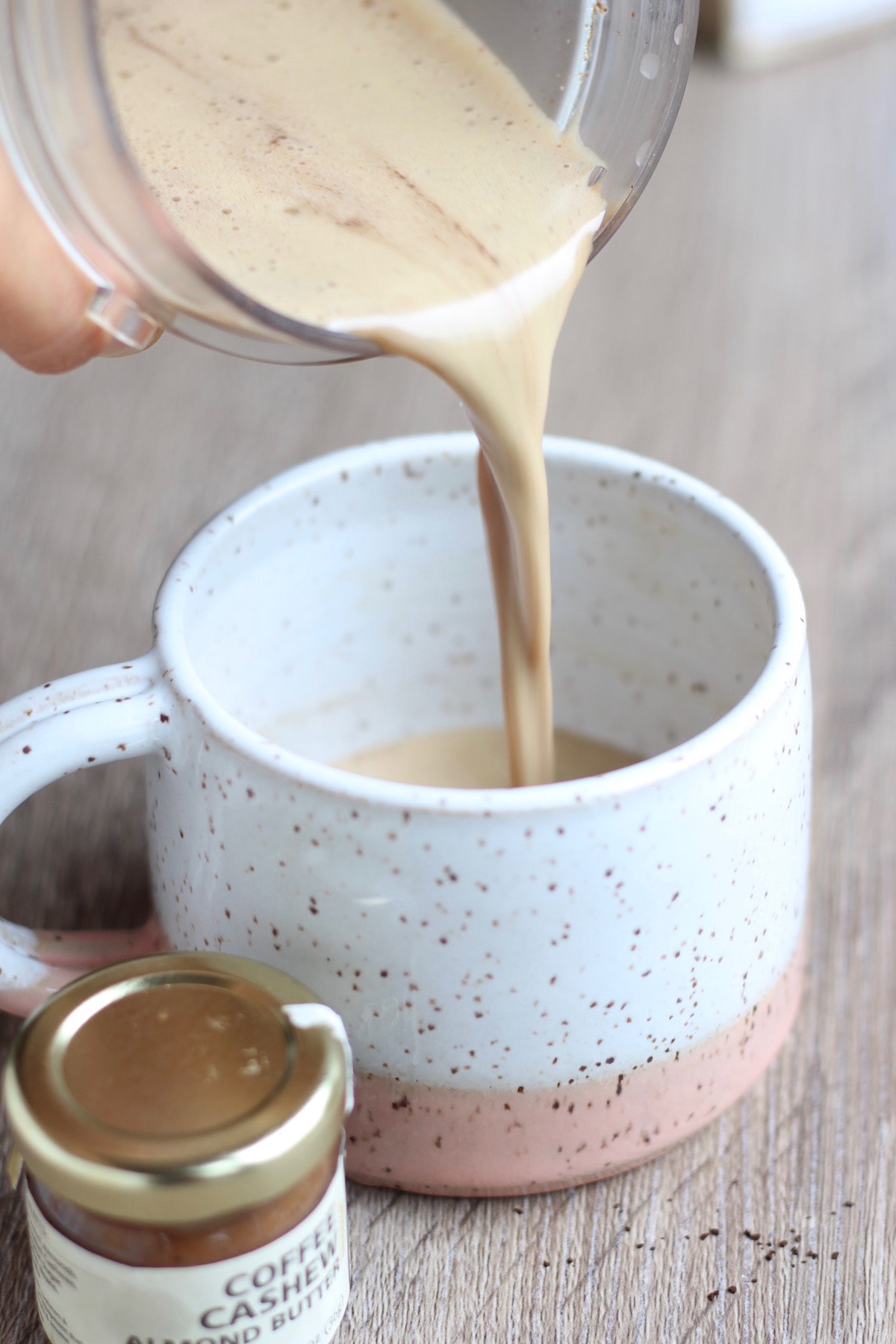 Top Tips
When choosing a nut butter think of which foods you enjoy paired with coffee. Do you like to have a piece of chocolate with your coffee? Do you like vanilla lattes or cinnamon latte? Which non-dairy milk do you prefer in your coffee? Cashew? Almond? Use your taste preferences to help you choose a nut butter to pair with your coffee.
Be careful blending hot coffee! If you blend the coffee too long without allowing the steam to escape, it could create a lot of pressure in your blender. So either blend for short periods or carefully use a blender with a steam vent.
Recipe FAQs
What is bulletproof coffee?
Bulletproof coffee is basically coffee blended with grass-fed butter and brain octane oil, which results in a really frothy, creamy, fatty cup of joe. To make bulletproof coffee, all you do is combine the coffee, butter and brain octane oil in a blender and blend until smooth and frothy.
What inspired bullet proof coffee?
Bulletproof coffee was invented by Dave Asprey who discovered on a trip to Tibet just how good the cultural drink of Butter Tea made him feel. Traditional Butter Tea is made with yak butter, which isn't as easy to come by here in the states, so Dave created his own version of bulletproof coffee made with grass-fed butter and, additionally, added in brain octane oil.

How do you make vegan bulletproof coffee?
To make vegan bulletproof coffee, I love to blend natural nut butters and a smidgen of coconut oil into my coffee. This eliminates the grass-fed butter which is usually found in bulletproof coffee.
Can you make bulletproof coffee in advance?
If you don't have a lot of time in the morning, it is possible to make traditional bulletproof coffee in advance. You can either refrigerate pre-made bulletproof coffee and reheat it in the morning or you can make bulletproof coffee blocks which you blend with hot coffee in the morning.
Why should I drink bulletproof coffee?
Bulletproof coffee is a high fat beverage which Dave Asprey claims provides many benefits including suppressed hunger, longer lasting energy, and mental clarity. I can see where he's coming from. Usually when I drink my coffee alongside a snack that contains some healthy fats, I don't feel like I get the usual caffeine spike and crash as I would just drinking a black cup of coffee on an empty stomach. However, because I don't eat butter, I have yet to try traditional bulletproof coffee and I can't vouch for the validity of these claims.
Is bulletproof coffee healthy?
I'm not a dietician or a nutritionist and, since I've never tried traditional bulletproof coffee containing grass-fed butter, I really don't have much to say scientifically and nutritionally in regards to this question. As someone on a plant-based diet, I don't plan on drinking 2-4 tablespoons of butter and oil in my coffee anytime soon. However, I do love the idea of adding healthy fats to my coffee to help keep caffeine spikes at bay and to add rich, frothiness to my coffee. 
Should I eat anything with bulletproof coffee?
Because bulletproof coffee is so high in fat and calories, it's meant to be a meal substitute, not something you drink alongside a traditional breakfast. But if you want to enjoy something alongside this vegan bulletproof coffee, I say go for it!
More Vegan Coffee Recipes!
Love this recipe? Please leave a 5-star 🌟🌟🌟🌟🌟 rating in the recipe card below & a review in the comments section further down the page.
📖 Recipe
Vegan Bulletproof Coffee
Jazz up your usual morning coffee by blending healthy fats into your coffee to create this creamy, filling Vegan Bulletproof Coffee!
Instructions
Place all of the ingredients into a blender and blend until smooth and frothy.

Pour into a mug and enjoy!
Nutrition
Serving:
1
g
Calories:
175
kcal
Carbohydrates:
2
g
Protein:
2
g
Fat:
18
g
Saturated Fat:
10
g
Polyunsaturated Fat:
7
g
Cholesterol:
31
mg
Sodium:
119
mg
Fiber:
1
g