Studded with tart cranberries and fresh orange zest, these whole grain Vegan Cranberry Orange Muffins are a light and refreshing way to start the day!
We are a muffin obsessed family.
It's rare for us to not have a batch of vegan muffins on the counter or in the fridge for quick and easy breakfasts and snacks.
Muffins are so versatile, so we're constantly switching up the flavors!
Sometimes we're craving super wholesome Zucchini Carrot Oatmeal Breakfast Muffins.
Other times, we love chocolate-based muffins like these delicious, unique Double Chocolate Black Tahini Banana Muffins.
Then, there are these classic Vegan Banana Nut Muffins which are always a hit!
But today, I'm going to share a muffin flavor with you all that was a staple in my family growing up. My mom often made cranberry orange muffins for us, especially around the holidays and winter months, so I wanted to create a vegan version to make for my family.
Let me show you how to make them!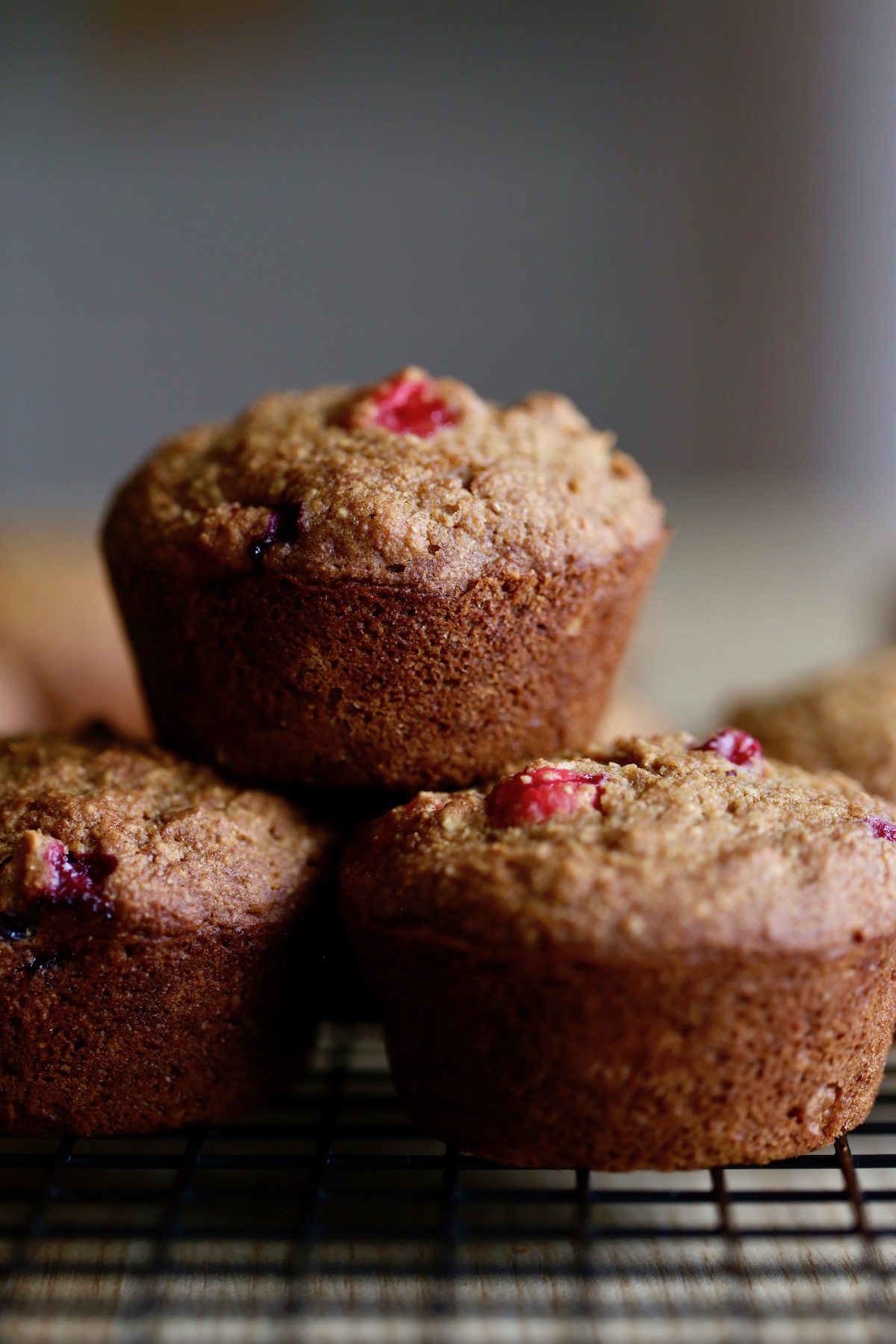 Ingredients You'll Need for Vegan Cranberry Orange Muffins
These cranberry orange muffins are light and fresh tasting thanks to orange juice and zest. I also love that they are full of whole grains and have lots of natural sweetness from orange juice, unsweetened applesauce and maple syrup.
Below I've listed out all of the ingredients that you'll need to make these vegan orange muffins. I'm sure you already have a lot of these ingredients already on hand!
Aquafaba
Unsweetened applesauce
Cane sugar
Non-dairy milk
Neutral oil
Orange juice (freshly squeezed or store-bought)
Maple syrup
Orange zest
Baking soda
Baking powder
Salt
Whole wheat flour
Oat flour
Optional mix-ins: Fresh cranberries, craisins or raisins, chopped nuts, etc.
What is Aquafaba?
In case you're unfamiliar with aquafaba, it's the liquid from a can of chickpeas and it makes for a great egg replacement in this recipe!
So the next time you cook with chickpeas, be sure to save the liquid for your next round of baking!
How to Replace Eggs with Aquafaba
Aquafaba is an wonderful egg replacement that seems to be blowing up the internet. You can whip it like egg whites to create meringue. You can turn it into marshmallows. And you can bake with it!
To use aquafaba as an egg replacement in baking, simply use three tablespoons of aquafaba for each egg called for in the recipe.
3 tablespoons aquafaba = 1 egg
Aquafaba doesn't always work as a perfect replacement for eggs when baking, but in general, I've found aquafaba to replace 1-2 eggs well in muffin and quick bread recipes.
So if you wanted to replace two eggs in a muffin recipe, you would use 6 tablespoons of aquafaba.
How to Make Oat Flour at Home
As you can see from the ingredient's list above, this recipe also calls for oat flour.
Oat flour can be found at most local grocery stores, but I've found it's incredibly easy and more cost effective to make your own oat flour at home!
To make oat flour, simply place 1-2 cups of quick or rolled oats into a food processor or high powdered blender and process until a fine flour forms. You may need to stop your machine and stir or shake the oats up a bit to ensure that all of the oats get broken down into flour.
Store your homemade oat flour in an airtight container at room temperature. If you live in a warmer environment, you can also store the oat flour in your fridge or freezer to make it last longer.
How to Make Cranberry Orange Muffins
Okay, let's just into this cranberry orange muffin recipe!
These muffins are super easy to make and below I'll show you how to make them using step-by-step instructions with pictures.
Step 1: Preheat your oven to 375F/190C and grease 12 muffin cups with cooking spray or line them with silicone muffin liners. Set aside.
Step 2: In a large mixing bowl, whisk together all of the ingredients, except for the whole wheat and oat flour, until well combined. This wet mixture should start to foam and froth a little bit as the orange juice interacts with the baking soda. Let the mixture foam for about 5 minutes before stirring in the flour until just combined. Lastly, fold in any mix-ins if desired.
Step 3: Divide the batter evenly among 12 muffin cups.
Step 4: Bake the muffins for 17-22 minutes or until slightly golden brown and a toothpick inserted into the center comes out clean.
Step 5: Allow the muffins to cool for about 10 minutes in the muffin pan before removing them to a wire rack where they can cool completely.
How to Store Homemade Muffins
In my opinion, homemade muffins taste best when eaten fresh out of the oven...or at least on the day they are baked.
However, there are few different ways you can store your homemade muffins to ensure that they stay fresh until the entire batch has been enjoyed.
Room temperature: If you plan to eat your muffins within 1-2 days, you can store them in an airtight container at room temperature.
Refrigerator: To make your muffins last for 5-6 days, store them in an airtight container or bag in the fridge.
Freezer: If you want to make a bunch of muffins at once or make sure they last a long time (2-3 months), you can wrap them individually in plastic wrap and place them in a freezer bag in the freezer for up to three months. To thaw a muffin, simply place it in the fridge overnight.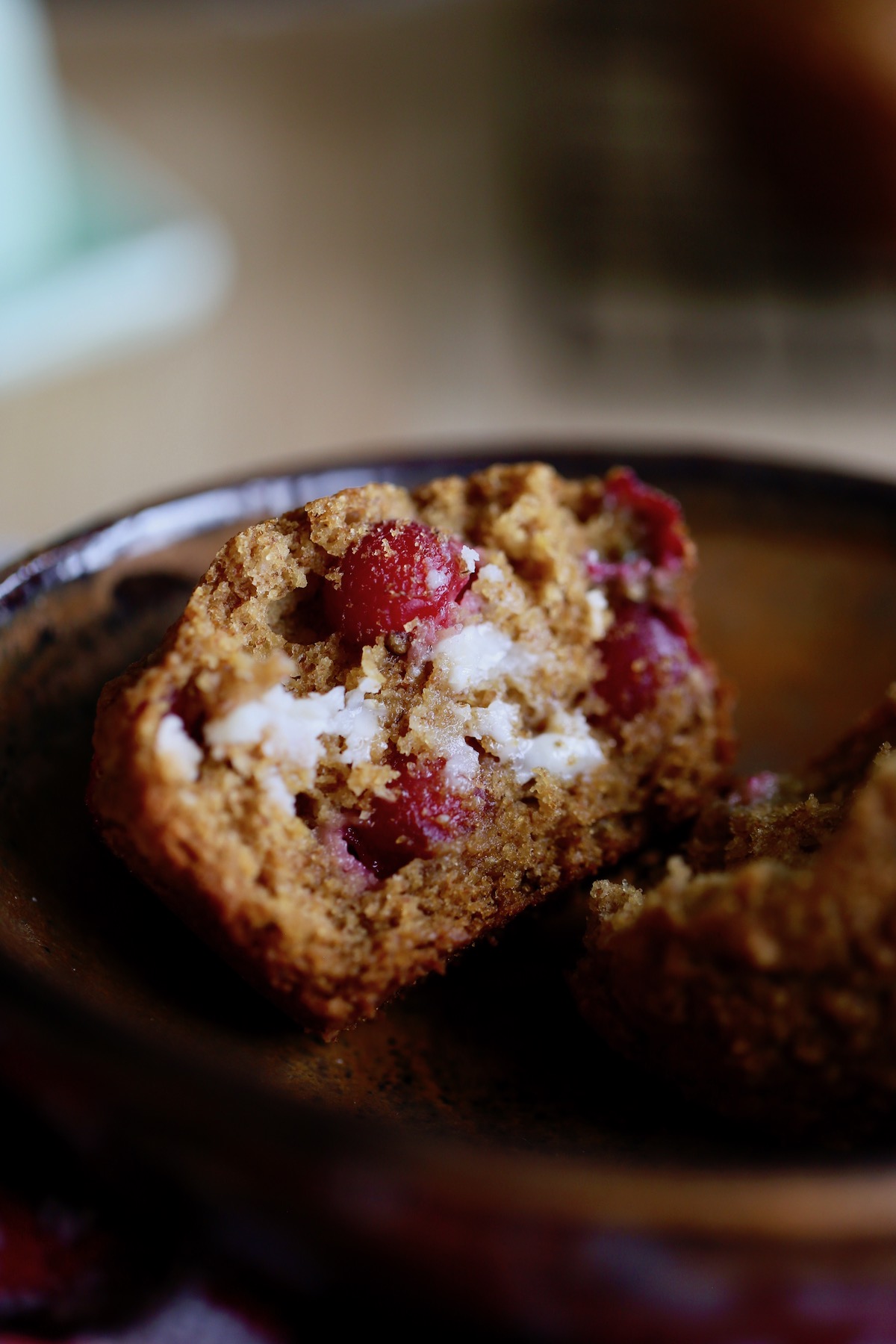 Yield:

12 muffins
Vegan Cranberry Orange Muffins
Made with sweet orange juice and tart cranberries, these Vegan Cranberry Orange Muffins are perfect for the holiday season...or all year round!
Ingredients
6 tablespoons aquafaba*
¾ cup unsweetened applesauce
⅓ cup sugar
¼ cup non dairy milk
¼ cup oil
⅓ cup orange juice
¼ cup maple syrup
2 tablespoons orange zest
1 ½ teaspoon baking soda
1 teaspoon baking powder
¼ teaspoon sea salt
1 cup whole wheat flour
1 cup oat flour
Optional: 1 cup fresh cranberries, picked over
Instructions
Preheat your oven to 375F/190C and grease 12 muffin cups with cooking spray or line them with silicone muffin liners. Set the muffin pan aside.
In a mixing bowl, whisk together the first 11 ingredients, from the aquafaba to the sea salt. Allow the mixture to foam for 5 minutes. This is the baking soda reacting with the orange juice.
Add in the whole wheat flour and oat flour and stir just until combined.
Lastly, gently fold in the fresh cranberries.
Divide the batter evenly among the 12 standard muffin cups.
Bake the muffins for 18-20 minutes or until they are slightly golden on top and a toothpick inserted into the center comes out clean.
Allow the muffins to cool for a few minutes in the pan before removing them and allowing them to cool completely on a wire rack.
Store the muffins in an airtight container for a couple of days.
Nutrition Information
Yield
12
Serving Size
1 muffin
Amount Per Serving
Calories

166
Total Fat

6g
Saturated Fat

1g
Trans Fat

0g
Unsaturated Fat

5g
Cholesterol

0mg
Sodium

248mg
Carbohydrates

27g
Fiber

2g
Sugar

12g
Protein

3g
Nutrition information is a rough estimate provided by Nutrionix and should be used for informational purposes only.