Chock full of nuts, dried fruit, oats and shredded vegetables, these Healthy Everything Oatmeal Breakfast Muffins are a hearty and delicious way to start your day!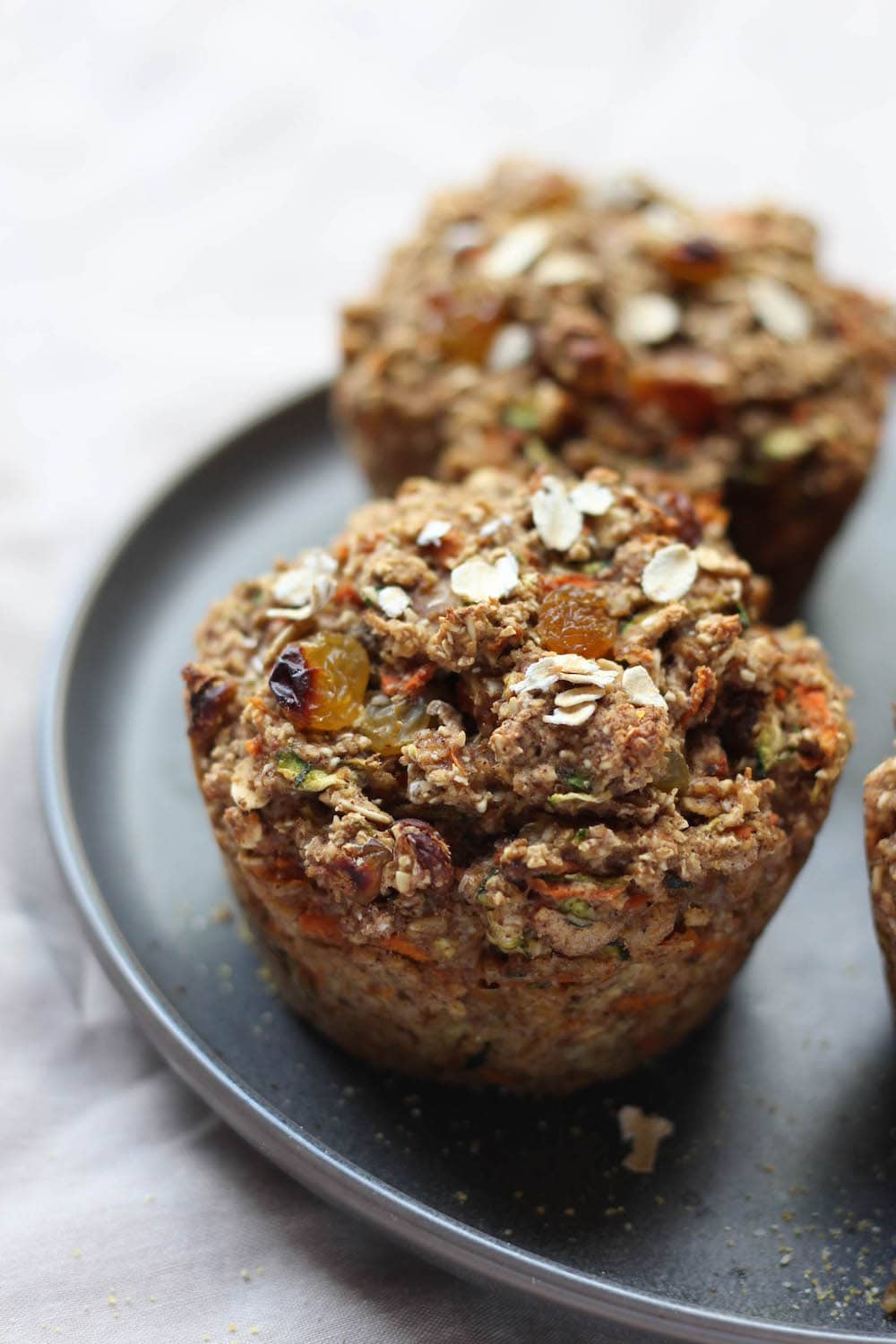 Jump To
Oh muffins.
You have my heart!
And judging by the fact that my husband and kids never get sick of you either, you must have their hearts as well.
Yeah, we really are obsessed with muffins over here.
If you've been following along with the blog for any length of time you would have already picked up on our love of muffins. I post new vegan muffin recipes often and I still haven't run out of flavor combination or gotten sick of them.
Some of our all-time favorite muffin recipes are these Healthy Chocolate Breakfast Muffins, Wholesome Vegan Banana Nut Muffins and these Toasted Coconut Chocolate Chunk Muffins.
Oh and of course these Zucchini Carrot Oatmeal Breakfast Muffins are a family favorite as well! That's the recipe I'm sharing with you today!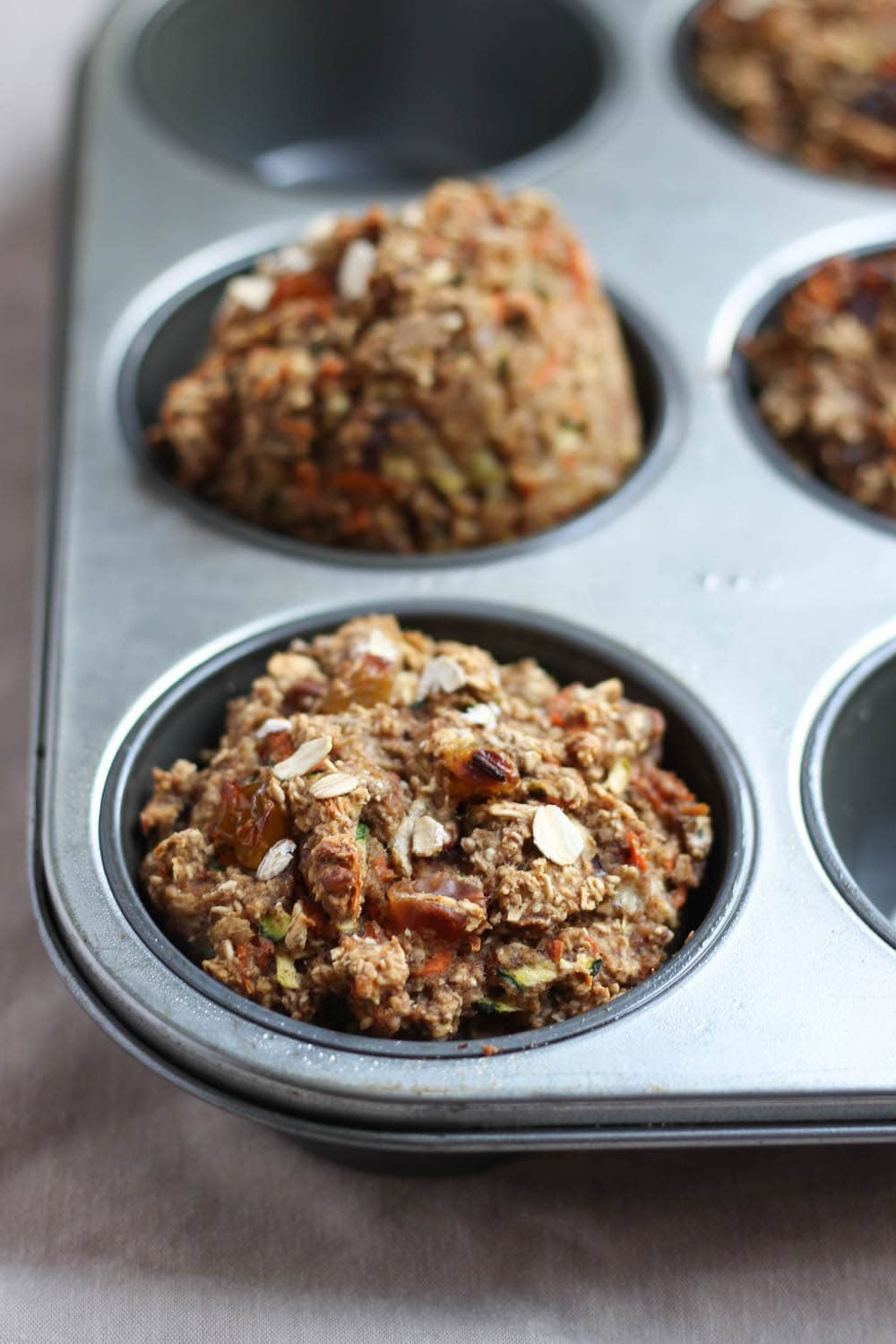 Ingredients You'll Need for Zucchini Carrot Oatmeal Breakfast Muffins
One of the main reasons I love this recipe, other than the flavor of course, is that these muffins are chock full of good-for-you ingredients. They contain lots of whole grains and veggies and, other than a touch of maple syrup, are sweetened almost entirely with fruit! I'll list out the ingredients you'll need below:
Ground flaxseed
Rolled oats
Walnuts, or other nuts
Raisins, or other dried fruit
Cinnamon
Baking powder
Salt
Zucchini, grated
Carrot, grated
Banana, mashed
Applesauce
Maple syrup
Vanilla extract, optional
So while the list of ingredients is on the longer side, seeing everything listed out really gets me excited about how much nutrition each muffin contains. They really are the perfect way to start the day...or end it!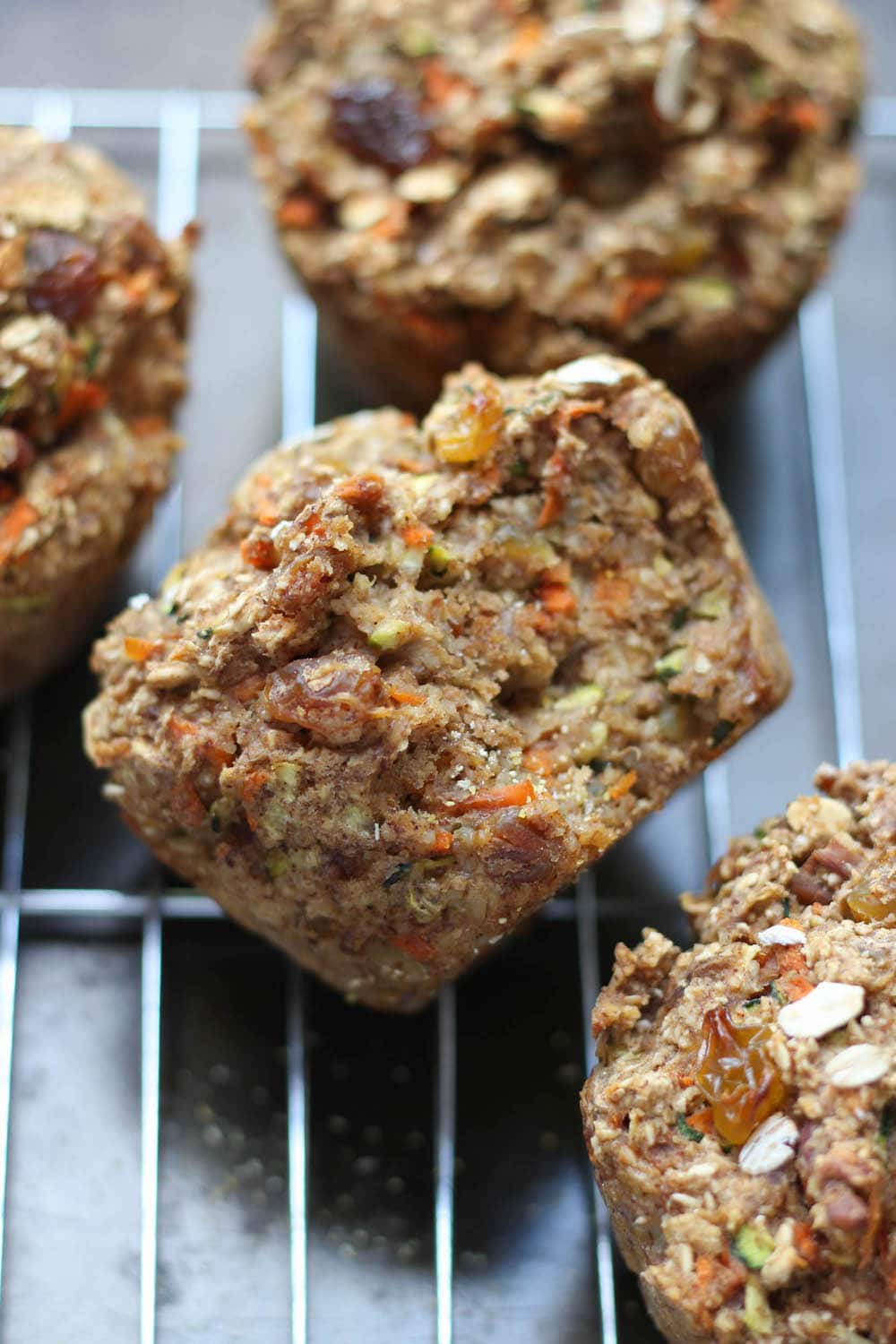 How to Prepare Zucchini for Muffins
Zucchini is such a versatile vegetable. Mainly because it's practically flavorless and can be included in both sweet and savory recipes.
When it comes to adding zucchini to baked goods, you'll need to consider its high water content.
For this muffin recipe, you'll want to first shred your zucchini and then, using a clean tea towel or paper towel, squeeze out the excess moisture from the zucchini. Once you remove the extra water water, you can then continue on with the recipe.
Removing the extra water from the zucchini will allow these muffins to bake properly and not be too gummy.
How to Make Homemade Oat Flour
Another key ingredient in this muffin recipe is oat flour.
Please, don't go out and buy out flour! It's so easy to make and is way more cost effective to make it yourself.
To make homemade oat flour, simply place rolled oats into a food processor or blender and blend until a fine flour form.
You can make large batches of oat flour at a time and store it in an airtight container for future baking.
How to Store Muffins
Muffins are one of my favorite foods to meal prep at the start of the week, because they store beautifully in both the fridge or freezer.
Fridge: If storing your muffins in the fridge, place them in an airtight container. They should last for about a week!
Freezer: To freeze your muffins, wrap them individually in plastic wrap and then place them in a freezer bag. They should last for 1-2 months!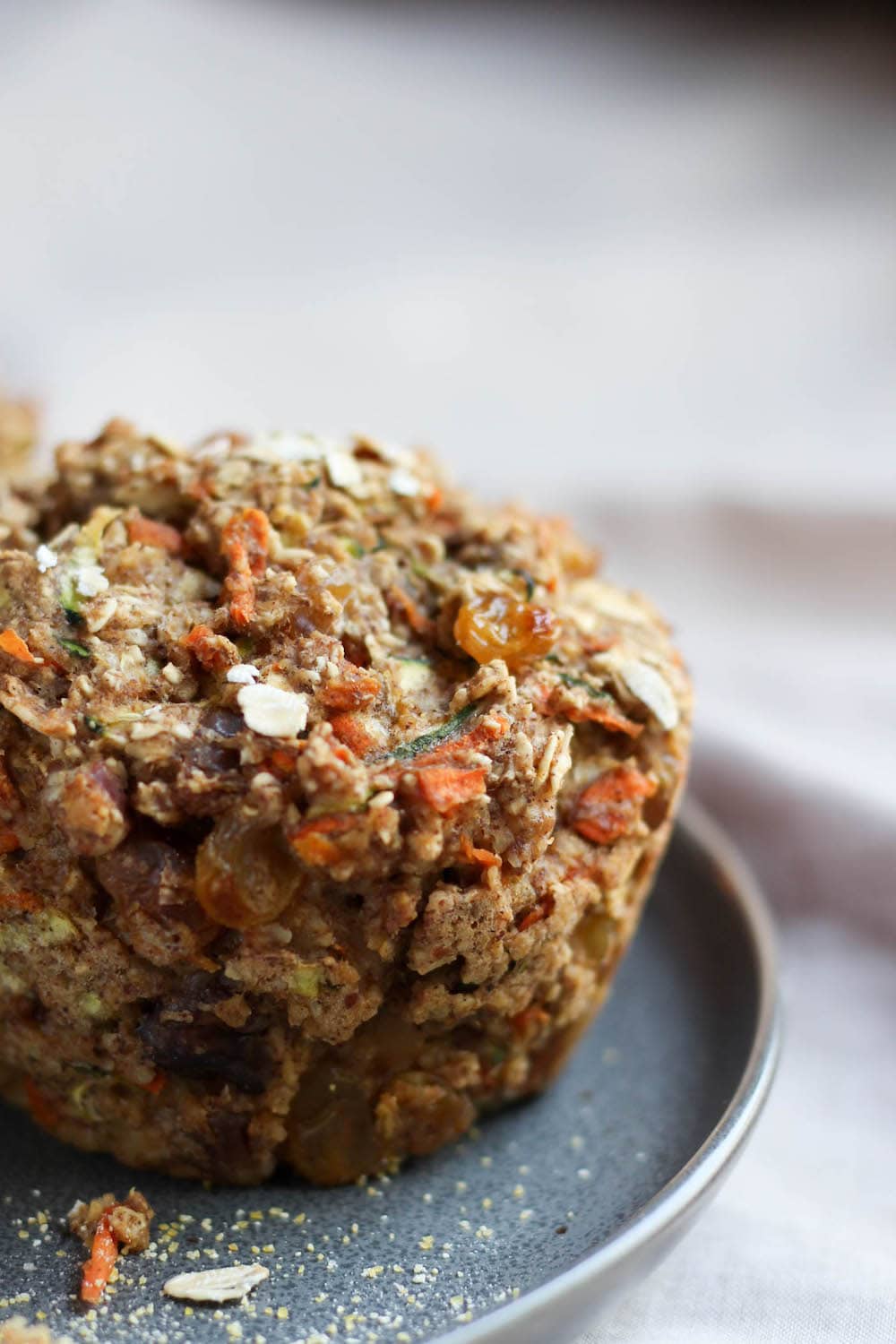 How to Reheat Muffins
To reheat muffins that have been stored in the fridge, simply microwave them for 10-20 seconds on high until warmed through.
If reheating frozen muffins, unwrap the frozen muffin and place it still frozen on a plate into the microwave. If it's a jumbo muffin it may take about 2 minutes to reheat. If it's a standard-size muffin, it may take only a minute or so.
The time all depends on the strength of your microwave.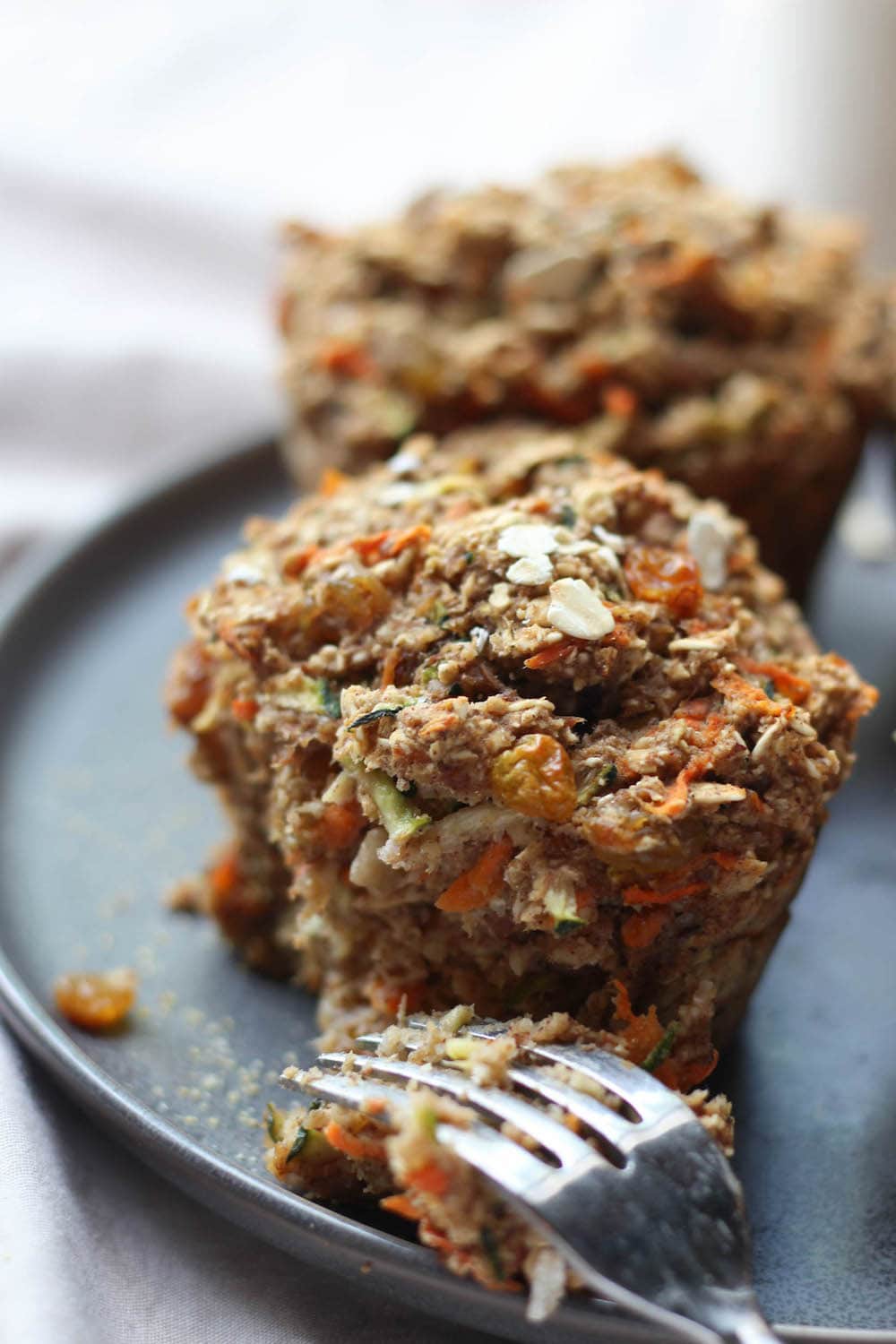 I'd love to know if you give these Healthy Everything Oatmeal Breakfast Muffins a try and what you think!
Leave a comment down below, rate the recipe by clicking on the stars in the recipe card, or even take a picture of the final product and share it on Instagram.
Be sure to share this recipe with anyone else you think would enjoy them!
📖 Recipe
Yield:

5 muffins
Healthy Everything Oatmeal Breakfast Muffins
Chock full of nuts, dried fruit, oats and shredded vegetables, these Healthy Everything Oatmeal Breakfast Muffins are a hearty and delicious way to start your day!
Ingredients
2 flax eggs (6 tablespoons water + 2 tablespoons ground flaxseed)
¼ cup walnuts, chopped**
½ cup raisins***
1 tablespoon ground cinnamon
2 teaspoons baking powder
½ teaspoon salt
1 cup grated zucchini
1 cup grated carrot
1 cup mashed banana, from 2 large or 3 medium super ripe bananas
½ cup unsweetened apple sauce
3 tablespoons maple syrup
1 teaspoon vanilla
Instructions
Preheat your oven to 350 degrees and spray 5 jumbo muffin cups or 5 small ramekins with cooking spray.
Prepare your flax eggs by mixing together 2 tablespoons of ground flaxseed and 6 tablespoons of water. Set aside to thicken.
Place 2 cups of old-fashioned oats into a food processor or blender (leaving the remaining ½ cup of oats to add to the muffins later) and blend until a fine flour forms. Pour the flour into a mixing bowl.
To the oat flour, add in the remaining dry ingredients, from the ½ cup remaining old-fashioned oats to the salt. Stir to combine.
Grate your zucchini and carrot and coarsely chop into smaller pieces if desired. Place the zucchini into a paper towel or dish towel and squeeze out some of the excess water. Then add the zucchini and carrot into the mixing bowl with the dry ingredients.
Add the remaining wet ingredients into the bowl with the dry ingredients and shredded vegetables and stir everything until just combined.
Divide the batter evenly among the prepared muffin cups. Bake the muffins for about 26 minutes or until a toothpick inserted into the center comes out clean.
Remove the muffins from the oven and allow them to cool for a few minutes in the pan before carefully removing them and allowing them to cool completely on a wire rack.
Store in an airtight container in the fridge for a few days or freeze them and reheat as needed.
To reheat a frozen muffin, place the frozen muffin onto a plate and microwave it on high for about 2 minutes.
Notes
*Use certified gluten free oats to make these muffins Gluten Free
**You can substitute the walnuts for any kind of nut that you have on hand
***If you don't have or like raisins, substitute them for another kind of chopped, dried fruit
Nutrition Information
Yield
5
Serving Size
1 muffin
Amount Per Serving
Calories

328
Total Fat

6g
Saturated Fat

1g
Trans Fat

0g
Unsaturated Fat

5g
Cholesterol

0mg
Sodium

429mg
Carbohydrates

59g
Net Carbohydrates

0g
Fiber

7g
Sugar

37g
Sugar Alcohols

0g
Protein

4g
Nutrition information is a rough estimate provided by Nutrionix and should be used for informational purposes only.