Made with whole grains and speckled with crunchy nuts, these wholesome vegan Banana Nut Muffins make for a healthy breakfast or snack! You're friends and family will gobble them up!
This recipe is also in my Plant Based Breakfast Ideas for 2022 roundup post!
Jump To
I've been experimenting a lot with gluten-free recipes lately that I had forgotten how much I love baking with whole wheat flour! These vegan banana nuts muffins are made with wholesome, satiating ingredients, while still being light and fluffy. We love all of our basic vegan muffins smeared with peanut butter (what don't we like smeared with peanut butter?!) and eaten alongside some fruit for a well-rounded breakfast. These also make for the perfect portable snack!
Vegan Banana Nut Muffin Ingredients
You won't need any strange or hard-to-find ingredients to make these banana nut muffins. They are made with a base of whole wheat flour, studded with nuts and perfectly sweetened with coconut sugar and, of course, mashed banana. Outside of that, you'll just need some spices and baking powder to complete the dry ingredients as well as some oil, non-dairy milk and ground flaxseed for the wet ingredients. If you love chocolate as much as I do and try to find any way you can to include it in your baking, you can swap out the nuts for some chocolate chunks or chips. Raisins would also make the perfect addition to these muffins.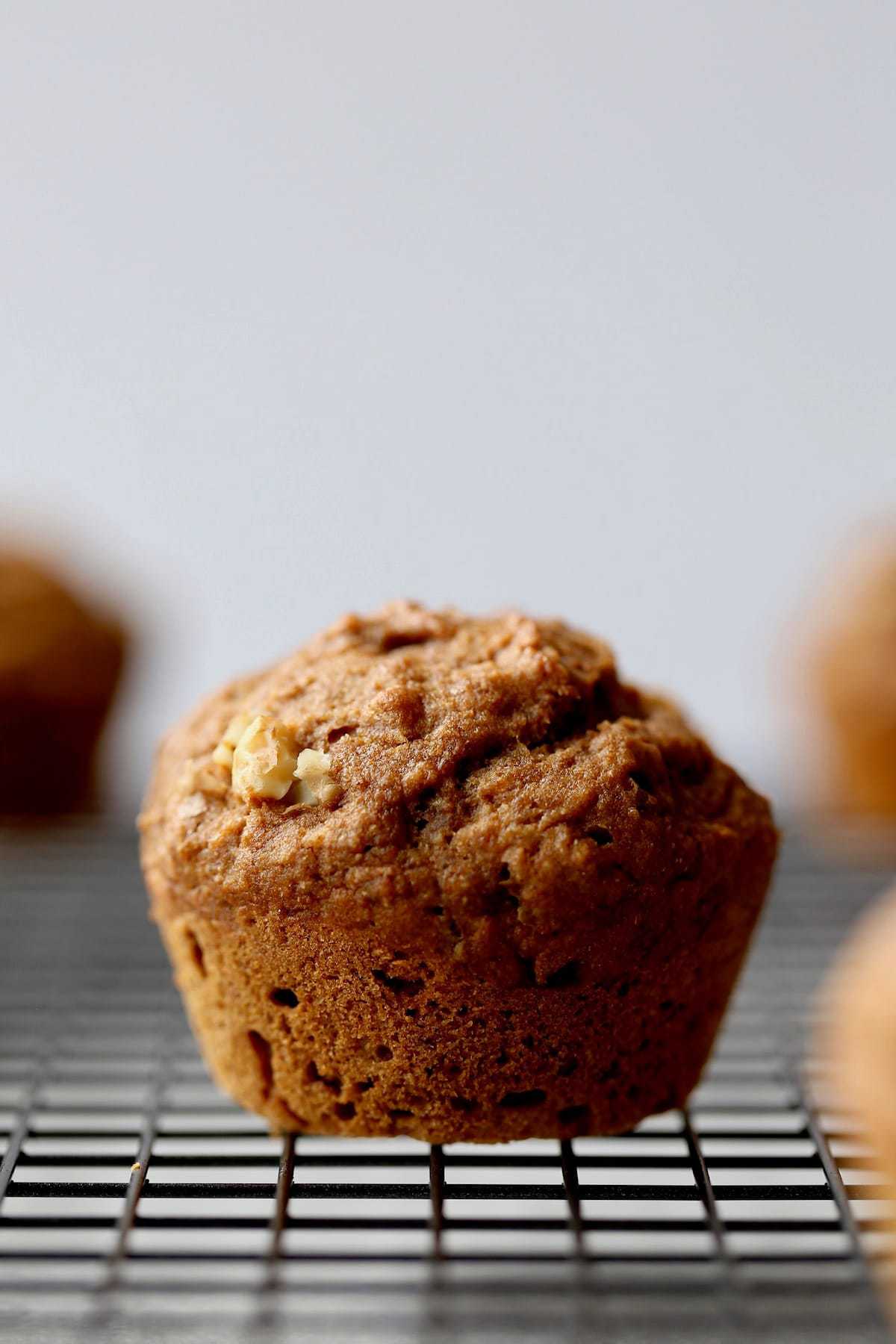 Can you use...
I get a lot of questions about substitutions for my recipes, so I'm going to try to start including this section where I share some easy substitutions you can make if you don't have all the ingredients on hand or don't follow a vegan diet.
an egg instead of a flax egg? Yep! Just use one egg in replace of the flax egg.
cane sugar or granulated sugar instead of coconut sugar? You bet! I find that coconut sugar is a little less sweet than cane or granulated sugar, so if you decided to use cane or granulated sugar, you may want to decrease the amount to ½ cup. The muffins will still be plenty sweet!
coconut oil instead of neutral oil? Yes! Any oil should work. Just remember if you use coconut oil and live in a colder environment or place the muffins in the fridge, they will be harder than if you use oil that is always in liquid form.
butter instead of oil? Yes, melted butter could be used as an oil replacement. But like I said about coconut oil above, butter hardens when it's chilled so it could create a denser leftover muffin if you live in a cold environment or store the muffins in the fridge.
cows milk instead of non-dairy milk? Yes, any kind of milk should work for this recipe!
oat flour instead of whole wheat flour? Unfortunately I haven't tested this substitution. If you do want to make these muffins gluten free, I share how to do that below! And if you try out oat flour in this recipe, be sure to share how the muffins turn out in the comments below!
pumpkin puree instead of mashed banana? If you aren't a big banana fan (I know quite a few people who aren't!) then yes, pumpkin puree should work in this recipe. Just use one cup of pumpkin puree instead of the mashed banana. Remember though, that pumpkin isn't nearly as sweet as banana, so I'd definitely recommend using the entire ¾ cup of sugar to sweeten these muffins!
Gluten-Free Vegan Banana Nut Muffins
While I love baking with whole wheat flour, I've found that Bob's Red Mill's 1-to-1 Gluten Free Baking Flour substitutes wonderfully in recipes like this. So for completely gluten free muffins, simply use 2 cups of the gluten free flour instead of the whole wheat flour.
These banana muffins would be perfect for a quick and easy, yet special holiday breakfast this fall. Because they can easily be made gluten-free and are already vegan, most people can enjoy them. I definitely plan to bake a batch for when our friends come to visit over Christmas! Served with a fruit salad and some form of protein (peanut butter or eggs if you're not vegan), they help make a delicious, balanced meal. I hope you all are able to give these muffins a try!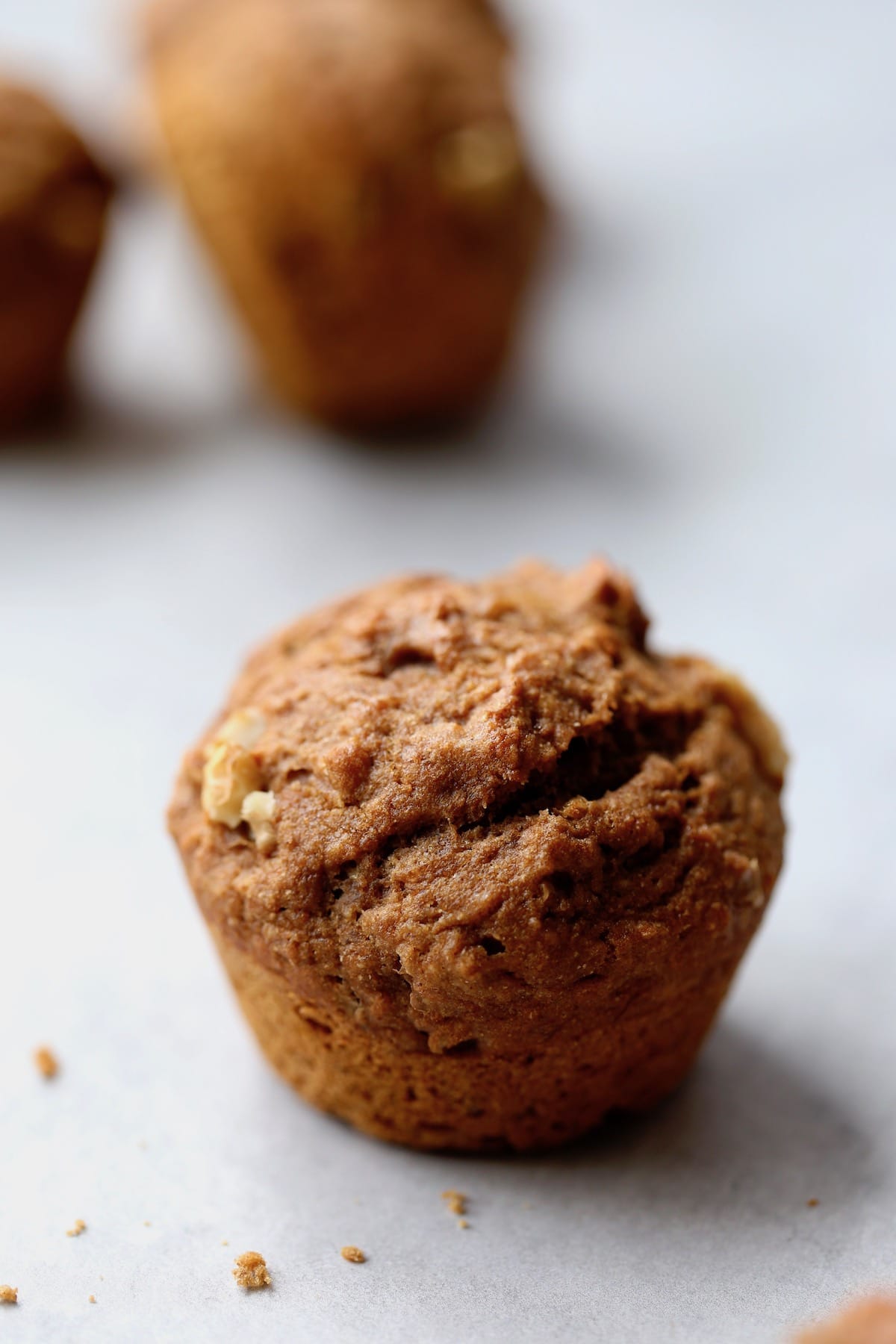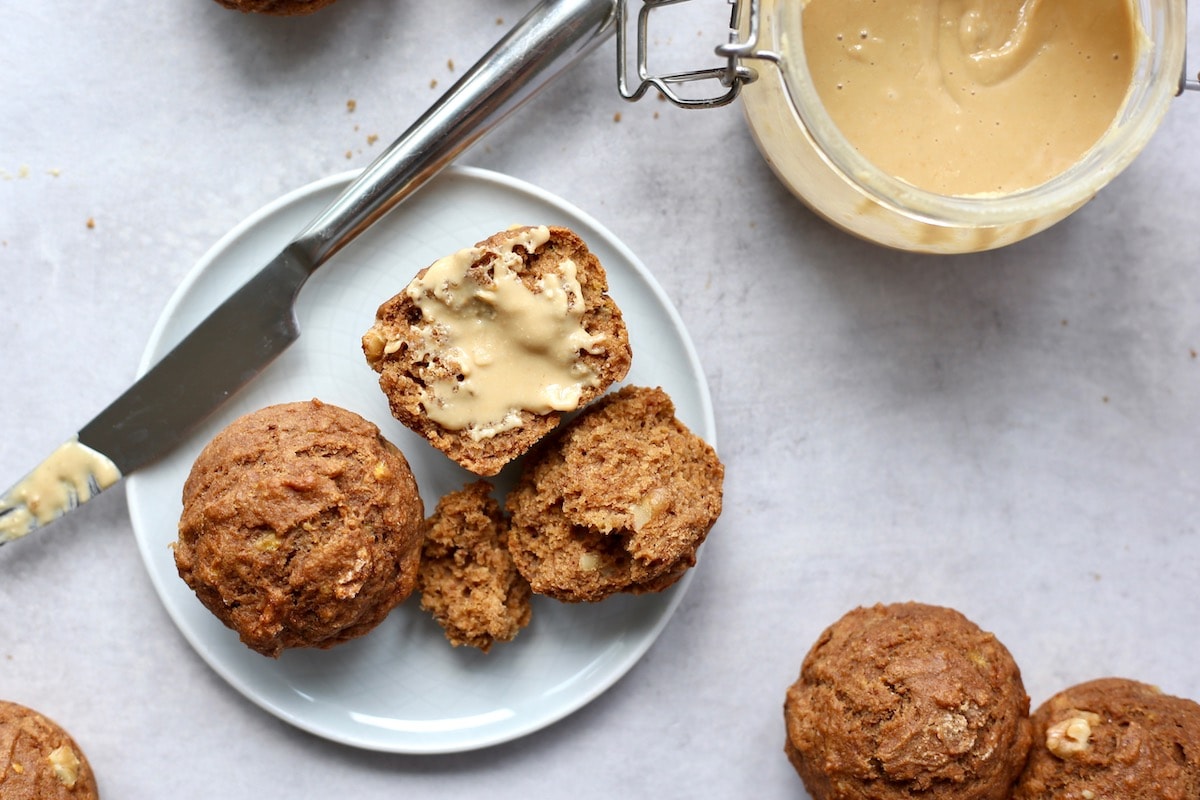 If you liked these muffins, be sure to give the recipe a 5 star rating, leave a comment and share the recipe with your friends! As always I love to see your recreations on Instagram so be sure to share a picture and tag @theconscientiouseater!
If you enjoyed this recipe, be sure to check out the similar, equally delicious recipes below!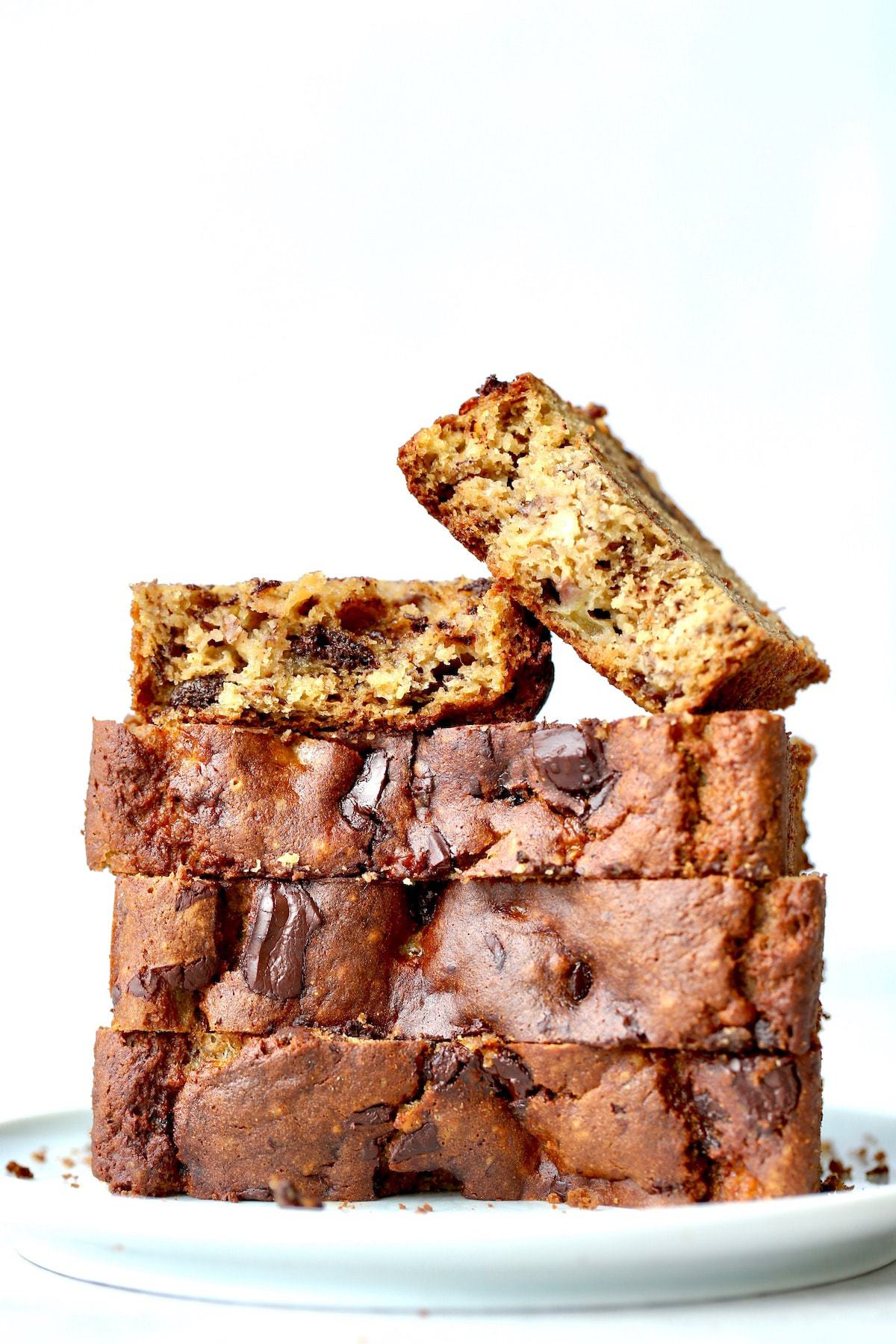 📖 Recipe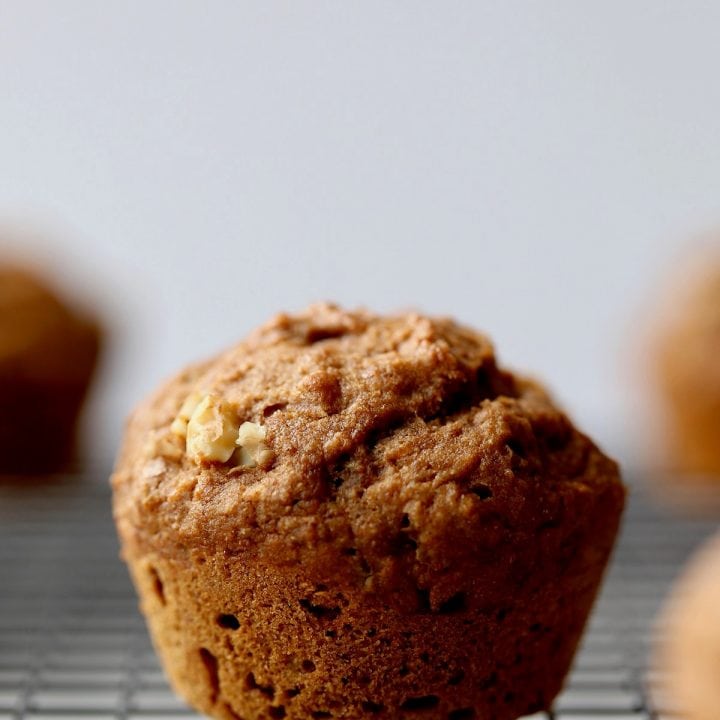 Wholesome Vegan Banana Nut Muffins
Made with whole grains and speckled with crunchy nuts, these wholesome vegan Banana Nut Muffins make for a healthy breakfast or snack!
Instructions
Preheat your oven to

400

°F

degrees and line 12 muffin cups with silicone muffin liners or spray the cups with non-stick cooking spray. Set aside.

In a small bowl, prepare your flax egg by whisking 1 tablespoon of ground flaxseed with three tablespoons of water. Set aside to thicken while you prepare the rest of the batter.

Add in the remaining ingredients, including the chopped nuts and thickened flax egg, and mix until just combined.

Evenly divide the batter among the 12 muffin cups and bake for about 20-25 minutes, or until a toothpick inserted into the center of a muffin comes out clean. Allow the muffins to cool slightly before removing from the pan to cool completely on a wire rack.

Store the muffins in an

air-tight container

outside of the fridge for 1-2 days or in the fridge for up to a week. These taste best when warmed slightly before serving.
Notes
*You can use cane sugar in place of the coconut sugar. Additionally, you can also decrease the sugar to ½ cup for a slightly less sweet muffin.
Nutrition
Calories:
226
kcal
Carbohydrates:
34
g
Protein:
5
g
Fat:
9
g
Saturated Fat:
1
g
Polyunsaturated Fat:
3
g
Monounsaturated Fat:
5
g
Trans Fat:
0.02
g
Sodium:
215
mg
Potassium:
215
mg
Fiber:
4
g
Sugar:
15
g
Vitamin A:
93
IU
Vitamin C:
3
mg
Calcium:
105
mg
Iron:
1
mg