Made with super ripe bananas and chunks of dark chocolate, this Vegan Oil Free Chocolate Chip Banana Bread will make everyone come back for seconds!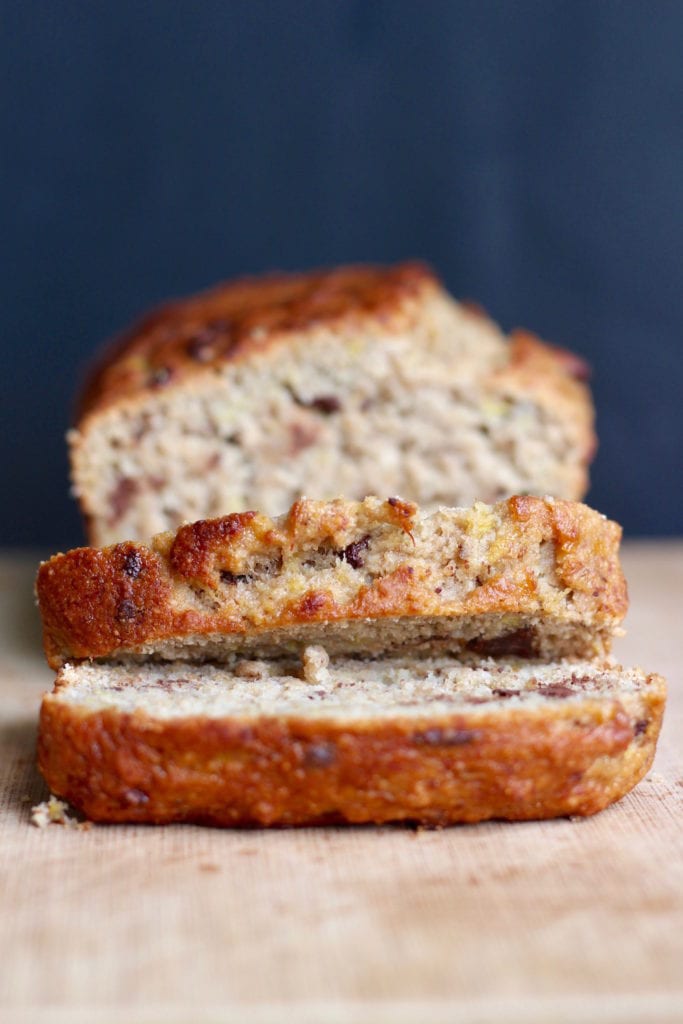 The other week I was a crazy hosting/cooking lady.
We had one of our friends stay with us for about 8 days, which was fabulous, but can I just say that three people in a house makes food go so much quicker! I felt like I was constantly baking or cooking just to keep us all fed.
Fine with me!
The past two guests we've had stay at our house were big grazers instead of the usual eat-3-main-meals-a-day-people, so I made all kinds of baked goods to keep them, as well as Brett--my snack monster--happy and well fed.
Brett and I love Banana Bread and I already have a couple recipes on my blog like this Black Sesame Tahini Banana Bread and Double Chocolate Vegan Banana Bread, but this recipe is slightly different as it's oil free. We're pretty obsessed with this Vegan Oil Free Chocolate Chip Banana Bread and I've been making batch after batch just to make sure we're never left without it as a snack.
The recipe for this Vegan Oil Free Chocolate Chip Banana Bread was actually inspired by Robyn from The Real Life-RD. I've been reading her blog for years, but for some reason the other day I decided to go waaaaay back to read some of her earlier posts and have just been reading my way through her blog ever since. She speaks so much truth about intuitive eating, body positivity, eating mostly plants but not stressing out about food. I love her message and view on food. She also posted so many amazing, simple recipes back in the day and I've been keeping track of them to make new snacks for Brett. We definitely are taste bud twins.
Anyways, I'm glad she posted a banana bread recipe in one of her posts, because it's what made this Vegan Oil Free Chocolate Chip Banana Bread come about...and I'm in love!
I hope you give this simple Banana Bread recipe a try. Please let me know what you think if you make it and be sure to take a picture and tag me on Instagram (#theconscientiouseater) so I can see your creation!
Yield:

1 loaf
Vegan Oil Free Chocolate Chip Banana Bread
Made with super ripe bananas and chunks of dark chocolate, this Vegan Oil Free Chocolate Chip Banana Bread will make everyone come back for seconds!
Ingredients
1 flax egg (3 tablespoons water + 1 tablespoon ground flaxseed)
4 ripe bananas
⅔ cup coconut sugar
½ cup apple sauce
½ cup non-dairy milk
2 teaspoons vanilla
1 ¼ cup oat flour*
1 cup whole wheat flour
2 teaspoon baking powder
½ teaspoon salt
½ cup dairy free chocolate chips
Instructions
Preheat your oven to 350 degrees and spray a loaf pan with cooking spray. Set aside.
In a small bowl, whisk together 1 tablespoon ground flaxseed and 3 tablespoons of water to form a flax egg. Set the "egg" aside to thicken.
In a mixing bowl, mash the ripe bananas until smooth. Add in the coconut sugar, apple sauce, non-dairy milk, thickened flax egg and vanilla and mix until combined.
In a separate bowl, whisk together the oat flour, whole wheat flour, baking powder and salt.
Add the dry ingredients into the wet ingredients and mix until just combined, being careful not to over mix.
Fold in the dairy free chocolate chips.
Pour the batter into your prepared loaf pan and bake for 35 minutes. After 35 minutes, remove the loaf and cover it with aluminum foil and place it back in the oven to bake for another 10 minutes.
Removed the loaf from the oven and remove the aluminum foil to allow the banana bread to cool. Once it's cooled off a bit, remove the loaf from the pan and place it on a wire rack to cool completely.
Store in an airtight container or ziplock bag.
Nutrition Information
Yield
12
Serving Size
1 slice
Amount Per Serving
Calories

208
Total Fat

4g
Saturated Fat

2g
Trans Fat

0g
Unsaturated Fat

2g
Cholesterol

1mg
Sodium

178mg
Carbohydrates

41g
Net Carbohydrates

0g
Fiber

4g
Sugar

22g
Sugar Alcohols

0g
Protein

4g
Nutrition information is a rough estimate provided by Nutrionix and should be used for informational purposes only.