Stuffed with spicy Italian sausage and melty vegan cheese, this Vegan Pizza Panini is a fun and unique way to satisfy your pizza craving!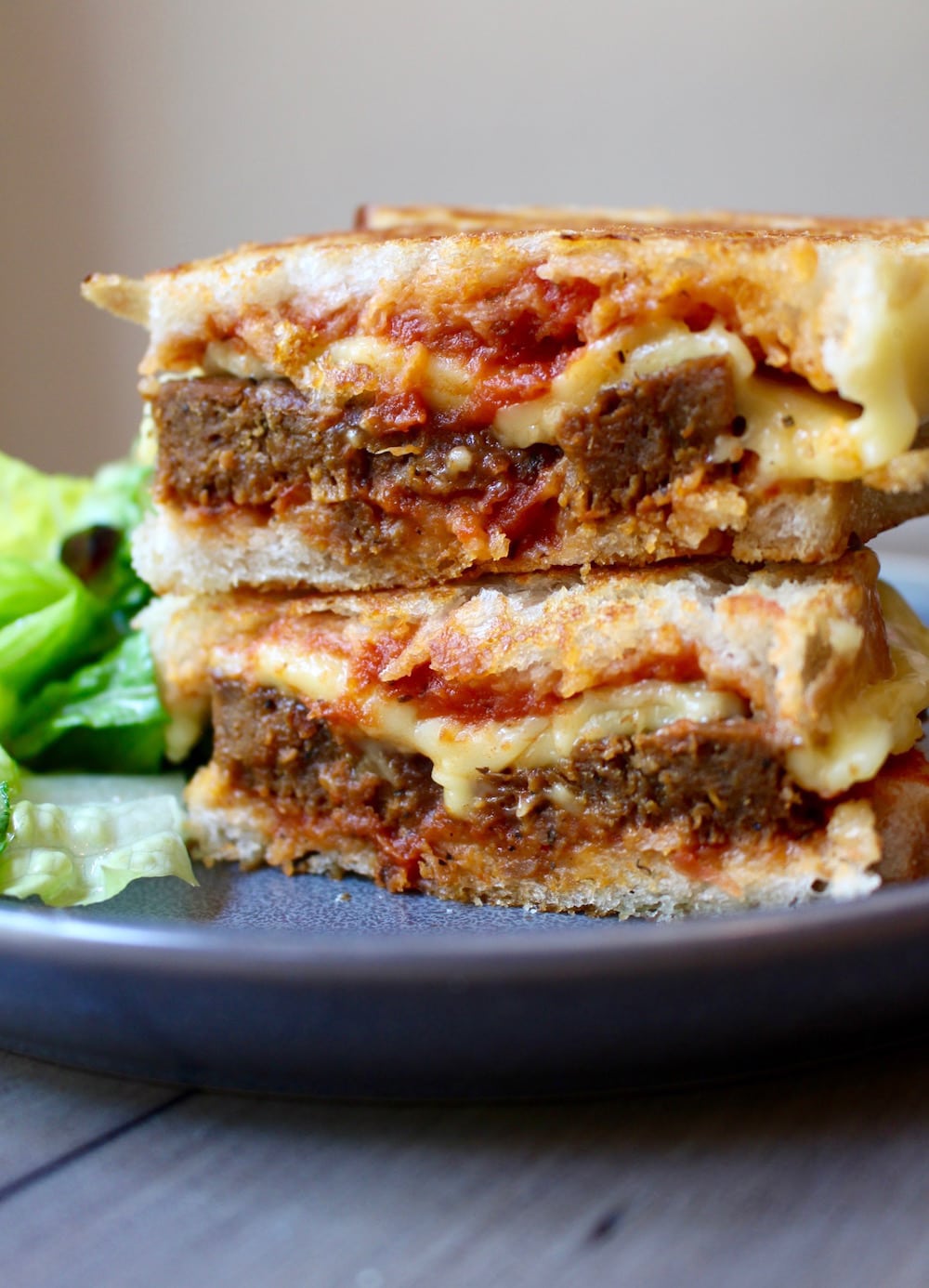 On any average day and especially when we're living in China, I prepare really simple meals for Brett and me. I usually call them "Faith meals" or "China meals" and now Brett knows what to expect when I say that's the kind of meal we're having. These simple meals consist of rice, veggies, a protein (usually drained and rinsed canned beans) and some kind of condiment. I don't even consider simple meals like this cooking really, because I feel like I could make them with my eyes closed.
Even those these "China meals" are so simple, I love them so much. They contain a protein, carb and fat (usually found in the condiments we use) and they leave us feeling full, satisfied, but not weighed down.
Whenever we host people, however, I usually try to make an actual recipe that requires a bit more thought and usually includes sides and a dessert. However, when it's just Brett and I, these thrown together meals are the way to go.
These "China meals" really came to be a staple in our diet due to two factors: our lifestyle in China and the foods we have access to. In regards to lifestyle, everything in China seems to take longer than it would in America. We walk or ride our bikes most places, which is a lot slower than driving a car. There is also usually some language barrier we have to jump over or people just stop us everywhere we go to make conversation. In regards to the foods we have access to, there aren't many processed/pre-packaged foods that we like to eat. In America there are all kinds of faux meats, cheeses, milks, etc. You can buy any kind of pre-made veggie burger you like and the fun condiments, marinades and dressings available at grocery stores are endless. In our city in China, however, we only have access to your typical American import goods like Smuckers jelly, jiffy peanut butter and white pasta. We're thankful for items like these, but the lack of variety forces to me to make most things from scratch, hence the simple "China meals."
Since we are going to be in America for a while longer than we expected, I'm trying to take advantage of the extra time and make more fun, vegan meals for Brett. This Vegan Pizza Panini is one of the sandwiches I've made him and he absolutely loves it! The great thing for me too is how quick and easy it is to prepare. If you know how to make a grilled cheese, you can make this super easy Vegan Pizza Panini.
This Vegan Pizza Panini basically contains all the yummy aspects of pizza in sandwich form. It's stuffed full with white vegan cheese, spicy Italian "sausage" and savory pizza sauce. Then when you coat the outside of each piece of bread with vegan butter and grill it to perfection, you're left with one amazing, hot Vegan Pizza Panini!
If you like easy pizza recipes, then I know you'll love my Whole Wheat No-Yeast Pizza Dough recipe as well!
I would love to know if you guys enjoy simple recipes like this Vegan Pizza Panini. It's a great way to impress your friends without spending hours in the kitchen. Brett loves his panini dipped in extra pizza sauce, so that's a great thing to place on the side. Please let me know if you give this Vegan Pizza Panini a try! I'd love to know what you think. If you do make it, take a photo of the final product and tag @theconscientiouseater on Instagram so I can see your creation!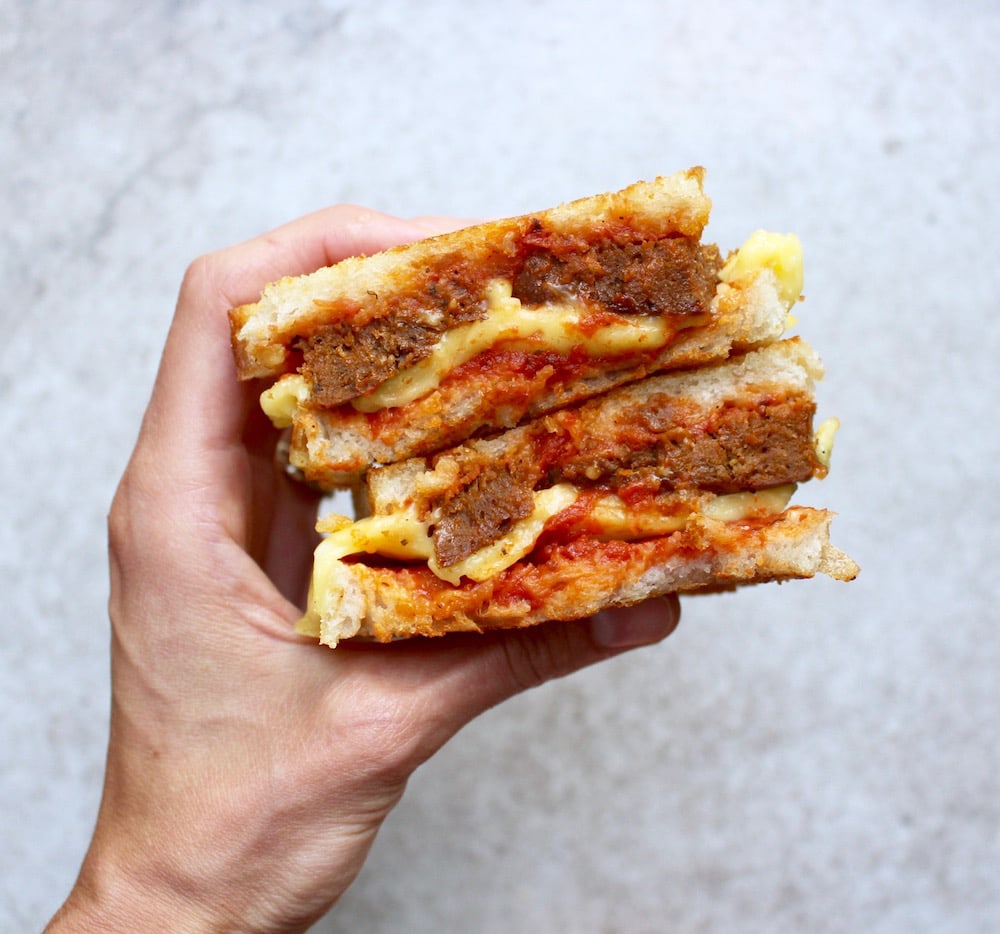 📖 Recipe
Vegan Pizza Panini
Stuffed with spicy Italian sausage and melty vegan cheese, this Vegan Pizza Panini is a fun and unique way to satisfy your pizza craving!
Instructions
Preheat a pan over medium to medium-low heat.

Heat the vegan sausage link as directed by the instructions. Slice the link in half lengthwise then slice each long piece in half horizontally. Set aside.

Butter one side of each slice of bread with vegan butter. Place the buttered sides face down onto a plate.

On each of the non-buttered sides of the bread, spread a good layer of pizza sauce.

Place your prepared and cut sausage link on top of the pizza sauce on one slice of bread.

Layer the cheese slices on top of the sausage and then place the second piece of bread pizza sauce-side down on top of the cheese. You want the buttered sides of the bread to be on the outside of the sandwich and the pizza sauce sides of the bread to be on the inside.

Place the sandwich onto your heated pan and cover it with a lid. Allow the sandwich to slowly grill for a few minutes. Once the side of the bread on the pan has turned golden brown, flip the sandwich over carefully to brown the other side of the sandwich. Again cover the sandwich with a lid and allow it to cook slowly. Cooking the sandwich slowly under a lid allows the cheese to melt and the bread to not burn

Once both sides of the sandwich are golden brown and the cheese is melted, remove the sandwich from the pan and place it on a plate.

Serve the sandwich warm with extra pizza sauce if desired.
Notes
Serve with chips or a salad.
Nutrition
Serving:
1
sandwich
Calories:
565
kcal
Carbohydrates:
81
g
Protein:
26
g
Fat:
15
g
Saturated Fat:
4
g
Polyunsaturated Fat:
3
g
Monounsaturated Fat:
3
g
Trans Fat:
0.02
g
Cholesterol:
4
mg
Sodium:
1401
mg
Potassium:
384
mg
Fiber:
7
g
Sugar:
7
g
Vitamin A:
199
IU
Vitamin C:
3
mg
Calcium:
176
mg
Iron:
7
mg