With a doughy, biscuit base and sweet strawberry topping, this easy Vegan Strawberry Shortcake is a delicious summer dessert recipe!
This Vegan Strawberry Shortcake is actually a super old recipe from the blog that I shared when I first started blogging and had just started eating a plant based diet. I had made this recipe for Mother's Day and titled it on my blog: Strawberry Coconut Shortcake: Perfect for a Mother's Day Picnic! You can actually click on that link to read the post and see how cringe-worthy my photos were when I first started getting into food photography. Also, I shared this recipe after Mother's Day, which was of no help to my readers…if I even had any at the time!
While it may sound like I'm making fun of my previous-blogging-self, I'm actually just enjoying seeing how far my photography and food blogging has come over the years. If you want to start a new hobby, don't think that you have to wait until you're good or perfect to start! Otherwise, you'll never start! We all have to start somewhere and most people who are good at what they do had to practice a lot and fail a lot to get to where they are now. I'm not saying I'm good at what I do. I'd say I'm a LOT better than I used to be, but I still see so many areas of improvement and I'm excited to continue learning and growing along the way.
Anyways, I thought it would be so fun to re-photograph this recipe and share it will you all before the 4th of July as it's a delicious dessert and perfectly festive if you want to add in some fresh blueberries.
This Vegan Strawberry Shortcake is simple to make, requires minimal ingredients and is the perfect, refreshing summer dessert. You can make your own Homemade Coconut Whipped Cream (<–another beautiful post from back in the day) or just by some non-dairy whipped cream from your local grocery store.
You could even swap out the strawberries in this recipe and use whatever fruit looks most fresh at the time. How delicious would this shortcake be with some stone fruit like peaches or warm cinnamon apples in the fall? Get creative and use whatever you have on hand!
I'd love to know if you make this recipe! Share it with others that you think would enjoy this simple, patriotic Vegan Strawberry Shortcake.
Don't forget to rate this recipe (in the recipe card), leave a review or take a photo and tag @theconscientiouseater on Instagram so that I can see the final product!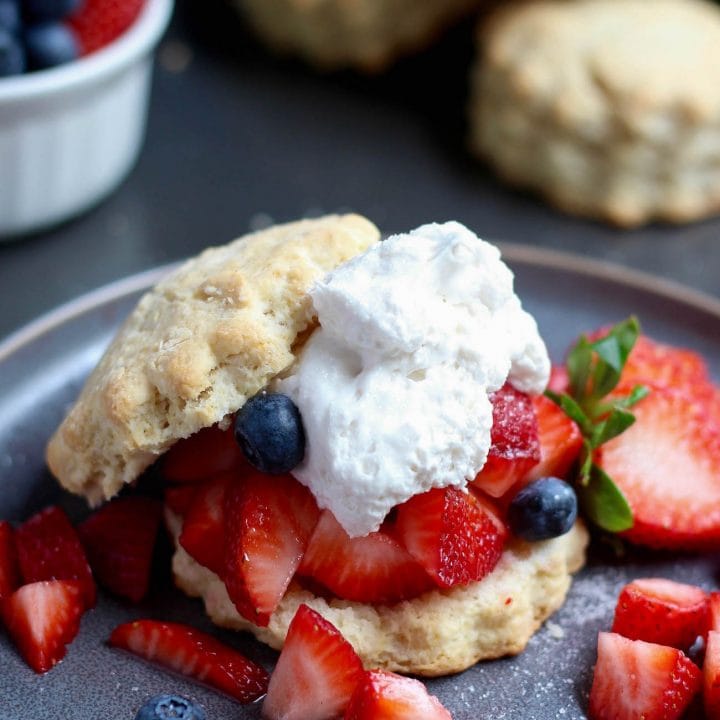 Vegan Strawberry Shortcake
With a doughy, biscuit base and sweet strawberry topping, these easy Vegan Strawberry Shortcake is a delicious summer dessert recipe!
Ingredients
STRAWBERRIES:
2 pints strawberries, washed, de-stemmed and chopped into bite size pieces
1/4 cup sugar
juice of 1/2 lemon
SHORTCAKE:
2 cups flour
6 tablespoons sugar
1 tablespoon baking powder
1/2 teaspoon salt
6 tablespoons coconut oil, chilled
1 cup non-dairy milk + more if needed
Instructions
Preheat your oven to 375 degrees and line a baking sheet with parchment paper or a silicone baking mat.
Place 6 tablespoons of coconut oil into a bowl and place it in the freezer to help the coconut oil harden.
Prepare the strawberry filling by mixing the cut up strawberries, sugar and lemon juice together in a bowl. Set aside.
In a large mixing bowl, whisk together the dry ingredients for the shortcake, from the flour to the salt.
Remove the chilled coconut oil from the freezer and add it to the flour mixture. Use a fork or two knives to cut the coconut oil into the dry mixture until a crumbly mixture forms. You want pea-sized pieces of coconut oil or smaller.
Add in 1 cup of non-dairy milk and stir everything together until a dough forms. If the dough is too dry, add in another tablespoon of non-dairy milk. If it's too wet, add in a bit more flour.
Pour the dough onto a clean surface dusted with flour and use your hands to press the dough down until its 1 inch-thick. Use a round cookie cutter or a cup to cut out biscuit shaped rounds. Place the cut out circles onto your prepared baking sheet and continue this process until all the dough has been used up. You should get about 6-8 shortcakes. If desired, you can brush a little almond milk on the top of the shortcakes and then sprinkle the tops with some extra sugar.
Bake the shortcakes for about 25 minutes or until golden brown on top.
Remove the shortcakes from the oven and allow them to cool.
To serve, slice the shortcakes in half and pile some strawberries and store bought or homemade non-dairy whipped cream in the middle and again on top if desired.
Recommended Products
Nutrition Information
Yield

8
Serving Size

1 strawberry shortcake
Amount Per Serving
Calories

343
Total Fat

12g
Saturated Fat

9g
Trans Fat

0g
Unsaturated Fat

2g
Cholesterol

5mg
Sodium

365mg
Carbohydrates

54g
Net Carbohydrates

0g
Fiber

3g
Sugar

25g
Sugar Alcohols

0g
Protein

6g
Nutrition information is a rough estimate provided by Nutrionix and should be used for informational purposes only.