Made with whole grains and shredded zucchini, these Vegan Zucchini Brownies are a healthier way to enjoy one of your favorite desserts! See more vegan brownie recipes here!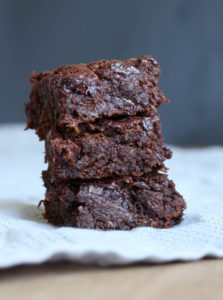 Just so you know, it's boiling hot here in China.
And we don't have A/C.
And I'm sweating a lot.
Anyways, I have a funny story that exemplifies the Chinese culture perfectly.
So the other week, my Chinese friends invited me to ride my bike around the beautiful lake that's in our city. I've done it a couple times before, once with Brett and once on my own, but I have yet to do it in the middle of summer...or with my Chinese friends. 
Like I mentioned, it is SUPER hot in our city right now. The sun is bright and strong and I feel like I'm constantly sweating unless I have a fan pointed directly at me. As some of you may know, Chinese people think white, pale skin is beautiful. Most people walk around with umbrellas on beautiful, sunny days because they don't want to risk getting tan. I feel like Americans are the complete opposite. We love to basque in the sun and make our skin as golden as possible. We also think a little sunlight is good for us...Vitamin D people. 
Our group of friends decided to meet at 8 AM to start our bike ride. To prepare for a super hot and sweaty ride, I put on sport shorts and a exercise tank and lathered on some sunscreen. 
Botta bing, botta bomb. Good to go. 
When I met up with my friends, I thought maybe they knew something about the weather that I didn't. Everyone showed up in pants, long-sleeve shirts, hats and most people even had these stretchy scarfs which they wrapped around their necks and pull up on their face to cover their mouth and nose.
People. How do you do it?!
Of course the first thing they asked when I showed up was, "You aren't scared of the sun?"
No actually, I'm pretty excited to get some Vitamin D and let my skin breath!
The day started semi-cool, but continued to get hotter and hotter. And still, my Chinese friends stayed completely covered, literally from head to toe. 
I guess there are some things about the Chinese culture that I don't think I'll ever agree with. 
Anyways, let's talk about these Vegan Zucchini Brownies, shall we?!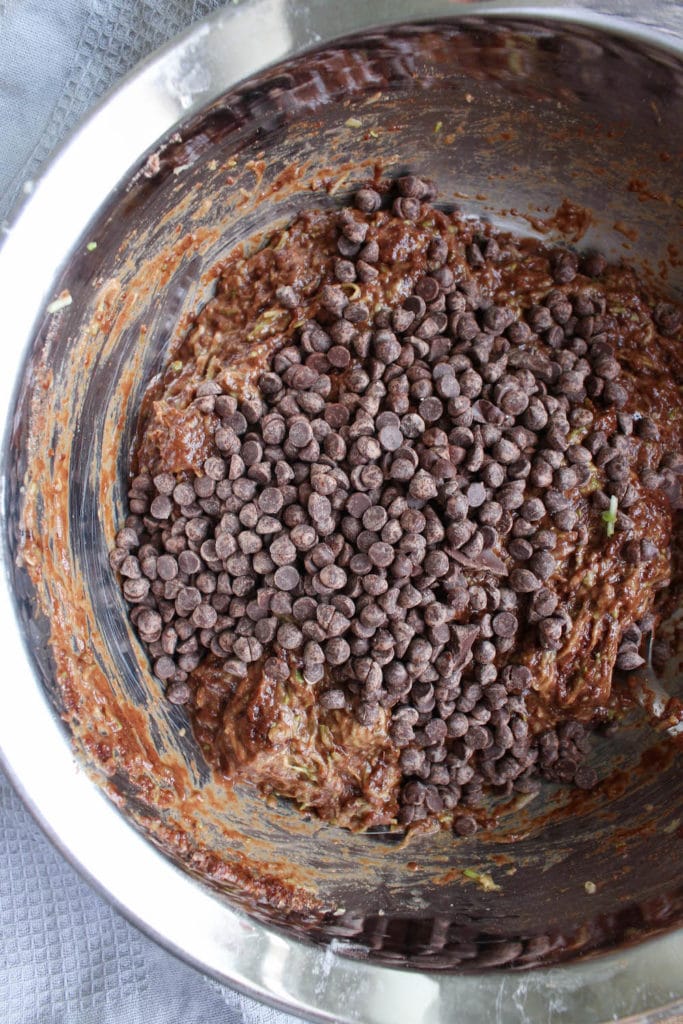 I'm so so pleased with how these Vegan Zucchini Brownies turned out. Their moist (yes, I used that word), gooey, sweet, fudgy...everything you want a brownie to be! Plus they are dairy and egg free AND have zucchini in them...so they're practically a health food.
I love using Enjoy Life Mini Chocolate Chips as the add-ins, but you could definitely use any other dairy-free brand or even better, chop up a dairy-free chocolate bar into large chunks and add those in. Yeah, that would be awesome.
Please let me know if you give these Vegan Zucchini Brownies a try! And if you like sneaking zucchini into recipes, check out my Zucchini Bran Muffins and this Zucchini Bread Baked Oatmeal! I would love to know your thoughts or even see a picture! If you make them, try to snap a pic and tag #theconscientiouseater on Instagram so I can see how they turned out!

📖 Recipe
Vegan Zucchini Brownies
Made with whole grains and shredded zucchini, these Vegan Zucchini Brownies are a healthier way to enjoy one of your favorite desserts!
Ingredients
2

flax eggs

6 tablespoons water+ 2 tablespoons ground flaxseed

¾

cup

coconut sugar

¼

cup

neutral oil

1

tablespoon

vanilla extract

1

cup

whole wheat flour

⅓

cup

cocoa / cacao powder

1 ½

teaspoon

baking powder

¼

teaspoon

salt

1

cups

peeled

finely grated and coarsely chopped zucchini

½

cup

mini dairy-free chocolate chips
Instructions
Preheat your oven to

350

°F

and grease an 8x8 baking pan. Set aside.

In a small bowl, prepare your flax eggs by whisking 2 tablespoons of ground flaxseed together with 6 tablespoons of warm water. Set aside to thicken.

In a larger bowl, whisk together the coconut sugar, oil and vanilla until combined. Add in the thickened flax eggs and mix again.

Then add in the flour, cocoa powder, baking powder and salt and stir until combined.

Lastly add in the shredded zucchini and mini chocolate chips and stir to incorporate everything. I definitely recommend grating your zucchini as thinly as possible and coarsely chopping it so that you don't have any long strands of zucchini in your brownies.

Pour the batter into your prepared baking dish and bake for about 20-25 minutes or until a toothpick inserted into the center comes out clean.

Let the brownies cool a bit after baking, then slice into squares and serve.
Notes
*After a day, store these brownies in an airtight container in the fridge.
Nutrition
Serving:
1
brownie
Calories:
138
kcal
Carbohydrates:
20
g
Protein:
2
g
Fat:
6
g
Saturated Fat:
2
g
Polyunsaturated Fat:
1
g
Monounsaturated Fat:
2
g
Trans Fat:
0.01
g
Sodium:
99
mg
Potassium:
97
mg
Fiber:
2
g
Sugar:
12
g
Vitamin A:
18
IU
Vitamin C:
1
mg
Calcium:
43
mg
Iron:
1
mg
This recipe is part of my Top 5 Vegan Brownies Series: