Made with rich melted chocolate and topped with peanut butter, these vegan and gluten free Peanut Butter Swirl Brownies are sure to please everyone!
No joke. I've made these peanut butter brownies three times in one week.
With how easy they are to make and the fact that they're vegan and gluten free, they seemed too good to be true. I served the first two batches to friends and they were gone within minutes.
Then I tested them one more time just to confirm that yes, they are that good.
They're rich, fudgy and perfectly pair together my two favorite ingredients: peanut butter and chocolate.
What's not to like?
Jump to:
What is the best gluten free flour for baking?
I've been getting more into gluten and soy free baking and cooking lately, mainly because we have some new friends here in KL whose kids have allergies. Thankfully, I have access to everything I need to make easy substitutions, so it hasn't been as hard as I initially expected.
Currently I'm using Bob's Red Mill Gluten Free 1-to-1 Baking Flour and it's been working like a charm. I wish I was at the point of whipping up my own gluten free flour blends, but don't fix what ain't broke, right?
But in all honesty, I love Bob's Red Mill products and so far the gluten free 1-to-1 flour hasn't failed me!
Thankfully when it comes to dairy free baking, it's also super easy for me to find dairy free chocolate bars here in KL, Whittaker's and Lindt being my two favorites.
Lately I've started using chocolate bars instead of chocolate chips in my baking. Dairy free chocolate bars are easier to find than chips and are often cheaper.
Either way, would you rather chocolate chips or chocolate chunks?? Chunks for me please!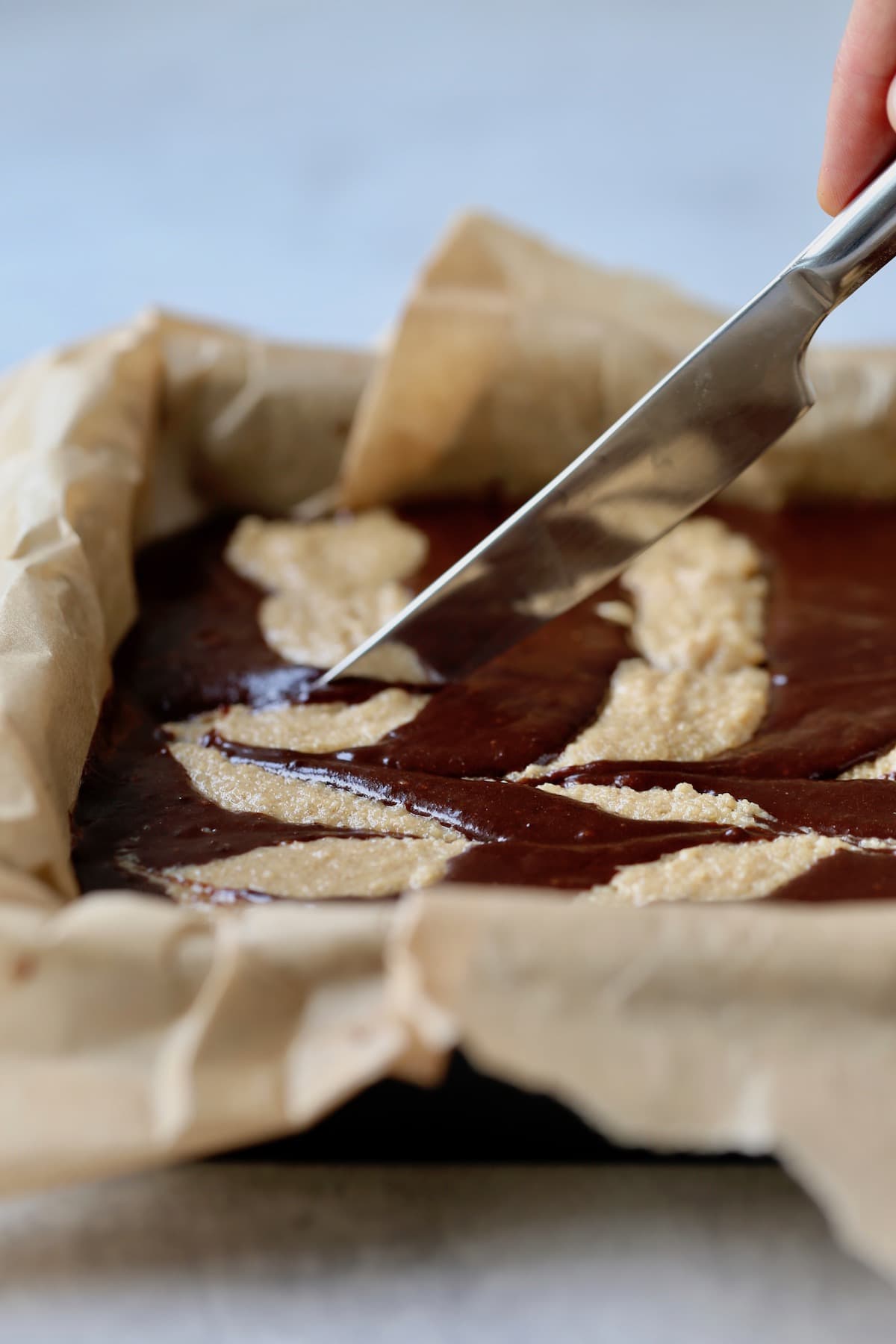 How to make the perfect peanut butter swirl
In my opinion, the best part of these brownies is the beautiful peanut butter swirl on the top. While it makes the brownies look super fancy, it really couldn't be easier to do.
How can I make the perfect swirl when baking?
To make a swirl, simply dollop the peanut butter in stripes or blobs on the top of the brownie batter and run your knife back and forth (in a swirl motion) through both batters. The result is a beautiful, marbled swirl!
Be sure to check out the recipe video below to see in video form how I make the swirl!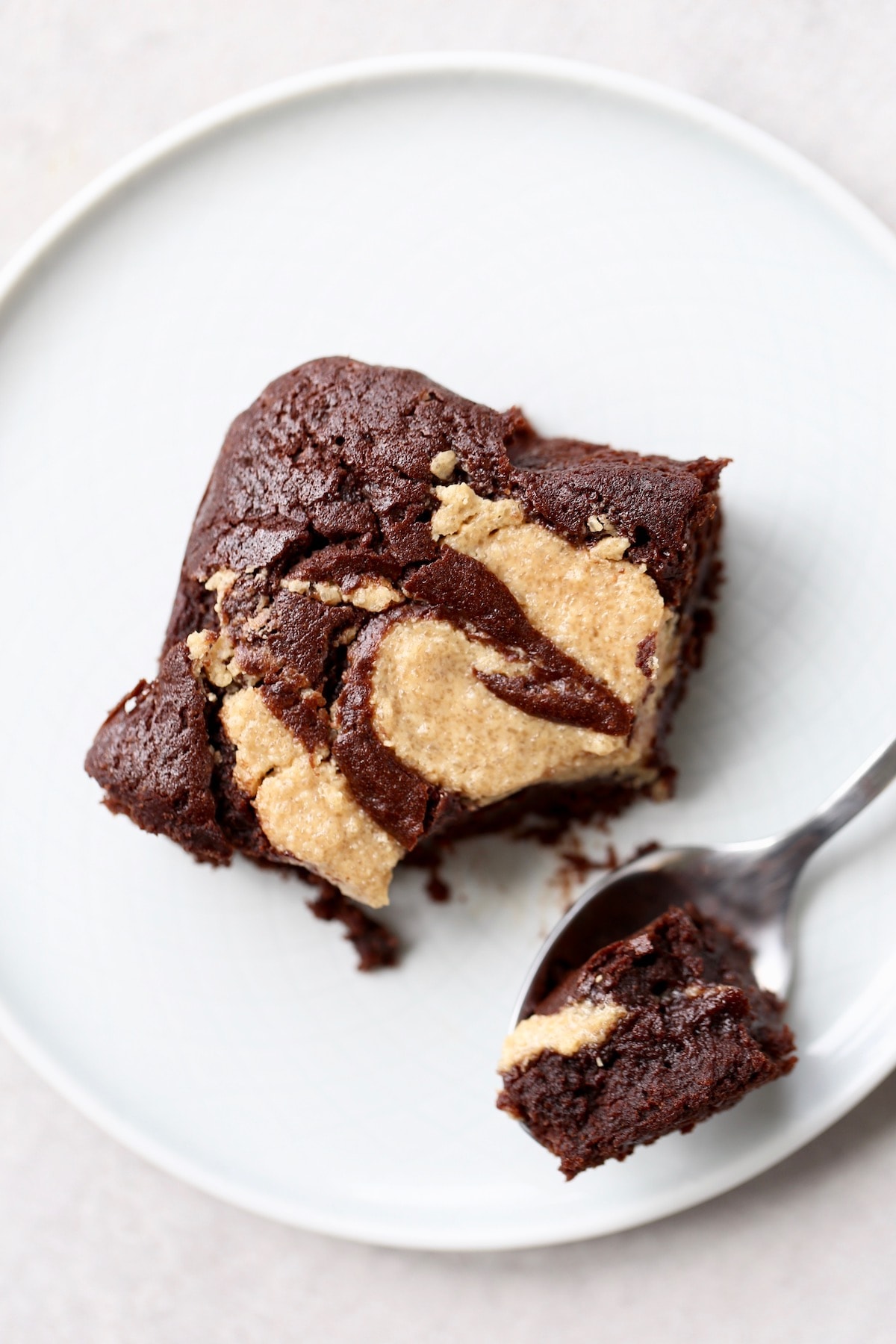 Be sure to check out the recipe video as well and subscribe to my YouTube channel so you don't miss any recipe videos! If you give these brownies a try, leave a comment down below letting me know what you think. Rate the recipe and share it with others as well!
Vegan Peanut Butter Brownies
Made with rich melted chocolate and topped with peanut butter, these vegan and gluten free Peanut Butter Swirl Brownies are sure to please everyone!
Ingredients
1/3 cup peanut butter
3 tablespoons sugar
1 cup chocolate chunks, melted
1 cup gluten free all purpose flour*
3/4 cup + 2 tablespoons sugar
2 tablespoons cocoa powder
1/2 teaspoon baking powder
1/2 teaspoon salt
1/3 cup neutral oil
1 cup non-dairy milk
Instructions
PREP: Preheat your oven to 350F and line an 8x8 baking dish with parchment paper and set it aside.
BROWNIES: In a small bowl, mix together the peanut butter and 3 tablespoons of sugar. Set aside.
In another bowl, melt the 1 cup of chocolate chunks. Do this in 30 second intervals in the microwave, stirring the chocolate chunks every 30 seconds until melted.
In a mixing bowl, whisk together all of the dry ingredients, from the flour to the baking powder. Add in the oil, milk and melted chocolate and stir until combined.
Pour the brownie batter into your lined baking dish.
SWIRL: Spoon the peanut butter mixture onto the brownie batter in stripes or blobs and run a knife back and forth through both mixtures to form a swirl.
BAKE: Bake the brownies for about 30-35 minutes or until your desired doneness.
Allow the brownies to cool before enjoying!
STORE: Store any leftovers in an airtight container for a few days...if they last that long!
Notes
*I love Bob's Red Mill Gluten Free 1-to-1 baking flour!
Recommended Products
Nutrition Information
Yield

16
Serving Size

1
Amount Per Serving
Calories

182
Total Fat

11g
Saturated Fat

3g
Trans Fat

0g
Unsaturated Fat

7g
Cholesterol

4mg
Sodium

122mg
Carbohydrates

19g
Net Carbohydrates

0g
Fiber

1g
Sugar

10g
Sugar Alcohols

0g
Protein

3g
This recipe is part of my Top 5 Vegan Brownies Series:
Fudgy Sweet Potato Brownies (20,000 shares on this one!)
Easy Vegan Tahini Brownies (my go-to)
The Best Peanut Butter Brownies (GF)
Vegan Brookies – aka God's gift to mankind… Half Brownie / Half Cookie
Vegan Zucchini Brownies – Whole grains and greens in a brownie? You bet!