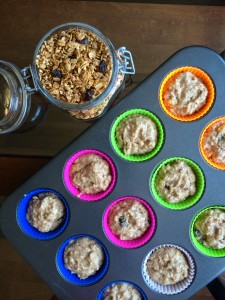 I'm pretty sure most people wonder if us food bloggers actually eat what we create. In short (at least for me) the answer is HECK YES! But I have to say that lately I've almost missed out on eating some of my baked goods and desserts. This isn't because I don't want to eat them, but because lately I've been baking right before we have guests over. I always like to serve my friends/visitors something when they come to my house. I love cooking and baking for people. It's just my way of loving you.
So lately, I've been finishing up my baking just in time to clean up and set out my goodies. Of course I get little taste tests while I'm creating said baked goods or desserts, but it's just the batter and not the finished product. I usually underestimate how much people will eat too, so by the time people leave there is usually just one cookie left or one spoonful of dip.
That almost happened with these Whole Wheat Banana Granola Muffins. I've been wanting to make banana muffins for a while now, but needed to think of a way to make them somewhat special. Enter in: granola. It's sweet, crunchy and has awesome texture. I've been on such a granola kick lately and have so loved experimenting with different flavors. Seriously, making your own granola is so simple, especially once you get the basics down. Oats, Nuts, Oil, Sweetener, Spices, Add-ins. Done.
This Cinnamon Raisin Granola has become my new go-to recipe for homemade granola. It's 6 ingredients and take me about 10 minutes to prep before baking. I'll be sharing the recipe later this week!
But back to these muffins. They're mostly sweetened with lots of ripe bananas and just have a touch of unrefined sweetener. This recipe only calls for a little oil too, because I use unsweetened applesauce! And of course, they have an awesome texture from the granola. (While I love using my Cinnamon Raisin Granola, you can really use any granola that you have on hand). Basically, all of these components combined made it so that I almost missed out on trying one before they were all eaten! No body is gonna turn down a delicious, banana muffin.
Whole Wheat Banana Granola Muffins
2014-09-08 20:01:47
Serves 12
WET INGREDIENTS
1 cup mashed banana
2 flax eggs (2 tablespoons ground flaxseed + 6 tablespoons water)
1/4 cup coconut oil
1/4 cup unsweetened apple sauce
1/4 cup honey
1 tsp. vanilla extract
DRY INGREDIENTS
1 1/2 cups whole wheat flour
1 teaspoon baking powder
1/2 teaspoon baking soda
1/4 teaspoon salt
1 teaspoons cinnamon
1/4 cup raisins
1/2 cup granola + more for topping
Instructions
Preheat your oven to 375 degrees and line 12 muffin tins with cupcake liners.
Prepare your flax eggs by whisking together 2 tablespoons of ground flaxseed and 6 tablespoons of water. Set in the fridge to gel for 10 minutes.
In a large bowl, whisk together the dry ingredients. In a separate bowl combine the wet ingredients, including the flax eggs once they are ready.
Pour the wet ingredients into the dry ingredients and mix until combined, but don't over mix. Stir in the granola and raisins.
Pour the batter into your lined muffin cups and bake for 15-22 minutes until a toothpick inserted into the center comes out clean.
Notes
Store these in an airtight container in the fridge.
The Conscientious Eater https://theconscientiouseater.com/
Eat Consciously,
Faith