Melted chocolate chips, runny tahini and chewy oats make for the most amazing, decadent Chocolate Tahini No Bake Cookies!
My tahini obsession is still going strong over here and I'm not sure when it will pass. If you don't know what tahini is, its basically a sesame seed paste made from hulled, toasted sesame seeds. Think peanut butter, but with sesame seeds instead of peanuts. I actually didn't really like tahini the first time I tried it. It's subtly bitter on its own and tastes somewhat salty. It will definitely throw you for a loop if you expect it to taste like peanut butter or almond butter. However, I've grown to love tahini. Instead of jumping straight into eating it plain, I started adding it to recipes and pairing it with different ingredients. Now I love it on its own in both sweet and savory meals! I especially love it paired with chocolate, hence these Chocolate Tahini No Bake Cookies!
No bake cookies are quickly becoming one of my favorite desserts. I think back in the day I actually stated that the classic no bake cookies were my favorite dessert, but eventually that passed. Now, thanks to how easy they are to make and how rich and decadent they taste (hello sweet tooth!), they are quickly climbing the ladder again and are definitely one of my favorite sweet treats at the moment.
What I love about these Chocolate Tahini No Bake Cookies is that they contain melted chocolate for extra decadence and have the most amazing chewy and crunchy texture combination thanks to chopped almonds and quick oats. I also love sprinkling the tops of these cookies with sea salt to get that sweet and savory combination that's irresistible! Also, if you're allergic to peanuts or know anyone with a peanut allergy (which seems to be so many people these days!), then these cookies would be the perfect gift for them! I'll even list out some more no bake cookies without peanut butter below!
No Bake Cookies Without Peanut Butter
Almond Butter Coconut No Bake Cookies
No Bake Vegan Breakfast Cookies
Cinnamon Oatmeal Cookie Dough Balls
Chocolate Tahini No Bake Cookie Photos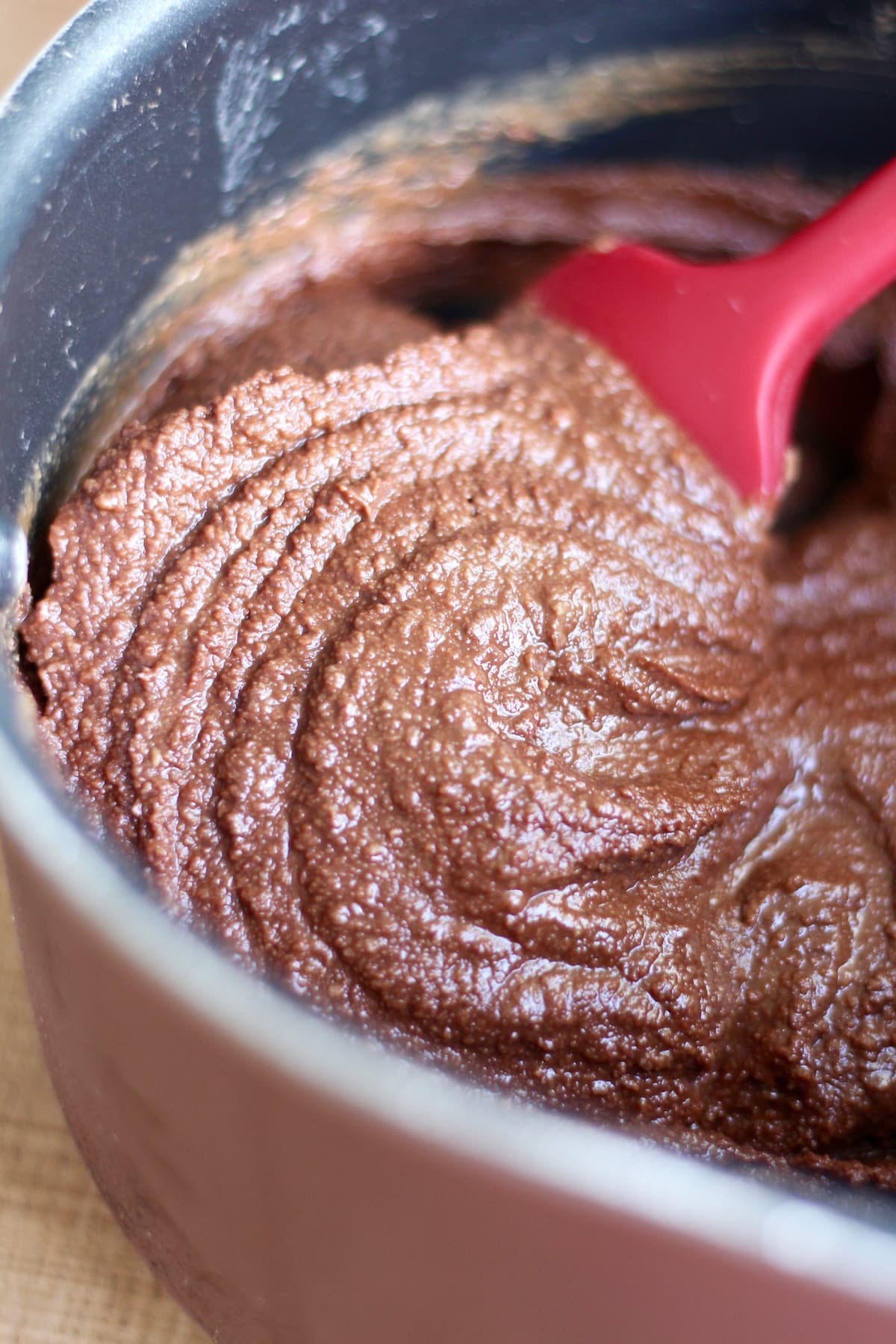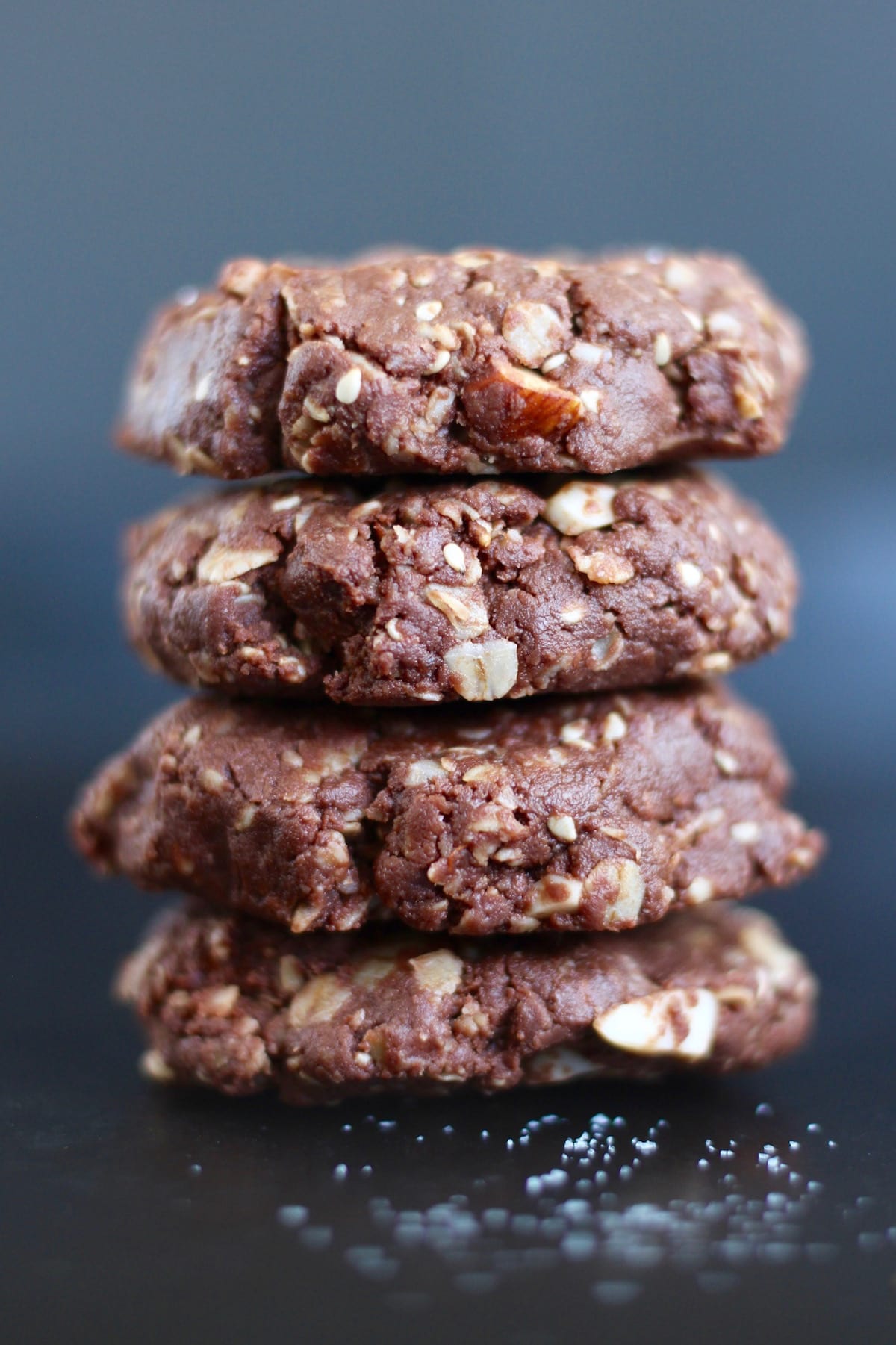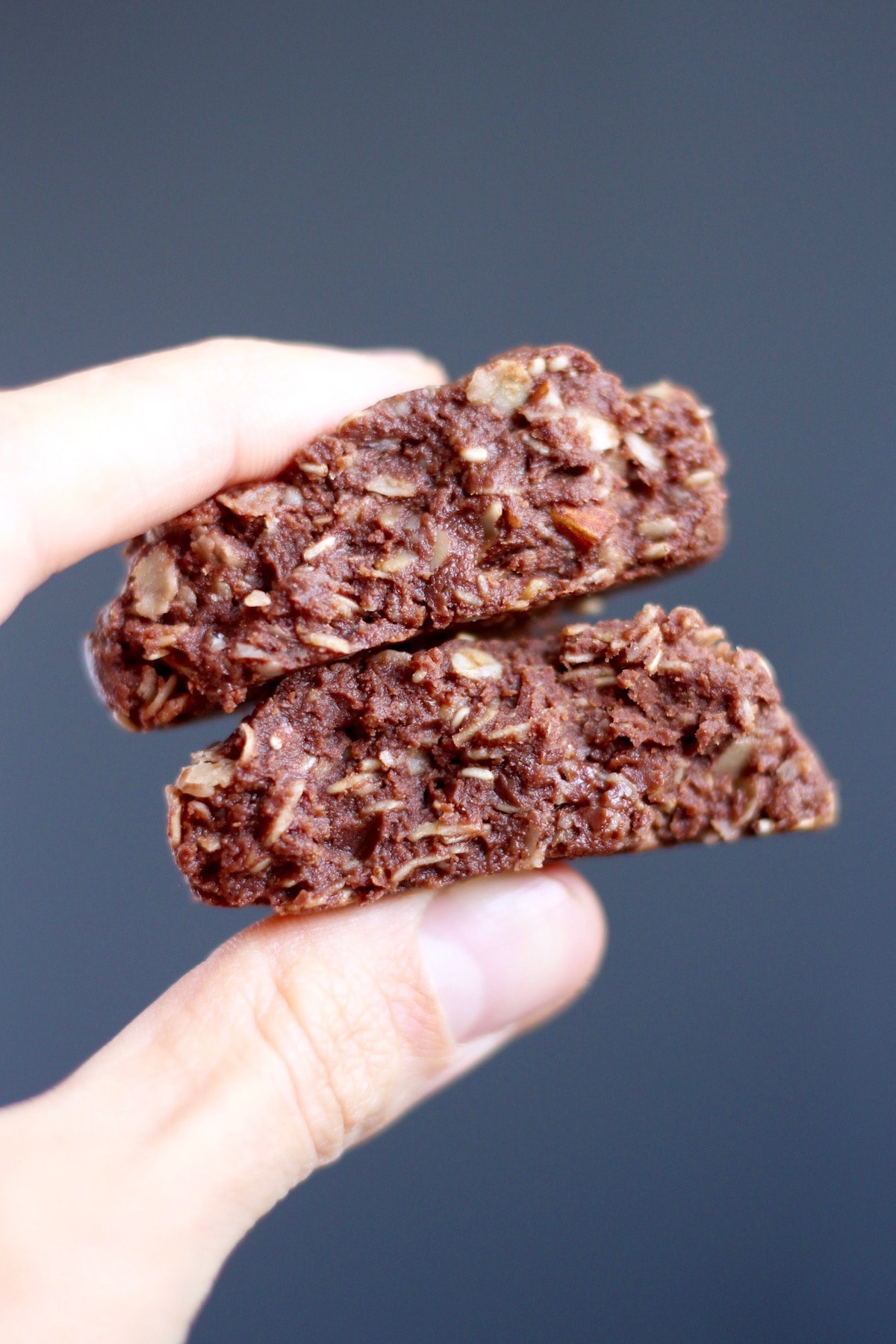 I hope you guys give these Chocolate Tahini No Bake Cookies a try! They're definitely one of my favorite desserts currently and couldn't be easier to whip up. If you give them a try, be sure to let me know in the comments down below. Rate the recipe and be sure to share it with your friends as well!
📖 Recipe
Chocolate Tahini No Bake Cookies (Vegan + Gluten Free)
Melted chocolate chips, runny tahini and chewy oats make for the most amazing, decadent Chocolate Tahini No Bake Cookies!
Ingredients
1

cup

quick cooking oats*

¼

cup

almonds

finely chopped

2

tablespoons

sesame seeds

¼

teaspoon

fine sea salt

3

tablespoons

maple syrup

2

tablespoon

coconut oil

¾

cup

tahini

Optional: coarse sea salt for sprinkling
Instructions
Line a baking sheet with parchment paper or a silicone baking mat.

Combine all of the dry ingredients in a bowl, from the quick oats to the sea salt. Set aside.

In a saucepan, combine the chocolate chips, maple syrup and coconut oil. Warm everything over low heat until the chocolate chips are mostly melted. Remove the mixture from the heat and stir in the tahini.

Next add in the dry ingredients and mix well. The dough will be thick, but just make sure all the oats are coated in the chocolate mixture.

Using about 2 tablespoons worth at a time, roll the dough into balls and then flatten them into cookie rounds. Place the cookies onto your lined baking tray and continue this process until all the dough has been used.

Sprinkle the tops with sea salt if desired and then place the cookies in the fridge to set. If you like softer cookies, remove them from the fridge a half an hour or so before serving.

Store the cookies in a sealed container in the fridge for about 1-2 weeks if they even last that long!
Notes
*Make sure to use certified gluten-free quick oats if wanting fully gluten free cookies!
Nutrition
Serving:
1
cookie
Calories:
225
kcal
Carbohydrates:
19
g
Protein:
5
g
Fat:
16
g
Saturated Fat:
5
g
Polyunsaturated Fat:
10
g
Sodium:
66
mg
Fiber:
3
g
Sugar:
9
g