With a chewy cookie base and a rich chocolate frosting, this egg and dairy free Vegan Cookie Cake will be sure to wow your friends and family!
Jump to:
Brett turned 36 last weekend. He has now ventured into the late thirties category and it's throwing both of us for a loop. We had some friends over for a birthday lunch and as we were chatting we discovered that Brett is the oldest in our group of friends. It surprised us because all of our friends have more kids than us so we just assumed they were older. Nope. We just waited a long time to have kids apparently.
For Brett's birthday dessert, I decided to veganize his favorite treat: a cookie cake! I actually made this exact recipe last year on his birthday and it will probably be a staple dessert for special occasions from here on out. I mean, who wouldn't want a giant, frosted cookie for their birthday? This dessert is so decadent and rich and nostalgic. You'd never guess it was egg and dairy free either as it tastes just like the cookie cakes you grew up eating.
To make this cake I basically veganized a cookie cake that I found online. It's so easy to make baked goods and desserts vegan with just a few substitutions. Below I'll share some of the common substitutions I use!
How to replace eggs in baking
When eggs act as a binding agent in baking they are easy to replace. Eggs are gelatinous and goopy and work well to hold everything together. My favorite way to replace eggs in baking is to use a flax egg. To make a flax egg you simply whisk together 1 tablespoon of ground flaxseed with 3 tablespoons of warm water. Then you allow the mixture to rest for a couple of minutes until it forms an egg-like texture. This goopy flax mixture is your egg! Some other options are to use ground chia seeds instead of ground flaxseed. Apple sauce, mashed banana and commercial egg-replacers are also good options. Just be aware that using fruit will change the flavor of the recipe.
How to replace butter in baking
When replacing butter in baking, it is good to know whether the butter in the recipe is providing moisture, fat or a hardening effect when cooled. When providing moisture, you can try replacing butter with applesauce or oil. I personally love to use coconut oil or vegan butter as a butter substitute because, just like dairy butter, they are both hard when chilled and liquid when warm. Again, be aware that coconut oil can sometimes change the flavor of the recipe.
Is chocolate vegan?
I've run into many people who are shocked that chocolate can be dairy free and vegan. While there are some specialized companies that sell dairy free chocolate, such as Enjoy Life Foods, I find that dairy free chocolate chips and chocolate bars are easy to find in most grocery stores. You simple need to read the label to see if milk or whey is listed in the ingredients. Also, cocoa butter is the fatty portion found in cocoa beans and isn't a dairy product, so don't let that confuse you!
Other vegan cake recipes:
Before you jump down to the recipe for this delicious vegan cookie cake, be sure to check out some of the other amazing and unique cake recipes from the blog.
Vegan and Gluten-Free Coconut Birthday Cake
Vegan Ice Cream Cake with Oreo Crust
Vegan Apple Cake With Maple Glaze
---
Photos of the Best Vegan Cookie Cake Photos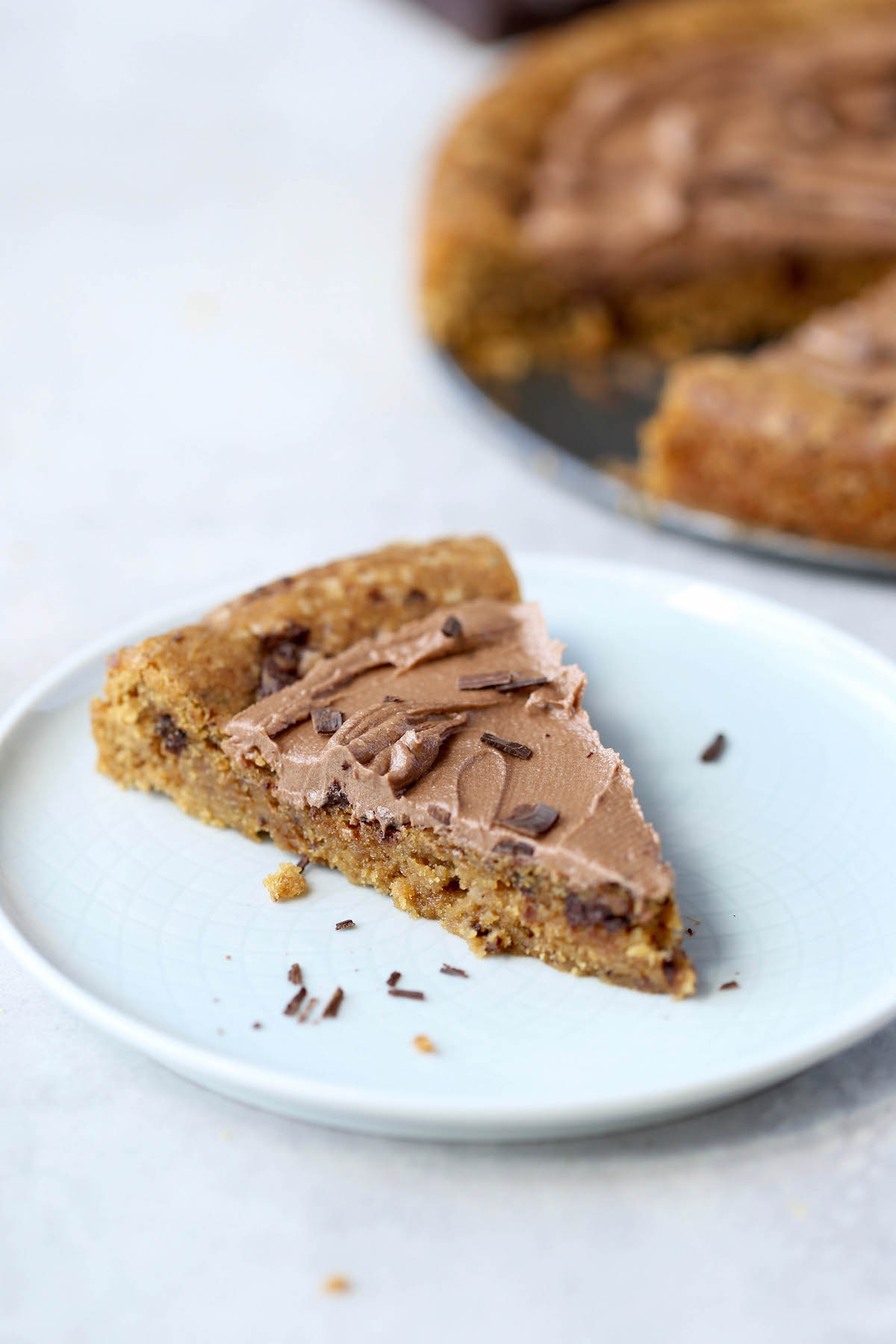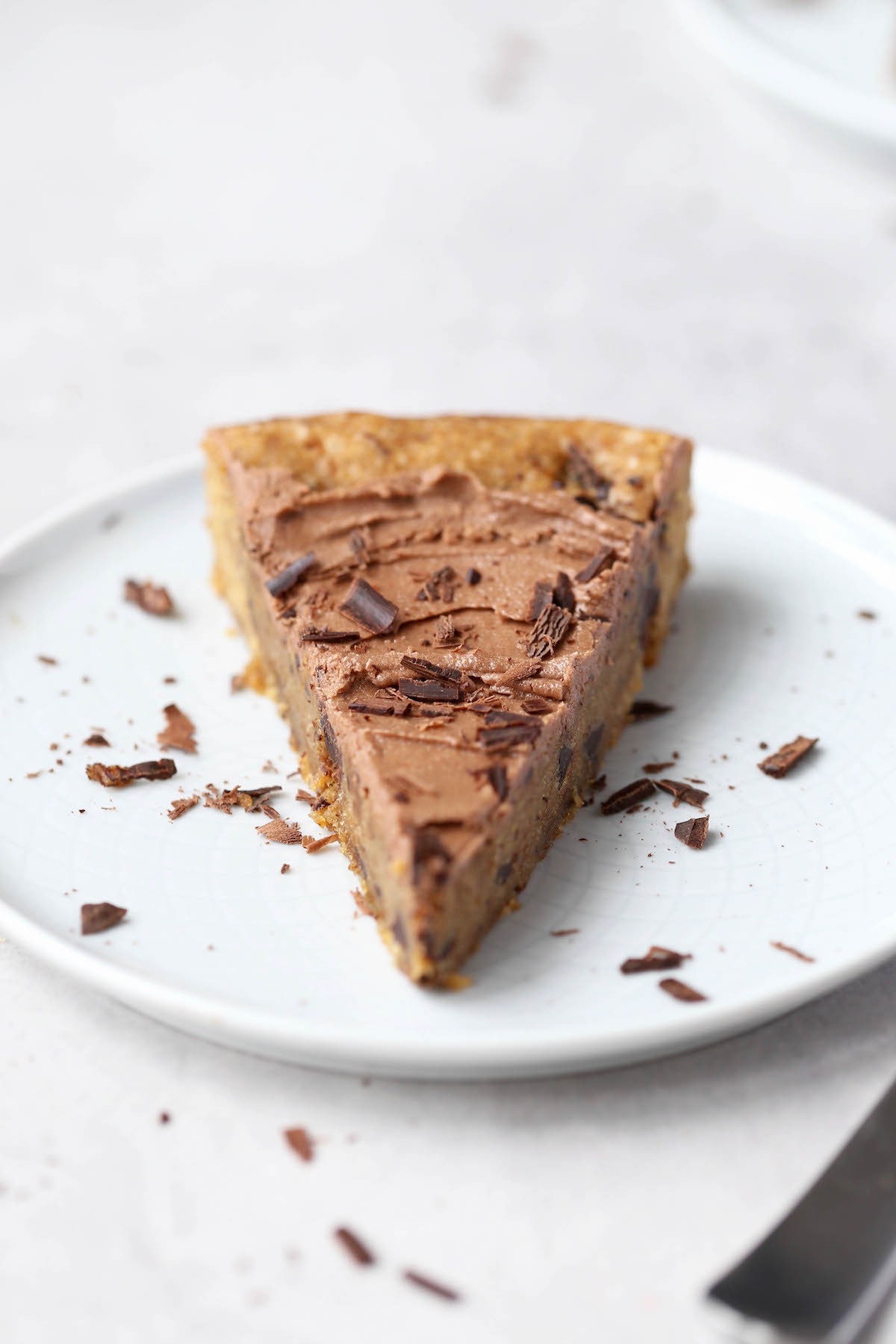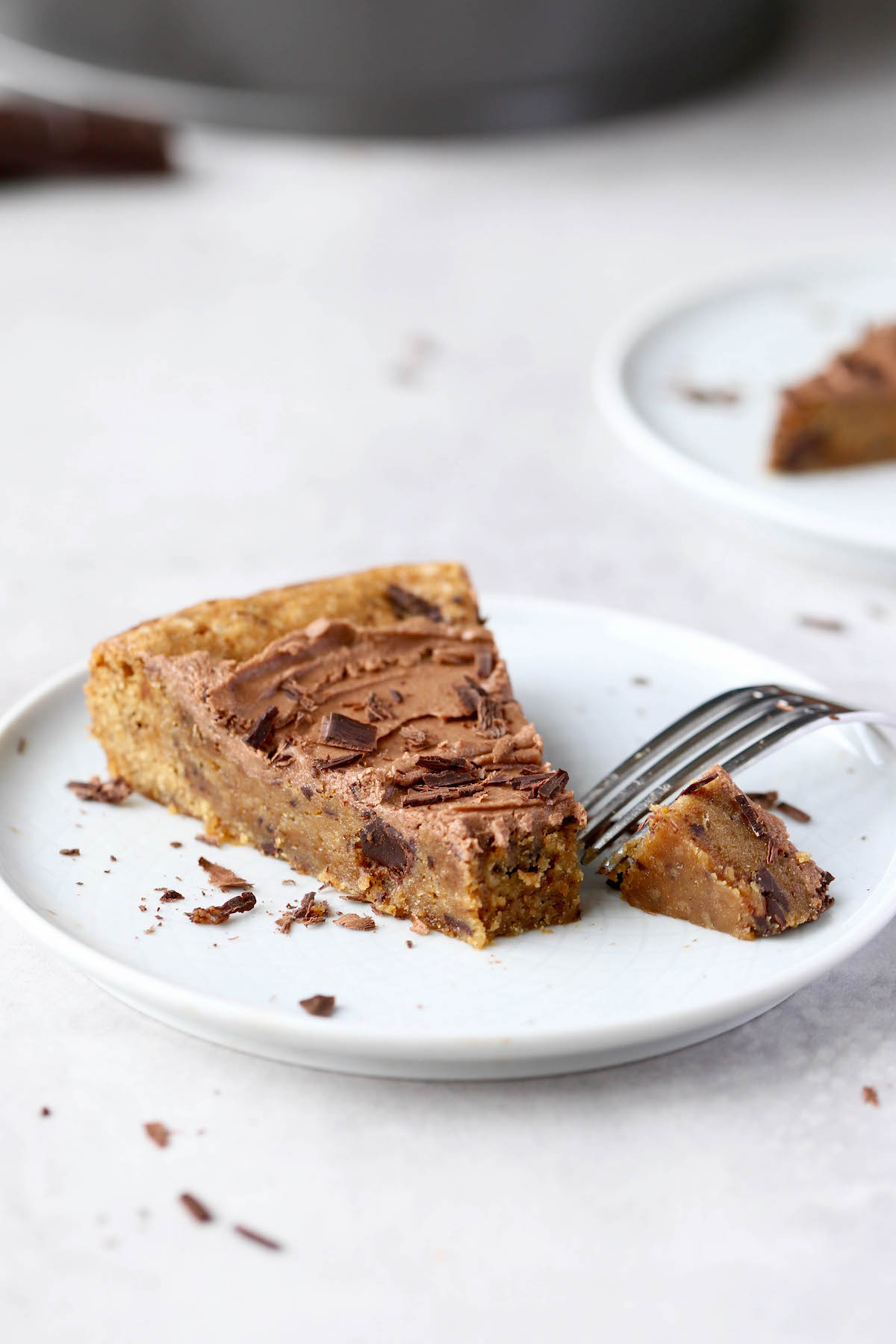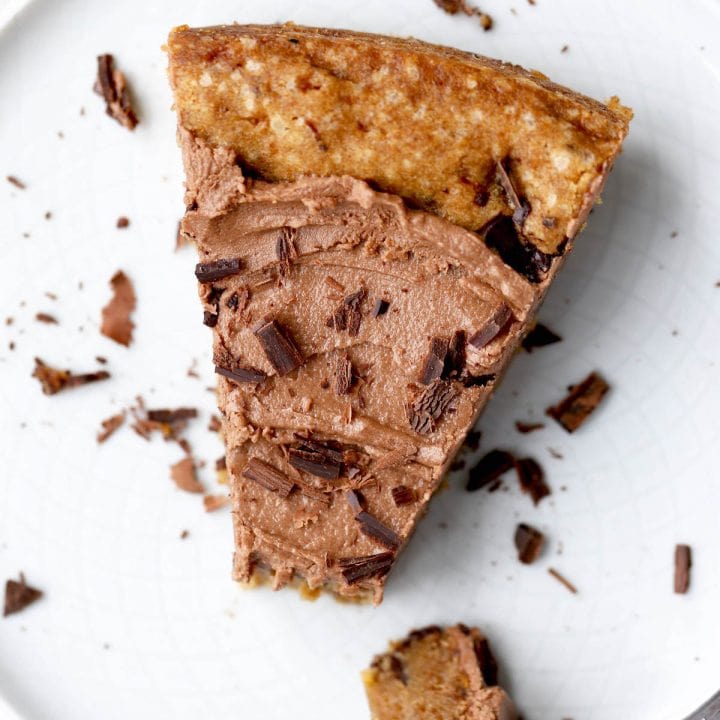 The Best Vegan Cookie Cake!
With a chewy cookie base and a rich chocolate frosting, this egg and dairy free Vegan Cookie Cake will be sure to wow your friends and family!
Ingredients
1 flax egg (3 tablespoons warm water + 1 tablespoon ground flaxseed)
1/2 cup + 2 tablespoons vegan butter
2/3 cup brown sugar*
1/3 cup white sugar
1 teaspoon vanilla
1 2/3 cup flour
3/4 teaspoon baking soda
3/4 teaspoon salt
3/4-1 cup dairy free chocolate chips
Chocolate Frosting:
1/4 cup vegan butter
1 1/4 cup powdered sugar
1-2 tablespoons non-dairy milk
Instructions
Preheat your oven to 350 degrees and grease a 9 inch cake pan. Set aside.
In a small bowl, prepare your flax egg by whisking together 1 tablespoon of ground flaxseed with 3 tablespoons of warm water. Set the mixture aside to thicken.
In a mixing bowl, cream together the vegan butter and sugar. Then add in the thickened flax egg and vanilla and mix until combined.
Add the remaining dry ingredients and stir until combined. Fold in the chocolate chips.
Pour the dough into your prepare cake pan and press it down until it's a uniform layer.
Bake the cookie cake for 22-25 minutes or until slightly golden.
Allow the cookie cake to cool while you prepare the frosting.
To make the frosting, simply use a food processor with the dough attachment or a hand mixer to beat all the ingredients together until smooth. Only add non-dairy milk--a teaspoon at a time--as needed.
Once the cake has cooled, frost the cookie however you desire. Top with some chocolate shavings or sprinkles and enjoy!
Notes
*You can also use coconut sugar instead of brown sugar.
Nutrition Information
Yield

12
Serving Size

1 slice
Amount Per Serving
Calories

297
Total Fat

11g
Saturated Fat

6g
Trans Fat

0g
Unsaturated Fat

4g
Cholesterol

15mg
Sodium

263mg
Carbohydrates

50g
Net Carbohydrates

0g
Fiber

2g
Sugar

35g
Sugar Alcohols

0g
Protein

3g
Nutrition information is a rough estimate provided by Nutrionix and should be used for informational purposes only.