Once you learn how to make crispy chickpeas in your oven, you won't want to eat chickpeas any other way! Salty, crunchy and full of plant-based protein, these crispy oven-roasted chickpeas make for a great snack or protein source for buddha bowls.
Jump To
Once I discovered the amazingness that is crispy chickpeas, I've never turned back!
Gone are the days of eating cold chickpeas straight from the can!
You too will love these simple, crunchy chickpeas.
They make for a salty, protein-packed snack and taste amazing on buddha bowls when paired with roasted veggies and a yummy dressing like this Lemon Tahini Dressing!
Let me show you how to make them!
Health Benefits of Chickpeas (or Garbanzo Beans)
Chickpeas, also known as garbanzo beans, are a great source of plant-based carbohydrates and protein. In addition they are a good source of fiber. The fiber paired with the protein may help to keep you fuller for longer.
Being lower on the glycemic index, they may also help to manage your blood sugar levels.
Additionally, the fiber in chickpeas may help to improve your digestive health...if you know what I mean:)
One of the main things I love about chickpeas is that they are inexpensive and can be found in a can, making for a no-fuss, plant-based protein source!
Tips for Making Crispy Chickpeas in the Oven:
There are a few things to keep in mind when making crispy chickpeas. Yes, you could deep fry them until crispy. However, if you want a healthier option, you can simply bake them in the oven. Just keep in mind the following tips!
Dry your chickpeas! In order for chickpeas to crisp up in the oven, they need to be dry. Otherwise the moisture from the chickpeas will cause them to steam instead of "fry." To do this, start by draining and rinsing a can of chickpeas. Then dump the chickpeas onto a clean tea towel and gently pat them dry. The drier they are, the crispier they will become!
Add oil. You don't need a lot, but a touch of oil goes a long way when trying to get crispy chickpeas in the oven.
Spice it up! Coating the chickpeas in lots of flavorful spices before baking them will take them from a yummy, salty snack to an addictive one!
How to Make Crispy Chickpeas:
No need to fry your chickpeas in order to make them crispy. You can do it in the oven! Just follow these simple step-by-step instructions:
Step 1: Preheat your oven to 400F/200C and grease a baking sheet with cooking spray. Set it aside.
Step 2: Drain and rinse your chickpeas. Pour them onto a clean tea towel and gently pat them dry. You'll want them as dry as possible!
Step 3: Place the dried chickpeas into a mixing bowl and drizzle over a couple teaspoons of olive oil. Add in some salt and spices and stir the chickpeas so that they are well coated in the oil and spices.
Step 4: Pour the seasoned chickpeas onto your prepared baking sheet and spread them out into a single layer. The more space they have, the crispier they will become!
Step 5: Roast the chickpeas for about 20 minutes. Give them a shake or a stir and return them to the oven for another 15-20 minutes or until golden and crispy.
Step 6: Enjoy them as a snack or use them as a protein source for buddha bowls!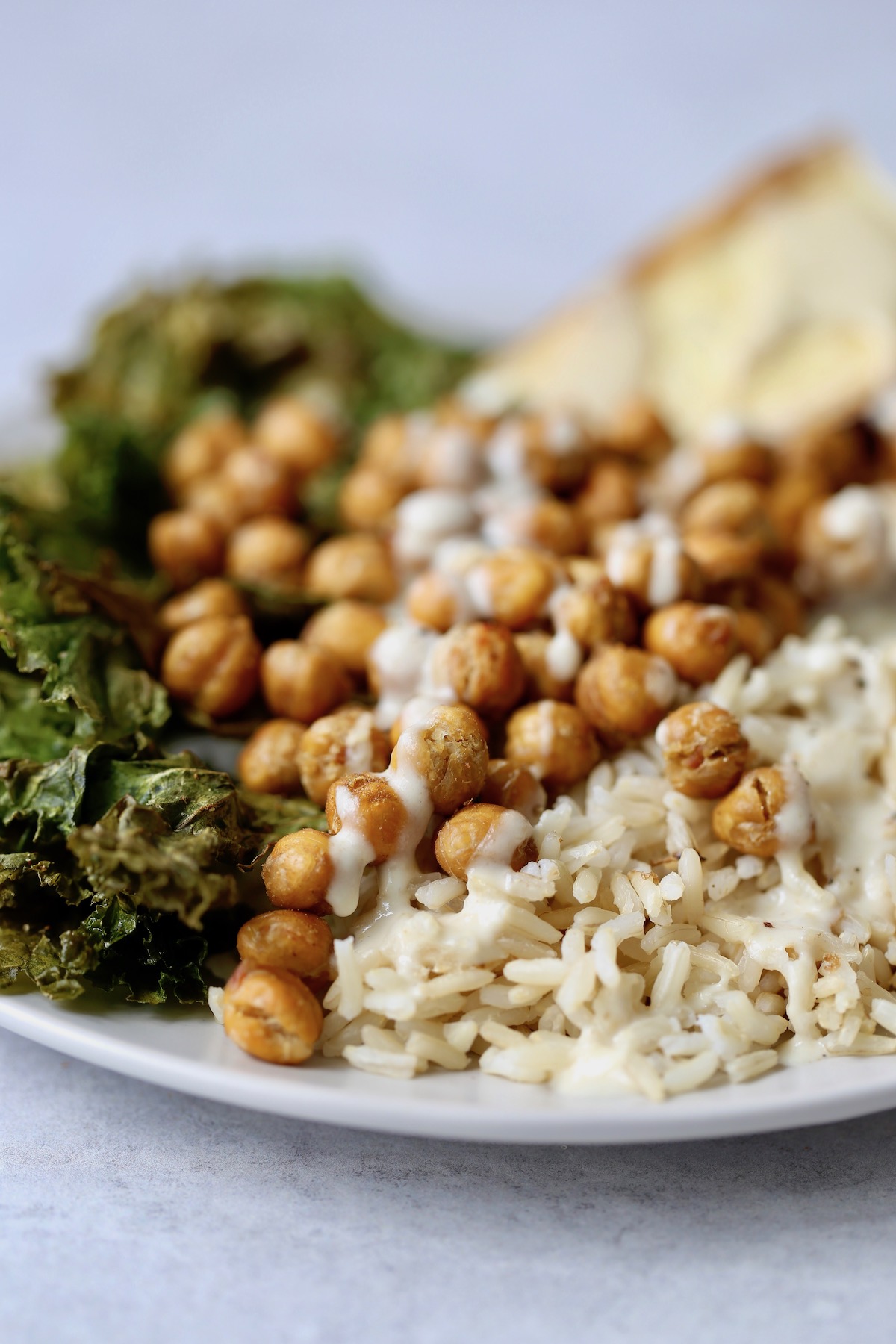 How to Store Crispy Chickpeas:
I've found that crispy, roasted chickpeas don't stay crispy for much longer than a day. However, no need to waste them if you have leftovers! While they may lose their crunch, they are still a flavorful, protein-packed food.
I like to store leftover in an airtight container at room temperature for about a day. If I won't eat them in a day's time, then I'll store them in the fridge for 2-3 days.
Let me know if you give these crispy oven-roasted chickpeas a try! We're obsessed with them and I make them 1-2x a week to snack on or use as a topping for buddha bowls. We specifically love to pair them with this hummus recipe or this Lemon Miso Tahini Dressing!
Recipe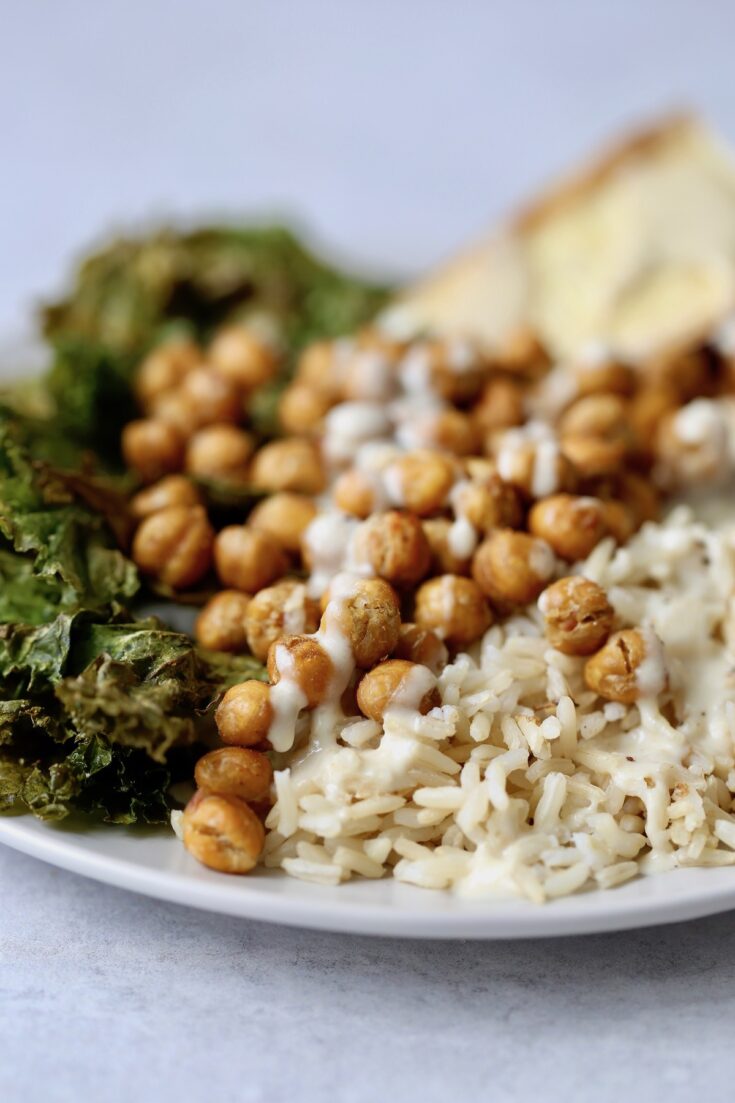 Yield:

3 servings
Crispy Oven Roasted Chickpeas
Salty, crispy and easy to make, these oven roasted chickpeas make for a delicious snack or protein source for your next meal!
Ingredients
1 can chickpeas
2 teaspoon olive oil
½ teaspoon cumin
¼ teaspoon sea salt, or to taste
Instructions
Preheat your oven to 400F/200C and line a baking sheet with a silicone baking mat or grease it with cooking spray. Set aside.
Drain and rinse the chickpeas. Dump them onto a clean tea towel and thoroughly pat them dry.
Place them into a bowl and drizzle them with olive oil. Sprinkle over the cumin and sea salt and stir to make sure each chickpea is well coated.
Pour the chickpeas onto your prepared baking dish and spread them out so they have lots of room. Roast them in the oven for 15 minutes. Stir the chickpeas or give the pan a little shake before allowing them to roast for another 10-20 minutes, or until golden and crunchy. Sprinkle over more sea salt if necessary.
Enjoy them as a snack or use them as a protein source for buddha bowls!
Notes
This recipe can be easily doubled or tripled. Just make sure the chickpeas aren't too crowded in the oven so that they can get crispy.
Nutrition Information
Yield
3
Serving Size
1
Amount Per Serving
Calories

145
Total Fat

5g
Saturated Fat

1g
Trans Fat

0g
Unsaturated Fat

4g
Cholesterol

0mg
Sodium

384mg
Carbohydrates

19g
Fiber

5g
Sugar

3g
Protein

6g
Nutrition information is a rough estimate provided by Nutrionix and should be used for informational purposes only.