Chock full of hearty oats, salty almond butter and sweet date puree, these Chewy Almond Butter Date Granola Bars are a healthy and delicious treat!
Jump To
Before we talk about these delicious, whole food Chewy Almond Butter Date Granola Bars, can I just take a moment to say:
"We're in China!"
Well, when you read this post we'll be landing in our city in China and will hopefully be in a taxi heading towards our apartment with all of our luggage. I'm currently writing this post a few days in advance, because I know I'll be jet lagging hard on Saturday and will want to focus all my energy on unpacking, organizing and staying awake. Oh, and I'm sure I'll be dealing with a jet lagged and exhausted Harper baby too. I will say, though, that she gets pretty spoiled when we travel internationally. She gets to sleep hours and hours in a bassinet and be worn by mommy instead of having to walk all over airport terminals and wait in line at customs. What a dream!
Healthy Granola Bars
But back to these Chewy Almond Butter Date Granola Bars!
Before we left for China, I wanted to use up a bunch of food items that I had accumulated over the months of living in the states. One of those items was a tub of dates. I've been loving dates as a sweetener for my homemade nut milks or even as a simple dessert when stuffed with nut butter and a few chocolate chips. I also love soaking them and blending them into a Homemade Date Paste to use as a healthy, whole food fruit sweetener for baking.
There are lots of healthy granola bar recipes out there, but I love these ones especially because they are made will rolled oats and ground flaxseed, which adds lots of whole grains and fiber. They are sweetened entirely with dates (unless you add the optional chocolate drizzle on top...which you totally should) and they have lots of protein in them from the almond butter and whole grains. Granola bars like these Chewy Almond Butter Date Granola Bars are going to be a staple in our house and will probably be one of Harper's snack options once she gets older.
I'd love to know what ingredients you like to use when making your own homemade, healthy granola bars!
Benefits of Almonds
Another thing I want to harp on really quick are some of the benefits of almonds. While I love using peanut butter in a lot of my baking (mainly because it's cheap...let's be real), almonds really do provide so many amazing benefits. Plus, when they're blended into a butter, they taste absolutely incredible! I'm currently obsessed with Georgia Grinders Original Almond Butter and that's what I used in this recipe.
Some of the benefits of Almonds:
They provide one of the world's best sources of Vitamin E, which stands for a group of fat soluble antioxidants which protect the body from oxidative damage
They are rich in antioxidants, which help protect against aging and certain diseases like cancer
They are low in carbs and high in protein and fiber to keep you fuller for longer
They are high in Magnesium, which can help regulate blood sugar and blood pressure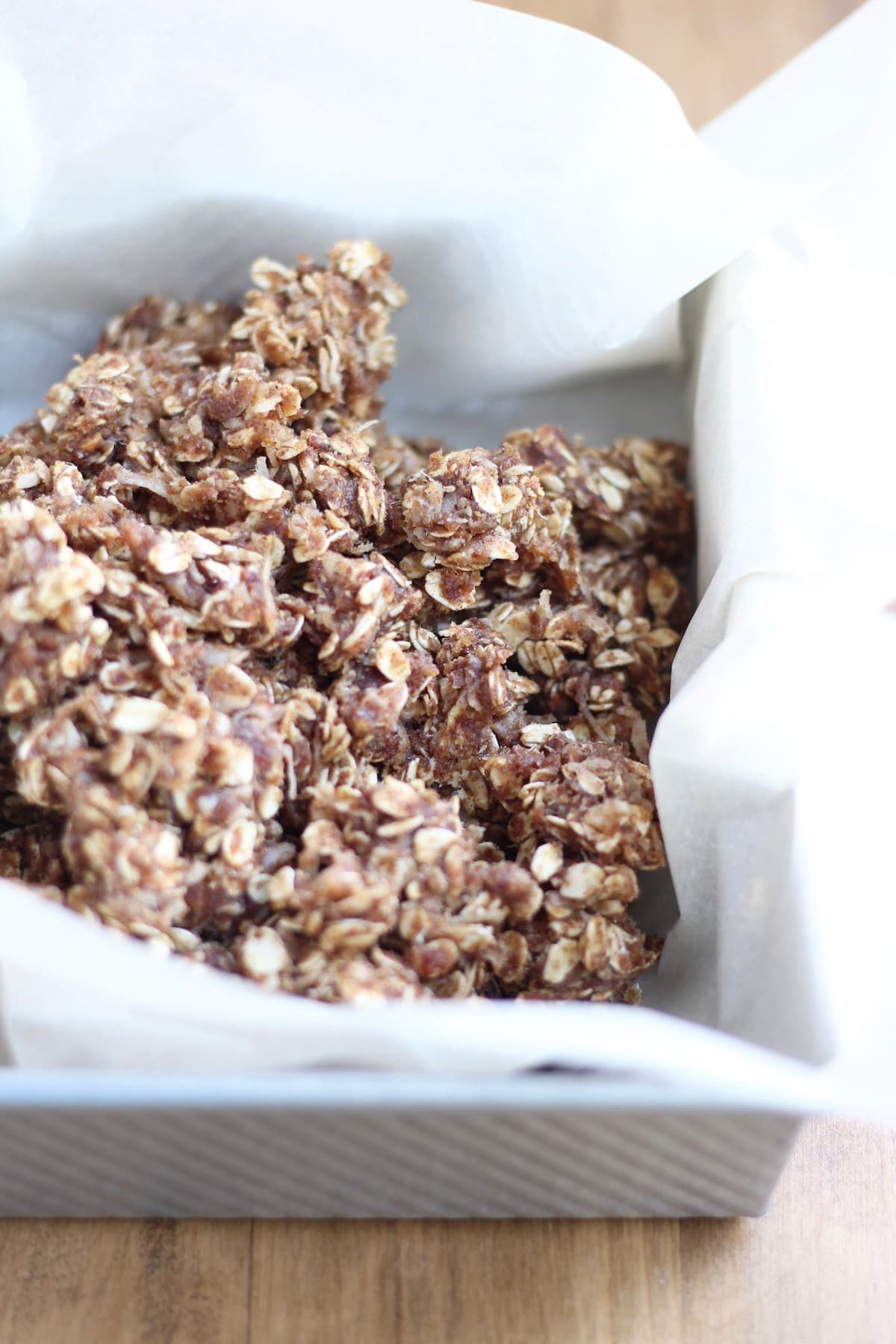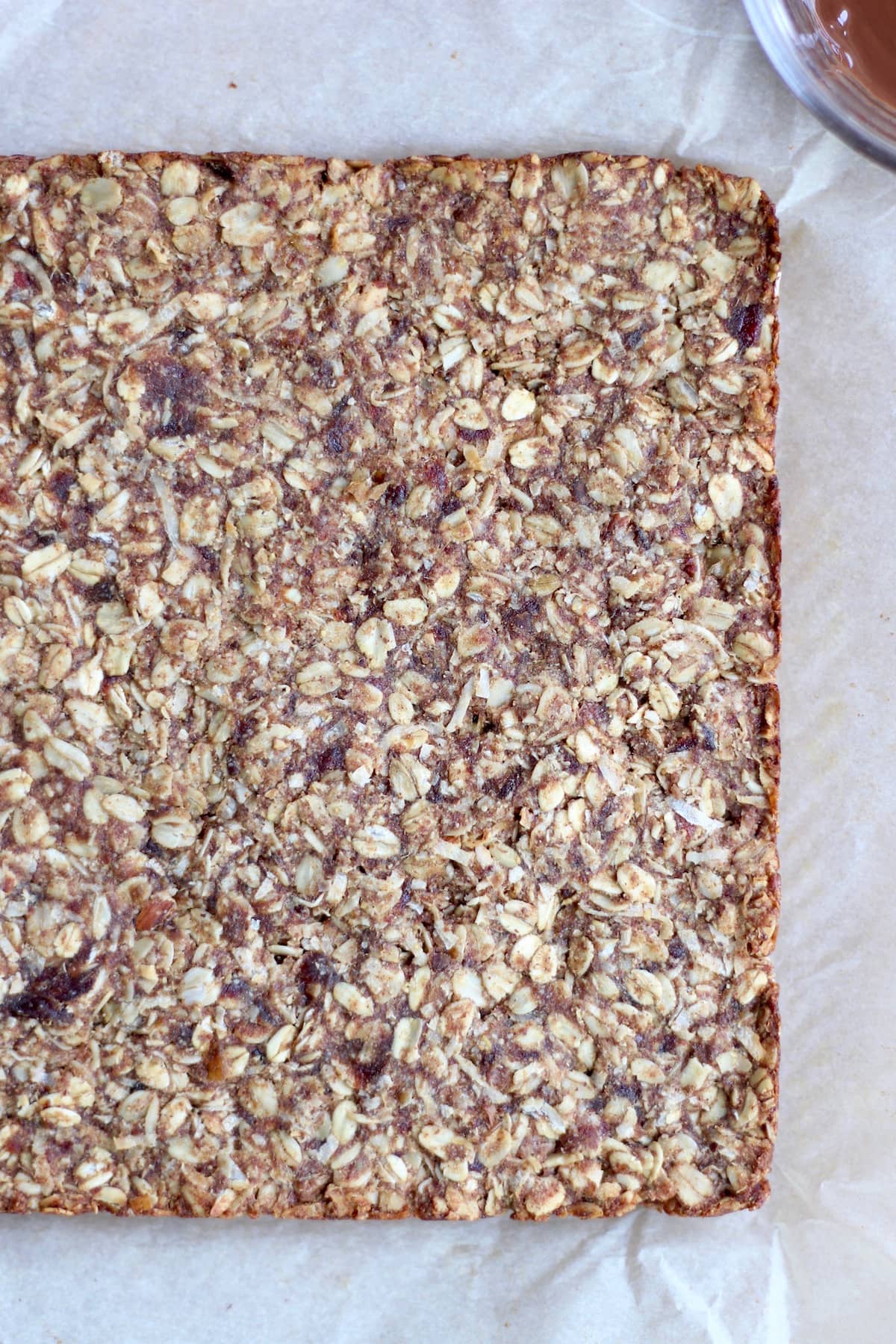 Other Healthy Date Recipes
In case you love dates as much as I do, I've listed out some other delicious healthy date recipes below so be sure to check them out!
5 Ingredient Date Sweetened Chickpea Cookie Dough
Date Sweetened Chocolate Sauce
Salted Chocolate Covered Peanut Butter Stuffed Dates
Chewy Vegan Oatmeal Date Cookies (one of our favorite recipes!)
Easy Homemade Oatmeal Date Granola Bars
I'd love to know if you give these Chewy Almond Butter Date Granola Bars a try and what you think! Be sure to leave a comment down below, rate the recipe and share it with others!
📖 Recipe
Yield:

12 granola bars
Chewy Almond Butter Date Granola Bars
Chock full of hearty oats, salty almond butter and sweet date puree, these Chewy Almond Butter Date Granola Bars are a healthy and delicious treat!
Ingredients
1 ¼ cup old-fashioned oats
1 cup shredded unsweetened coconut
½ teaspoon sea salt
1 teaspoon cinnamon
½ cup almond butter
1 teaspoon vanilla extract
Optional:
¼ cup non-dairy chocolate chips
Instructions
Preheat your oven to 350 degrees and line an 8x8 pan with parchment paper.
Place all the pitted dates into a bowl and cover them with boiling water. Allow them to soak for about 10-15 minutes.
While the dates are soaking, Combine all the dry ingredients together in a mixing bowl, from the old-fashioned oats to the cinnamon.
Once the dates are soft, drain the soaking water and place the soft dates into a food processor or high speed blender and blend until a paste forms.
Add the date paste, almond butter and vanilla extract to the dry ingredients and mix everything together until a uniform dough forms.
Press the dough into your prepared pan until level, using the base of a cup to pack the mixture down well.
Bake the bars for 20-25 minutes or until the edges start to turn golden brown.
Remove the bars from the oven and allow them to cool on in the pan on a wire rack. Once cool, carefully lift them out of the pan using the parchment paper and cut them into bars.
If desired, melt the non-dairy chocolate chips and drizzle over the top of the bars. Once the chocolate has cooled and hardened, store these bars in an airtight container in the fridge for up to a week.
Nutrition Information
Yield
12
Serving Size
1 bar
Amount Per Serving
Calories

224
Total Fat

14g
Saturated Fat

5g
Trans Fat

0g
Unsaturated Fat

7g
Cholesterol

0mg
Sodium

94mg
Carbohydrates

24g
Net Carbohydrates

0g
Fiber

6g
Sugar

13g
Sugar Alcohols

0g
Protein

5g
Nutrition information is a rough estimate provided by Nutrionix and should be used for informational purposes only.