Full of beautiful colors, juicy fruits, and hearty toppings, this Healthy Fruit Cereal is a fun and delicious way to enjoy cereal in the morning!
Jump To
Introduction
Cereal was my absolute favorite food growing up.
I would eat sugary store-bought cereal every morning when I woke up and every night before bed.
While I still LOVE cereal (hello crunch, texture and cold refreshing milk!), I've learned how to enjoy it in a ways that are more nutrient dense and give me steady energy throughout the morning.
That means I now eat cereal with more whole grains and less processed sugar (I'm talking about you Homemade Bran Flakes Cereal) OR I enjoy a big bowl of this colorful fruit cereal!
Yay for no more sugar crashes!
Is cereal healthy?
I believe all foods can play a part in a healthy, balanced diet...even store-bought cereal!
However, store-bought cereals are quite processed and often created with unnecessary ingredients and sugars.
Back in the day I would only read the nutrition facts and wouldn't even glance at the ingredients list of foods I bought at the grocery store.
Now the ingredients list is the first thing I look at!
If you want to eat a bowl of sugary cereal, eat the bowl of sugary cereal! If you don't, you'll just think about it all day and then probably end up over-eating it at night as a midnight snack.
However, if you're looking to eat less-processed, more nutrient-dense foods, be sure to look at the ingredients list on your cereal boxes.
The healthiest cereals have the following in common:
a short list of ingredients
are made with whole grains
don't have ingredients you can't pronounce
don't have sugar listed toward the top of the ingredients list
Below I'll also share some delicious cereal alternatives that you'll grow to love!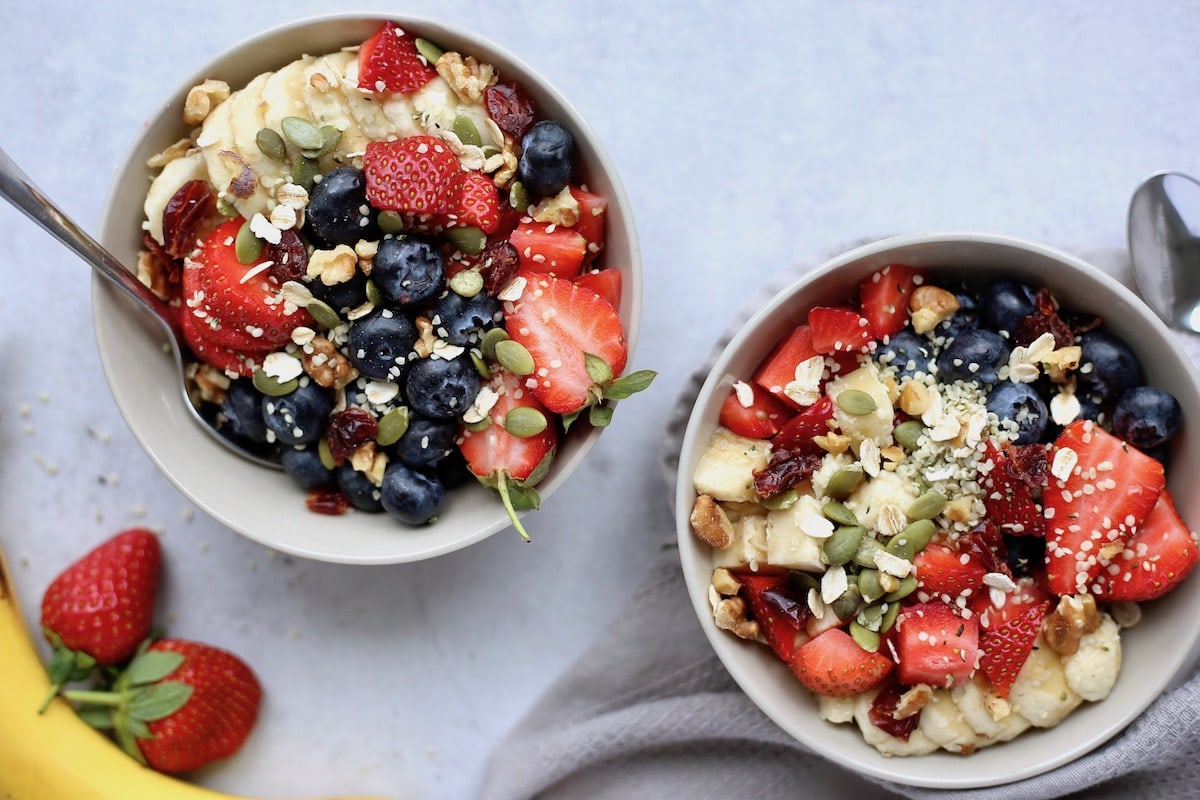 What is the healthiest cereal to eat?
Everyone has different health goals and needs, so the healthiest cereal for you may not be the healthiest for someone else.
However, for me personally I love making homemade cereal so that I can control the ingredients in the cereal.
I've also found cereal alternatives that provide all the aspects of cereal that I love (crunch, chew, milk, etc.), without leaving me with a sugar crash later in the day.
Some examples of cereal alternatives that I love are:
Nutrition of store-bought cereal versus homemade cereal
To give you a better example of the difference between the ingredients in a box of store-bought cereal and a homemade cereal option, I thought I would show the ingredients in both options right next to each other so you can compare them.
Honey Bunches Of Oats Ingredients
Corn, Whole Grain Wheat, Sugar, Whole Grain Rolled Oats, Brown Sugar, Almonds, Rice, Canola Oil, Wheat Flour, Malted Barley Flour, Corn Syrup, Salt, Whey (from Milk), Malted Corn and Barley Syrup, Honey, Caramel Color, Cinnamon, Natural and Artificial Flavor, Annatto Extract (Color).
Notice the difference in the number of ingredients! My Homemade Bran Flakes Cereal recipe uses just 8 ingredients while Honey Bunches of Oats uses 21 ingredients!
Also, as you read through the ingredients used in Honey Bunches of Oats, you'll notice that there are 5 different kinds of sweetener used (sugar, brown sugar, corn syrup, malted corn and barley syrup, and honey) as well as added coloring, artificial flavors and extracts.
Now please don't read this post as me saying you should never eat store-bought cereal again!
I still eat store-bought cereal from time-to-time because it's nostalgic and delicious.
However, eating homemade cereal and cereal alternatives is what I choose to do on a regular basis.
You do you!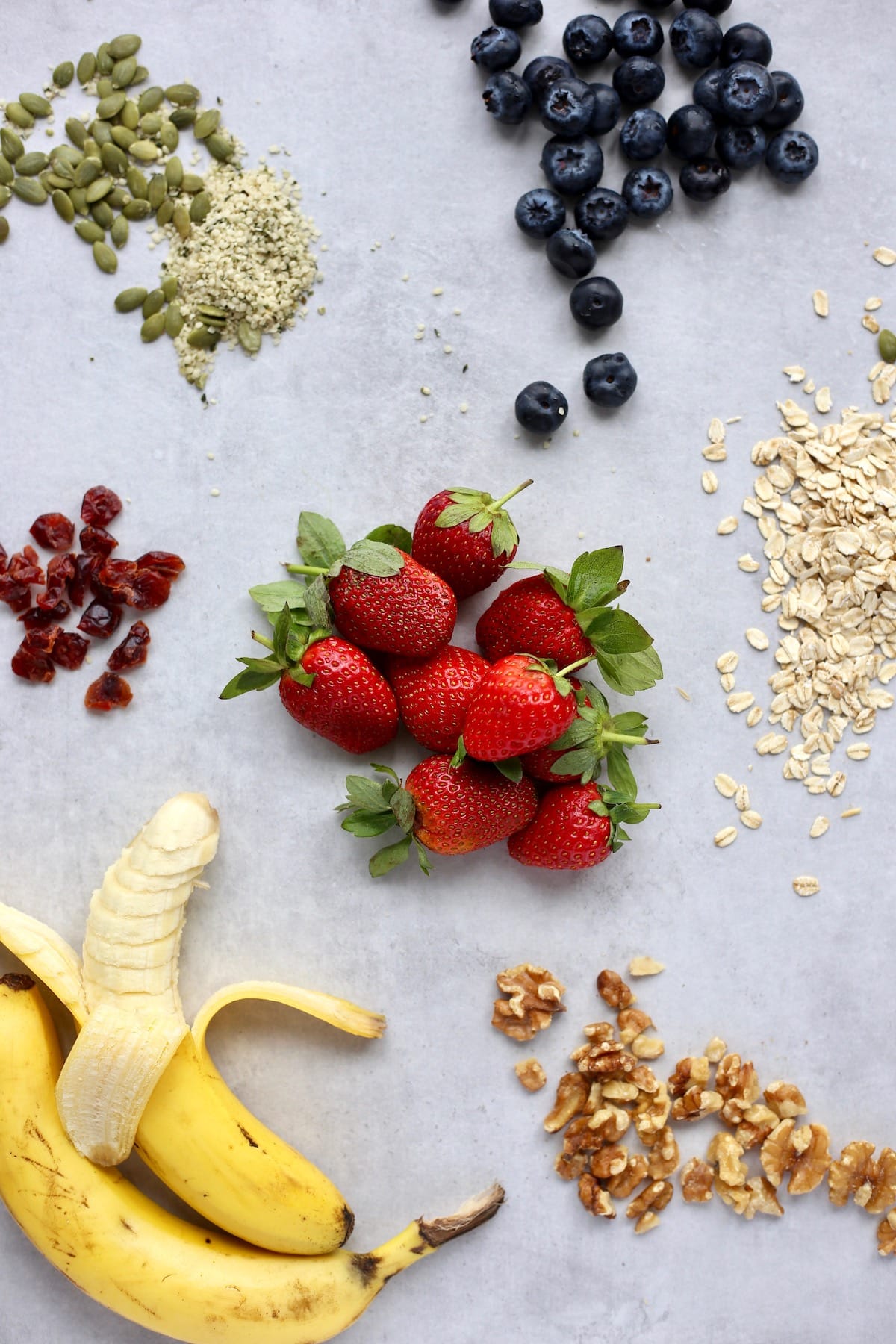 Possible ingredients
To make a healthy bowl of fruit cereal you'll need just a handful of ingredients, many of which are optional depending on your taste preferences and what you have on hand.
The main ingredients you'll need are fruit (fresh and dried), nuts and/or seeds, oats (either as plain oats, muesli or granola) and non-dairy milk.
Below I'll list some of the ingredients I've used in the past to make fruit cereal:
Fruit
Bananas
Blueberries
Strawberries
Raspberries
Blackberries
Apple
Mango
Raisins / Craisins
Dried Apricots
Oats
Seeds
Nuts
How to make fruit cereal
STEP 1: Start by washing and chopping your fruit. I love to chop my fruit into different shapes to provide extra texture. For example I may slice half of my banana and chop the other half into smaller pieces.
STEP 2: Once you've prepared all your fruit, place the fruit into a bowl and top it with whatever nuts, seeds, oats, and or dried fruit you desire.
STEP 3: Pour some chilly, non-dairy milk overtop and enjoy!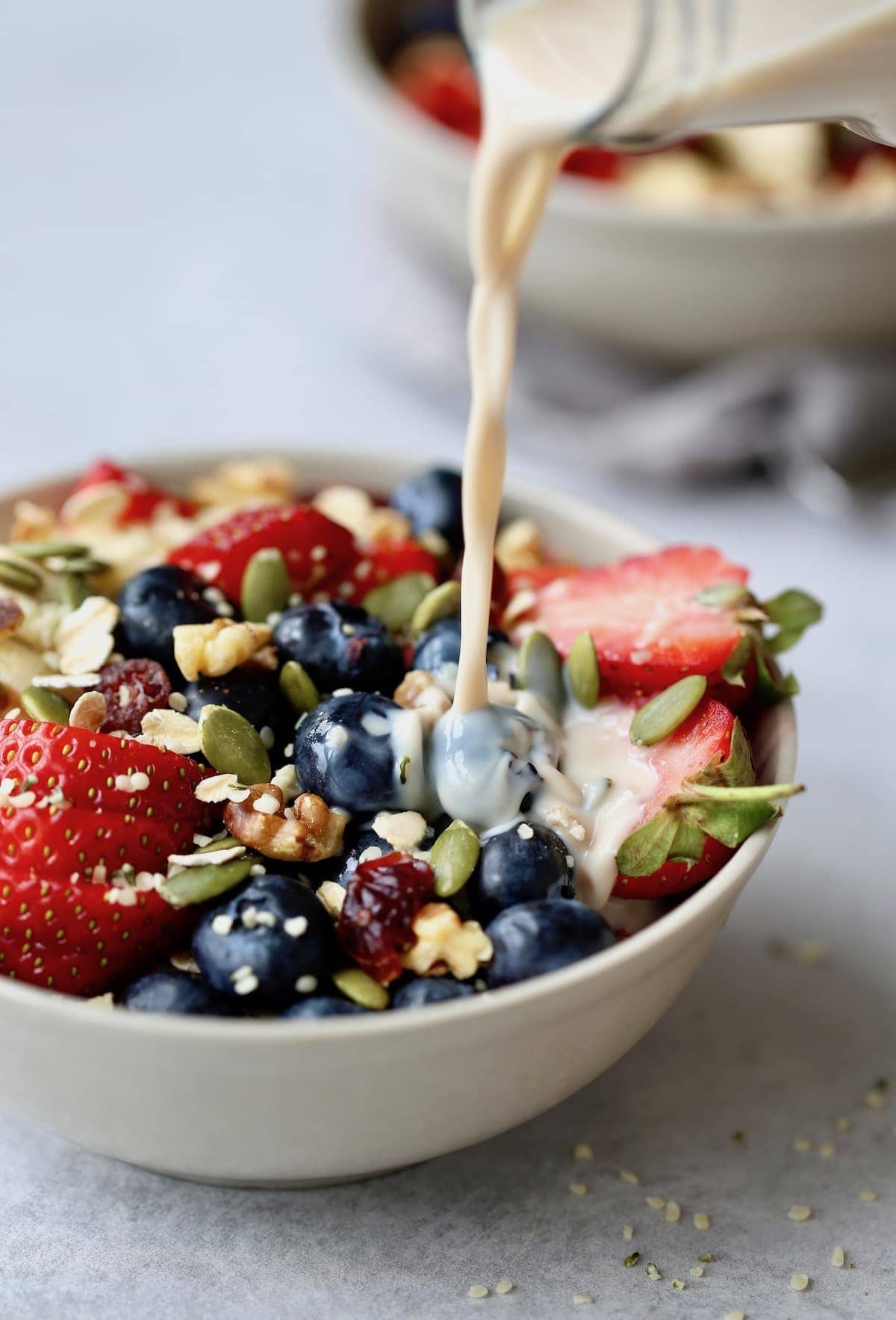 What about food combining?
Some of you reading this post may be wondering about food combining.
For those of you who don't know, food combining is a certain kind of diet where you focus on the foods you combine in a single meal.
Certain foods digest quicker than others, so by combining similar foods in a meal, you can potentially improve digestion and/or lose weight.
For example, you may not feel great if you eat a bunch of watermelon right after a bowl of oatmeal because watermelon digests faster than oatmeal.
This "recipe" for fruit cereal obviously combines a wide variety of foods (i.e. berries vs. nuts) so it may not be the best meal for some of you.
Personally, I find a bowl of fruit cereal digests beautifully and leaves me feeling great!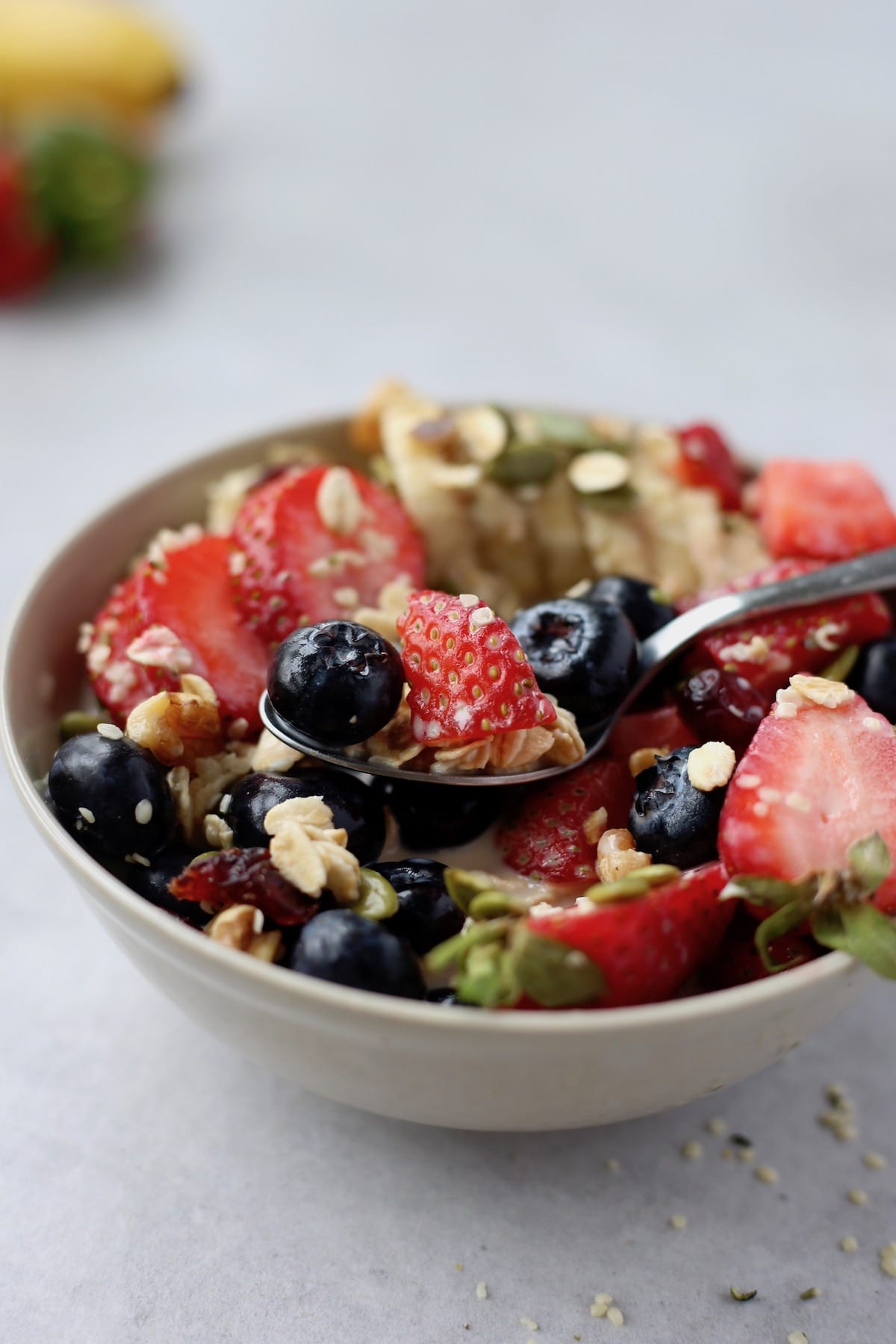 Other healthy cereal options!
If you enjoyed this fruit cereal, then be sure to check out some of the recipes below that make for great store-bought cereal substitutes!
📖 Recipe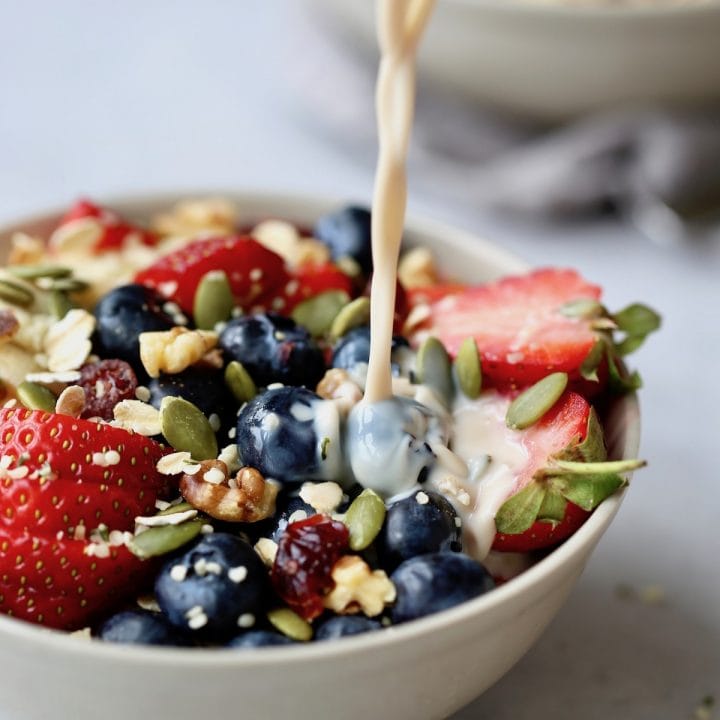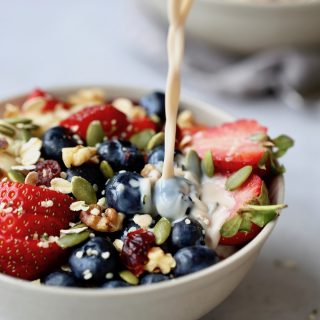 Healthy Fruit Cereal
Full of beautiful colors, juicy fruits, and hearty toppings, this Healthy Fruit Cereal is a fun and delicious way to enjoy cereal in the morning!
Ingredients
1

cup

mixed berries

washed and chopped

1

banana

sliced or chopped

1

tablespoon

of dried fruit

1

tablespoon

of nuts or seeds

1

tablespoon

of oats or granola

1

cup

non-dairy milk
Instructions
Place your washed and chopped fruit into a bowl.

Top the fruit with your desired toppings.

Pour milk overtop.

Enjoy like you would a normal bowl of cereal!
Notes
It's all about texture when it comes to fruit cereal! I'll often chop some of the fruits into small pieces and slice the rest to provide different texture. Nuts, seeds, dried fruit, oatmeal, and granola add more texture by way of crunch and chew as well as protein and fat to keep you fuller for longer!
Nutrition
Serving:
1
g
Calories:
344
kcal
Carbohydrates:
50
g
Protein:
11
g
Fat:
13
g
Saturated Fat:
3
g
Polyunsaturated Fat:
9
g
Cholesterol:
10
mg
Sodium:
79
mg
Fiber:
8
g
Sugar:
27
g