Made with a base of whole grains and naturally sweetened, these healthy, jumbo Chocolate Breakfast Muffins are an awesome way to start your day!
This post is also featured in my Easy Plant Based Breakfast Ideas For 2020 roundup.
Jump to:
And so the make-ahead-breakfast-saga continues!
If you missed my make-ahead carrot cake baked oatmeal recipe, be sure to check that out. But for all you chocolate lovers, today I'm sharing the recipe for these large, moist (sorry, it's true), gluten-free chocolate breakfast muffins. I call them breakfast muffins because of how healthy they are, but you can really eat them any time of day. They are made with a base of oat and almond flour, are sweetened with mashed banana and a touch of maple syrup and are jumbo to keep you full for whatever your morning has in store. I guess you could even call this recipe chocolate oatmeal cups if you wanted, except I've just ground the oats into flour to give more of a muffin texture.
We are obsessed with these chocolate breakfast muffins! I make a batch (or two!) to last throughout the week and all we have to do in the morning is warm one up in the microwave and top it with all of our favorite things including peanut butter, banana, ground flaxseed, etc.
Harper obviously loves these as well making them a delicious and healthy breakfast for kids. I just cut her muffin into smaller strips so that she can easily feed herself. I haven't tried it, but I'm sure you could bake the batter like a cake in a larger baking dish and then just cut it into squares or strips!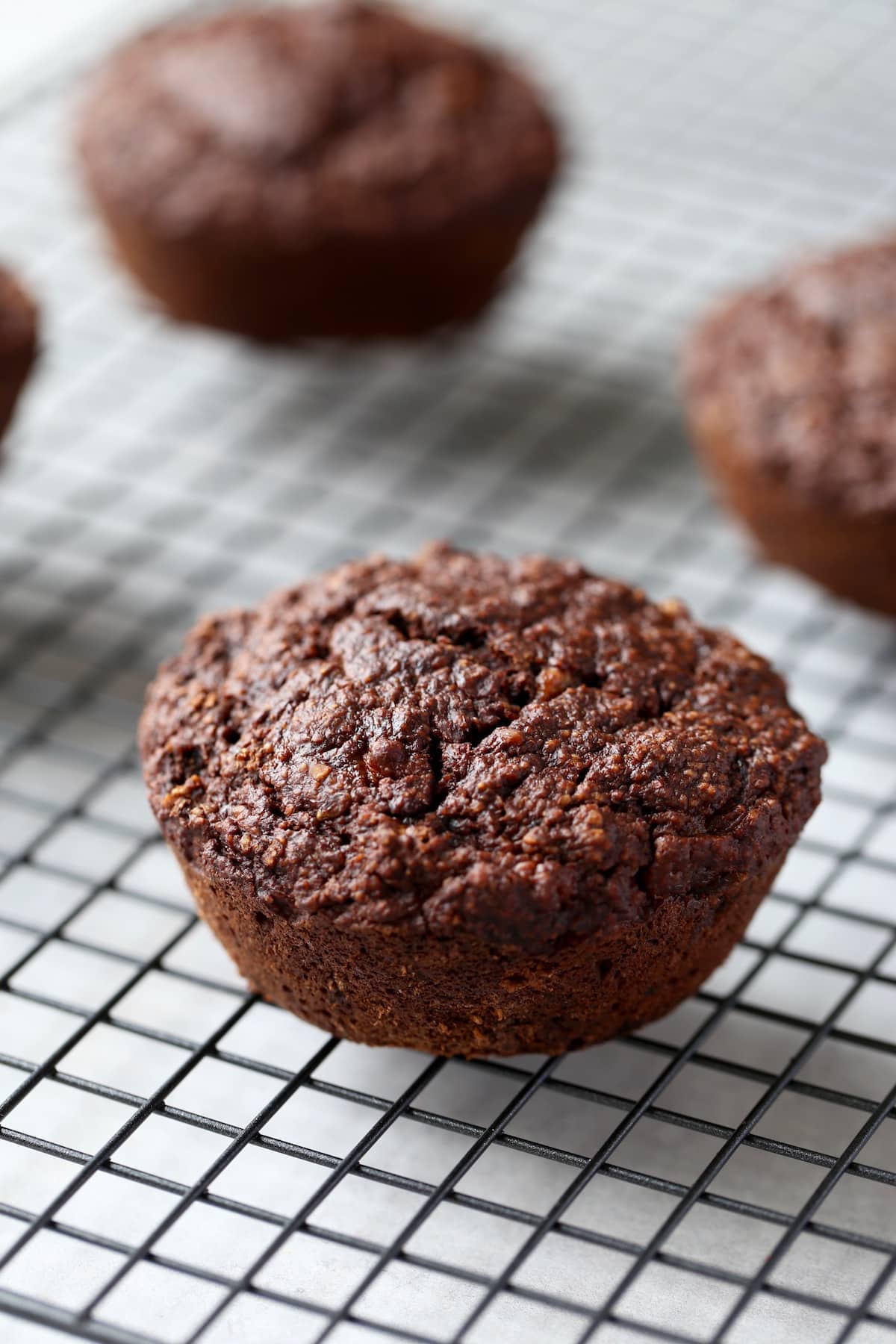 How to make oat flour
Like I mentioned earlier, the base of these muffins is made with oat flour. Don't go buy oat flour people. Just make it at home! It's waaaaaay cheaper and couldn't be easier to make. All you have to do is place oats (rolled, quick or instant) into a food processor or high speed blender and process until a fine flour forms. I find processing about 2-3 cups of oats at a time is best. Also because oats aren't fatty like nuts, you don't have to worry about the oats forming a paste or butter. You can just let your machine do the work until a flour forms. 
How to make almond flour
This recipe also calls for a small amount of almond flour. I also make my almond flour at home and find it cheaper than buying store bought. All you need is raw, slivered or blanched almonds. In a food processor, place 1 cup of almonds into the bowl and pulse the almonds–scraping down the sides of the bowl often–until a flour forms. Scraping down the sides of the bowl is important as it keeps the almonds from turning into almond butter. Using a food processor to make almond flour should only take about one minute of pulsing. Additionally, you can also use a high speed blender to make almond flour. It requires about half of the time as a food processor. You will just want to set the speed of your blender to 2 0r 3 and pulse the almonds for only 30 seconds or so, or until a flour forms. 
Other chocolate muffin and quick bread recipes
I've posted quite a few chocolate muffin and quick bread recipes on the blog so be sure to check them out! Many of them are like these chocolate breakfast muffins, in that they can be made ahead of time and stored in the fridge until you're ready to enjoy them!
Double Chocolate Vegan Banana Bread
Vegan Chocolate Banana Muffins with Pecan Streusel
Oil-Free Vegan Double Chocolate Jumbo Muffins
Double Chocolate Black Tahini Banana Muffins
---
Healthy chocolate breakfast muffins photos
Okay, without further ado, lets get to the recipe for these chocolate breakfast muffins! Please let me know if you give these muffins a try. Leave a comment down below, rate the recipe and be sure to share it with your other chocolate-loving-friends!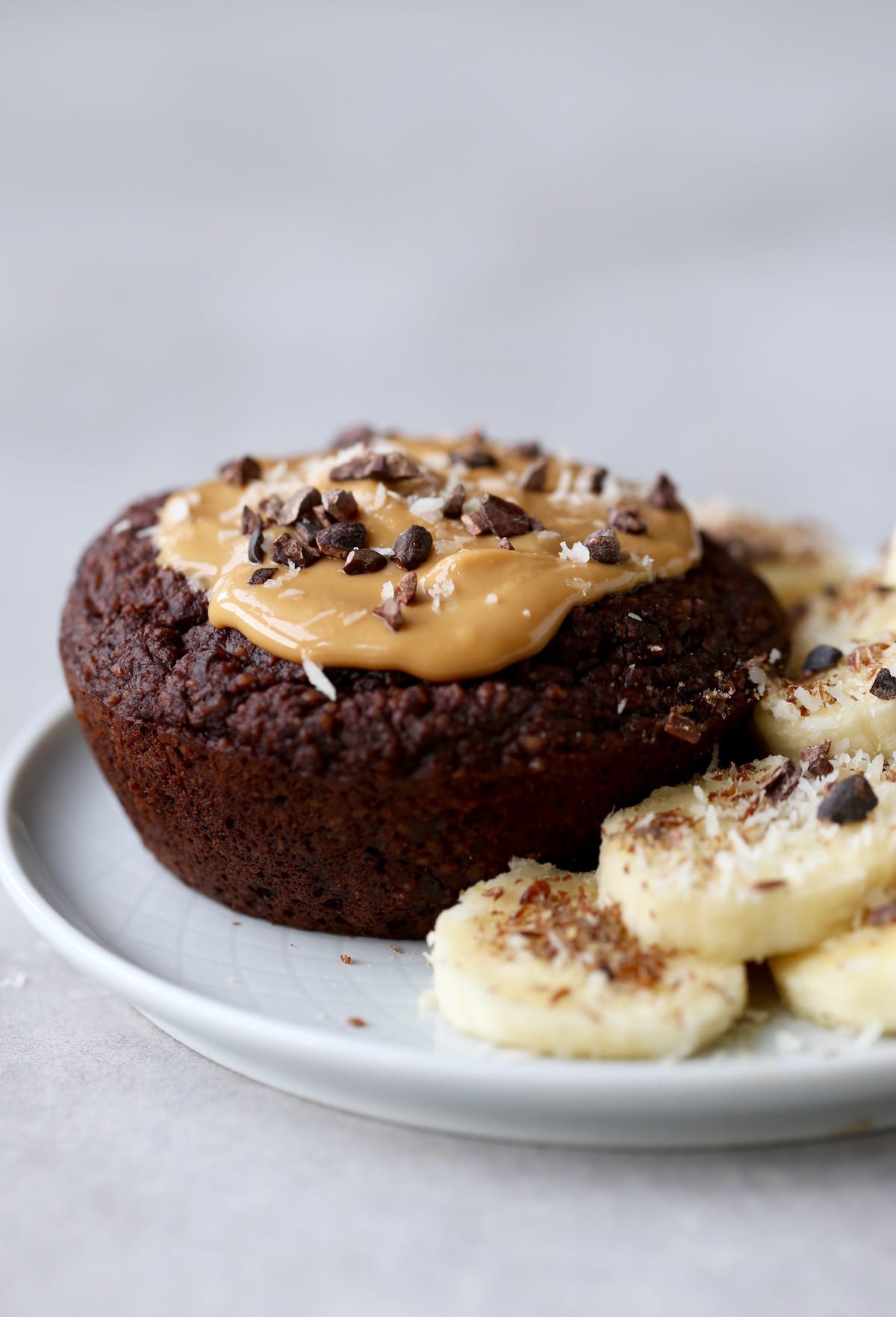 Healthy Chocolate Breakfast Muffins (V + GF!)
Made with a base of whole grains and naturally sweetened, these healthy, jumbo Chocolate Breakfast Muffins are an awesome way to start your day!
Ingredients
2 flax eggs (6 tablespoons warm water + 2 tablespoons ground flaxseed)
1 cup mashed banana (about 3 super ripe bananas)
1/2 cup non-dairy milk
1/4 cup maple syrup
1/4 cup coconut oil
1 teaspoon vanilla
1 teaspoon baking powder
1 teaspoon baking soda
1/4 teaspoon salt
1 3/4 cup oat flour
1/2 cup almond flour
Optional: 1-2 handfuls dairy free chocolate chips
Instructions
Preheat your oven to 350 degrees and grease 6 jumbo muffin cups or ramekins* with oil or cooking spray.
Prepare your flax eggs by whisking together 2 tablespoons of ground flaxseed with 6 tablespoons of warm water. Set the mixture aside to thicken.
I usually just make this recipe using one bowl. So in a large mixing bowl, stir together all of the wet ingredients, from the mashed banana to the vanilla. Add in the thickened flax egg and combine.
Add the remaining dry ingredients into the wet ingredients and stir until just combined.
Divide the batter evenly among your 6 prepared muffin cups.
Bake the muffins for about 30 minutes or until set and a knife inserted into the center comes out clean.*
Allow the muffins to cool for awhile in the pan before removing and allowing them to cool the rest of the way on a wire rack.
Store in an airtight container in the fridge for up to 3 days.
When ready to eat, reheat a muffin and pair it with your favorite nut butter, fruit, etc.
Notes
*I haven't tried it yet, but I'm sure you can bake these muffins in standard muffin cups. You will just want to decrease the baking time. My guess would be to bake them for around 18-22 minutes!
Recommended Products
Nutrition Information
Yield

6
Serving Size

1 muffin
Amount Per Serving
Calories

466
Total Fat

21g
Saturated Fat

9g
Trans Fat

0g
Unsaturated Fat

8g
Cholesterol

2mg
Sodium

398mg
Carbohydrates

58g
Fiber

10g
Sugar

15g
Protein

13g
Nutrition information is a rough estimate provided by Nutrionix and should be used for informational purposes only.