Today I'm sharing a few easy and delicious ways to add vegetables to your oatmeal. You can't taste the veggies, but they add bulk and nutrition!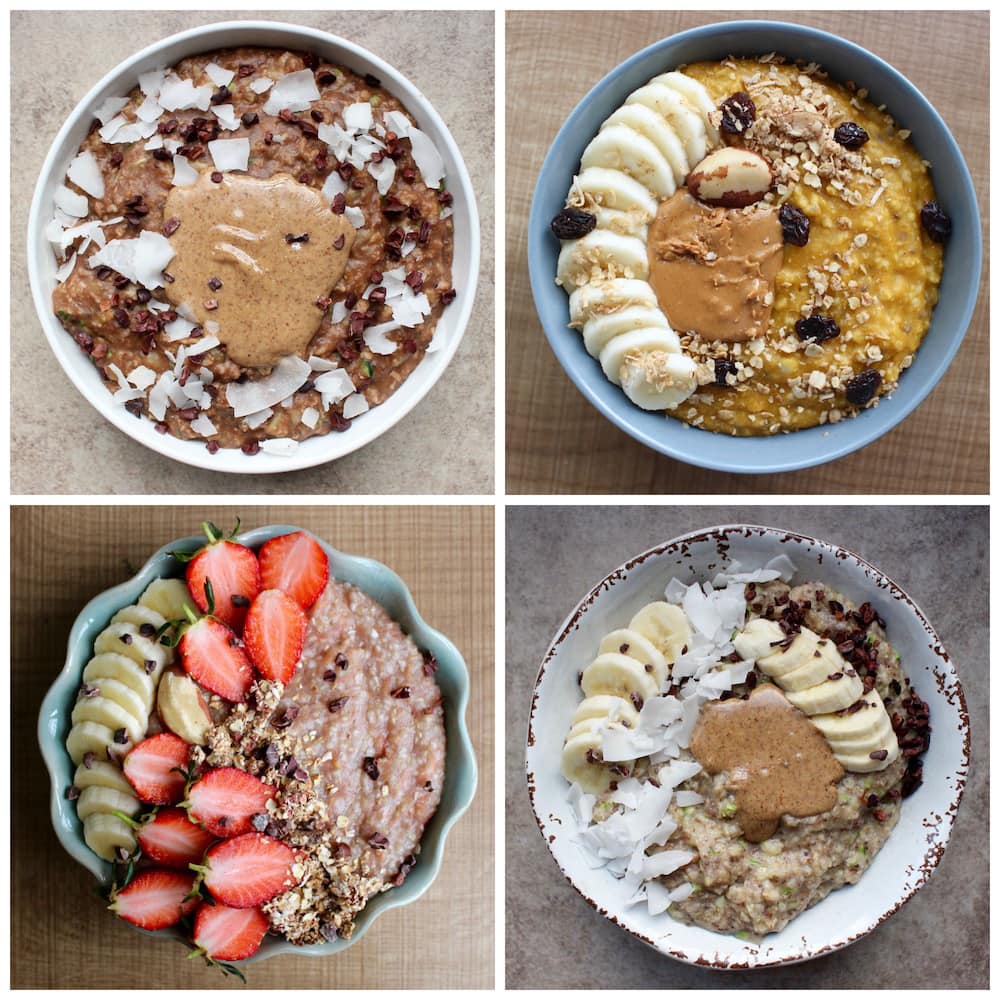 Jump To
I've been adding vegetables to my sweet breakfasts for years now. Recipes like these vegan zucchini bran muffins, zucchini bread baked oatmeal, carrot cake baked oatmeal and even my stovetop oatmeal. Yes. Vegetables in oatmeal. It's a thing and it's delicious!
And I'm not talking savory bowls of oatmeal.
While I'm sure there are some delicious savory oatmeal recipes, today I'm going to show you how I add veggies to sweet oatmeal.
We're talking zucchini, pumpkin, carrots and even cauliflower!
Let me walk you through my tips and tricks on how to add veggies to your oatmeal.
Why I Add Vegetables to My Oatmeal
Some reasons I personally love adding vegetables to my oatmeal are:
They add volume: I love to eat large portions
They add micronutrients: not a lot, but I'll take a little somethin' something'
I can't taste them (so why not!)
They add fiber: which helps keep me fuller for longer
Sometimes I like a simple, classic bowl of oatmeal, but most days I choose to add veggies to my oatmeal and I'm guessing I'll continue to do this for the foreseeable future!
I hope, however, that this doesn't make you feel like you have to add vegetables to your oats.
You do you!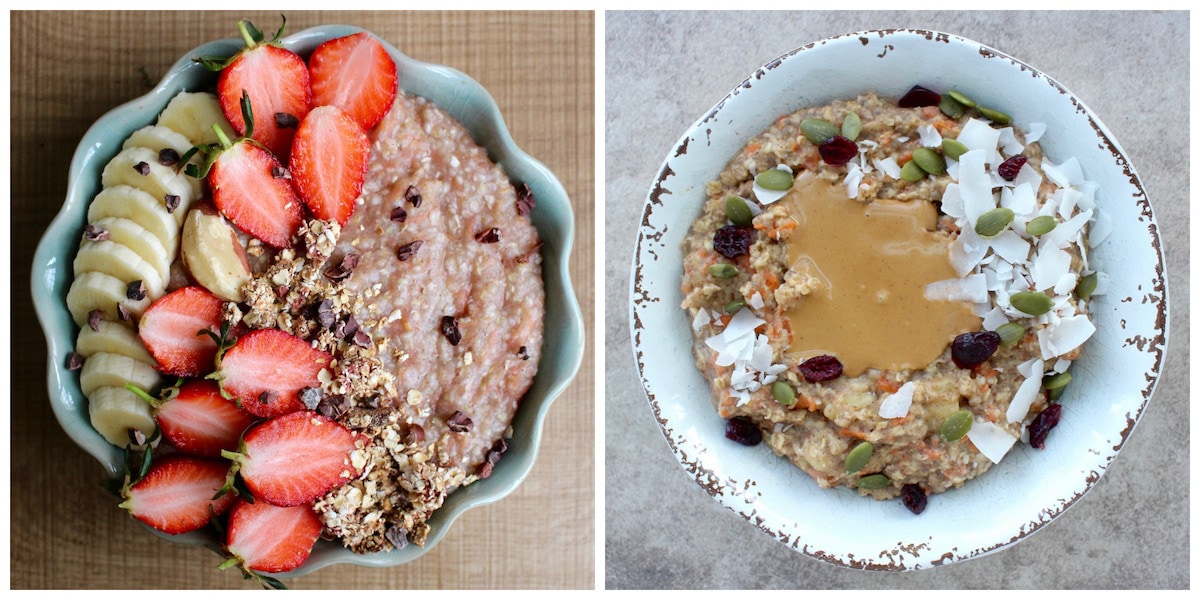 Which Vegetables Taste Good in Oatmeal?
An important decision to make when adding vegetables to your oatmeal is deciding which vegetables to add and how to prepare them.
I like to use flavorless or sweeter vegetables, such as:
Zucchini (raw and shredded)
Carrots (raw and shredded)
Pumpkin (cooked and pureed)
Sweet potato (cooked and pureed or mashed)
Beets (cooked and pureed)
I find zucchini to be practically flavorless and I probably use it most often. If the thought of zucchini in your oatmeal weirds you out, just think of it as zucchini bread!
Carrots are similar to zucchini in that they are sweeter and mimic carrot cake.
Sweet potatoes, pumpkin and beets are great to add to oatmeal as well, but these veggies I usually use after they've have been cooked and pureed.
How Do I Prepare Vegetables for Oatmeal?
Pureed pumpkin or squash out of a can is ready to be used as is.
However, when it comes to vegetables like zucchini and carrots it's important to prepare them correctly so that you don't feel like you're eating vegetables with every bite you take.
When first starting out, add a small amount of the vegetable, maybe about ¼ cup.
Later, as you get used to veggies in your oatmeal, you can add more!
Pro Tip: I've discovered that I love to shred my vegetables (when using carrots or zucchini) and then mince them so that the size of the vegetables mimics the size of oats.
I hate having long strings of vegetables in my oatmeal! Yuck!
When using zucchini, you can also start out by peeling off the green skin so that it blends in with the oatmeal better.
I'm at the point now where I probably add ½ - 1 cup's worth of shredded vegetables.
Below are some images that I shared on my Instastories that show how I prepare my zucchini for zoats (aka zucchini oatmeal!)
How Can I Sweeten Oatmeal Naturally?
In all of the recipes below, I use mashed banana to sweeten my oatmeal.
I love using natural sweeteners, especially at breakfast, because I get the fiber along with the sugar.
Some other great options if you don't like banana are maple syrup, Homemade Date Paste, chopped-up dried fruit, coconut sugar, etc.
How to Make Oatmeal with Vegetables
Making oatmeal with vegetables isn't much different than making traditional oatmeal.
STEP 1: Start by stirring your oats, ground flaxseeds, chia seeds, a pinch of salt and whatever spices you want together in a sauce pan.
STEP 2: Add in your prepared vegetables (either shredded or pureed), a sweetener and 1 cup of liquid.
STEP 3: Using a wooden spoon, stir this mixture constantly over medium low heat until the oatmeal thickens.
If you need to, you can always add more liquid!
STEP 4: Pour the hot oatmeal into a bowl and add whatever toppings you desire!
The Best Oatmeal Toppings
In my opinion, oatmeal is just a vessel for ALL the toppings!
Even when you add veggies to your oatmeal, you can still top your oats with a variety of toppings.
I'll list out my favorites below:
Fresh, frozen, or dried fruit
Nut/seed butters
Chopped nuts and seeds
Jams and jellies
Granola
I personally love to add some fat and crunch to my oatmeal to help keep me satisfied for longer!
My 3 Favorite Vegetable Oatmeal Recipes
In the recipe card below, I'll share three of my go-to veggie-filled oatmeal recipes:
Chocolate Zoats (Zucchini Oats)
Carrot Cake Oatmeal
Pumpkin Pie Oatmeal
I hope you use these recipes as templates to experiment and find what works for you!
📖 Recipe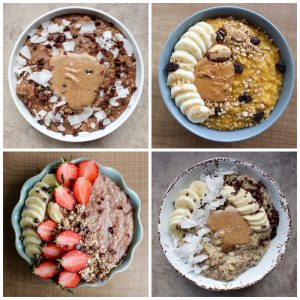 How to Add Vegetables to Your Oatmeal
Start your day with veggies by using these simple tips and tricks on How to Add Vegetables to Your Oatmeal!
Ingredients
Instructions
In a sauce pan, mix together the base oatmeal ingredients including the oats, ground flaxseed, chia seeds, and a pinch of salt.

Next add in spices, veggies and sweetener from whichever flavor you are preparing. Also add in the liquid, starting with just 1 cup. Stir well.

Heat everything over medium heat, then reduce the heat to low and cook until thick, stirring often to keep things from sticking to the bottom of the pan.

If you chose to use the ground

flaxseed

and

chia seeds

, you'll get a thick oatmeal fairly quickly, so feel free to add more liquid if needed to get your desired consistency.

Once the oatmeal has thickened to your liking, pour everything into a bowl and top with whatever toppings you like!
MICROWAVE OPTION:
If you are cooking the oats in a microwave, start by mixing all of the dry ingredients together in a bowl, including the oats, flaxseeds, chia seeds, salt and spices. Then add in the vegetables, mashed banana and liquid and mix again until a uniform mixture forms. Microwave on high for 1 minute. Stir the oats and then continue to microwave for 20-30 second intervals, watching closely, until the oats reach your desired thickness.
Notes
*The ground flaxseed and chia seeds are optional, but I like the thickness and nutrition they provide!
Nutrition is for Base  + Chocolate Zucchini
Nutrition
Calories:
338
kcal
Carbohydrates:
64
g
Protein:
11
g
Fat:
9
g
Saturated Fat:
2
g
Polyunsaturated Fat:
4
g
Monounsaturated Fat:
2
g
Trans Fat:
0.01
g
Sodium:
29
mg
Potassium:
915
mg
Fiber:
14
g
Sugar:
17
g
Vitamin A:
202
IU
Vitamin C:
21
mg
Calcium:
98
mg
Iron:
4
mg