Using just a few easy steps, toasted pecans and sea salt are blending together to create this rich and decadent Homemade Pecan Butter!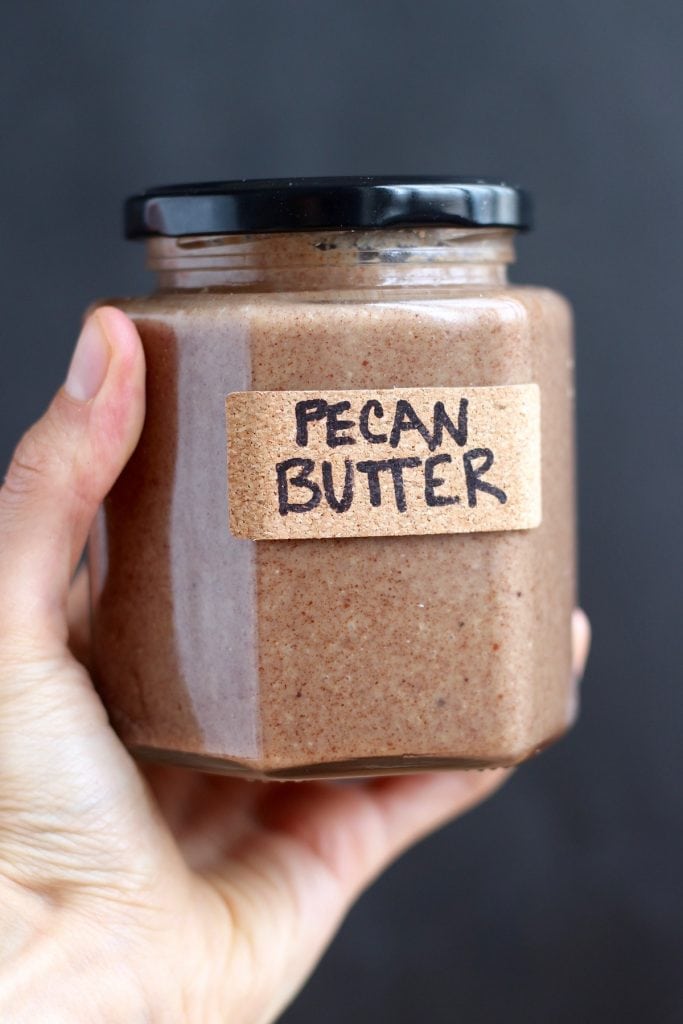 Homemade Pecan Butter Ingredients
Making my own pecan butter was inspired the ingredient list of Georgia Grinder's pecan butter:
pecans
sea salt
With just two ingredients, I figured it couldn't be too hard to make my own pecan butter and I was right!
How long does it take to make pecan butter?
With my Vitamix, the amount of time I had to be involved in making this pecan butter was less than 10 minutes.
I started by toasting the pecans in the oven until fragrant, which only takes 5 minutes. Then I blended them in my Vitamix with some sea salt until this drippy, smooth Homemade Pecan Butter was created. YES!
Now I'm back to enjoying my 1 tablespoon a day every morning at breakfast. That one tablespoon is the perfect amount too, as pecan butter tastes so rich and decadent.
Can you make pecan butter in a food processor?
If you don't have a Vitamix, don't worry! You can easily make this homemade pecan butter (or any nut butter for that matter) in a food processor. It just takes a little more time to do so.
Other Nut Butter Recipes
Since we're on the topic of nut butter, I figured now would be a good time to share some of my favorite nut butter recipes below. Check them out!
Chewy Almond Butter Date Granola Bars
Almond Butter Toast with Sautéed Cinnamon Peaches
Almond Butter Coconut No Bake Cookies
Vegan Almond Butter Soba Noodles with Tofu
Peanut Butter Coconut Granola Bars
Vegan Peanut Butter Blossom Cookies
Peanut Butter Pretzel Cookie Dough Balls
Vegan Chocolate Peanut Butter Oatmeal Scones
---
How to Make Homemade Pecan Butter
Follow the steps below to make your very own pecan butter! (And save lots of money in the process)
Step 1: Spread the raw pecans onto your lined baking tray and toast in the oven for about 5 minutes.
Step 2: Blend the pecans and sea salt in your high speed blender or food processor until a smooth nut butter forms.
Step 3: Store your pecan butter in a sealable glass jar in the fridge.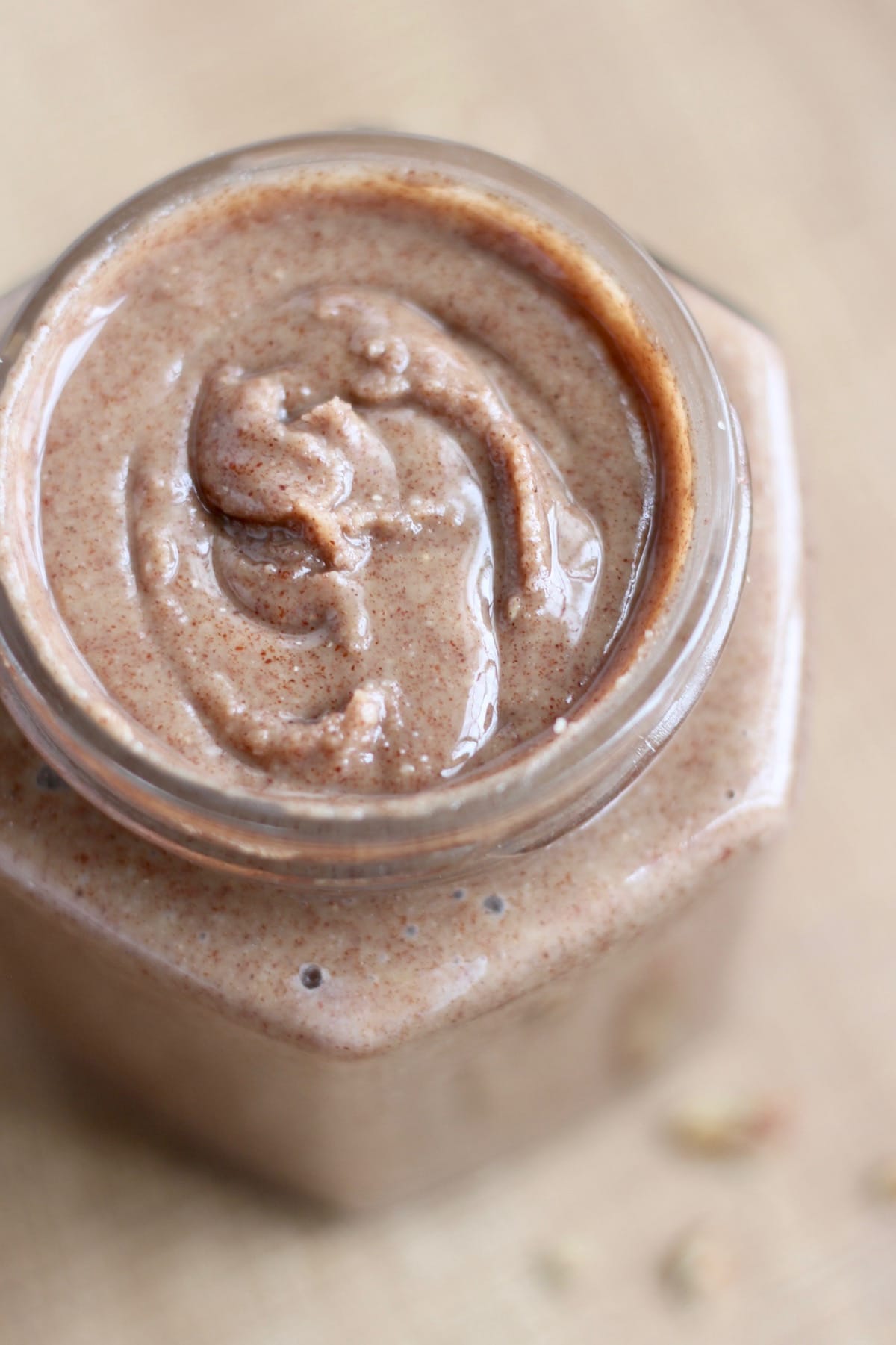 Step 4: Enjoy your homemade pecan butter on all the things or by the spoonful!
Yield:

4 cups
How To Make Homemade Pecan Butter
Using just a few easy steps, toasted pecans and sea salt are blending together to create this rich and decadent Homemade Pecan Butter!
Ingredients
4 cups raw pecans
¼ - ½ teaspoon fine sea salt*
Instructions
Preheat your oven to 350℉ and line a baking tray with a silicone baking mat or parchment paper.
Spread the 4 cups of raw pecans evenly on your baking tray and toast the pecans for 4-6 minutes or until fragrant. Watch them closely as you don't want them to burn!
Once toasted, allow the pecans to cool.
(Using a Vitamix) Place the cooled, toasted pecans and sea salt into your Vitamix and, after gradually increasing the power to high, use the tamper to press the pecans into the blades until a smooth, creamy pecan butter forms. This takes less than 1 minute for me and I never do this longer for 1 minute to make sure I don't overheat my Vitamix.*
(Using a Food Processor) Place the toasted pecans and sea salt into a quality food processor and process on high for 5-20 minutes, depending on the strength of your food processor, until a shiny, smooth nut butter forms. You will need to stop the processor every few minutes to scrap down the sides of the bowl.
Store the Homemade Pecan Butter in a sealed glass jar in the fridge!
Notes
*We love using about ½ teaspoon of sea salt when making this homemade pecan butter, but if you like things less salty, start with just ¼ teaspoon.

**It always scares me to use my Vitamix to make nut butter, but when done correctly you shouldn't have any issues. I like to set a timer for 1 minute before I begin so that I make sure to stop before overheating my blender. You first increase the speed to 10 then flip the power to high and then use the tamper to continually press the nuts into the blades. It will be loud and scary, but just keep pressing the nuts into the blades using the tamper. As soon as the pecans are all blended (sometimes the blades make a "catching" noise) I turn my blender off.
Nutrition Information
Yield
32
Serving Size
2 tablespoons
Amount Per Serving
Calories

90
Total Fat

9g
Saturated Fat

1g
Trans Fat

0g
Unsaturated Fat

8g
Cholesterol

0mg
Sodium

33mg
Carbohydrates

2g
Fiber

1g
Sugar

1g
Protein

1g
Nutrition information is a rough estimate provided by Nutrionix and should be used for informational purposes only.