Sweetened with dried fruit and full of healthy fats, these easy Mango Coconut Energy Bites are both mom and kid approved!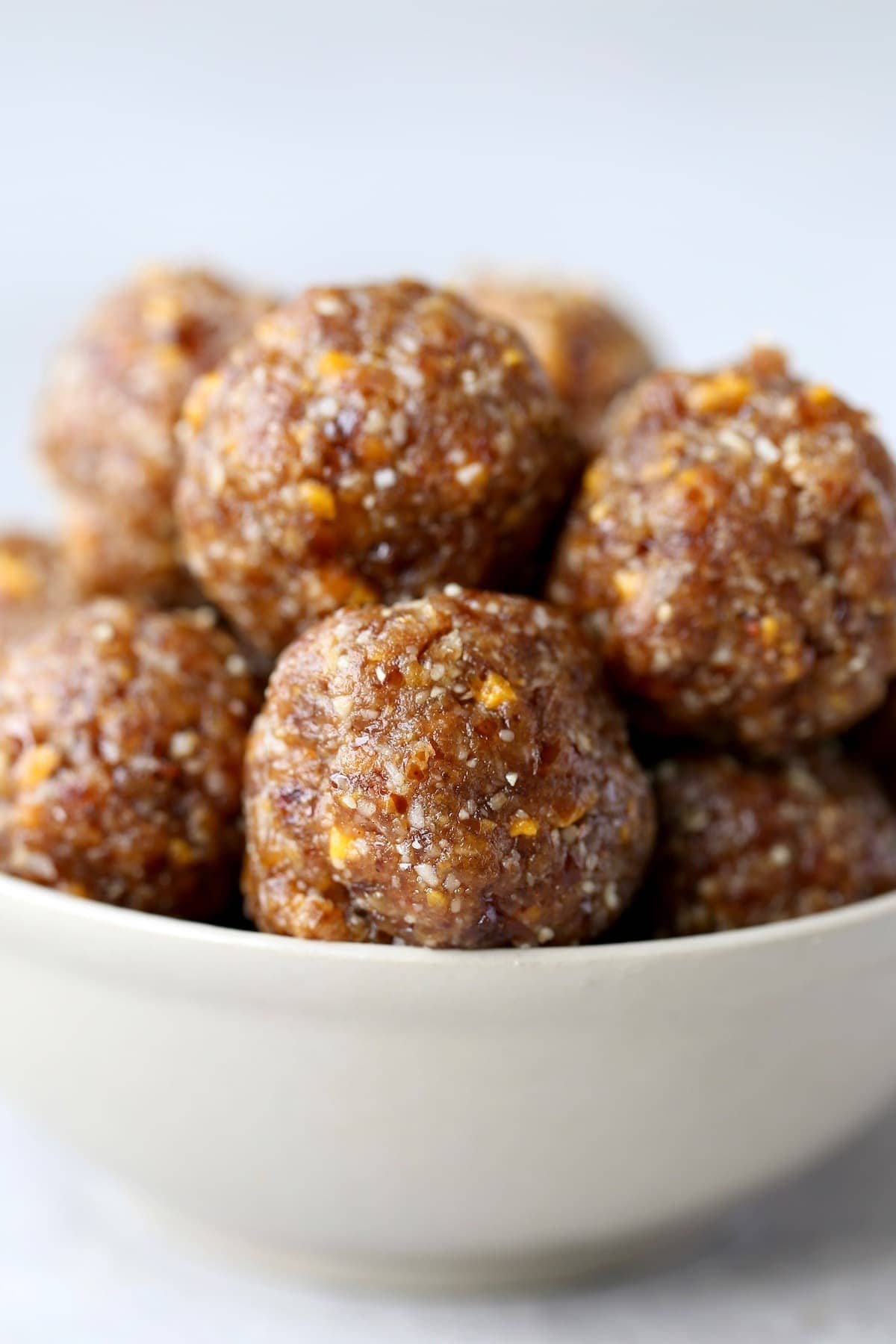 It has been so fun to see the recipes on my blog evolve as both I and my family evolve. When I first started posting on this space, many of my recipes served just one (me!) as I was mostly experimenting with different plant-based breakfast recipes. Then I started posting the recipes I was cooking for both Brett and me, either dinner or brunch recipes from the weekends. After a few years of blogging, I started transitioning to sharing only well tested recipes that both Brett and my friends enjoyed. Now here I am with a little daughter sharing not only recipes my husband and friends like, but also recipes suitable for toddlers too. So cool! 
Energy Bites: The Perfect Snack For Toddlers
As I've mentioned in past posts, Harper eats what we eat. It makes my life so much easier to cook one meal for all of us and I love exposing her to a wide variety of foods and cuisines. Harper and Brett are both snackers as well, so I love having healthy snacks on hand for them to enjoy throughout the day.
Currently our go-to snacks are fruit, homemade popsicles and of course, energy bites! Energy bites are not only Harper's favorite snack, but I'm pretty sure they are currently her favorite food. She asks for them often (I've started limiting her to one a day!) and whenever I ask if she wants a bite, she'll grin and start walking towards the fridge while saying, "Bite! Bite! Bite!"
They also are super handy whenever we go out to eat as a family. If our food is taking a while to be served, I'll often give Harper a bite to tide her over and to keep her happy while she has to sit semi-still in a restaurant. Works like a charm every time!
What Are Energy Balls? 
If you're new to the amazingness of energy bites, you may get confused as there are so many different names for them. Some of the most common names are energy balls, energy bites, power balls, protein balls, and bliss balls. They're all similar in that they are basically granola bars in ball form. However, while granola bars can be both chewy and crunchy, energy bites are often only chewy or soft las the ingredients need to stick together in ball form. This makes them perfect for little ones who don't have many teeth. As a mom I especially love energy bites because they are easy to make, they last a long time in the fridge, they travel well and are easily adaptable so you can constantly be trying new flavor combinations. 
Energy Bites Ingredients
Energy bites are so versatile and I find that the recipes often fall into one of two categories. There are dried fruit and nuts ones (kind of like Larabars) and there are nut butter and oatmeal ones. The energy bites made with dried fruit and nuts often have to be made in a food processor as the ingredients need to be broken down into a sticky dough. The nut butter and oatmeal ones (like this recipe, just in ball form!) can simply be made by mixing all of the ingredients together in a bowl. You can get so creative with energy bite recipes using various dried fruits, nuts and seeds, nut butters, spices and add-ins. The possibilities are endless!
Other Energy Bite Recipes
As energy bites are so versatile, I already have lots of different recipes for them on my blog. Be sure to check out the different energy bite recipes below and let me know which flavor combination is your favorite!
Cinnamon Oatmeal Cookie Dough Balls
Peanut Butter Pretzel Cookie Dough Balls
Homemade Mint Chip Brownie Lara Bar Bites
Check out the recipe video below and please let me know if you or your kiddos give these mango coconut energy bites a try. Leave a comment down below with your thoughts! And as always, be sure to rate the recipe, share it with friends and, if you take a photo, tag @theconscientiouseater on Instagram so I can see your creation!
Mango Coconut Energy Bites (Mom and Kid Approved!)
Sweetened with dried fruit and full of healthy fats, these easy Mango Coconut Energy Bites are both mom and kid approved!
Ingredients
1 cup walnuts
1/2 cup dried mango, chopped
1/4 cup shredded coconut
1/4 teaspoon cinnamon
1/8 teaspoon ground ginger
Pinch sea salt
Instructions
ENERGY BITES: Place the walnuts in a food processor and process until a course meal forms.
Add in the remaining ingredients and process until a sticky, uniform dough forms. The dough should be moist and hold together when pressed between your fingers. If it's still crumbly, process the ingredients a while longer.
STORE: Roll the dough into balls and store them in an airtight container in the fridge for 1-2 weeks.
Nutrition Information
Yield

12
Serving Size

1 bite
Amount Per Serving
Calories

136
Total Fat

6g
Saturated Fat

1g
Trans Fat

0g
Unsaturated Fat

5g
Cholesterol

0mg
Sodium

26mg
Carbohydrates

21g
Net Carbohydrates

0g
Fiber

2g
Sugar

17g
Sugar Alcohols

0g
Protein

2g
Nutrition information is a rough estimate provided by Nutrionix and should be used for informational purposes only.