Creamy chocolate hazelnut butter and dark cocoa combine together to form a rich and decadent dairy free Nutella Hot Chocolate!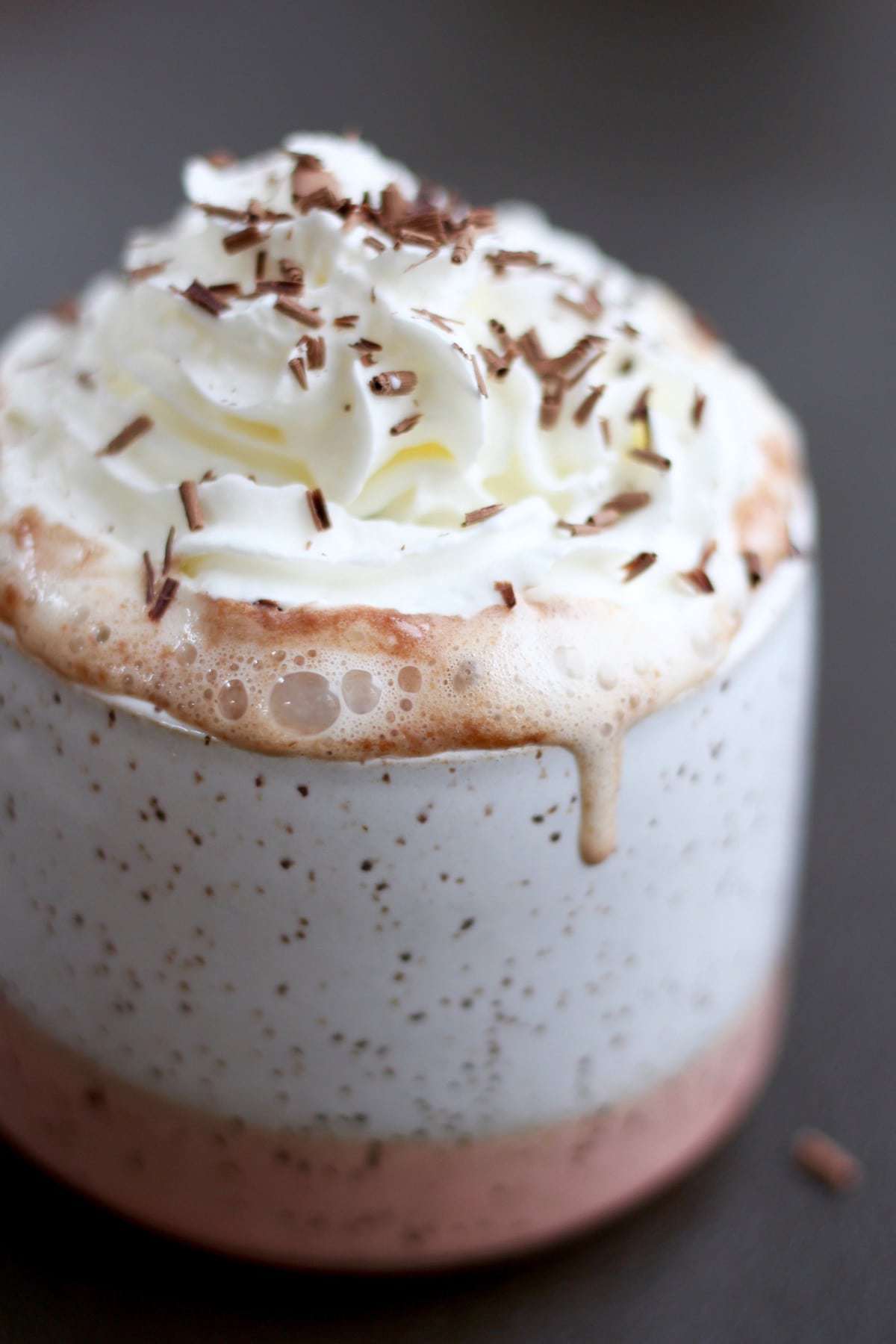 Having Harper in our lives has reignited my excitement for the holidays. Since getting married, Brett and I have had such transient lives that starting traditions has been hard. When I was a kid, however, I always looked forward to holiday traditions, especially Christmas traditions. The lights, the family time, the cookies and of course, the mugs of steaming hot chocolate after playing outside in the snow are all fond memories I have of the weeks surrounding Christmas.
Harper is currently–and will continue to be for a while–so excited about the little details of life and has reminded me of how much I love Christmastime. She LOVES christmas ornaments, especially bulbs. She kicks her legs with excitement whenever we enter the hustle and bustle of the shopping malls. She could look at Christmas lights for ages. And I'm sure, when I finally let her, she'll look forward to warm cups of hot chocolate paired with vegan Peanut Butter Blossoms just as much as I did as a kid…and still do actually! 
I've posted a fair share of dairy free hot chocolate recipes on the blog over the years, but this Nutella Hot Chocolate is especially delicious. Whisking dairy free, chocolate hazelnut spread into an already delicious cup of hot chocolate really does take it to the next level. There are quite a few brands of vegan, dairy free "Nutella" that you can use, but I personally love Justin's and Jem Organics chocolate hazelnut spreads. Of course, you also need to top your rich mug of hot chocolate with dairy free whipped cream or mallows and chocolate shavings add such a beautiful finishing touch. You can make the chocolate shavings by simply using a vegetable peeler to shave the side of a dark chocolate bar. You'll wow your friends and family serving a fancy, festive drink like this!
Vegan Hot Chocolate Recipes:
In case you're looking for a more classic hot chocolate recipe, check out the recipes below!
Homemade Cashew Milk Hot Chocolate
Healthy Dairy Free Hot Chocolate
I'd love to know if you give this simple Nutella Hot Chocolate a try! Be sure to leave a comment down below, rate the recipe and share it with others!
Help The World Eat More Plants!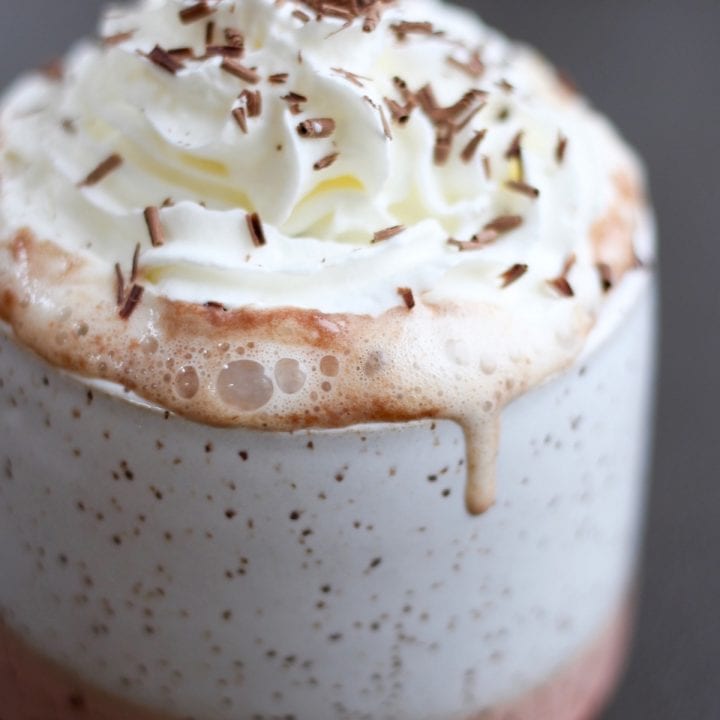 Nutella Hot Chocolate (Vegan!)
Creamy chocolate hazelnut butter and dark cocoa combine together to form a rich and decadent dairy free Nutella Hot Chocolate!
Ingredients
1 1/4 cup non dairy milk
1 1/2 tablespoon maple syrup
1 1/2 tablespoons dairy free chocolate hazelnut butter*
Pinch of salt
Optional toppingsnutella hot chocolate
Dairy free whipped cream, chocolate shavings, vegan marshmallows, etc.
Instructions
Place all of the ingredients into a blender and blend until smooth.
Pour the mixture into a sauce pan and heat over medium-low heat, whisking occasionally, until heated through.
Pour into a mug, top with dairy free whipped cream, marshmallows and chocolate shavings and enjoy!
Notes
*Jem Organics and Justin's both make amazing dairy free chocolate hazelnut butter!
This recipe can easily be doubled, tripled or quadrupled!
Nutrition Information
Yield

1
Serving Size

1
Amount Per Serving
Calories

522
Total Fat

29g
Saturated Fat

8g
Trans Fat

0g
Unsaturated Fat

19g
Cholesterol

28mg
Sodium

292mg
Carbohydrates

52g
Net Carbohydrates

0g
Fiber

4g
Sugar

43g
Sugar Alcohols

0g
Protein

17g
Nutrition information is a rough estimate provided by Nutrionix and should be used for informational purposes only.