Made with oat flour, chocolate protein powder and sweetened with banana, this single-serve, TikTok-famous, blended chocolate protein baked oats recipe will make you feel like you're eating a healthy dessert for breakfast!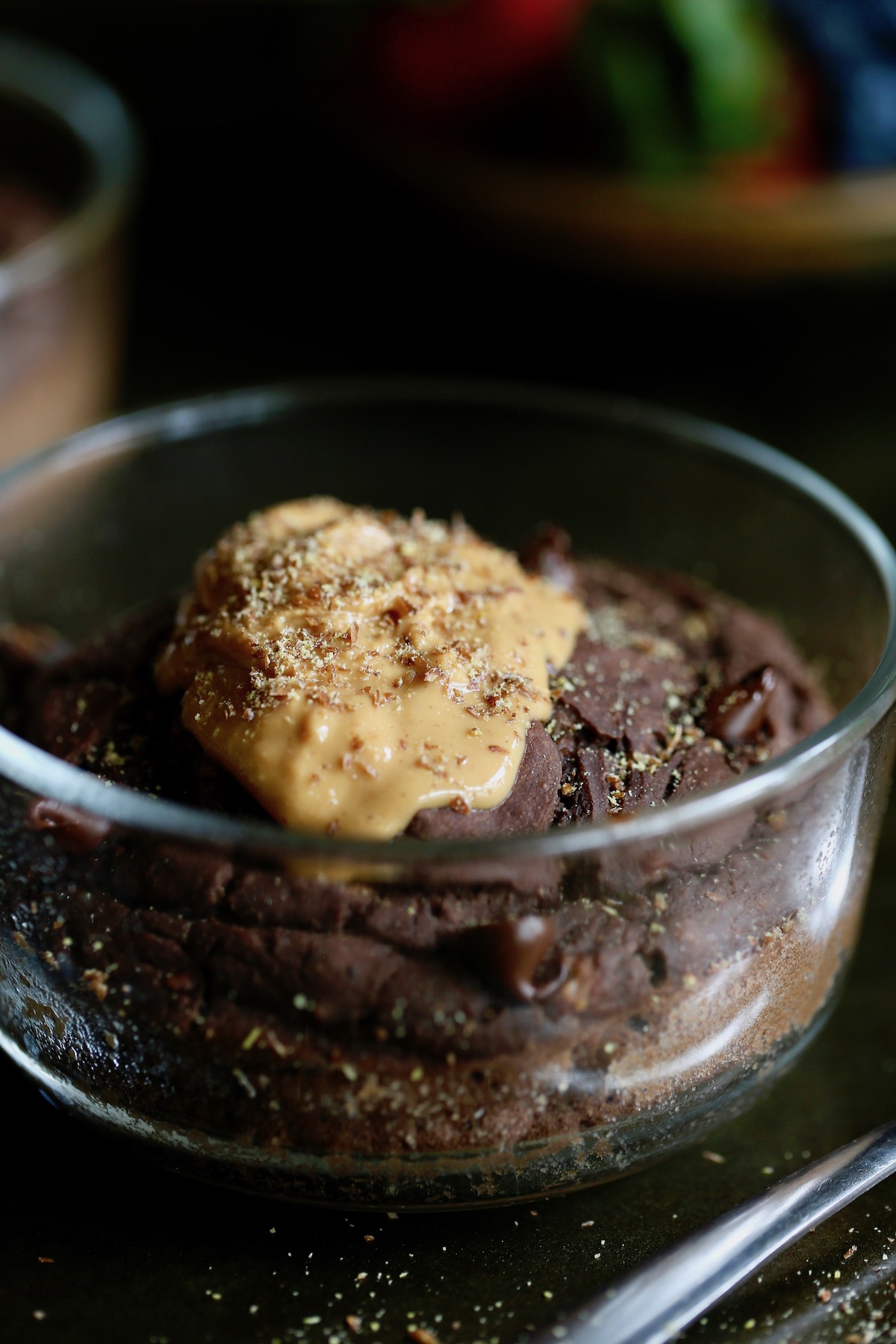 I eat something chocolatey for breakfast most mornings. Whether its some of this chocolate granola recipe with homemade almond milk, a thick slice of brownie batter baked oatmeal or today's recipe for Chocolate Protein Powder Baked Oatmeal, chocolate is my favorite way to start the day!
Oat Flour: a game-changer for protein baked oats!
We all know how much I love baked oatmeal. I make a single portion of vegan baked oats most morning for myself as well as a batch of baked chocolate oatmeal most weeks for my family.
However, I recently discovered blended baked oats and I've been eating them on repeat for the past couple months.
It's basically like eating chocolate cake for breakfast!
Yes, please!
While I don't have a TikTok account, I still recently became aware of the TikTok blended baked oats trend, which calls for using oat flour instead of rolled or quick oats to make your baked oatmeal.
Guys, it's a game changer!
I love to make my blended baked oats chocolate flavored (are we surprised?!) by using vegan chocolate protein powder and cacao powder.
I'll show you how to make this super simple, delicious chocolate protein baked oats recipe below!
Jump To
Ingredients
Like I mentioned above, I love to make a high protein version of the TikTok blended chocolate baked oats.
I love the flavor that the protein powder adds and I love the extra protein-boost it gives me first thing in the morning.
I'll list out all of the ingredients you'll need to make these vegan chocolate blended baked oats with protein below:
Variations
Sweetener: Add maple syrup or honey as a sweetener if the bananas don't provide you enough sweetness.
Nut Butter: Add your favorite nut butter to make it an ultra high protein recipe! Peanut butter, pecan butter, cashew butter, or homemade Nutella would all pair well!
Spices: Cinnamon fans can add a touch of cinnamon.
How to make homemade oat flour
If you have a blender at home (it doesn't even have to be a high-speed blender), I highly recommend making your own oat flour. It's easy, affordable and quick!
To make your own homemade oat flour, simply place rolled or quick oats into a blender or food processor and blend until a flour forms.
Store your homemade oat flour in an airtight container in the pantry for a few weeks.
If you don't want to make oat flour, you can also just blend quick oats or rolled oats with the remaining ingredients to create a cake-like batter!
What is the texture of baked oatmeal?
I have a ton of baked oatmeal recipes on my blog that use rolled oats.
Some of my favorites are my Vegan Brownie Batter Baked Oatmeal, this Maple Pecan Baked Oatmeal and my Make-Ahead Carrot Cake Baked Oatmeal.
Baked oatmeal using rolled oats has a slightly dry, chewy texture.
It's kind of like a soft, moist granola bar.
On the other hand, blended baked oatmeal using oat flour is a little bit more mushy or gummy in texture. So if you're someone who doesn't care for the texture of super ripe bananas or sweet potatoes, then you may want to stick to baked oatmeal using rolled oats.
Just keeping it real!
Instructions
This chocolate blended protein-baked oats recipe is incredibly easy to make. The hardest part will be waiting for the oats to bake!
To make this baked oatmeal recipe, simply follow the step-by-step instructions below:
Step 1: Preheat your oven to 350°F / 175°C and grease a 2 cup single-serve ramekin with cooking spray. Set it aside.
Step 2: In a mixing bowl, whisk together the oat flour, protein powder, cocoa powder, baking powder and salt.
Step 3: Add in the mashed banana and ⅓ cup of non-dairy almond milk. Stir well to combine. If the mixture is super thick, add in a little splash of almond milk.
Step 4: Pour the batter into your greased ramekin, top with some Cacao Nibs or dairy-free chocolate chips if desired, and bake the oats for 25-30 minutes or until set.
Step 5: Serve warm with your favorite toppings.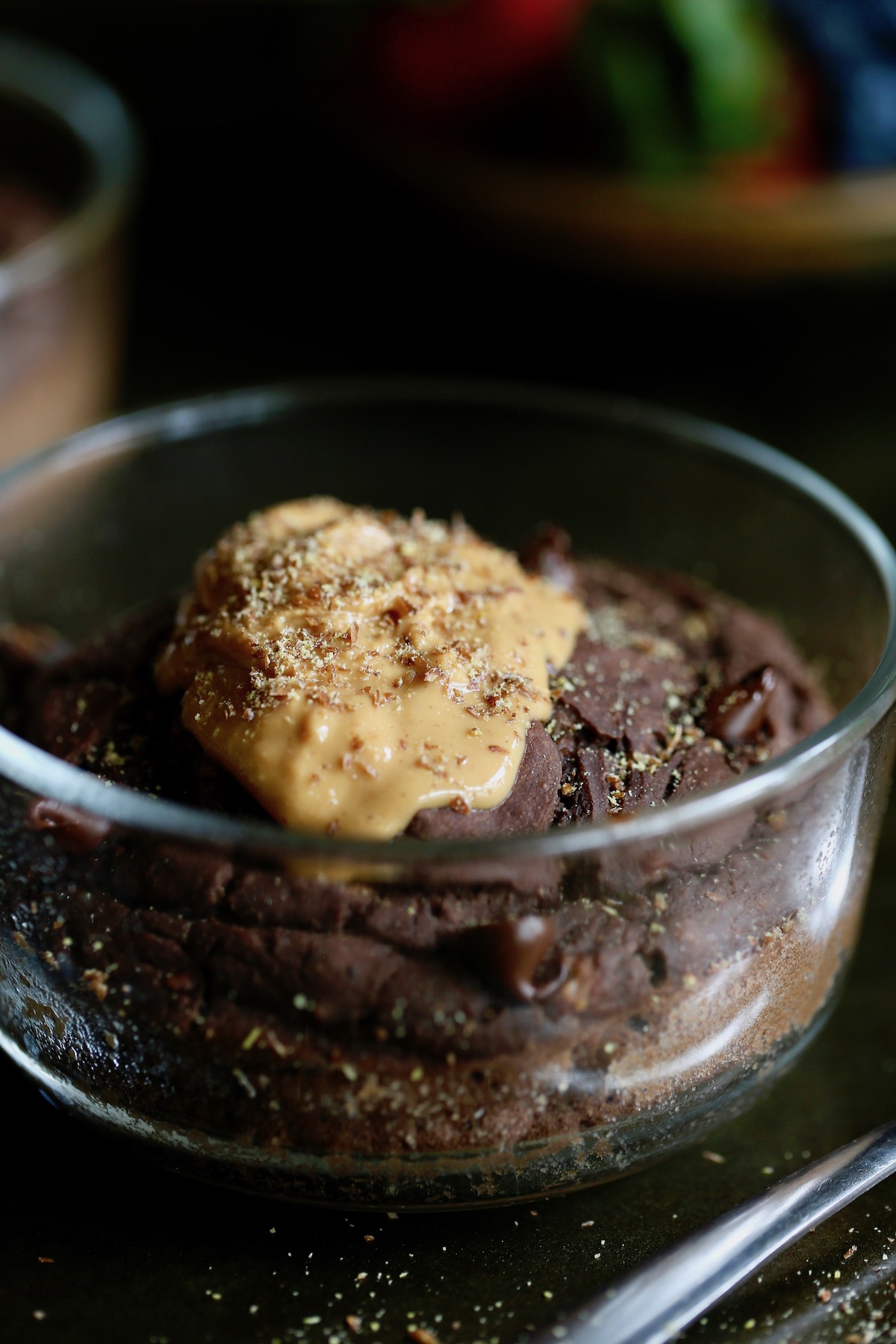 Nutrition
This is a packed recipe and will leave you full for hours! Whether or not this recipe is healthy for you is dependent on your health goals. This recipe is high in protein, high in fiber and relatively high in calories. It is also high in sodium and high in sugar.
See the nutrition facts in the recipe card for a nutrition estimate from Nutrionix.
How much protein do these baked oats have?
This protein baked oats recipe has 32 grams of protein per serving.
Are baked oats good for you?
Oats in general are a relatively good source of nutrients, including fiber, vitamins, and minerals. They also contain a type of soluble fiber known as beta-glucan, which has been linked to various health benefits.
Additionally, oats are a relatively low-calorie food and can help you feel full for a long time.
Health Benefits of Baked Oats
Baked oats are more easily digested due to the cooking process. This is especially beneficial for people with digestive issues.
Second, baked oats contain more antioxidants than regular oats. Antioxidants help to neutralize harmful toxins in the body and protect cells from damage.
Finally, baked oats have a lower glycemic index than regular oats, meaning they cause a slower rise in blood sugar levels. This makes them a good choice for people with diabetes or who are trying to regulate their blood sugar levels.
Can you meal prep blended baked oats?
I don't recommend meal prepping blended baked oats.
Blended baked oats taste best eaten not long after baking when they're still warm and fluffy. As the blended baked oats sit and cool, they become dense and gummy.
However, I find it super helpful to meal prep the dry ingredients for blended baked oats if you plan to enjoy them multiple times throughout the week. Simple combine all of the dry ingredients in a mason jar and seal the jar until you're ready to make your oats.
When you're ready for your oats, pour the dry ingredients into a mixing bowl, add in the mashed ripe banana and non-dairy milk and continue with the recipe as written.
You can make enough jars as you desire and it will help shave off some of the time it takes to prepare these blended baked oats.
📖 Recipe
Chocolate Protein Baked Oats Recipe
Made with oat flour, chocolate protein powder and sweetened with banana, this single-serve, TikTok-famous baked oatmeal recipe will make you feel like you're eating dessert for breakfast!
Notes
The texture of these baked oats is on the mushy, gummy side, so if that's not your thing, be sure to check out my other baked oatmeal recipes HERE!
I love to use Women's Best Vegan Chocolate Protein Powder, but any sweetened chocolate protein powder should work.
*I make my own oat flour by simply blending rolled or quick oats in a blender until they turn into flour.
Nutrition
Calories:
391
kcal
Carbohydrates:
63
g
Protein:
22
g
Fat:
9
g
Saturated Fat:
2
g
Polyunsaturated Fat:
3
g
Monounsaturated Fat:
2
g
Cholesterol:
18
mg
Sodium:
326
mg
Potassium:
736
mg
Fiber:
10
g
Sugar:
10
g
Vitamin A:
347
IU
Vitamin C:
11
mg
Calcium:
371
mg
Iron:
4
mg