Fluffy couscous, colorful crunchy veggies, and hearty chickpeas get coated in a simple lemon vinaigrette to create this delicious Simple Lemon Couscous Salad.
Jump To
We are a couscous loving family.
As a busy mom, I love it because it takes about 5 minutes to prepare!
As a family, we love it because it has the coolest texture (hello little fluffy balls!) and can be jazzed up in so many ways.
Today I'm sharing a simple lemon couscous salad recipe with you all, which I'm sure you're going to love!
Fluffy couscous, colorful crunchy veggies, and hearty chickpeas get coated in a simple lemon vinaigrette to create this delicious salad that you'll want to have in your fridge at all times.
Let me show you how to make it!
What is Couscous?
This might surprise you, but couscous actually isn't a grain or a seed like rice and quinoa.
Couscous is pasta!
To be precise, couscous is super tiny bits of pasta made from semolina and water which is then formed into tiny pieces of pasta.
How to Cook Couscous?
Because couscous is basically tiny pieces of pasta, it cooks very quickly. At least the instant couscous that you find at most grocery stores does.
To cook instant couscous, all you have to do is:
Bring 1 cup of water to a boil in a saucepan.
Next stir in 1 cup of couscous. You want the couscous and water to be in a 1-to-1 ratio.
Remove the saucepan from the heat, cover the saucepan and wait for five minutes.
After 5 minutes, remove the lid and fluff the couscous with a fork to break up the grains.
We obviously love couscous in today's lemon couscous salad recipe, but for a different flavor, try out this simple Moroccan Carrot and Raisin Couscous Salad recipe!
Should You Make Couscous with Broth or Water?
You can cook couscous in and kind of boiling liquid.
Boiling water works great when you're in a pinch, but I personally like to cook my couscous in vegetable broth as it adds a lot more flavor.
That's what you'll do to make today's couscous salad recipe as well!
Different Kinds of Couscous
There are three kinds of couscous, all of which are different and have different cooking times.
Moroccan Couscous - This type of couscous is the smallest and it's the kind I use in this simple lemon couscous salad. It also cooks the fastest!
Israeli Couscous - Sometimes Israeli couscous is called pearl couscous. It's larger and looks like little balls, or pearls!
Lebanese Couscous - Slightly larger than pearl couscous, this is the largest kind of couscous and therefore takes the longest to cook.
Ingredients You'll Need for Couscous Salad
To make this simple lemon couscous salad, you'll need the following ingredients:
Moroccan Couscous (or instant couscous)
Vegetable broth
Red bell pepper
Cucumber
Cilantro
Red onion
Lemons
Olive oil
Garlic
Salt and pepper
And that's it! Super simple, right?!
Simple Lemon Vinaigrette for Couscous Salad
The star of this recipe is the lemon vinaigrette that you'll pour overtop of the cooked couscous and chopped veggies.
To make the vinaigrette, simple add ½ cup of freshly-squeezed lemon juice, ¼ cup of olive oil, 2 pressed cloves of garlic, salt and pepper into a mason jar. Seal the jar and shake all of the dressing ingredients together well.
Voilà! You have a zesty, flavorful lemon vinaigrette that will turn a simple mixture of couscous and veggies into a light and flavorful, summer salad!
How to Make A Simple Couscous Salad
This salad really couldn't be easier to make.
Simply follow the step-by-step instructions below:
Cook the couscous in boiling vegetable broth.
While the couscous is soaking, chop up the vegetables and make the lemon dressing.
Once the couscous is ready, fluff it with a fork and pour it into a large mixing bowl along with the prepared veggies.
Pour the lemon vinaigrette overtop and stir well to combine. Taste and add more salt and pepper as needed.
Enjoy immediately or store the salad in an airtight container for later!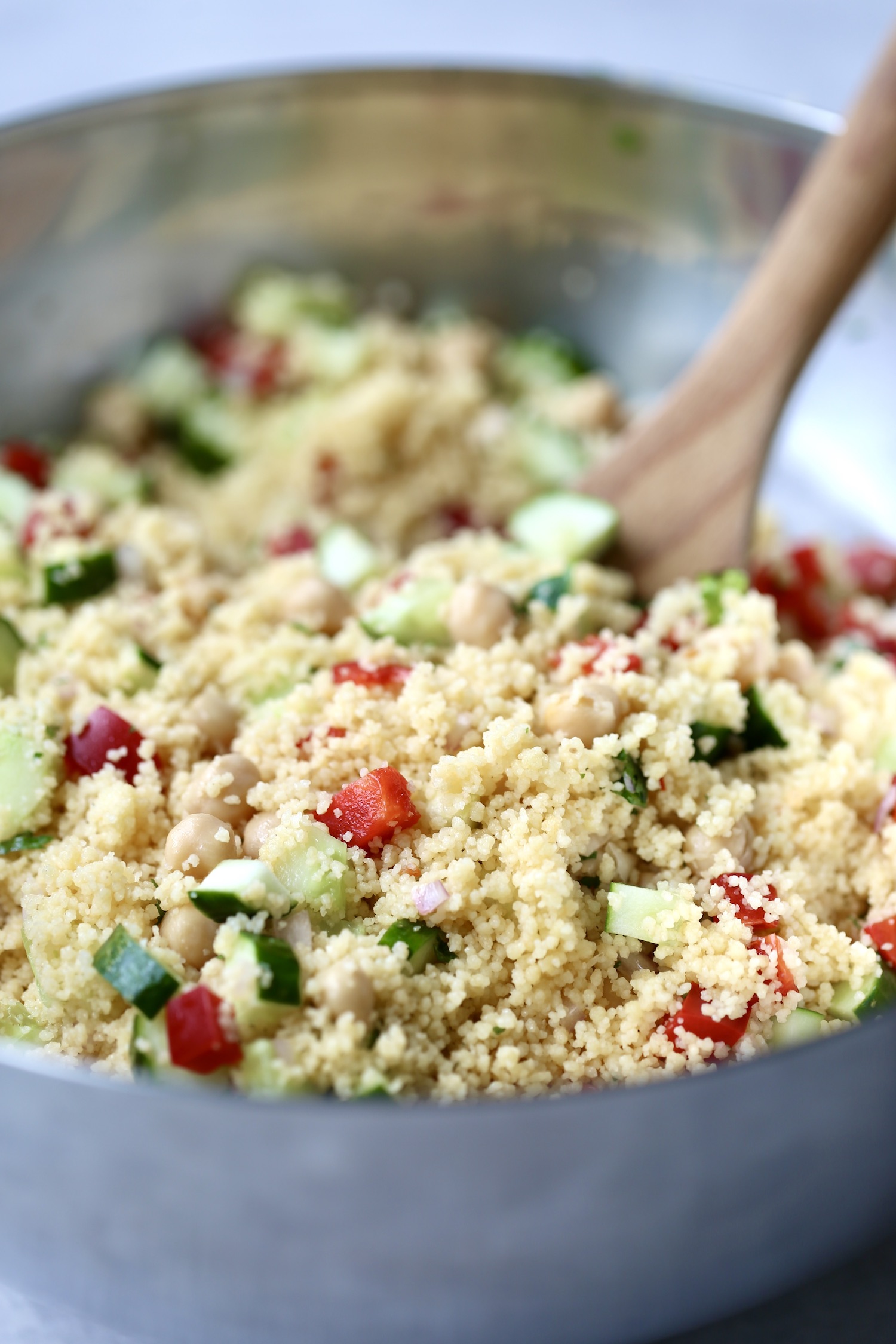 How to Store Leftover Couscous
Dried, uncooked couscous can be stored in an airtight container in a dark, cool place for months.
Once cooked, however, you can store the couscous in an airtight container in the fridge for 3-4 days.
This lemon couscous salad stores beautifully in the fridge as the lemon vinaigrette has more time to soak into the couscous, creating an even more flavorful salad on days 2, 3 and 4!
This couscous recipe is definitely great for meal prep!
📖 Recipe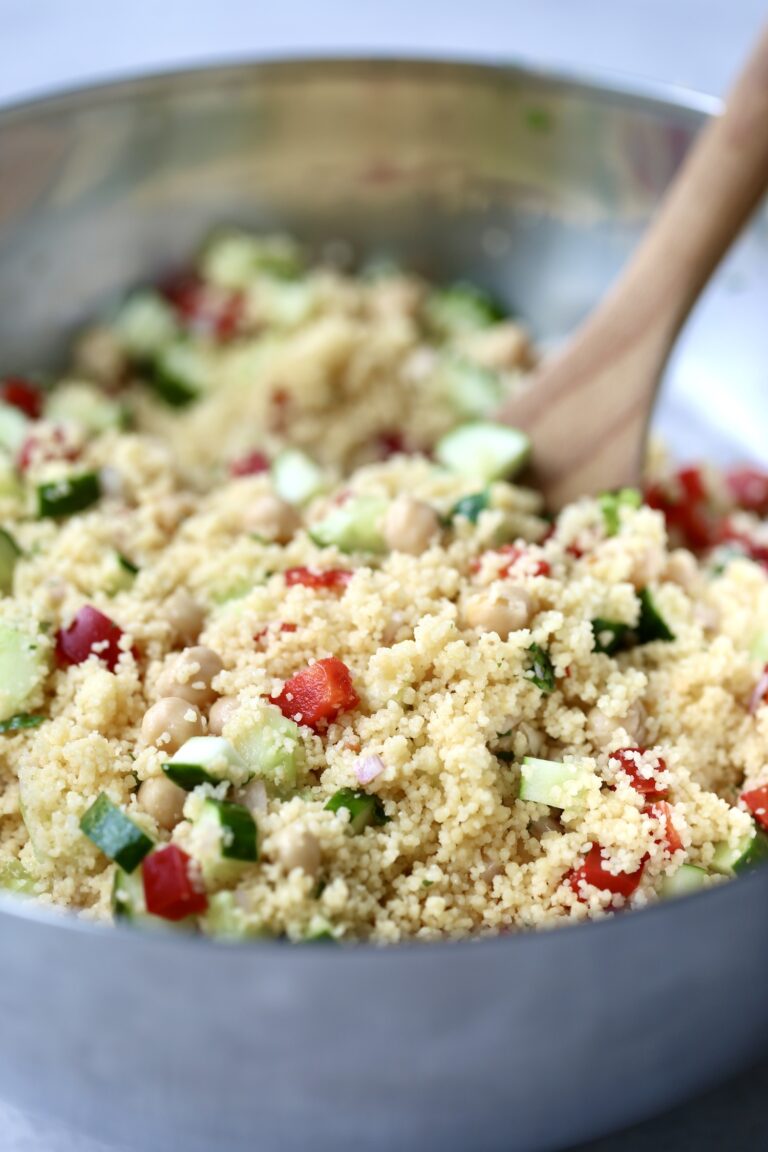 Yield:

8 servings
Simple Lemon Couscous Salad
Made with fresh vegetables and freshly squeezed lemon juice, this Simple Lemon Couscous Salad is the perfect side dish or entree for summer!
Ingredients
2 ½ cups vegetable broth
1 can Chickpeas, drained and rinsed
½ small red onion, finely chopped
1 red bell pepper, deseeded and chopped
1 large English cucumber, peeled and chopped
1 bunch Cilantro, minced
Lemon Vinaigrette
½ cup freshly squeezed Lemon juice
¼ cup olive oil (can omit to keep oil free)
2 cloves garlic, minced
Salt and pepper
Instructions
Bring the vegetable broth to a boil in a medium size saucepan. Once boiling, turn off the heat, add in the couscous, stir, cover, and let sit for about 5 minutes.
After about 5 minutes, use a fork to fluff the couscous.
While the couscous is cooking and cooling, drain and rinse the chickpeas and chop up all the vegetables.
To a mason jar, add all the lemon vinaigrette ingredients and shake well to combine.
In a large bowl, combine the fluffed couscous and chopped veggies. Pour the lemon dressing overtop and stir well to combine.
Add more lemon juice, salt, freshly ground black pepper and red pepper flakes to taste if desired.
Nutrition Information:
Yield:
8
Serving Size:
1
Amount Per Serving:
Calories:

138
Total Fat:

8g
Saturated Fat:

1g
Trans Fat:

0g
Unsaturated Fat:

6g
Cholesterol:

0mg
Sodium:

403mg
Carbohydrates:

14g
Fiber:

3g
Sugar:

4g
Protein:

4g
Nutrition information is a rough estimate provided by Nutrionix and should be used for informational purposes only. As an Amazon Associate I earn from qualifying purchases.