Free of eggs, dairy, and gluten, this rich, creamy and nutty Vegan and Gluten-Free Coconut Birthday Cake is the perfect dessert for any occasion!
I turned 26 on Wednesday.
Gulp.
I know, I know. Everyone hates when I say "I'm getting old!" But seriously, where is the time going?! I'm already past a quarter of a century and 30 is just around the corner. Although I can sometimes get wrapped up in my age, I gotta say, I've been able to do some amazing things in my lifetime. I also have so much to look forward to...
ahem...moving to China...
I really am so excited about this upcoming year. Brett and I are ready to dive into life in a new country, language learning, exploring, traveling, crowds and squatty potties. We've been living out of suitcases and traveling around Tennessee and Virginia for quite some time now, so we both are looking forward to unpacking and settling down in our new apartment (that we still have to find!). I still can't believe we leave on Monday!!
But back to birthdays. My actual birthday on Wednesday was really chill. I was home alone at Brett's parent's house for most of the day and it was just what I needed. Brett has had a bunch of friends come into town at different times during the week and on Wednesday Brett, his friend Heath, and Brett's Mom went Kayaking while I stayed back to rest and get some things done around the house. While they were gone I got to Skype with a good friend, organize some of our China things, get in a workout, and bake this amazing Vegan and Gluten Free Coconut Birthday Cake. It was so good for me to get in some down time amidst all our traveling/socializing and before more of Brett's friends came in and the real partying started.
And can I just say that this cake is dangerous.
Growing up, my Mom would often make an amazingly rich coconut cake for special occasions. It was always one my favorite desserts and I loved that it was so sweet that it would make my tongue tingle. A few days before my birthday I was trying to think of a fun treat to make for my birthday. Since we probably won't have an oven in China for a while, I knew I wanted to bake something. Randomly I remembered my Mom's coconut cake. Why not "veganize" it?!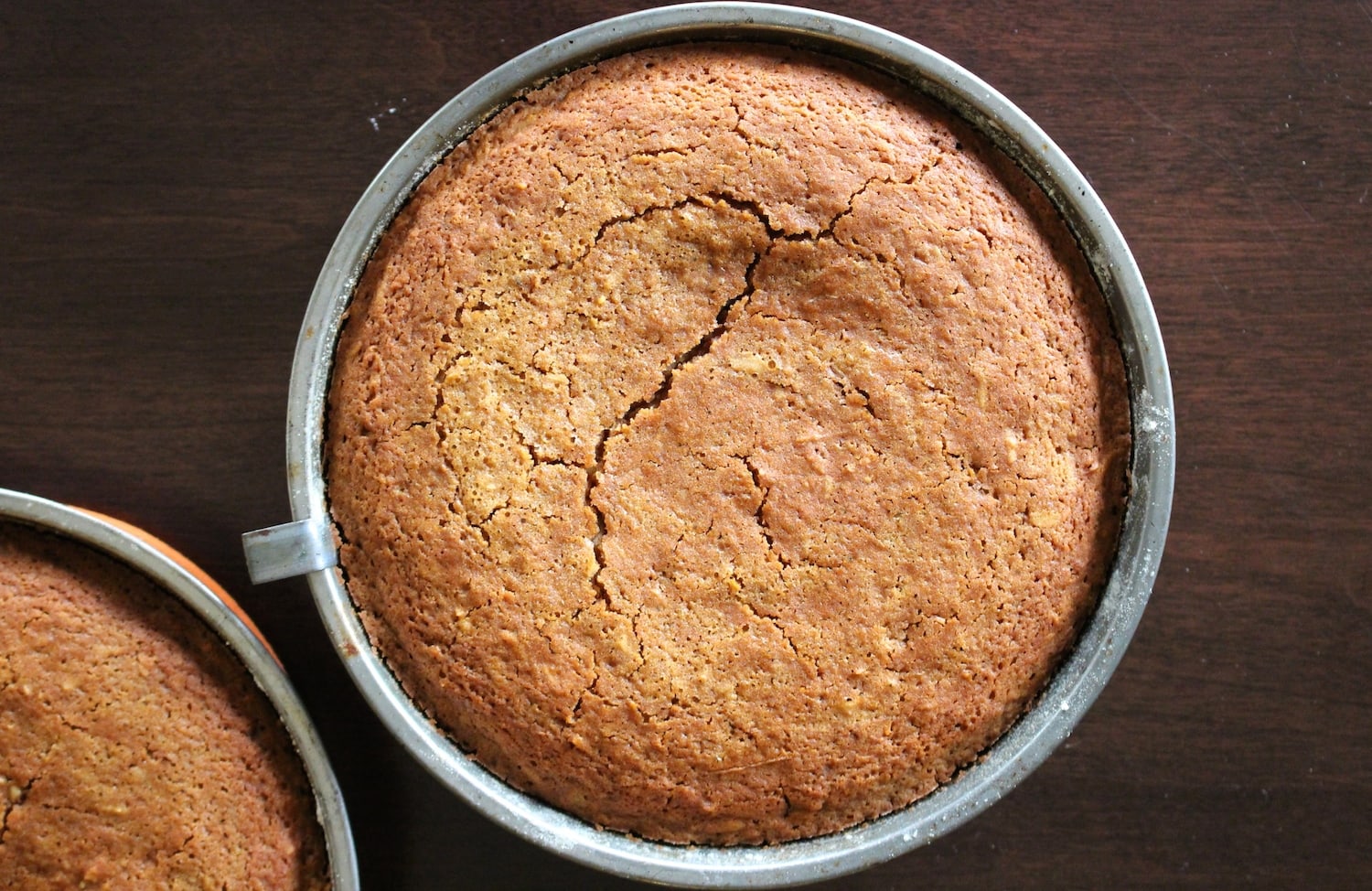 My Mom's coconut cake recipe calls for boxed yellow cake, pudding mix, and lots of powdered sugar in the cream cheese frosting. I figured I could make a simple white vegan cake and then add in the shredded coconut and walnuts that my Mom's recipe calls for. Then for the frosting I would use vegan cream cheese and cut back on some of the powdered sugar.
You guys, it was a success! Brett parents and all of Brett's friends loved it and I couldn't believe how much it brought me back to my childhood. The texture of the shredded coconut and the crunch of the walnuts take this cake to the next level. And nobody would ever guess that I cut the sugar in the frosting way down. It's perfectly sweet and creamy.
I will say that this cake was a rare and special treat for me. As you can see from most of the other recipes I post, I'm not a big fan of processed foods like, white flour, vegan cream cheese, and powdered sugar. However I think recipes like this Vegan and Gluten-Free Coconut Birthday Cake are great for anyone who has allergies, is new to a plant based lifestyle, or who just wants to make a cake to prove to the skeptics out there just how delicious a vegan diet can be. Nobody would ever guess that this cake is egg, dairy, and gluten free!
I hope you have a special occasion coming up that you need a delicious cake for, because this Vegan and Gluten-Free Coconut Birthday Cake would be the perfect treat!
I know you don't count calories, but your readers might like to know that by veganizing the coconut cake, there are 133 fewer calories in your version than the original. I look forward to trying this recipe

"Yo Mama" (a real commenter, see below!)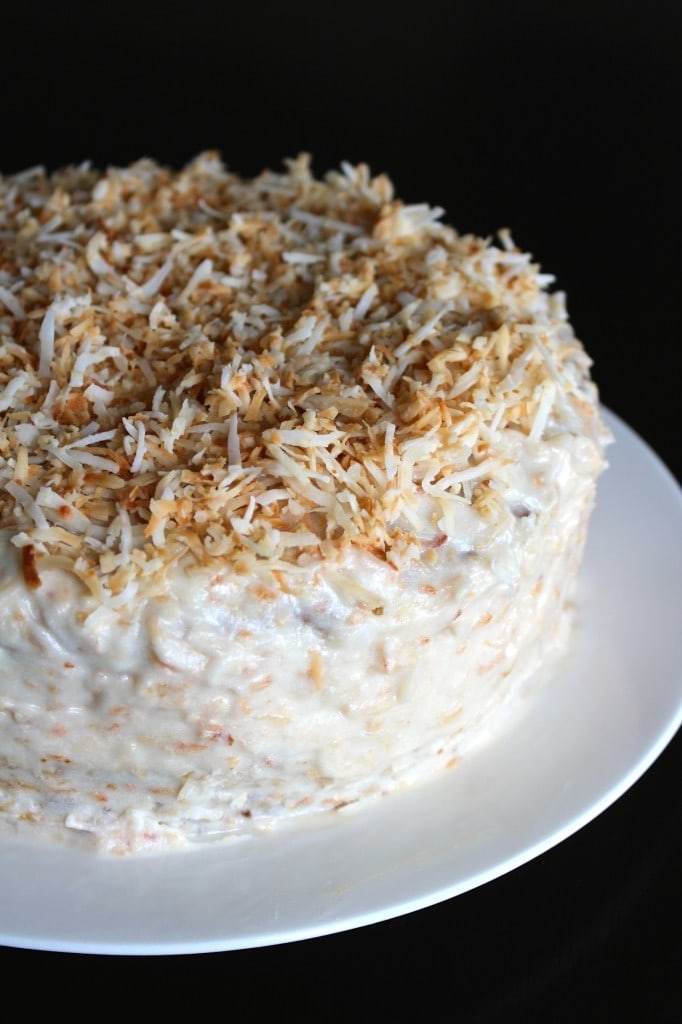 Thanks so much for posting this recipe! I made this cake for my boyfriends birthday a couple of days ago and it turned out really well. I'd never made anything with gluten free flour before so I was pretty nervous about how it would turn out. I used Bob's red mill gluten free blend (and did not add xanthan gum-as suggested on the package) and when it first came out of the oven the cake had a strange kind of grainy taste to it. I was worried but decided to go ahead and frost it anyway. I stored it in the fridge over night and took it to my sweethearts house the next day (along with 2 vegan/gf cupcakes from the store just in case my cake was inedible lol) but it turned out great. I guess letting it set over night gave the flavors some time to come together and it totally lost that grainy taste to it.

The coconut, vanilla and walnuts came together really nicely and that frosting is DEVINE!!! Wish I could post a picture here ???? thanks again for the inspiration!

Keirsten
Yield:

12 pieces
Vegan and Gluten-Free Coconut Birthday Cake
Being free of eggs, dairy, and gluten, this rich, creamy and nutty Vegan and Gluten-Free Coconut Birthday Cake is the perfect dessert for any occasion!
Ingredients
Cake
3 cups gluten free flour (or all-purpose flour)
2 cups coconut sugar*
2 teaspoons baking soda
1 teaspoon baking powder
1 teaspoon salt
½ cup coconut oil, liquid and at room temperature
2 cups non-dairy milk
1 tablespoons vanilla extract
2 tablespoons vinegar
2 cups grated coconut
1 cup chopped walnuts
Frosting
4 Tablespoons coconut oil, divided
2 cups grated coconut
1 pkg. (8 oz.) vegan cream cheese
2 teaspoons non-dairy milk
1 ½ cups powder sugar
½ teaspoon vanilla extract
Instructions
Start by heating your oven to 350°F.
Prepare cake pans: Grease two 8-inch round or square cake pans with non-stick cooking spray and dust with flour.
In a large bowl, whisk together the flour, sugar, baking soda, baking powder and salt.
Add liquid coconut oil*, non-dairy milk, and vanilla extract; whisk until no lumps appear and batter is smooth.
Stir in grated coconut and walnuts.
Lastly, add the vinegar, stir about seven times, and quickly pour into the prepared cake pans.
Bake around 30 minutes, until cake begins to pull away from sides and/or toothpick inserted in the center pulls out clean.
Let sit for ten to fifteen minutes before carefully removing the cakes from the pan and letting them cool.
While the cakes is baking, prepare the frosting. In a skillet melt two tablespoons of coconut oil and add in the grated coconut. Stir continually over low heat until the coconut begins to toast and turn slightly brown. Remove the coconut from the pan and allow it to cool.
In a separate bowl cream together two tablespoons of coconut oil with the vegan cream cheese. Add in two teaspoons of non-dairy milk and then cream in the powdered sugar slowly, in small batches.
Stir in 1 ½ cups of the toasted coconut and leave the remaining ½ cup aside to add to the top of the cake at the end.
Place the frosting in the fridge for about 30 minutes to thicken up.
Assemble the cake:
Place one of the circle cakes onto a plate and spread ⅓ of the frosting on top of it. Then place the second cake on top of the frosting and press to secure the cakes together.
Spread the remaining frosting onto the top of the cake and spread it evenly across the entire top and sides of the cake.
Garnish the top of the cake with the remaining toasted coconut.
If possible, place the cake in the fridge for about 1 hour to allow the frosting the thicken.
Cut and serve!
Cover any leftover cake with plastic wrap and store it in the fridge for up to a few days.
Notes
Because I cut down the amount of powdered sugar in the frosting, it will seem a bit liquidy at first, but simply place it in the fridge for about ½ hour and it will begin to thicken up. It's delicious!
*You can also use regular cane sugar.
Nutrition Information
Yield
20
Serving Size
1 slice
Amount Per Serving
Calories

410
Total Fat

18g
Saturated Fat

12g
Trans Fat

0g
Unsaturated Fat

5g
Cholesterol

3mg
Sodium

322mg
Carbohydrates

60g
Fiber

3g
Sugar

42g
Protein

4g
Nutrition information is a rough estimate provided by Nutrionix and should be used for informational purposes only. As an Amazon Associate I earn from qualifying purchases.