With minimal ingredients and prep time, these Vegan Coconut Oatmeal Cookies are a perfect sweet and hearty dessert for any time of the week!
For any guys reading, I've got to warn you that the story I'm about to share contains talk of feminine products…read at your own risk!
Jump to:
---
So, I don't know about you ladies out there, but I'm a huge fan of tampons. They're convenient, clean, and don't make me feel like I'm wearing a diaper. Crazy thing is that they don't sell tampons in China! All my foreign friends and I have to stock up when we're in the states, have friends bring us some when they come to visit, or order them off line.
It's annoying.
But apparently Chinese people think tampons are bad for your body, hence why everyone here uses pads. If you go to the supermarkets there are so many different sizes and brands of pads. It's a bit overwhelming, especially when everything is written in Chinese. I personally use a Diva Cup, but I also like to use super thin liners just to keep my underwear from getting stained.
A few weeks ago I ran out of my thin liners and wanted to buy some new ones. I usually buy a certain brand from Walmart, but I wasn't able to get to Walmart anytime soon, so I decided to pop into the little supermarket across from our apartment complex to pick some up. Because I couldn't read any of the labels or packaging, I just chose the liners that looked the thinnest and called it a day. Brett and I were on our way to a coffee shop to meet up with some friends, so I waited until we arrive at the coffee shop to use one. We said "Hi" to our friends and then I stopped in the bathroom to get situated.
About five minutes after I returned to where Brett and my friends were sitting, a weird burning/freezing sensation started to develop in my underwear. At first I thought my Diva Cup had fallen out somehow and I was bleeding everywhere, so I rushed back down to the bathroom to check, but oddly enough, everything was clean and dry. I was so confused, but just decided to go back up to our seats and try to study.
After about 2 more minutes I couldn't take it anymore. I felt like I was on fire! It was so uncomfortable and I knew it wasn't normal. Then I thought, "Oh no…what if the liners I bought have some kind of weird Chinese medicine on them?! What if I'm having an allergic reaction?!" I ended up whispering to my American friend nearby and telling her what I was experiencing and asked her if she knew whether or not Chinese brands added medicine to their liners. She had no idea, but she said she had talked about girl issues all the time with her Chinese friend, who was also with us at the time, and told me I should ask her about it.
So, with Brett nearby and my undies on fire, I awkwardly told my new Chinese friend what was happening and gave her the liners I had bought so she could look at the packaging.
Sure enough, I had accidentally bough "Cooling Liners," which were made with a product that was supposed to give you a "cool" sensation.
Do you mean BURNING?!?!
I rushed down to the bathroom and removed the liner as fast as I could and thankfully after a few minutes the pain went away, but we couldn't stop laughing. Even Brett thought our girl problems were pretty amusing.
At least now I know never to buy the ABC brand of liners in China!!
Okay, well I don't think there is anyway to segue from feminine products to these Vegan Coconut Oatmeal Cookies, but well just roll with it!
About these vegan coconut oatmeal cookies
So, these Vegan Coconut Oatmeal Cookies couldn't be easier to make. They use minimal ingredients and I'm sure you have most of the ingredients already in your pantry. While I love to eat oil-free 99% of the time, I've found that when I'm serving friends vegan desserts, it's best to not make them too healthy. I love adding in fats to my desserts to make the decadent and rich.
These Vegan Coconut Oatmeal Cookies have three different kinds of coconut flavored products in them and are also made with hearty whole wheat flour and oats, for a nutty flavor. You could even add in mini chocolate chips or raisins if you'd like, but they taste amazing just as is.
How to make vegan coconut oatmeal cookies
You can also check out the recipe video that I included in the recipe card, if you want to see how I make them!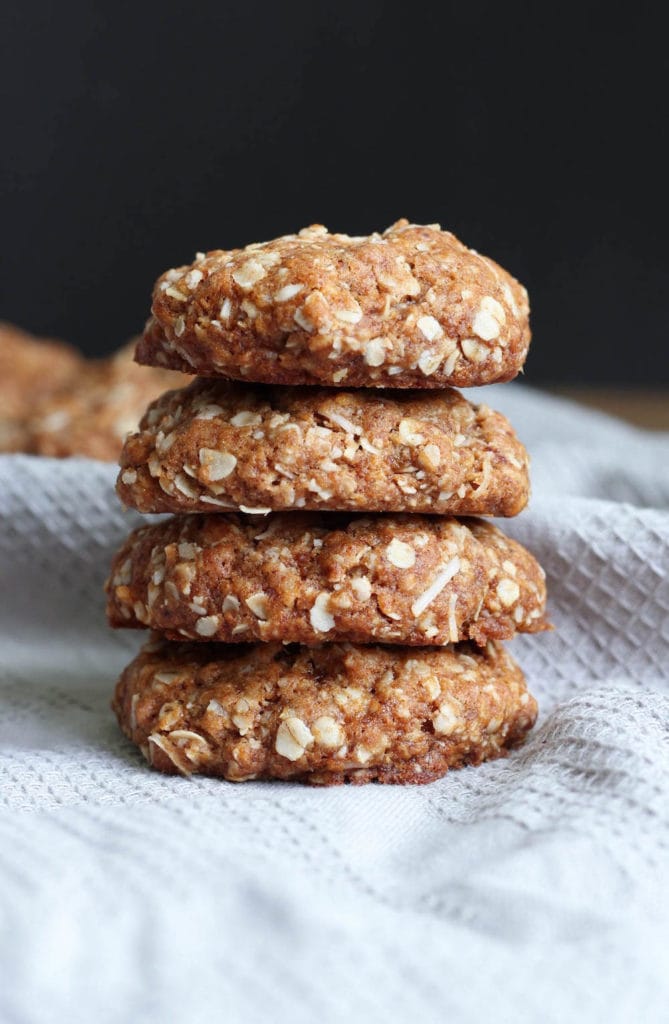 Please let me know if you give these super simple and delicious Vegan Coconut Oatmeal Cookies a try!
Rate the recipe in the recipe card, leave a review letting me know your thoughts, or even better, take a picture and tag #theconscientioueater on Instagram so I can see what they look like!
Vegan Coconut Oatmeal Cookies
With minimal ingredients and prep time, these Vegan Coconut Oatmeal Cookies are a perfect sweet and hearty dessert for any time of the week!
Ingredients
3/4 cup coconut sugar
1/2 cup coconut oil, melted
1 cup whole wheat flour
3/4 cup shredded coconut
2 tablespoon maple syrup
1 teaspoon baking soda
1/4 cup boiling water
Instructions
Preheat your oven to 350 degrees and line a baking sheet with parchment paper or a silicone baking mat.
In a bowl, whisk together the coconut sugar and coconut oil until combined.
Add in the quick oats, flour, shredded coconut and maple syrup and stir until combined.
Dissolve the baking soda in 1/4 cup boiling water and then add it into the remaining ingredients and stir until the dough is fully incorporated.
Roll 2 tablespoon amounts of dough together and place on your prepared baking tray.
Bake for 10-15 minutes or until starting to turn golden brown.
Recommended Products
Nutrition Information
Yield

15
Serving Size

1 cookie
Amount Per Serving
Calories

172
Total Fat

9g
Saturated Fat

7g
Trans Fat

0g
Unsaturated Fat

1g
Cholesterol

0mg
Sodium

109mg
Carbohydrates

22g
Net Carbohydrates

0g
Fiber

2g
Sugar

13g
Sugar Alcohols

0g
Protein

2g
Nutrition information is a rough estimate provided by Nutrionix and should be used for informational purposes only.