Make with chewy coconut and zesty lemon, these easy to make Vegan Lemon Coconut Cookies are a sure winner for any occasion!
I've had lots on my mind about health and nutrition lately, and I kind of want to talk about it today. But please, take everything I say with a grain of salt because I am by no means a doctor or nutritionist. I just have some thoughts.
On one hand I think it's so important to have a diet focused on whole foods. We're talking whole grains, vegetables, fruit, nuts, seeds, beans and legumes. That's one of the main reasons I started this blog--to share healthy simple recipes that hopefully anyone can make. BUT on the other hand, I feel like our culture is slowly slipping into being obsessive about eating healthy and having a healthy diet...that's it's becoming unhealthy.
I believe that all foods can be apart of a healthy diet. I like to have carbohydrates, proteins and fat with most of my meals and I try not to cut out any major food groups. Yes, I don't eat animal products, but apart from that, all food is a green light for me. That means if I want dessert, I can have it. If I want oily, MSG Chinese food, I can have it. If I want pancakes for breakfast, I can have them.
Lately I've been obsessed with the Food Psych Podcast. I've been listening to it non-stop when I go on walks or cook or clean in my house. It's really opening my eyes to how so many people have/or have had issues with food, including myself (more so in the past). I feel like most of the western world is dieting in some sense and trying to force their bodies to be a shape that they aren't meant to be.
We are all created so uniquely. We all have different hair, eye and skin colors. Why do we think that one body size is ideal? Why do we think that thinner equates to healthy? Why do so many people live their lives dieting?
I used to think that the most important thing about health was what food we consumed. But now I'm learning that it's much much more than that. If I'm constantly telling myself that certain foods are off limits, then I'll probably think about that food a lot or overeat when I do allow myself to eat it. If I'm constantly trying to force my body to be a size it's not naturally supposed to be, then I'll miss out on so many other important things in life. If I only allow my self to eat certain foods, then I'll miss out on so many social outings and relationships.
So while I still really do think eating mostly whole plant foods is so important, I think it's just as important to not be so restrictive and narrow with our diets. You guys can see in most of my What I Ate Wednesday Posts that I eat quite a colorful, whole food diet. Oatmeal bowls with fresh fruit for breakfast and veggie and rice bowls for lunch and dinner. But you better believe that I'm also taste testing and enjoying all the yummy vegan desserts that I share on the blog, including these Vegan Lemon Coconut Cookies. I'm going out to eat Chinese food with my friends. I'm taking rest days from exercising when my body tells me it's tired.
I haven't always been in this place where I listen to my body and eat intuitively, but it's a wonderful place to be. I really hope you guys are learning to love your body, whatever it's size and enjoying food for what it is...food: a gift from God!
Oh, and please make these Vegan Lemon Coconut Cookies cause they're delicious! Plus, they require minimal ingredients and take less than 30 minutes from start to finish!
📖 Recipe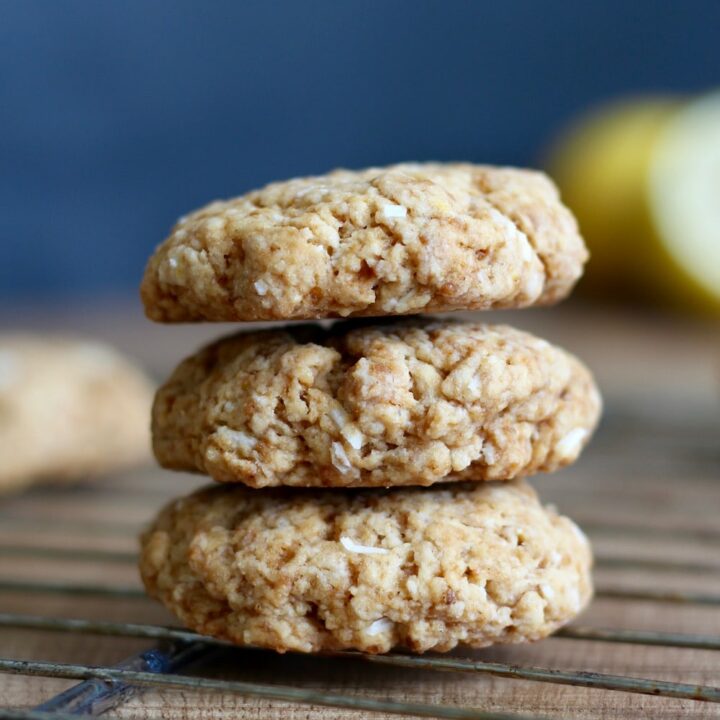 Vegan Lemon Coconut Cookies
Make with chewy coconut and zesty lemon, these easy to make Vegan Lemon Coconut Cookies are a sure winner for any occasion!
Ingredients
2

cups

flour

¾

cup

coconut sugar

¼

cup

shredded coconut

½

teaspoon

baking soda

¼

teaspoon

salt

½

cup

coconut oil

melted

¼

cup

non-dairy milk

zest and juice of 1 large lemon

about 3 tablespoons of juice
Instructions
Preheat your oven to

350

°F

and line two baking sheets with parchment paper.

In a large bowl, whisk together the dry ingredients, from flour to salt.

Add in the melted coconut oil, non dairy milk and zest and juice of one large lemon and stir until combined.

Roll the dough into balls and place on a baking sheet. Flatten them slightly.

Bake for 12-15 minutes (rotating the pans half way through) or until beginning to turn golden.

Remove from the oven and allow them to cool before serving or placing in an airtight container for later!
Notes
Store in an airtight container on the counter for 2-3 days. Freeze them for longer storage.
Nutrition
Serving:
1
cookie
Calories:
160
kcal
Carbohydrates:
22
g
Protein:
2
g
Fat:
7
g
Saturated Fat:
6
g
Polyunsaturated Fat:
0.2
g
Monounsaturated Fat:
0.5
g
Sodium:
77
mg
Potassium:
29
mg
Fiber:
1
g
Sugar:
10
g
Vitamin A:
14
IU
Vitamin C:
0.3
mg
Calcium:
9
mg
Iron:
1
mg