This One-Bowl Basic Vegan Muffin Recipe provides a simple outline that allows you to create endless flavors of vegan muffins!
Let's start with a life update, shall we?
Brett and I are heading into a crazy season of life. Our year in New York is quickly drawing to a close and we're starting to go through all of our belongings and decide which things we want to throw away, store at Brett's parents house, sell, give away, or bring with us to China.
Who knew there were so many options for stuff!
So far we've been on the same page in regards to what we want to get rid of, what we want to store at Brett's parent's house, and what we want to bring with us to China. However, just the other day we had our first mini-disagreement over when to start getting rid of things. When I'm stressed with a lot of decisions on my mind, I have to do something about it. This, coupled with my love for gutting, had me taking pictures off the walls and going through decorations the other day at an alarming speed. But once Brett saw the bare walls and the lack of family pictures around the apartment, it hit him.
We're really doing this. We're getting rid of our belongings, saying goodbye to family, and moving to China.
But with this huge transition coming up, it's hard for me to keep in mind that we still have a month in our apartment in New York. We still have a three-week trip to Europe. We still have weddings to attend and family to visit. Brett reminded me of all of these things and encouraged me to not check out of New York (and America) just yet.
Because of this, we decided to not take everything off our walls right now. We want to fully enjoy our last month in New York City. We don't want to look back on the season leading up to our move and think, "We should have spent more time with people instead of stressing over what to do with our stuff." Yes, there are lots of preparations to make—I mean, we're moving to China!—but we've also realized that we'd rather spend more time with the people that we love than pouring all of our time into making money on the furniture we're trying to sell.
In addition to that, I have no idea what the next couple of months will look like in regards to the blog. The month of May should be normal considering Brett and I will still be living at our apartment in New York and I'll be able to cook like usual. But once June and July roll around, we'll be leaving New York, traveling all over the world (literally), and staying with friends and family until we move to China August 10th.
With that said, I still plan on blogging throughout June and July (this little space brings me so much joy!), but the content and frequency of posts may be inconsistent. I definitely want to prioritize spending time with family and friends during this season. I know you all can understand that and I hope you'll continue to read along this summer!
This Basic Vegan Muffin Recipe
One thing I do plan on incorporating more during this season—in order to continue posting recipes throughout the months of June and July—are series!
For example, I recently came up with a One-Bowl Basic Vegan Muffin Recipe and have been experimenting with all kinds of flavors! Seriously, muffins have been coming out of my ears. Normally I might incorporate the One-Bowl Basic Vegan Muffin Recipe and all the variation recipes that I've created into one post, but instead I'll be spreading the different muffin recipes out over a series of posts. That way I can continue to share recipes with you all even when I'm not able to cook!
Some other series that I have in mind are Easy Plant-Based Sandwiches, Banana Ice Cream Flavors, and Healthy Vegan Breakfast Ideas. These series will allow me to share some of the tips and tricks I've picked up along my plant-based-diet-journey. I hope they are helpful for you and make plant-based eating not seem so intimidating or boring.
Today marks the beginning of the "muffin series". This One-Bowl Basic Vegan Muffin Recipe is amazing. I've tried out all kinds of flavor combinations, mix-ins, sweeteners, flours, and liquids and every one of my experiments has come out deliciously! I love that this One-Bowl Basic Vegan Muffin Recipe allows you to be creative and can adapt to whatever baking supplies you have in your house. If you don't have whole wheat flour, that's fine! Use spelt. If you don't have almond milk, no big deal! Use Homemade Oat Milk. If you don't have raisins, fear not! Add in some chopped dates.
I'm excited to share a few of my creations with you throughout the coming months, but I would also love to hear what your go-to muffin flavors are!
Below are some of the flavor combinations I've already created using this One-Bowl Basic Vegan Muffin Recipe and I'll be sharing the recipes in the coming weeks!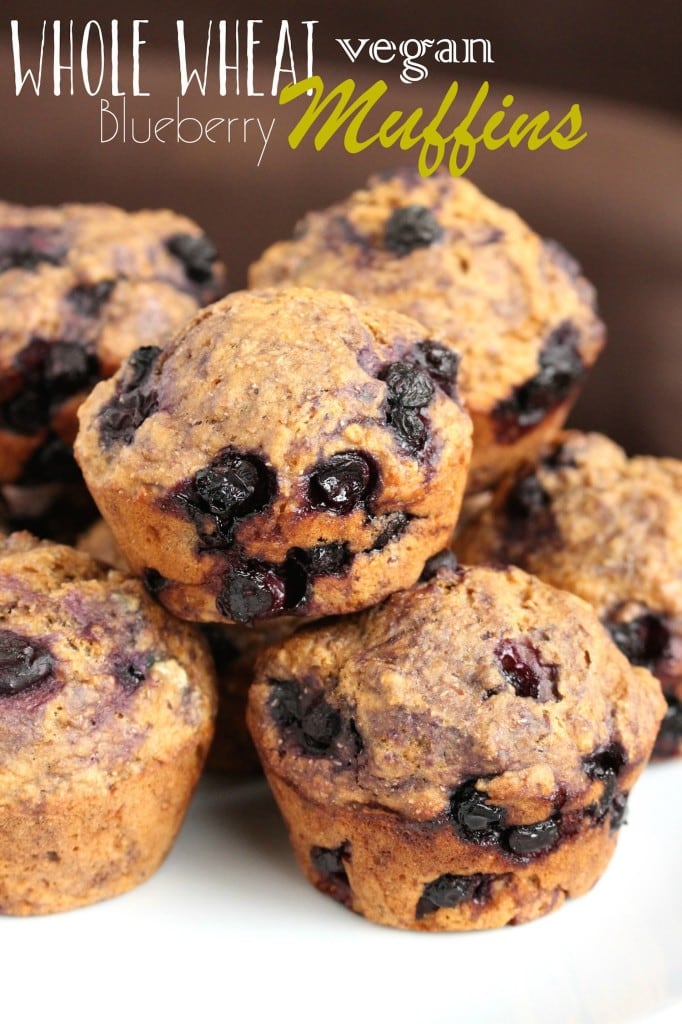 Yield:

12 muffins
One-Bowl Basic Vegan Muffin Recipe + Variations!
This One-Bowl Basic Vegan Muffin Recipe provides a simple outline that allows you to create endless flavors of vegan muffins!
Ingredients
2 cups flour
¾ cup sugar*
1 tablespoon baking powder
½ teaspoon salt
1 flax egg**
1 cup non-dairy milk, or fruit juice
¼ cup melted coconut oil***
VARIATION and ADD-INS
1-2 teaspoons spices (i.e. cinnamon, nutmeg, ground ginger, etc.)
1 teaspoon vanilla extract
1 cup dry mix-ins (chocolate chips, blueberries, chopped nuts, etc.) OR
1 cup fruit puree, shredded vegetables or fruit (mashed banana, pumpkin puree, shredded zucchini, etc.) AND
½ cup dry mix-ins (i.e. chopped nuts, dried fruit, chocolate chips, etc.)
Instructions
Preheat your oven to 400 degrees and spray a muffin tray with non-stick cooking spray. Set aside.
In a small bowl, prepare your flax egg by whisking 1 tablespoon of ground flaxseed with three tablespoons of water. Set aside to gel while you prepare the rest of the batter.
In a large bowl, whisk together the dry ingredients: flour, sugar, baking powder, salt, and optional spices if using.
Add in the wet ingredients (including mashed fruit, fruit puree, or shredded ingredients if using) and mix until just combined.
Fold in the dry mix-ins. Evenly divide the batter among the 12 muffin tins and bake for about 20-25 minutes until a toothpick inserted into the middle comes out clean. Watch the muffins carefully towards the end of the baking time to make sure they don't over bake. The time will depend on the ingredients you use!
Allow the muffins to cool slightly before removing from the pan. Store in an air-tight container outside of the fridge for a couple days or in the fridge for up to a week.
These muffins taste best when warmed slightly.
Notes
*Instead of dry sugar you can use ½ cup of liquid sweetener such as maple syrup, but you may need to reduce the milk from 1 cup to ¾ cup.

**To make a flax egg, in a small bowl whisk together 1 tablespoon of ground flaxseed with 3 tablespoons of water and set it aside to gel for about 5 minutes.

***To make lower-fat muffins, use unsweetened applesauce instead of melted coconut oil.
Nutrition Information
Yield
12
Serving Size
1 muffin
Amount Per Serving
Calories

197
Total Fat

6g
Saturated Fat

4g
Trans Fat

0g
Unsaturated Fat

1g
Cholesterol

17mg
Sodium

238mg
Carbohydrates

33g
Net Carbohydrates

0g
Fiber

1g
Sugar

16g
Sugar Alcohols

0g
Protein

4g
Nutrition information is a rough estimate provided by Nutrionix and should be used for informational purposes only.